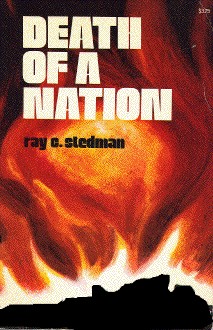 Available in online book form, Death of a Nation. | PDF version

Clicking on the highlighted link with the message title loads the sermon HTML file on your web browser. The icons below the sermon title load the Acrobat PDF version of the file or the MP3 audio file. If these files do not load automatically, consult your browser help pages and install the appropriate plug-ins for these formats. You may listen to and read the message at the same time by selecting the HTML file and then selecting the MP3 version. If you prefer, you may set your web browser preferences to download the MP3 files to your hard disk.
Order books by Ray Stedman from Amazon.