Updated Match 28, 2019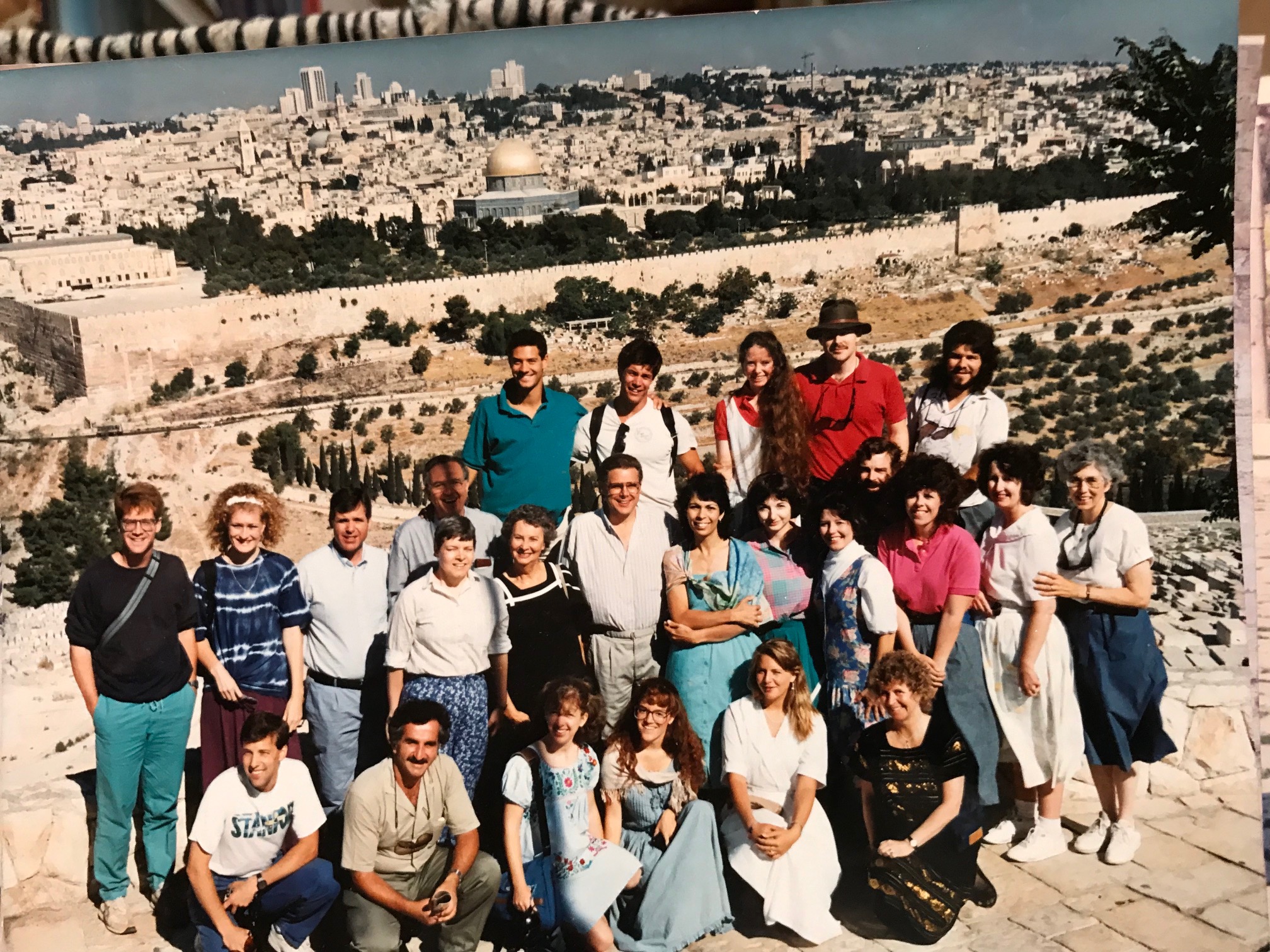 With Y'shua in Yerushalayim
For several thousand years pilgrims have been wending their way up to Jerusalem, on foot or by donkey or camel, until recent times. Jerusalem is only 2600 feet above sea level yet every approach to the city is up, whether approaching from North, South, East or West. Psalms 120 through 134 in our English Bibles are known as the Psalms of Ascent, to be read or sung on the way.
A Song of Ascents. Of David.
Psalm 122
I was glad when they said to me,
"Let us go into the house of the Lord."
Our feet have been standing
Within your gates, O Jerusalem!
Jerusalem is built
As a city that is compact together,
Where the tribes go up,
The tribes of the Lord,
To the Testimony of Israel,
To give thanks to the name of the Lord.
For thrones are set there for judgment,
The thrones of the house of David.
Pray for the peace of Jerusalem:
"May they prosper who love you.
Peace be within your walls,
Prosperity within your palaces."
For the sake of my brethren and companions,
I will now say, "Peace be within you."
Because of the house of the Lord our God
I will seek your good.
Israel today is a small country today-only 8500 square miles, about the size of New Jersey. The history of the land and the people is utterly amazing. God has put His stamp of ownership on Israel choosing her as a model for all nations to study and learn from. Now, late in world history Israel has risen from obscurity and is now center stage for the approaching consummation of history, well attested to by Old and New Testaments in the Bible.
The Second Psalm attests to this from God's point of view,
Psalm 2
Why do the nations rage,
And the people plot a vain thing?
The kings of the earth set themselves,
And the rulers take counsel together,
Against the Lord and against His Anointed, saying,
"Let us break Their bonds in pieces
And cast away Their cords from us."
He who sits in the heavens shall laugh;
The Lord shall hold them in derision.
Then He shall speak to them in His wrath,
And distress them in His deep displeasure:
"Yet I have set My King
On My holy hill of Zion."
"I will declare the decree:
The Lord has said to Me,
'You are My Son,
Today I have begotten You.
Ask of Me, and I will give You
The nations for Your inheritance,
And the ends of the earth for Your possession.
You shall break them with a rod of iron;
You shall dash them to pieces like a potter's vessel.' "
Now therefore, be wise, O kings;
Be instructed, you judges of the earth.
Serve the Lord with fear,
And rejoice with trembling.
Kiss the Son, lest He be angry,
And you perish in the way,
When His wrath is kindled but a little.
Blessed are all those who put their trust in Him.
Travelers to Israel are not subjected to one point of view however. Cultural, racial, religious, political diversity abounds in the Holy Land. It is often said that when two Jews discuss a matter, one will at find at least three opinions!
Israel today is populated by 8.855 million people. About 21% are Arabs, 75.6% are Jewish-70% of these are Sabras, (born in the land) and the rest Olim-Jewish immigrants, 21% from Europe and the Americas, 9% from Asia, Africa and Arab countries.
Only about 2% of the population of Israel is professing Christian. This number includes remnants from historical Christian churches dating from the First Century. "Messianic Jews" who acknowledge Yeshua are a vocal, but rapidly growing minority, in Israel numbering perhaps 1% of the populace. The religious segment of the Jewish population is about 8% Haredim (ultra-Orthodox), 25% "non-religious traditionalists" and 43% "secular." (Wikipedia has much more for anyone interested).
Our time together in Israel focuses on Jesus of Nazareth, Y'shua, who was He, where did He live and grow up? What did teach? His followers from around the world claim Jesus is alive and that they know Jesus personally. Does Jesus heal and save today? Can Jesus be known in community regardless of one's history? Is human history going somewhere? Here is but one of many clues to the future of land and people:
"Thus says the Lord of hosts:
'I am zealous for Jerusalem
And for Zion with great zeal.
I am exceedingly angry with the nations at ease;
For I was a little angry,
And they helped-but with evil intent."
'Therefore thus says the Lord:
"I am returning to Jerusalem with mercy;
My house shall be built in it," says the Lord of hosts,
"And a surveyor's line shall be stretched out over Jerusalem."
"Again proclaim, saying, 'Thus says the Lord of hosts:
"My cities shall again spread out through prosperity;
The Lord will again comfort Zion,
And will again choose Jerusalem." (Zechariah 1:14-17)
_________________________________________________________________________________________________________________________________________________
Background:
Three Trips to Israel (1995) http://ldolphin.org/Trips.html
Israel Trip Plan (2019)
Revised July 20, 2018, August 7, 2018, October 18, 2018. March 28, 2019
Vision
The Great Disconnect
American Christian Culture has reached a serious crisis today, astutely recognized by many in leadership. One manifestation of this Great Divide is that millions of safe and secure members in various cultural-Christian, denominational churches have found that all of their best efforts are of near-zero interest or appeal to young men and women under 30 (or 40). We appear to be losing an entire generation!
The world world views of the younger generation are painfully understood by Christians who have embedded themselves working with the youth and the disenfranchised, especially in the inner city. Yet there remains a "Great Gulf" fixed.
This project proposes a direct attack. Namely, take a group of older saints to Israel for two weeks along with a substantial number of committed younger generation,Christians from known inner city ministries (San Francisco). The latter group, who often can't afford a life-changing trip to Israel, are invited to participate by a means of a scholarship program. The two weeks in Israel automatically involves commingling of old and young. We expect Jesus our Lord will save, and will heal if we provide the right template.
Plan
250 persons, 5 buses. Two buses of paid tourists from PBC, three buses of Scholarships members.
Name badges and total commingling of all participants across social and cultural boundaries. Family members and spouses of course. Extensive email list to non-PBC friends. Not a tourist trip.
Itinerary by Bill Perkins of Compass Couer d'Alene, Idaho http://compass.org. Flyers pending.
---
Itinerary
Thursday February 7, 2019
Depart USA (various airports)
Friday February 8, 2019
Arrive Tel Aviv Overnight at the Gai Beach Hotel Tiberias.
Saturday February 9, 2019
Galilee: Sea of Galilee Area-Boat ride and Bible study, Ancient Boat, Walk Mt. of Beatitudes, Capernaum, Bethsaida, Pig Jump, Golan Heights, Overnight at the Gai Beach Hotel in TIberias.
Sunday February 10, 2019
Galilee: Northern Galilee Area-Caesarea-Philippi, Banias Falls, Tel Dan Nature Reserve, Valley of Tears/Mt. Hermon, Mt. Arbel. Overnight Gai Beach Hotel, Tiberias
Monday February 11, 2019
Jordan River Valley: Bet She'an, Lunch at Sachne, Gideon Springs, Baptisms in the Jordan River. Overnight at the Gai Beach Hotel Tiberias.
Tuesday February 12, 2019
Mediterranean Coast: Cana (No Stop), Nazareth overlook, Valley of Armageddon/ Megiddo Mt. Carmel, Caesarea / Aqueducts,,,, Overnight at the Dan Hotel Jerusalem
Wednesday February 13, 2019
Jerusalem: Temple Mount/Golden Gate, Wailing Wall, Southern Steps, Jewish Quarter, Temple Institute, St Anns/Pools of Bethesda, Hezekiah's Tunnel, Rabbinical Tunnels. Overnight at the Dan Hotel Jerusalem.
Thursday February 14, 2019
Jerusalem: Mount of Olives, Palm Sunday Road, Garden of Gethsemane, Caiaphas House, Old City, Antonia Fortress, Via Dolorosa to Solomon's quarry, Golgotha, the Empty Tomb. Overnight at the Dan Hotel Jerusalem.
Friday February 15, 2019
Dead Sea: Judaean Wilderness, Qumran, En Gedi, Masada, Dead Sea swim. Overnight Dan Hotel Jerusalem. (Extension passengers continue from Dead Sea to Eilat/others back to Jerusalem for final night.)
Saturday February 16, 2019
Fly home
Petra Extension
Petra OPTION 1
Friday February 15
Continue to Eilat: Overnight Eilat Saturday February 16
Eilat: Red Sea Cruise, then to Petra. Overnight Petra, Jordan Sunday February 17
Petra: Full day Overnight Petra, Jordan. Monday February 18
Mt. Nebo: Cross Israel border, to Tel Aviv Tuesday February 19
Petra Extension - Fly Home
Petra OPTION 2
Friday February 15
Continue to Eilat: Overnight Eilat Saturday February 16
Eilat: Red Sea Cruise, then to Petra. Overnight Petra, Jordan Sunday February 17
Petra: Full day Overnight Marriott Dead Sea, Jordan. Monday February 18
Mt. Nebo/Jerash /Amman Overnight Marriott Dead Sea, Jordan. Tuesday February 19
Cross Israel border, to Tel Aviv Overnight Tel Aviv
Wednesday February 20
Petra Extension - Fly Home
---
Low season rates. Weather, wintertime.
Hosting
Bill Perkins and Susie Perkins, Compass International. Coeur d'Alene, Idaho. Compass.org
Host pastors from PBC who are on their first trip preferably. Tour guides in Israel handle the main teaching. Much interaction evenings, but no need for lecturing by us self-appointed experts. Much interaction one-on-one while touring. Life long friendships are to be a expected!
Tour Pastor: Andy Burnham
Prayer and Planning Leader. Scholarships and Oversight JayJay Levine (LevineJayJay@gmail.com)
Philosophy
"Body Life" functionality with entire group
Scholarships for 150 persons who could never afford a trip to Israel. Budget 750k
Accompanying pastoral team from PBC.
Professional Israel tour guides in country. Believers.
Recovery and Step Closer staff and members central to the plan.
Invited Musicians' Group
Invited and Grafted In: SOS SFO participants selected by Doug Shearer and Larry Rosenbaum, plus individuals from near and far, sister churches. (We seek Under-30 men and women with some experience in knowing Jesus.Those applying for scholarships should pay what they can).
Scholarships
Scholarships committee reviews all applications for scholarships and selects awards. Group 1 is fully for persons who can sign up with Compass directly. This group will he asked to contribute, as they are able, to the scholarship fund. Group 2, invited guests, full scholarships, Group 3, partial scholarships. Group 4, outside invitees from other churches as solicited by your members.
Funding
Grant plus individual gift. Ever person on the tour should pay all of part of his or her fare, And/or contribute to the trip funds account.
Main Vision
"Two weeks in Israel is equivalent to four years in Bible College or Seminary."
Model for shy churches to emulate and copy.
This trip will address the Great Disconnect.
Reference to Previous Tours, ldolphin.org/tour
Geophysics and the Temple Mount, ldolphin.org/tempgeophy.html
Geophysical Exploration in Israel 1983 ldolphin.org/geophysisr.html
Prayer Team
Resource Web Site
Resource Portfolio: CSL "The Great Divorce," map of Israel, CD of resources, participant info list.
Invite Musicians' group to accompany us
Planning: Lambert Dolphin, Jay Jay Levine, Lawrence Hoppis.
JayJay Levine, LevineJayJay@gmail.com
Lambert Dolphin, Lambert@ldolphin.org
In CS Lewis' "The Great Divorce," the "gray town" represents the social vacuum of the world. Suddenly a wonderful bus transports a variety of unwitting passengers up a steep cliff into the outskirts of heaven. Upset passengers upon disembarking are met by residents of the Higher Country try to persuade the bus passenger to stay.
Who Pays for all this?
"God's work done in God's way never lacks God's supply."
"And my God will meet all your needs according to the riches of his glory in Christ Jesus."
Philippiians 4:19
This is a promise for givers, not for non-givers. It's what God does in return for the expression of your gift. Unfortunately, we often subtract it from its context and take it as a blank check we can cash any time we are in need. It has sometimes been taken to apply to everyone everywhere. It is not that. Half the world goes to bed hungry every night. This is not a promise that God is going to meet all the time every need of every human life. He will not, and permits the world to express its own innate tendencies, hungers and desires.
This is a promise in exact accord with our Lord Jesus' own words in the Sermon on the Mount. Remember what he said: Give and it will be given to you. This is a promise for givers. You give, and God will give back to you. Of course it's understood that we have all received freely from him first, and out of that sense of having received from him, let us give. The Lord says, Give and it will be given to you; good measure, pressed down, shaken together, running over, will be put into your lap. For the measure you give will be the measure you get back.
That is what Paul is saying here. He says you have given to me out of your poverty, out of your lack, at cost to yourselves. I am grateful for that, not because of the gift which in itself was a delightful fragrance to God, but it means that my God will also abundantly give back to you and supply every need out of the riches in Christ Jesus.
Notice the source of supply: my God. Not just God will supply, but God known in personal experience. Not some remote power running the earth, giving to the just and unjust alike, but a personal Father. This is a family matter. This is a promise for the children of God, those who belong to him.
Notice also the limits of supply: all your needs. It doesn't say, all your wants. Our wants are sometimes far beyond our needs. The great theologian Dr. H.A. Ironside used to say he delighted to walk through Woolworth's dime stores because it was always such a comfort to him to see so many things he could get along without. There are so many wants in our lives, and really so relatively few needs. God has promised to supply your needs, and you must let him decide what your needs are.
Notice finally the method of supply. It's according to his riches in glory in Christ Jesus. There are many kinds of riches. There are the riches of his goodness which are available to all people. He makes the sun shine and the rain to fall upon the just and the unjust. Then there are the riches of his grace which are available only to sinners who admit their need. God's grace takes over and forgives and cleanses and gives us purity and all we need. Then there is the riches of his glory in Christ Jesus. This is available for saints, to those who know him. All that he has in terms of the glory and fullness of his deity is available to any believer. The weakest saint holds in his hands all that the greatest saint ever had. He has Christ, and in having Christ he has everything! (Ray Stedman)
Psalm 50
A Psalm of Asaph.
The Mighty One, God the Lord,
Has spoken and called the earth
From the rising of the sun to its going down.
Out of Zion, the perfection of beauty,
God will shine forth.
Our God shall come, and shall not keep silent;
A fire shall devour before Him,
And it shall be very tempestuous all around Him.
He shall call to the heavens from above,
And to the earth, that He may judge His people:
"Gather My saints together to Me,
Those who have made a covenant with Me by sacrifice."
Let the heavens declare His righteousness,
For God Himself is Judge.
Selah
"Hear, O My people, and I will speak,
O Israel, and I will testify against you;
I am God, your God!
I will not rebuke you for your sacrifices
Or your burnt offerings,
Which are continually before Me.
I will not take a bull from your house,
Nor goats out of your folds.
For every beast of the forest is Mine,
And the cattle on a thousand hills.
I know all the birds of the mountains,
And the wild beasts of the field are Mine.
"If I were hungry, I would not tell you;
For the world is Mine, and all its fullness.
Will I eat the flesh of bulls,
Or drink the blood of goats?
Offer to God thanksgiving,
And pay your vows to the Most High.
Call upon Me in the day of trouble;
I will deliver you, and you shall glorify Me."
But to the wicked God says:
"What right have you to declare My statutes,
Or take My covenant in your mouth,
Seeing you hate instruction
And cast My words behind you?
When you saw a thief, you consented with him,
And have been a partaker with adulterers.
You give your mouth to evil,
And your tongue frames deceit.
You sit and speak against your brother;
You slander your own mother's son.
These things you have done, and I kept silent;
You thought that I was altogether like you;
But I will rebuke you,
And set them in order before your eyes.
"Now consider this, you who forget God,
Lest I tear you in pieces,
And there be none to deliver:
Whoever offers praise glorifies Me;
And to him who orders his conduct aright
I will show the salvation of God."
October 20, 2018