Sleepers Awake!
"Awake, you who sleep,
Arise from the dead,
And Christ will give you light."
(Ephesians 5:14)
A very beautiful Cantata by Johnann Sebastian Bach anticipated the return of Jesus Christ for His Bride, the church two hundred eighty eight years ago.
Actually the disciples of Jesus Christ (soon to be Apostles) had hoped Jesus would return nineteen hundred eight six years ago.
The expectation that Jesus will return soon, called "The Blessed Hope of the Church" has encouraged generations of followers throughout their life times. Because of the intersection of time and eternity at the time of our death, no one waits long to see Jesus when they die. This is true whether that person knows Jesus or not! Of course different destinies for the two groups of persons are in view.
For the grace of God that brings salvation has appeared to all men, teaching us that, denying ungodliness and worldly lusts, we should live soberly, righteously, and godly in the present age, looking for the blessed hope and glorious appearing (epiphaneia) of our great God and Savior Jesus Christ, who gave Himself for us, that He might redeem us from every lawless deed and purify for Himself His own special people, zealous for good works. (Titus 2:11-14)

A Lutheran Hymn dating to 1599
Wachet auf, ruft uns die Stimme ('Awake, calls the voice to us'), BWV 140, also known as Sleepers Wake, is a church cantata by Johann Sebastian Bach, regarded as one of his most mature and popular sacred cantatas. He composed the chorale cantata in Leipzig for the 27th Sunday after Trinityand first performed it on 25 November 1731. (Wikipedia)
"Let this mind be in you which was also in Christ Jesus, who, being in the form of God, did not consider it robbery to be equal with God, but made Himself of no reputation, taking the form of a bondservant, and coming in the likeness of men. And being found in appearance as a man, He humbled Himself and became obedient to the point of death, even the death of the cross. Therefore God also has highly exalted Him and given Him the name which is above every name, that at the name of Jesus every knee should bow, of those in heaven, and of those on earth, and of those under the earth, and that every tongue should confess that Jesus Christ is Lord, to the glory of God the Father." (Philippians 2:5-11)
German and English Translation
1. Choral
Wachet auf, ruft uns die Stimme,
der Wächter sehr hoch auf der Zinne,
wach auf, du Stadt Jerusalem.
Mitternacht heißt diese Stunde,
sie rufen uns mit hellem Munde,
wo seid ihr klugen Jungfrauen?
Wohlauf, der Bräut'gam kömmt,
steht auf, die Lampen nehmt,
Alleluia!
Macht euch bereit
zu der Hochzeit,
ihr müsset ihm entgegen gehn.
(" Wachet auf, ruft uns die Stimme," verse 1)
1. Chorus
Awake, calls the voice to us
of the watchmen high up in the tower;
awake, you city of Jerusalem.
Midnight the hour is named;
they call to us with bright voices;
where are you, wise virgins?
Indeed, the Bridegroom comes;
rise up and take your lamps,
Alleluia!
Make yourselves ready
for the wedding,
you must go to meet Him.
2. Rezitativ T
Er kommt, er kommt,
der Bräut'gam kommt,
ihr Töchter Zions, kommt heraus,
Sein Ausgang eilet aus der Höhe
in euer Mutter Haus.
Der Bräut'gam kommt, der einen Rehe
und jungen Hirschen gleich
auf denen Hügeln springt
und euch das Mahl der Hochzeit bringt.
Wacht auf, ermuntert euch,
den Bräut'gam zu empfangen;
dort, sehet, kommt er hergegangen.
2. Recitative T
He comes, He comes,
the Bridegroom comes,
O Zion's daughters, come out,
his course runs from the heights
into your mother's house.
The Bridegroom comes, who like a roe
and young stag
leaps upon the hills;
to you He brings the wedding feast.
Rise up, take heart,
to embrace the bridegroom;
there, look, He comes this way.
3. Arie- Duett S B (Dialog - Seele, Jesus)
Wenn kömmst du, mein Heil?
- Ich komme, dein Teil. -
Ich warte mit brennenden Öle.
Eröffne den Saal
- Ich öffne den Saal -
zum himmlischen Mahl.
Komm, Jesu.
- Ich komme, komm, liebliche Seele. -
3. Aria - Duet S B (Dialogue - Soul, Jesus)
When will You come, my Savior?
- I come, as Your portion. -
I wait with burning oil.
Now open the hall
- I open the hall -
for the heavenly meal.
Come, Jesus!
- I come, come, lovely soul! -
4. Choral T
Zion hört die Wächter singen,
das Herz tut ihr vor Freuden springen,
sie wachet und steht eilend auf.
Ihr Freund kommt von Himmel prächtig,
von Gnaden stark, von Wahrheit mächtig,
ihr Licht wird hell, ihr Stern geht auf.
Nun komm, du werte Kron',
Herr Jesu, Gottes Sohn,
Hosianna!
Wir folgen all
zum Freudensaal
und halten mit das Abendmahl.
(" Wachet auf, ruft uns die Stimme," verse 2)
4. Chorale T
Zion hears the watchmen sing,
her heart leaps for joy within her,
she wakens and hastily arises.
Her glorious Friend comes from heaven,
strong in mercy, powerful in truth,
her light becomes bright, her star rises.
Now come, precious crown,
Lord Jesus, the Son of God!
Hosannah!
We all follow
to the hall of joy
and hold the evening meal together.
5. Rezitativ B
So geh herein zu mir,
du mir erwählte Braut!
Ich habe mich mit dir
von Ewigkeit vertraut.
Dich will ich auf mein Herz,
auf meinen Arm gleich wie ein Sigel setzen,
und dein betrübtes Aug' ergötzen.
Vergiß, o Seele, nun
die Angst, den Schmerz,
den du erdulden müssen;
auf meiner Linken sollst du ruhn,
und meine Rechte soll dich küssen.
5. Recitative B
So come in to Me,
you My chosen bride!
I have to you
eternally betrothed Myself.
I will set you upon My heart,
upon My arm as a seal,
and delight your troubled eye.
Forget, O soul, now
the fear, the pain
which you have had to suffer;
upon My left hand you shall rest,
and My right hand shall kiss you.

6. Arie - Duett S B (Dialog - Seele, Jesus)
Mein Freund ist mein,
-und ich bin dein,-
die Liebe soll nichts scheiden.
Ich will mit dir
-du sollst mit mir-
im Himmels Rosen weiden,
da Freude die Fülle, da Wonne wird sein.

6. Aria - Duet S B (Dialogue - Soul, Jesus)
My Friend is mine,
- and I am yours, -
love will never part us.
I will with You
- you will with Me -
graze among heaven's roses,
where complete pleasure and delight will be.

7. Choral
Gloria sei dir gesungen,
mit Menschen- und englischen Zungen,
mit Harfen und mit Zimbeln schon.
Von zwölf Perlen sind die Pforten,
an deiner Stadt sind wir Konsorten
der Engel hoch um deine Thron.
Kein Aug' hat je gespürt,
kein Ohr hat je gehört
solche Freude,
des sind wir froh,
io,io,
ewig in dulci jubilo.

("Wachet auf, ruft uns die Stimme," verse 3)

7. Chorale
Let Gloria be sung to You
with mortal and angelic tongues,
with harps and even with cymbals.
Of twelve pearls the portals are made,
In Your city we are companions
Of the angels high around Your throne.
No eye has ever perceived,
no ear has ever heard
such joy
as our happiness,
Io, io,


Translation from: http://www.emmanuelmusic.org/notes_translations/translations_cantata/t_bwv140.htm
https://youtu.be/IhYPBRedFnI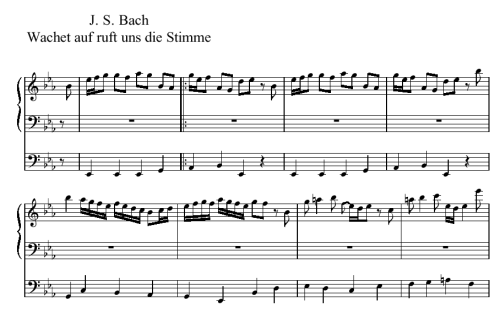 https://en.m.wikipedia.org/wiki/Wachet_auf,_ruft_uns_die_Stimme,_BWV_140

http://www.emmanuelmusic.org/notes_translations/translations_cantata/t_bwv140.htm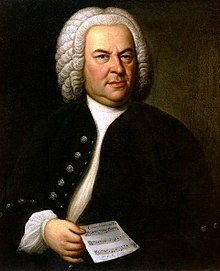 ---
Organ performance by Matthias Havinga
https://youtu.be/IhYPBRedFnI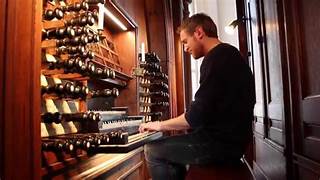 88 recordings of Cantata 140 are listed on bach-cantatas.com/
Several are free.
---
For none of us lives to himself, and no one dies to himself. For if we live, we live to the Lord; and if we die, we die to the Lord. Therefore, whether we live or die, we are the Lord's. For to this end Christ died and rose and lived again, that He might be Lord of both the dead and the living. But why do you judge your brother? Or why do you show contempt for your brother? For we shall all stand before the judgment seat of Christ. For it is written:

"As I live, says the Lord,
Every knee shall bow to Me,
And every tongue shall confess to God."

So then each of us shall give account of himself to God. (Romans 14:7-12)
---
Isaiah 45:18-25

For thus says the Lord,
Who created the heavens,
Who is God,
Who formed the earth and made it,
Who has established it,
Who did not create it in vain,
Who formed it to be inhabited:
"I am the Lord, and there is no other.
I have not spoken in secret,
In a dark place of the earth;
I did not say to the seed of Jacob,
'Seek Me in vain';
I, the Lord, speak righteousness,
I declare things that are right.
"Assemble yourselves and come;
Draw near together,
You who have escaped from the nations.
They have no knowledge,
Who carry the wood of their carved image,
And pray to a god that cannot save.
Tell and bring forth your case;
Yes, let them take counsel together.
Who has declared this from ancient time?
Who has told it from that time?
Have not I, the Lord?
And there is no other God besides Me,
A just God and a Savior;
There is none besides Me.
"Look to Me, and be saved,
All you ends of the earth!
For I am God, and there is no other.
I have sworn by Myself;
The word has gone out of My mouth in righteousness,
And shall not return,
That to Me every knee shall bow,
Every tongue shall take an oath.
He shall say,
'Surely in the Lord I have righteousness and strength.
To Him men shall come,
And all shall be ashamed
Who are incensed against Him.
In the Lord all the descendants of Israel
Shall be justified, and shall glory.' "
---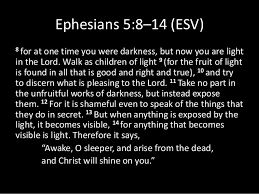 Wake Up! Wake Up! Sermon by Charles Haddon Spurgeon
Sleepers, Awake! (This version)
Wake Up, God! (Psalm 44) (For Pastor Andy Burnham)
August 7, 2013, August 7, 2018