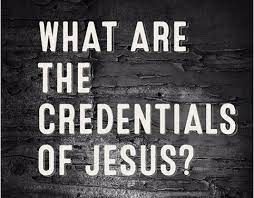 The Credentials of Jesus Christ
This is the disciple who testifies of these things,
and wrote these things;
|and we know that his testimony is true.
And there are also many other things that Jesus did,
which if they were written one by one, 
I suppose that even the world itself could not contain the books that would be written.
Amen.
(John 21:24, 25)
Countless books, articles and messages have been written about Jesus since He was here.
The majority are speculative and few are trustworthy.
Below are some actual insights into the Man Jesus Christ found in the Bible.

Before the Ascension
I have glorified You on the earth. I have finished the work which You have given Me to do.
And now, O Father, glorify Me together with Yourself, with the glory which I had with You before the world was. (John 17:4,5)
Birth to age 33
During His Time on Earth
Jesus said to them, 'Amen, Amen, I tell you, the Son can do nothing on his own, but only what he sees the Father doing; for whatever the Father does, the Son does likewise. The Father loves the Son and shows him all that he himself is doing; and he will show him greater works than these, so that you will be astonished. Indeed, just as the Father raises the dead and gives them life, so also the Son gives life to whomsoever he wishes. The Father judges no one but has given all judgment to the Son, so that all may honour the Son just as they honour the Father. Anyone who does not honour the Son does not honour the Father who sent him. Very truly, I tell you, anyone who hears my word and believes him who sent me has eternal life, and does not come under judgment, but has passed from death to life. 'Very truly, I tell you, the hour is coming, and is now here, when the dead will hear the voice of the Son of God, and those who hear will live. For just as the Father has life in himself, so he has granted the Son also to have life in himself; and he has given him authority to execute judgment, because he is the Son of Man. Do not be astonished at this; for the hour is coming when all who are in their graves will hear his voice and will come out—those who have done good, to the resurrection of life, and those who have done evil, to the resurrection of condemnation. 'I can do nothing on my own. As I hear, I judge; and my judgment is just, because I seek to do not my own will but the will of him who sent me. 'If I testify about myself, my testimony is not true. There is another who testifies on my behalf, and I know that his testimony to me is true. You sent messengers to John, and he testified to the truth. Not that I accept such human testimony, but I say these things so that you may be saved. He was a burning and shining lamp, and you were willing to rejoice for a while in his light. But I have a testimony greater than John's. The works that the Father has given me to complete, the very works that I am doing, testify on my behalf that the Father has sent me. And the Father who sent me has himself testified on my behalf. You have never heard his voice or seen his form, and you do not have his word abiding in you, because you do not believe him whom he has sent. 'You search the scriptures because you think that in them you have eternal life; and it is they that testify on my behalf. But you refuse to come to me to have life. I do not accept glory from human beings. But I know that you do not have the love of God in you. I have come in my Father's name, and you do not accept me; if another comes in his own name, you will accept him. How can you believe when you accept glory from one another and do not seek the glory that comes from the one who alone is God? Do not think that I will accuse you before the Father; your accuser is Moses, on whom you have set your hope. If you believed Moses, you would believe me, for he wrote about me. But if you do not believe what he wrote, how will you believe what I say?' (John 5)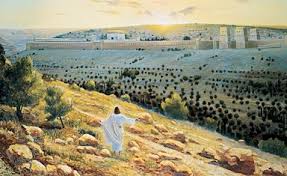 O Jerusalem!
Then Jesus spoke to the multitudes and to His disciples, saying:  "The scribes and the Pharisees sit in Moses' seat. Therefore whatever they tell you to observe,  that observe and do, but do not do according to their works; for  they say, and do not do. For they bind heavy burdens, hard to bear, and lay them on men's shoulders; but they themselves will not move them with one of their fingers.  But all their works they do to  be seen by men. They make their phylacteries broad and enlarge the borders of their garments. They love the best places at feasts, the best seats in the synagogues, greetings in the marketplaces, and to be called by men, 'Rabbi, Rabbi.'  But you, do not be called 'Rabbi'; for One is your Teacher, the Christ, and you are all brethren. 

Do not call anyone on earth your father;  for One is your Father, He who is in heaven. And do not be called teachers; for One is your Teacher, the Christ. But  he who is greatest among you shall be your servant.  And whoever exalts himself will be humbled, and he who humbles himself will be exalted. "But  woe to you, scribes and Pharisees, hypocrites! For you shut up the kingdom of heaven against men; for you neither go in yourselves, nor do you allow those who are entering to go in. Woe to you, scribes and Pharisees, hypocrites!  For you devour widows' houses, and for a pretense make long prayers Therefore you will receive greater condemnation. "Woe to you, scribes and Pharisees, hypocrites! For you travel land and sea to win one proselyte, and when he is won, you make him twice as much a son of hell as yourselves. 

"Woe to you,  blind guides, who say,  'Whoever swears by the temple, it is nothing; but whoever swears by the gold of the temple, he is obliged to perform it.' Fools and blind! For which is greater, the gold  or the temple that sanctifies the gold? And, 'Whoever swears by the altar, it is nothing; but whoever swears by the gift that is on it, he is obliged to perform it.' Fools and blind! For which is greater, the gift  or the altar that sanctifies the gift? Therefore he who swears by the altar, swears by it and by all things on it. He who swears by the temple, swears by it and by  Him who dwells in it. And he who swears by heaven, swears by  the throne of God and by Him who sits on it.

"Woe to you, scribes and Pharisees, hypocrites!  For you pay tithe of mint and anise and cummin, and  have neglected the weightier matters of the law: justice and mercy and faith. These you ought to have done, without leaving the others undone. Blind guides, who strain out a gnat and swallow a camel! 

"Woe to you, scribes and Pharisees, hypocrites!  For you cleanse the outside of the cup and dish, but inside they are full of extortion and self-indulgence. Blind Pharisee, first cleanse the inside of the cup and dish, that the outside of them may be clean also. "Woe to you, scribes and Pharisees, hypocrites!  For you are like whitewashed tombs which indeed appear beautiful outwardly, but inside are full of dead men's bones and all uncleanness. Even so you also outwardly appear righteous to men, but inside you are full of hypocrisy and lawlessness. "Woe to you, scribes and Pharisees, hypocrites! Because you build the tombs of the prophets and adorn the monuments of the righteous, and say, 'If we had lived in the days of our fathers, we would not have been partakers with them in the blood of the prophets. 

"Therefore you are witnesses against yourselves that  you are sons of those who murdered the prophets. Fill up, then, the measure of your fathers' guilt. Serpents,  brood of vipers! How can you escape the condemnation of hell? Therefore, indeed, I send you prophets, wise men, and scribes:  some of them you will kill and crucify, and  some of them you will scourge in your synagogues and persecute from city to city, that on you may come all the righteous blood shed on the earth,  from the blood of righteous Abel to  the blood of Zechariah, son of Berechiah, whom you murdered between the temple and the altar. Assuredly, I say to you, all these things will come upon this generation.



"O Jerusalem, Jerusalem, the one who kills the prophets  and stones those who are sent to her! 
How often  I wanted to gather your children together, as a hen gathers her chicks under her wings, but you were not willing! 
See! Your house is left to you desolate; for I say to you, 
you shall see Me no more till you say,  'Blessed  is  He who comes in the name of the Lord!' "


At His Trial
And the high priest stood up and said, "Have you no answer to make? What is it that these men testify against you?"  But Jesus remained silent. And the high priest said to him, "I adjure you by the living God, tell us if you are the Christ, the Son of God."64 Jesus said to him, "You have said so."

"But I tell you, from now on you will see the Son of Man seated at the right hand of Power and coming on the clouds of heaven."  

Then the high priest tore his robes and said, "He has uttered blasphemy. What further witnesses do we need? You have now heard his blasphemy. What is your judgment?" They answered, "He deserves death." Then they spit in his face and struck him. And some slapped him, saying, "Prophesy to us, you Christ! Who is it that struck you?"

Now Peter was sitting outside in the courtyard. And a servant girl came up to him and said, "You also were with Jesus the Galilean." But he denied it before them all, saying, "I do not know what you mean." And when he went out to the entrance, another servant girl saw him, and she said to the bystanders, "This man was with Jesus of Nazareth." And again he denied it with an oath: "I do not know the man." After a little while the bystanders came up and said to Peter, "Certainly you too are one of them, for your accent betrays you." Then he began to invoke a curse on himself and to swear, "I do not know the man." And immediately the rooster crowed. And Peter remembered the saying of Jesus, "Before the rooster crows, you will deny me three times." And he went out and wept bitterly." (Matthew 26:62-75)

The High Priestly Prayer of Jesus

Jesus spoke these words, lifted up His eyes to heaven, and said: "Father, the hour has come. Glorify Your Son, that Your Son also may glorify You, 2 as You have given Him authority over all flesh, that He should give eternal life to as many as You have given Him. 3 Andthis is eternal life, that they may know You, the only true God, and Jesus Christ whom You have sent. 4 I have glorified You on the earth. I have finished the work which You have given Me to do. 5 And now, O Father, glorify Me together with Yourself, with the glory which I had with You before the world was.

6 "I have manifested Your name to the men whom You have given Me out of the world. They were Yours, You gave them to Me, and they have kept Your word. 7 Now they have known that all things which You have given Me are from You. 8 For I have given to them the words which You have given Me; and they have received them, and have known surely that I came forth from You; and they have believed that You sent Me.

9 "I pray for them. I do not pray for the world but for those whom You have given Me, for they are Yours. 10 And all Mine are Yours, and Yours are Mine, and I am glorified in them. 11 Now I am no longer in the world, but these are in the world, and I come to You. Holy Father, keep through Your name those whom You have given Me, that they may be one as We are. 12 While I was with them in the world, I kept them in Your name. Those whom You gave Me I have kept; and none of them is lost except the son of perdition, that the Scripture might be fulfilled. But now I come to You, and these things I speak in the world, that they may have My joy fulfilled in themselves. 14 I have given them Your word;and the world has hated them because they are not of the world, just as I am not of the world. 15 I do not pray that You should take them out of the world, but that You should keep them from the evil one. 16 They are not of the world, just as I am not of the world. 17 Sanctify them by Your truth. Your word is truth. 18 As You sent Me into the world, I also have sent them into the world. 19 And for their sakes I sanctify Myself, that they also may be sanctified by the truth.

20 "I do not pray for these alone, but also for those who will believe in Me through their word; 21 that they all may be one, as You, Father, are in Me, and I in You; that they also may be one in Us, that the world may believe that You sent Me. 22 And the glory which You gave Me I have given them, that they may be one just as We are one: 23 I in them, and You in Me; that they may be made perfect in one, and that the world may know that You have sent Me, and have loved them as You have loved Me.

24 "Father, I desire that they also whom You gave Me may be with Me where I am, that they may behold My glory which You have given Me; for You loved Me before the foundation of the world. 25 O righteous Father! The world has not known You, but I have known You; andthese have known that You sent Me. 26 And I have declared to them Your name, and will declare it, that the love with which You loved Me may be in them, and I in them." (John 17)

After His resurrection 
 Then He said to them, "O foolish ones, and slow of heart to believe in all that the prophets have spoken!
"Ought not the Christ to have suffered these things and to enter into His glory?"
And beginning at Moses and all the Prophets,
He expounded to them in all the Scriptures the things concerning Himself. (Luke 24:25-27)

His Ascension
 The former account I made, O Theophilus, of all that Jesus began both to do and teach until the day in which He was taken up, after He through the Holy Spirit had given commandments to the apostles whom He had chosen,  to whom He also presented Himself alive after His suffering by many infallible proofs, being seen by them during forty days and speaking of the things pertaining to the kingdom of God.  

And being assembled together with them,He commanded them not to depart from Jerusalem, but to wait for the Promise of the Father, "which," He said, "you have heard from Me; "for John truly baptized with water, but you shall be baptized with the Holy Spirit not many days from now." 

Therefore, when they had come together, they asked Him, saying, "Lord, will You at this time restore the kingdom to Israel?" 

And He said to them, "It is not for you to know times or seasons which the Father has put in His own authority.  "But you shall receive power when the Holy Spirit has come upon you; and you shall be witnesses to Me in Jerusalem, and in all Judea and Samaria, and to the end of the earth."  Now when He had spoken these things, while they watched, He was taken up, and a cloud received Him out of their sight.

And while they looked steadfastly toward heaven as He went up, behold, two men stood by them in white apparel,  who also said, "Men of Galilee, why do you stand gazing up into heaven? This same Jesus, who was taken up from you into heaven, will so come in like manner as you saw Him go into heaven." (Acts 1:1-11)

The Eternal Priesthood of Jesus
Therefore, when He came into the world, He said:

"Sacrifice and offering You did not desire,
But a body You have prepared for Me.  In burnt offerings and sacrifices for sin
You had no pleasure.  Then I said, 'Behold, I have come—
In the volume of the book it is written of Me—
To do Your will, O God.' 

 Previously saying, "Sacrifice and offering, burnt offerings, and offerings for sin You did not desire, nor had pleasure in them" (which are offered according to the law), establish the second. By that will we have been sanctified through the offering of the body of Jesus Christ once for all. And every priest stands ministering daily and offering repeatedly the same sacrifices, which can never take away sins. But this Man, after He had offered one sacrifice for sins forever, sat down at the right hand of God,  from that time waiting till His enemies are made His footstool." (Hebrews 10:5-13)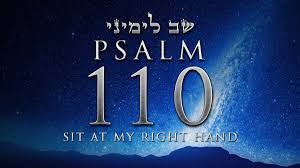 Psalm 110
Announcement of the Messiah's Reign  A Psalm of David.

The LORD said to my Lord,
"Sit at My right hand,
Till I make Your enemies Your footstool."
The LORD shall send the rod of Your strength out of Zion.
Rule in the midst of Your enemies!
Your people shall be volunteers
In the day of Your power;
In the beauties of holiness, from the womb of the morning,
You have the dew of Your youth.
The LORD has sworn
And will not relent,
"You are a priest forever
According to the order of Melchizedek." |
The Lord is at Your right hand;
He shall execute kings in the day of His wrath.
He shall judge among the nations,
He shall fill the places with dead bodies,
He shall execute the heads of many countries. 
He shall drink of the brook by the wayside;
Therefore He shall lift up the head.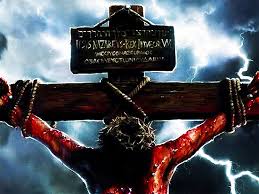 Psalm 22
The Suffering, Praise, and Posterity of the Messiah To the Chief Musician.
Set to "The Deer of the Dawn." A Psalm of David.
My God, My God, why have You forsaken Me?
Why are You so far from helping Me,
And from the words of My groaning?
2 O My God, I cry in the daytime, but You do not hear;
And in the night season, and am not silent.
3 But You are holy,
Enthroned in the praises of Israel.
4 Our fathers trusted in You;
They trusted, and You delivered them.
5 They cried to You, and were delivered;
They trusted in You, and were not ashamed.
6 But I am a worm, and no man;
A reproach of men, and despised by the people.
7 All those who see Me ridicule Me;
They shoot out the lip, they shake the head, saying,
8 "He trusted in the LORD, let Him rescue Him;
Let Him deliver Him, since He delights in Him!"
9 But You are He who took Me out of the womb;
You made Me trust while on My mother's breasts.
10 I was cast upon You from birth.
From My mother's womb
You have been My God.
11 Be not far from Me,
For trouble is near;
For there is none to help.
12 Many bulls have surrounded Me;
Strong bulls of Bashan have encircled Me.
13 They gape at Me with their mouths,
Like a raging and roaring lion.
14 I am poured out like water,
And all My bones are out of joint;
My heart is like wax;
It has melted within Me.
15 My strength is dried up like a potsherd,
And My tongue clings to My jaws;
You have brought Me to the dust of death.
16 For dogs have surrounded Me;
The congregation of the wicked has enclosed Me.
They pierced My hands and My feet;
17 I can count all My bones.
They look and stare at Me.
18 They divide My garments among them,
And for My clothing they cast lots.
19 But You, O LORD, do not be far from Me;
O My Strength, hasten to help Me!
20 Deliver Me from the sword,
My precious life from the power of the dog.
21 Save Me from the lion's mouth
And from the horns of the wild oxen!

You have answered Me.
22 I will declare Your name to My brethren;
In the midst of the assembly I will praise You.
23 You who fear the LORD, praise Him!
All you descendants of Jacob, glorify Him,
And fear Him, all you offspring of Israel!
24 For He has not despised nor abhorred the affliction of the afflicted;
Nor has He hidden His face from Him;
But when He cried to Him, He heard.
25 My praise shall be of You in the great assembly;
I will pay My vows before those who fear Him.
26 The poor shall eat and be satisfied;
Those who seek Him will praise the LORD.
Let your heart live forever!
27 All the ends of the world
Shall remember and turn to the LORD,
And all the families of the nations
Shall worship before You.
28 For the kingdom is the LORD's,
And He rules over the nations.
29 All the prosperous of the earth
Shall eat and worship;
All those who go down to the dust
Shall bow before Him,
Even he who cannot keep himself alive.
30 A posterity shall serve Him.
It will be recounted of the Lord to the next generation,
31 They will come and declare His righteousness to a people who will be born,
That He has done this.

The Present Office and Authority of Jesus
Colossians 1:11-18
"He has delivered us from the power of darkness and conveyed us into the kingdom of the Son of His love, in whom we have redemption through His blood, the forgiveness of sins. He is the image of the invisible God, the firstborn over all creation. For by Him all things were created that are in heaven and that are on earth, visible and invisible, whether thrones or dominions or principalities or powers. All things were created through Him and for Him. And He is before all things, and in Him all things consist. And He is the head of the body, the church, who is the beginning, the firstborn from the dead, that in all things He may have the preeminence."

Ephesians 1:11-22
"In Him we have redemption through His blood, the forgiveness of sins, according to the riches of His grace  which He made to abound toward us in all wisdom and prudence,  having made known to us the mystery of His will, according to His good pleasure which He purposed in Himself, 10 that in the dispensation of the fullness of the times He might gather together in one all things in Christ, both which are in heaven and which are on earth—in Him. In Him also we have obtained an inheritance, being predestined according to the purpose of Him who works all things according to the counsel of His will,  that we who first trusted in Christ should be to the praise of His glory.  In Him you also trusted, after you heard the word of truth, the gospel of your salvation; in whom also, having believed, you were sealed with the Holy Spirit of promise, 14 who is the guarantee of our inheritance until the redemption of the purchased possession, to the praise of His glory.

Therefore I also, after I heard of your faith in the Lord Jesus and your love for all the saints,  do not cease to give thanks for you, making mention of you in my prayers:  that the God of our Lord Jesus Christ, the Father of glory, may give to you the spirit of wisdom and revelation in the knowledge of Him,  the eyes of your understanding being enlightened; that you may know what is the hope of His calling, what are the riches of the glory of His inheritance in the saints,  and what is the exceeding greatness of His power toward us who believe, according to the working of His mighty power  which He worked in Christ when He raised Him from the dead and seated Him at His right hand in the heavenly places, far above all principality and power and might and dominion, and every name that is named, not only in this age but also in that which is to come. 22 And He put all things under His feet, and gave Him to be head over all things to the church, which is His body, the fullness of Him who fills all in all."


Jesus, The Judge of All

There are two great judgments ahead for all of us. The Judgment Seat of Christ, which is for those who know Jesus, is not about sin. They were all dealt with by Jesus on the cross. Think of it as a Performance Review, an honest evaluation of one's entire life. But many Christians feel entitled to go to heaven when they die. Entering New Jerusalem is the beginning of the eternal life and service given to us by God's mercy.

Paul states plainly that what we are going through now is only preparing us for something yet to come--something so glorious and so different from what we have known that it is "beyond all comparison." In the words of Robert Browning's "Rabbi Ben Ezra"--yet in a way far more true than Browning ever intended--Paul is saying:

Grow old along with me!
The best is yet to be, 
The last of life,
for which the first was made. (RCS)

The Judgment of the Great White Throne is another matter!

The Last Judgment

Venue: The Courtroom of the Cosmos.
Seating Space for at least 10 billion defendants.

Timing: Earth Calendar Time
At the end of the thousand-year millennial reign of Jesus Christ 
over all the nations from His headquarters in Jerusalem, Israel.

Timing: Cosmic Time
An event outside of Earth Time. 
Defendants time travel there when they die.

The Presiding Judge
Jesus Christ

Body Required
Not a judgment of disembodied spirits. 

Defense Attorney
None


Observers
Innumerable Angels

The Evidence
Record Books of Everyone since Adam

Judgment of Angels
A Separate Event

Defendants: 
Adam to Noah: 10 generations. 
Noah to Abraham: 10 generations
Abraham to Jesus: 42 generations (Mt. 1)
Jesus to 2022: 50 generations

Then I saw a great white throne and him who was seated on it. Earth and sky fled from his presence, and there was no place for them. And I saw the dead, great and small, standing before the throne, and books were opened. Another book was opened, which is the book of life. The dead were judged according to what they had done as recorded in the books. The sea gave up the dead that were in it, and death and Hades gave up the dead that were in them, and each person was judged according to what he had done. Then death and Hades were thrown into the lake of fire. The lake of fire is the second death. If anyone's name was not found written in the book of life, he was thrown into the lake of fire. (Revelation 20:11-15 NIV)


One of the most famous inscriptions inside the Cathedral is a poem:
"You call Me Master and obey me not,
You call Me Light and see Me not,
You call Me Way and walk not,
You call Me Life and desire Me not,
You call Me wise and follow Me not,
You call Me fair and love Me not,
You call Me rich and ask Me not,
You call Me eternal and seek Me not,
You call Me gracious and trust Me not,
You call Me noble and serve Me not,
You call Me mighty and honor Me not,
You call Me just and fear Me not,
If I condemn you, blame me not".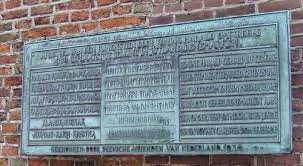 Reading List
Jesus is a Single Man

Jesus Plain and Simple

The Left Hand of God

The Management of the Universe
The Resume of Jesus

Jesus raises Fifty Generations of Disciples ~100 million followers 

Notes by Lambert Dolphin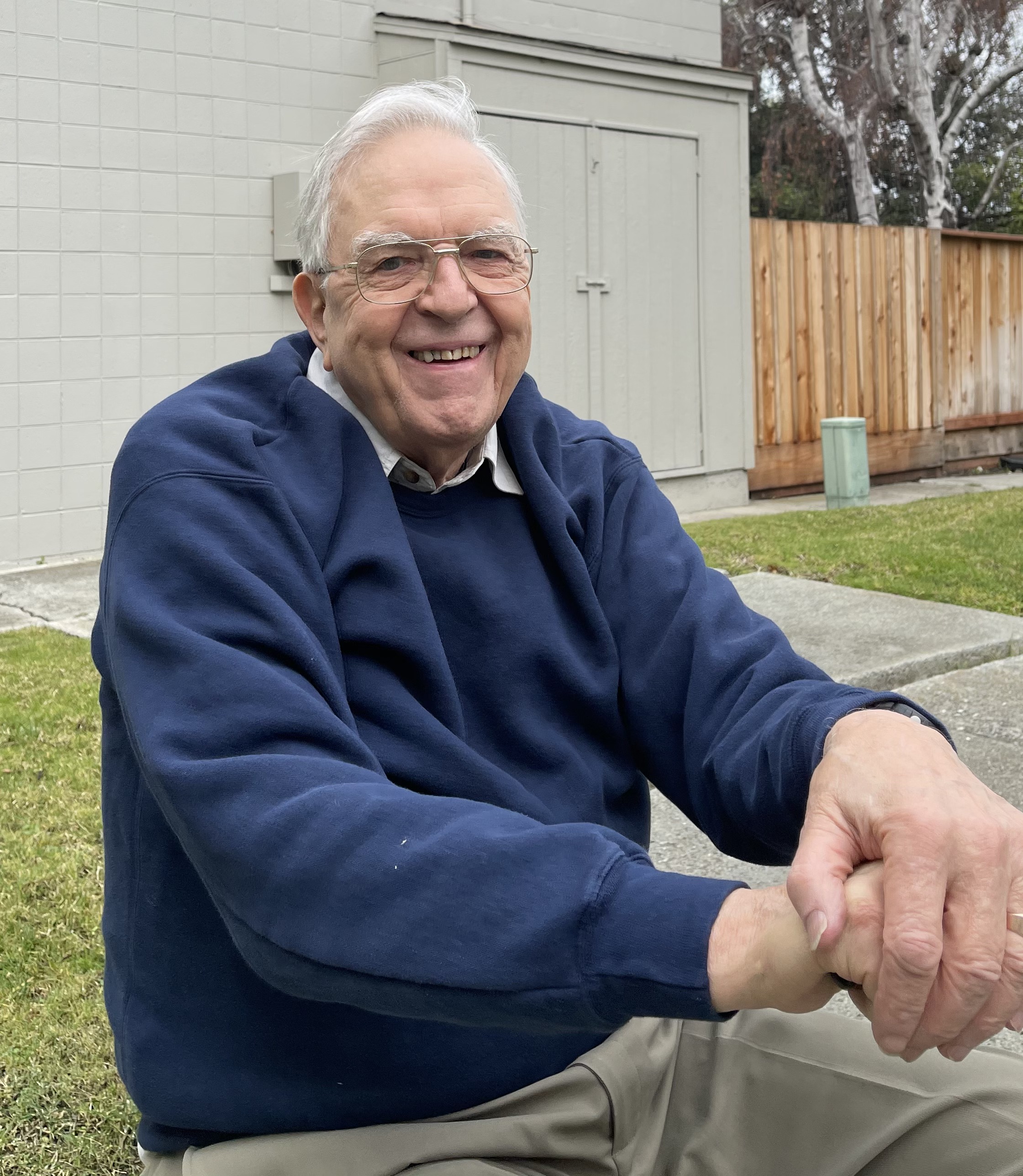 Library 

New Articles: Library Annex (since 2018)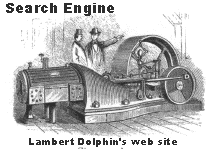 Email 
Lambert Dolphin's Place
Recent and Recovered Articles
Newsletters Old and New
October 14, 2022