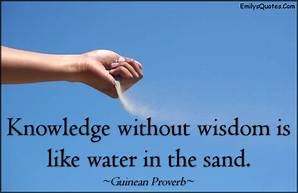 Logos and Sophia

Many years ago (c1964) I discovered that wisdom is always personified as a woman in the book of Proverbs.
Not only that, but "she" is pictured as having been present during the creation of everything!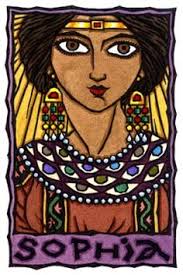 "Does not wisdom cry out,
And understanding lift up her voice?
She takes her stand on the top of the high hill,
Beside the way, where the paths meet.
She cries out by the gates, at the entry of the city,
At the entrance of the doors:
"To you, O men, I call,
And my voice is to the sons of men.

O you simple ones, understand prudence,
And you fools, be of an understanding heart.
Listen, for I will speak of excellent things,
And from the opening of my lips will come right things;
For my mouth will speak truth;
Wickedness is an abomination to my lips.

All the words of my mouth are with righteousness;
Nothing crooked or perverse is in them.
They are all plain to him who understands,
And right to those who find knowledge.

Receive my instruction, and not silver,
And knowledge rather than choice gold;
For wisdom is better than rubies,
And all the things one may desire cannot be compared with her.
"I, wisdom, dwell with prudence,
And find out knowledge and discretion.

The fear of the Lord is to hate evil;
Pride and arrogance and the evil way
And the perverse mouth I hate.
Counsel is mine, and sound wisdom;
I am understanding, I have strength.
By me kings reign,
And rulers decree justice.
By me princes rule, and nobles,
All the judges of the earth.

I love those who love me,
And those who seek me diligently will find me.
Riches and honor are with me,
Enduring riches and righteousness.
My fruit is better than gold, yes, than fine gold,
And my revenue than choice silver.
I traverse the way of righteousness,
In the midst of the paths of justice,
That I may cause those who love me to inherit wealth,
That I may fill their treasuries.

"The Lord possessed me at the beginning of His way,
Before His works of old.
I have been established from everlasting,
From the beginning, before there was ever an earth.
When there were no depths I was brought forth,
When there were no fountains abounding with water.
Before the mountains were settled,
Before the hills, I was brought forth;
While as yet He had not made the earth or the fields,
Or the primal dust of the world.

When He prepared the heavens, I was there,
When He drew a circle on the face of the deep,
When He established the clouds above,
When He strengthened the fountains of the deep,
When He assigned to the sea its limit,
So that the waters would not transgress His command,
When He marked out the foundations of the earth,
Then I was beside Him as a master craftsman;
And I was daily His delight,
Rejoicing always before Him,
Rejoicing in His inhabited world,
And my delight was with the sons of men.

"Now therefore, listen to me, my children,
For blessed are those who keep my ways.
Hear instruction and be wise,
And do not disdain it.
Blessed is the man who listens to me,
Watching daily at my gates,
Waiting at the posts of my doors.
For whoever finds me finds life,
And obtains favor from the Lord;
But he who sins against me wrongs his own soul;
All those who hate me love death."
Wisdom has built her house,
She has hewn out her seven pillars;
She has slaughtered her meat,
She has mixed her wine,
She has also furnished her table.
She has sent out her maidens,
She cries out from the highest places of the city,
"Whoever is simple, let him turn in here!"

As for him who lacks understanding, she says to him,
"Come, eat of my bread
And drink of the wine I have mixed.
Forsake foolishness and live,
And go in the way of understanding.
"He who corrects a scoffer gets shame for himself,
And he who rebukes a wicked man only harms himself.
Do not correct a scoffer, lest he hate you;
Rebuke a wise man, and he will love you.

Give instruction to a wise man, and he will be still wiser;
Teach a just man, and he will increase in learning.
"The fear of the Lord is the beginning of wisdom,
And the knowledge of the Holy One is understanding.
For by me your days will be multiplied,
And years of life will be added to you.
If you are wise, you are wise for yourself,
And if you scoff, you will bear it alone."
A foolish woman is clamorous;
She is simple, and knows nothing.
For she sits at the door of her house,
On a seat by the highest places of the city,
To call to those who pass by,
Who go straight on their way:

"Whoever is simple, let him turn in here";
And as for him who lacks understanding, she says to him,
"Stolen water is sweet,
And bread eaten in secret is pleasant."
But he does not know that the dead are there,
That her guests are in the depths of hell." (Proverbs 8:1 - 9:18)
Obviously there is no Fourth Person in the Trinity, as some have suggested in the past. God is clearly not a sexual Being. But "man" (Adam/Eve) was made in the image of God.
"God is Spirit and those who worship him, must worship him in spirit and in truth." (John 4:23)
The Song of Solomon
I discovered the Song of Solomon early on in my experience of knowing Jesus, (c1965), and was immediately caught up in the imagery there of prelude and fugue, point and counterpoint, initiating and responding, stimulus and response, and the Tao. I saw right away that the two sexes are complements, not opposites. (Black and white, night and day, right and wrong, plus and minus, are opposites).
Today in our culture, the enigma of only two created sexes in the world, puzzles many. There was not much gender confusion back in the '60's, that came later. Hormones and the "urge to merge" and genetically driven hormones affect us all. Who among us has not suffered some bonding issues early in life? Or a failed marriage? Or been the victim of unrequited love? No wonder vast libraries of books have been written as scholars and researchers attempt to sort this out. The gene pool in each one of us is enormously complex but nurture and environment also matter. God has built much diversity and variety within the two categories.
Without help from our Creator we are all hopelessly lost and often deceived. Our inborn faults and flaws run very deep! Our Creator tells it like it is!
"The natural man does not understand the things of God, indeed they are foolishness to him because they must be spiritually discerned."
I first heard the astounding, liberating truth of Paul's letters to the Corinthians fifty-seven years ago:
"For the message (logos) of the cross is foolishness to those who are perishing, but to us who are being saved it is the power of God. For it is written:

'I will destroy the wisdom of the wise,
And bring to nothing the understanding of the prudent.'

Where is the wise? Where is the scribe? Where is the disputer of this age? Has not God made foolish the wisdom of this world? For since, in the wisdom of God, the world through wisdom did not know God, it pleased God through the foolishness of the message preached to save those who believe. For Jews request a sign, and Greeks seek after wisdom; but we preach Christ crucified, to the Jews a stumbling block and to the Greeks foolishness, but to those who are called, both Jews and Greeks, Christ the power of God and the wisdom of God. Because the foolishness of God is wiser than men, and the weakness of God is stronger than men.

For you see your calling, brethren, that not many wise according to the flesh, not many mighty, not many noble, are called. But God has chosen the foolish things of the world to put to shame the wise, and God has chosen the weak things of the world to put to shame the things which are mighty; and the base things of the world and the things which are despised God has chosen, and the things which are not, to bring to nothing the things that are, that no flesh should glory in His presence. But of Him you are in Christ Jesus, who became for us wisdom from God—and righteousness and sanctification and redemption— that, as it is written, "He who glories, let him glory in the Lord." (1 Corinthians 1:18-31)
Truth, namely Biblical revelation from outside the system, is accurate and powerful, cutting through myths, old-wives' tales and the flawed wisdom of man. Jesus dared to tell us that He was Himself THE truth and the only way to God. Jesus is also called the "wisdom of God" in the New Testament. (Sophia is a feminine noun in Greek, Logos, of course is masculine).
Not too many years later I asked my mentor Ray Stedman for his understanding of the woman "wisdom." He suggested we invite Bruce Waltke to fly down from Regent University in Vancouver Ray arranged for that to happen. Prof. Waltke knew a lot about Lady Wisdom, and the Song of Solomon of course, and his visit was a wonderful experience for all of us.
I then started teaching the Song to various groups. A group of gay men from Silicon Valley had invited me to teach them the Bible. I dared to open SofS yo them to see what God might do. The guys ate it up, several came to know Jesus and subsequently left "the lifestyle." The group in fact disbanded! So fearlessly I went on to present my interpretation to students at San Jose State University. They, too, (almost all were unmarried), said they were being edified by Solomon's Wisdom from Canticles. My men's group the legendary Wednesday Brothers of Thunder devoted time to Canticles, all the guys reacting naively with much dissonance--seeing things only from a male point of few, as one might expect!
I put my interpretation of S of S on my web site in 1967. I quickly read all the commentaries I could find in order to stay focused and out of trouble from potential critics. I made lots of revisions on the way. A wonderful group of young women in Australia wrote me several times, enthusiastic about my approach in showing that Canticles is not just for the merrily married.
I myself have never married yet I wanted Jesus Himself to meet me in the Song. Several friends said that I had no business teaching the SofS—it's for married couples only they claimed. But right away I read several popular commentaries written by well-married, monolithic, monogamous pastors who were peddling their commentaries on the Song. In short order I saw that they were giving away their secret sins unknowingly. The Song of Solomon is inspired Scripture! Reading it is like looking into a perfect mirror. The mirroring of the two sexes is like the warp and woof of fine tapestry. Both strands are necessary!
"For the word of God is living and powerful, and sharper than any two-edged sword, piercing even to the division of soul and spirit, and of joints and marrow, and is a discerner of the thoughts and intents of the heart. And there is no creature hidden from His sight, but all things are naked and open to the eyes of Him to whom we must give account." (Hebrews 4:12-13)
My friend Carl Gallivan and I dared to write a "one-evening condensed book" (1968)—which we titled "Sex Through the Looking Glass," (after Alice in Wonderland). Our book (published by Good News Publishers in Chicago) got us into Wheaton College and a number of other places. I remember the posters in Spanish when I was invited to speak at the University of Mexico sponsored by the IV group there. The announced that a physicist from Stanford would speak on "Sex in the Mirror," (Spanish: sexo en el espejo). Thankfully very few students showed up!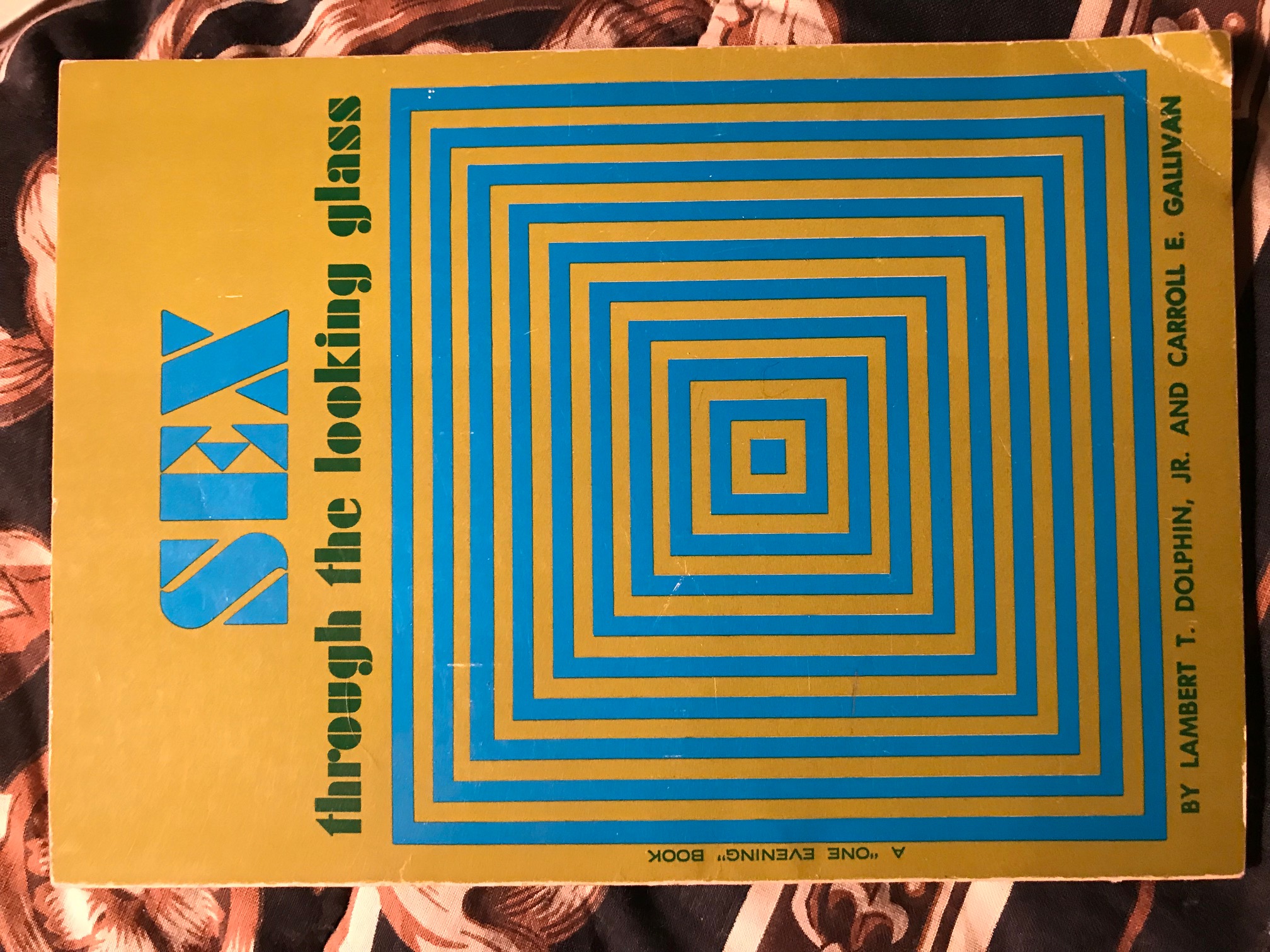 Of course what Carl and I wrote 51 years ago sounds naive to us today. But we both were intrigued in realizing that God speaks to women a bit differently than to men. Most people we knew were aware of this cosmic reality already, as you might have expected. Both Carl and I were all too aware of the enormous disconnect between the sexes in that day. Both Carl and I had rebelled against the culture back then. Neither of us fit in well into Establishment living.
There is obviously much synergy in marriage! I actually know a few wonderfully married men and women. Jesus is the most important Third Party in any relationship, I am convinced, and He is undoubtedly the key to a great marriage. But synergy is not limited to marriage only!
Establishment Christians seem to think so, but we Counter Culture Christians believe otherwise.
Ephesians Chapter 5 describes a "great mystery" concerning marriage down here on earth and the coming marriage of Jesus to His Bride, the church. The teaching of Ephesians 5 is not so much hidden truth as it is vast and many-faceted like a diamond, not to be simplistically understood.
Mysteries in the Bible are not like state secrets. Hidden in ages past, "mysteries" can now be fully understand seeking to know Jesus better.
Here is the Mystery Passage:
"Wives, submit to your own husbands, as to the Lord. For the husband is head of the wife, as also Christ is head of the church; and He is the Savior of the body. Therefore, just as the church is subject to Christ, so let the wives be to their own husbands in everything.

Husbands, love your wives, just as Christ also loved the church and gave Himself for her, that He might sanctify and cleanse her with the washing of water by the word, that He might present her to Himself a glorious church, not having spot or wrinkle or any such thing, but that she should be holy and without blemish. So husbands ought to love their own wives as their own bodies; he who loves his wife loves himself. For no one ever hated his own flesh, but nourishes and cherishes it, just as the Lord does the church. For we are members of His body, of His flesh and of His bones. "For this reason a man shall leave his father and mother and be joined to his wife, and the two shall become one flesh." This is a great mystery, but I speak concerning Christ and the church. (Ephesians 5:22-32)
One becomes a complete and whole person "in Christ" — not in a "relationship" — whether the apparent "togetherness" is MF, MM, FF --or whatever. Joining a church or becoming more religious won't do it either! Holding hands also falls short. Vows and solemn oaths at a wedding ceremony are quickly forgotten by many, even before the honeymoon is over for many. The times we live in are seemingly devoid of intimacy at all levels. There is great naiveté about relationships and raw paganism as a kind of cosmic default. We are not a covenant keeping people, either!
But God!
There is a major wedding scheduled just ahead for Jesus and for all who know him as Lord. He, that is, the real historic, Jesus, will soon be married, This marriage will literally be made in heaven. In this God-scheduled marriage, the most desirable single man in all of history will soon see the further outworking of the outworking of the Father's plan. The "great mystery" mentioned two millennia ago by the Apostle Paul will be at last clear!
Jesus is not about to marry just one woman (and live happily ever after). His marriage will not be sexual nor lead to more babies being born on our crowded planet. Jesus will "marry" all the men, women and children who know Him. Again, it will not be about genital sexuality! This bride must first be "revirginized" obviously!
But this Bride and Bridegroom will rule together in the coming age of peace on earth!
"Blessed and holy is he who has part in the first resurrection. Over such the second death has no power, but they shall be priests of God and of Christ, and shall reign with Him a thousand years." (Revelation 20:6)
Therefore
"Beware lest anyone cheat you through philosophy and empty deceit, according to the tradition of men, according to the basic principles of the world, and not according to Christ. For in Him dwells all the fullness of the Godhead bodily; and you are complete in Him, who is the head of all principality and power.

In Him you were also circumcised with the circumcision made without hands, by putting off the body of the sins of the flesh, by the circumcision of Christ, buried with Him in baptism, in which you also were raised with Him through faith in the working of God, who raised Him from the dead. And you, being dead in your trespasses and the uncircumcision of your flesh, He has made alive together with Him, having forgiven you all trespasses, having wiped out the handwriting of requirements that was against us, which was contrary to us. And He has taken it out of the way, having nailed it to the cross. Having disarmed principalities and powers, He made a public spectacle of them, triumphing over them in it." (Colossians 2:8-15)
I have seen too many lousy marriages, too much "fooling around," and lots of divorces. I remember saying to Elaine Stedman decades ago (facetiously), "I don't go to weddings very often but I do go to lots of divorces." I remember how alarmed Ray Stedman was back about 1970(?) when our elders learned 22 marriages at our church were in trouble. (Membership then was about 2000?). In the ensuing half century marriage as an institution (handed to us by our Creator, in Genesis 2:24), has ceased to mean much to the up and coming generation as I have just discovered.
I am saddened more than ever now when I see marriage cheapened and devalued, people nearly universally sleeping around with outside liaisons where there ought to be fidelity. Is there zero real intimacy anywhere between Christians now? Jesus knows more about "unrequited loved" than any other man who ever lived.
Jesus is our Healer and we must get right with Him now—or perish. Accountability to Jesus is not an option! It is not the outer form of a marriage that matters.
"...Christ also loved the church and gave Himself for her, that He might sanctify and cleanse her with the washing of water by the word, that He might present her to Himself a glorious church, not having spot or wrinkle or any such thing, but that she should be holy and without blemish." (Ephesians 5:25-27)
---
"For none of us lives to himself, and no one dies to himself. For if we live, we live to the Lord; and if we die, we die to the Lord. Therefore, whether we live or die, we are the Lord's. For to this end Christ died and rose and lived again, that He might be Lord of both the dead and the living.
But why do you judge your brother? Or why do you show contempt for your brother? For we shall all stand before the judgment seat of Christ. For it is written:
"As I live, says the Lord,
Every knee shall bow to Me,
And every tongue shall confess to God."
So then each of us shall give account of himself to God." (Romans 14:7-12)

I have never wanted to be married since I was a boy. I saw early on in my life that "those who marry will have worldly cares and I would spare you that," (1 Corinthians 7:28). Many of active bachelor brothers in Jesus quickly dropped out of front-line soldiering after they married, as if they were embarking on a long vacation for life, as if excused from active duty. Not all, but many!
Finding out my identity and the meaning of life was for years my main purpose in life. Science was probably where I should focus my search, I thought. A great roommate, Marty Kantor, when I was in grad school at Stanford, (1955), was a Jewish psychiatrist from Boston of all things. He heavily committed to Freudian psychoanalysis, but had a huge role in broadening my study so that I considered inner space as well as outer space from that time on.
There were very important women in my life back then! Paula Fern, a Jewish Christian was actively translating Carl Sagan's books into Russian (and Russian books into English). Paula introduced me to several neat grad students at Stanford and she went with me regularly to a small church in nearby Los Altos on Sunday mornings. After I became a Christian, Paula I am teamed up to place paid articles in the Stanford Daily (and four other college newspapers). She and I maintained a post office box but neither of us, (regrettably) had time to spend on campus. We kept it for two years 1963-65). I wrote, Paula edited, and she paid the substantial costs (using up her life savings pretty much).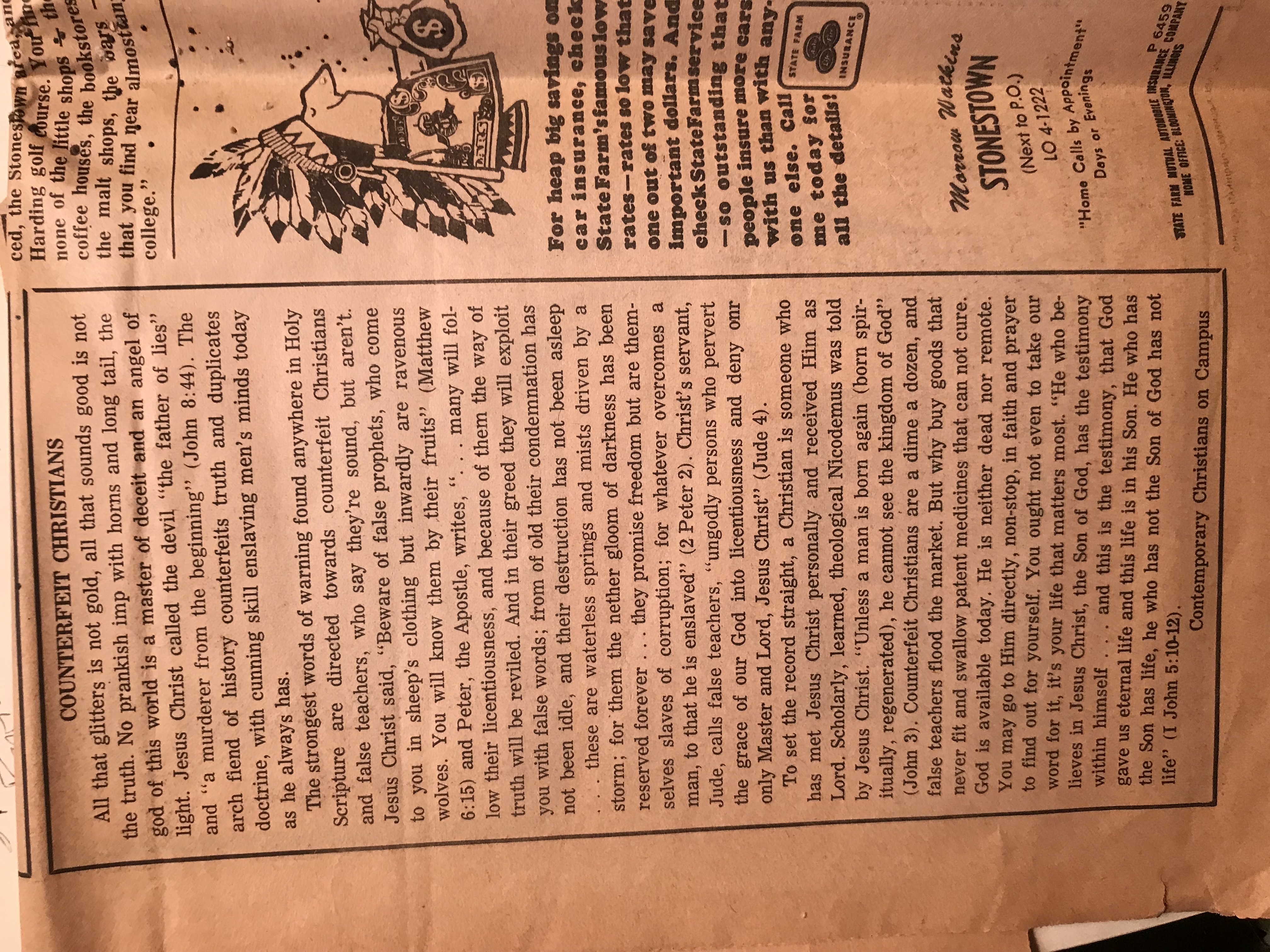 "Recently in the Stanford Daily there appeared an ad in response to some of the advertisements put in by a fine group called Contemporary Christians on Campus. This ad originated with a group who signed themselves Contemporary Atheists On Campus. It said in flaming letters, "Deny God now; tomorrow may be too late!" There is an ironic truth about that, but the message they intended to convey was that it was necessary to lay hold of the present now because, at the end of life one may find there is no God and no afterlife and thus lose all opportunity to invest oneself in worthwhile enterprises now. That was their argument. But do you see how faith contravenes that? Faith says exactly the opposite." From a message by Ray Stedman, 1965,
I wish I could track down Paula. As far as I know, she never married but devoted her life to caring for orphans.
Helen D. Baugh and Mary Clark of Stonecroft, Kansas City became a huge part of my life back then.
And A. Wetheral Johnson was very influential...there is much to tell about those chapters of my early years following Jesus.
Back to the Song of Solomon. Back to Genesis.
The first man created was one person, Adam/Eve as noted. There was one primal genome. How much time elapsed before things changed we do not know. Our man, Adam/Eve, was very busy in the school of life learning how to be a manager, a steward, a farmer, a steward, over Planet Earth. God was Adam's tutor, companion and friend. (Someone had to teach Adam Hebrew). There was no sin around either. (Time was not out of joint until the Fall—somewhat later). Adam fathered many sons and daughters and is progeny numbered many thousands by the time he died.
God planted a special garden East of Jerusalem. Outside the garden the earth was uncultivated—nature was then untamed and lacked a Gardner, Caretaker, Husbandman. He had his work cut out for him. He lacked a partner, a corresponding helper. For the first time in Genesis God finds one thing "not good" in an all good creation up until then. But as yet sin and death were not in the world.
"And the Lord God formed man of the dust of the ground, and breathed into his nostrils the breath of life; and man became a living being.

The Lord God planted a garden eastward in Eden, and there He put the man whom He had formed. And out of the ground the Lord God made every tree grow that is pleasant to the sight and good for food. The tree of life was also in the midst of the garden, and the tree of the knowledge of good and evil.

Now a river went out of Eden to water the garden, and from there it parted and became four riverheads...

Then the Lord God took the man and put him in the garden of Eden to tend and keep it. And the Lord God commanded the man, saying, "Of every tree of the garden you may freely eat; but of the tree of the knowledge of good and evil you shall not eat, for in the day that you eat of it you shall surely die."

And the Lord God said, "It is not good that man should be alone; I will make him a helper comparable (corresponding) to him."

Out of the ground the Lord God (had) formed every beast of the field and every bird of the air, and brought them to Adam to see what he would call them. And whatever Adam called each living creature, that was its name. So Adam gave names to all cattle, to the birds of the air, and to every beast of the field.

But for Adam there was not found a helper comparable to him. And the Lord God caused a deep sleep to fall on Adam, and he slept; and He took one of his ribs, and closed up the flesh in its place. Then the rib...(probably a bone called the baculum now absent in men but common in related species)...which the Lord God had taken from man He made into a woman, and He brought her to the man.

And Adam said:
"This is now bone of my bones
And flesh of my flesh;
She shall be called Woman,
Because she was taken out of Man."

Therefore a man shall leave his father and mother and be joined to his wife, and they shall become one flesh. And they were both naked, the man and his wife, and were not ashamed..." (Genesis 2:7-25)
Reading further, evil came in that world of innocence and beauty from outside the system, through the rebellion of one of the great angels from a different realm. Jesus called that being, HaSatan, "a liar and a murderer from the beginning."
The two great trees in the Garden are "archetypes"— they were much more than literal fruit trees.
To me the Genesis record is much more straightforward and credible than all of today's machinations of science! In any case, "truth will out," as Shakespeare said.
Jesus the man is not dead. He will explain Himself fully when He returns. His bride (the true church), now getting herself ready, will be with Him, when He comes back. To reiterate, we will rule and reign with Jesus when he comes back.
"Blessed and holy is he who has part in the first resurrection. Over such the second death has no power, but they shall be priests of God and of Christ, and shall reign with Him a thousand years." (Revelation 20:6)
The bride of Christ, is the "second Eve."
Every human being has an equal genetic heritage from Adam and an equal inheritance from Eve! Jesus the Second (or "Last") Adam is 77 generations removed from Adam. (See chart). We are about 130 generations down from Adam.
Arthur Custance, a Canadian scholar, spent much of his life studying the unique genetic inheritance of Jesus showing that only a man who was born of a virgin would be free from the fatal defect transmitted to all of us from our forefather Adam.
"Original sin" is a big deal genetically but human depravity runs far deeper than genes and chromosomes. Chuck Missler taught that we humans are mostly software and not hardware.
Thus half of my genetic heritage was transmitted via my father's sperm and half came from my mother's lineage stored in her ovum. My biological identity as a male was transmitted via a sex-determining chromosome received from my father. Biologically I am MF and my younger sister was FM. This way of seeing things as dominant and recessive is simplistic but has been helpful to me.
If I had a wife and if I allowed Jesus to be the central focus of our marriage, and if she were in agreement about the centrality of Jesus in our marriage, then our daily interactions would be redemptive, edifying, powerful, and fruitful. Our harmony would eventually align with God more perfectly. Since I am unmarried, do I still have a complement in my life daily? I believe that unseen partner is Wisdom. As a son I need to pay attention to her. The default mode to me not listening to Wisdom is that I will follow the Great Harlot! But God is my Father and I am one of His sons through Jesus.
One thing to note in passing is that there is a divine order in the creation itself:
"But I want you to know that the head of every man is Christ, the head of woman is man, and the head of Christ is God...

"...man is the image and glory of God; but woman is the glory of man. For man is not from woman, but woman from man. Nor was man created for the woman, but woman for the man. Nevertheless, neither is man independent of woman, nor woman independent of man, in the Lord. For as woman came from man, even so man also comes through woman; but all things are from God." (1 Corinthians 11:3-12)

"Brothers, join in following my example, and note those who so walk, as you have us for a pattern. For many walk, of whom I have told you often, and now tell you even weeping, that they are the enemies of the cross of Christ: whose end is destruction, whose god is their belly, and whose glory is in their shame—who set their mind on earthly things.

"For our citizenship is in heaven, from which we also eagerly wait for the Savior, the Lord Jesus Christ, who will transform our lowly body that it may be conformed to His glorious body, according to the working by which He is able even to subdue all things to Himself." (Philippians 3:17-21)
God is now saving Adam and Eve. God is seeming all of their offspring as well. He approach is to love each of us unconditionally in ways we can understand and assimilate. God is rational and logical. He has deep emotions. Does He care? The answer ought to be obvious but "taste and def that the Lord is good."
"Oh, taste and see that the Lord is good;
Blessed is the man who trusts in Him!
Oh, fear the Lord, you His saints!
There is no want to those who fear Him.
The young lions lack and suffer hunger;
But those who seek the Lord shall not lack any good thing.

Come, you children, listen to me;
I will teach you the fear of the Lord.
Who is the man who desires life,
And loves many days, that he may see good?
Keep your tongue from evil,
And your lips from speaking deceit.
Depart from evil and do good;
Seek peace and pursue it.
The eyes of the Lord are on the righteous,
And His ears are open to their cry."
(Psalms 34:8-15)
At the practical level I am a son of Adam learning how to relate to the other half in life. We men don't like learning that 50 percent of life is about a woman's point of view. God speaks clearly to me "man to man" through His word. But He speaks to me indirectly through experience, through women and girls and especially through grandmothers. God speaks to me through nature and gardens of course, but supremely through love. The well known treatise on love, 1 Corinthians ends with a profound mystery about seeing in a mirror dimly at the present time, but "then face to face." Love is knowing and loving Another, and that love continues continues forever in Jesus.

Sex and Food
After rambling and fumbling in writing the above, I discovered a 1967 message by my old mentor. His words over half a century ago are still very refreshing. As he, Ray Stedman, often said, "Truth never changes. If something was once true it is still true today."
"...We have been seeking light on the world's greatest mystery -- the mystery of what is man. I am sure you recognize that the root of all our troubles, both internationally and individually, is our ignorance in this matter. We do not know what man is intended to be. We are blind to our own purposes, almost totally ignorant of why we are here upon the earth. Because we have lost our sense of direction, we are involved in amazingly intricate problems and are making the most atrocious blunders, both individually and internationally. Therefore it is especially important that we give ourselves to a clear understanding of what this passage teaches us about man. It is especially essential that we know this, as Christians, for if we know what we were meant to be, then we know what, in Christ, we actually can be. This is why this passage is of such tremendous significance to us.

Let me review briefly what we have previously learned from this sixth day of creation: We learned first that man did not arise from the animal creation. Contrary to the now-fading theory of evolution, man did not arise from the animal creation but was created directly by God as a distinct and separate new beginning in creation. We will see more of this as we come into Genesis Chapter 2, and especially more reasons why this is true. But it is evident that there is a fundamental difference, psychologically and spiritually, in the makeup of man from that of the animals.

Though the theory of evolution contends that man has arisen from the animal creation, nevertheless science does not provide any evidence to contravene the implication of Scripture that this is not so. As we have seen in previous studies, such a concept is purely a scientific guess which is without any adequate evidence to support it, and therefore it is perfectly proper for us to maintain the position of Scripture and to recognize that both scientists and biblicists proceed on the basis of faith, in this area.

We saw that the basic difference in man is that he is made in the image of God. This image is the spirit which is in man -- not his body or soul, the possession of which he shares to some degree with the animal creation. God loves to generalize and the body of man is part of that generalization. But the spirit of man is something quite unique, something quite different from anything the animals have. It is this spirit which renders man creative, communicative, and moral. These qualities are the reflection of the image of God in man. Man can create and invent. All man's marvelous inventiveness is involved in that one word, creativeness. Man can also communicate; there is the possibility of the free flow and interchange of ideas among us, vocally, which no animal possesses. We also are moral beings. Though there may be wide differences as to what constitutes right or wrong, there is never a man or woman made who does not have a sense of right and wrong. Therefore we are all moral beings. God has imparted his image to us and we thus share these faculties.

We saw also that man, having these godlike capacities, has been commanded to rule over nature, to be in dominion over the animal kingdom. But his authority and position, which is one of great prestige and dignity, is a derived authority. Man is only able to exercise his authority over the animal world and the world of nature to the degree that man himself is subject, in turn, to the authority of God. This is inherent in every passage of Scripture that deals with the relationship of God to man. It is man's departure from this obedience to the God who indwelt him which renders him unable to fulfill his function of dominion over the world around. Whenever man does fulfill this, then he is godlike, as well as -- to coin a word -- God-able. Man has the capacity to be godlike (that is the image of God), but the likeness of God, the actual manifestation of godlikeness, has been lost and is found again only in the new creation. Without godlikeness, man becomes the most dangerous animal on the face of the earth.

Some time ago it was reported that the New York Zoo had a sign on a cage in the ape section, headed, "The Most Dangerous Animal in the World." As the passersby would look into the cage they saw their own image reflected in a mirror.

There are two more factors on this sixth day which we must comment on, and then we shall bring the study of this day to a close. They are: the difference between the sexes, which is mentioned here, and the provision of food for the entire created world. The subject of sex is brought to us in Verse 27.

So God created man in his own image, in the image of God he created him; male and female he created them. (Genesis 1:27 RSV)

It is significant that at the first mention of man, both sexes are named. This means that sex is no afterthought with God. Nor is woman an afterthought.

As you know, there exist two widely different versions of the creation of woman. The man's version is that God created man, and then he rested; then he made woman and neither God nor man has had any rest since! The woman's version is that God made man, and then he looked at him and said, "I think I can do better than that" -- and he made a woman!

But regardless of which view you hold, it is significant that Chapter 2 tells us that woman did not appear as a separate entity from the man until somewhat later in the creation scheme, coming along after the completion of Adam's task of naming the animals, and after God had accomplished the work of growing a garden in which man was to be placed. We cannot determine from the Scriptures just how long this was, but Adam was, for awhile (and this is the point that is significant in the phrasing of Verse 27), a male/female being, incorporating in himself (not physically, but psychologically) the characteristics both of man and woman. This is highly significant.

Lambert Dolphin and Carl Gallivan have recently written a very interesting paper entitled Sex Through the Looking Glass, which is to be published shortly. It is based upon certain little-known passages of Scripture (i.e., little known to the general reader), such as the Song of Solomon and passages in the book of Proverbs. In these they discover that Scripture indicates that every male has within a female "shadow," i.e., the female characteristics are held as recessive traits within each man.

Correspondingly, within each woman there are male recessive traits, so that she has a male shadow -- self. The relationship between these two factors is very, very important. There is a "battle of the sexes" going on within each one of us, and the struggle of each individual is to live properly in this inner "marriage" relationship. If we learn how to live in a proper relationship in this inner marriage we will be able to handle an outer one without any difficulty.

There is a great deal of helpful matter in this paper, and I would commend it to you when it is published. It indicates, as does this passage, that sex pervades our whole being. We are essentially sexual.

"Oh," you say, "are you going to drag in sex emphasis, the way Freud did?" Well, in a way Freud was right, because the Bible confirms that behind all human life is this strange and mysterious element called sex. However, Freud did not go far enough. He never got beyond the psychological and physical; he could not, because of the limited knowledge he had in these matters as an unregenerate man. The Bible goes much further. The Bible indicates that we are sexual at all three levels of our being: body, soul, and spirit. It suggests that this strange force, which is such a powerful drive in human society, manifests itself at all three levels in three different ways, but it is the same force behind all. Science has discovered that x-rays, light waves, and radio waves are all manifestations of a single law, visible at three different levels. So we have here a reflection of a similar thing; the law of sex is manifest in three different ways:

On the physical level it is manifest by the familiar act that is the subject of so much discussion everywhere today. On the soulish (or psychological) level it is manifest as an urge to communicate with or to share the thoughts of another, thus it is manifest largely in terms of friendship, or close companionship; the need for acceptance by other individuals. We are all familiar with the fact that sex involves both these two levels, physical and psychological.

But there is also a third manifestation of the strange power of sex, and that is the function we are exercising at this moment: the power or function of worship. Worship, too, is sex; but sex manifested at the level of the spirit. It is a strange and mysterious hunger to interchange with the divine Being, to become part with him, to share his nature and experience the ecstasy and joy of that union. Thus this strange force operates at every level of human life.

The significance of Adam as a male/female being becomes apparent when we remember that the Lord Jesus Christ came as a Second Adam. He was all that Adam was. "It behooved him," said the writer to the Hebrews "that he be made exactly like us, except for sin," (Hebrews 2:17). He became the second Adam, and therefore he, too, was a male/female being. I stress the fact that this duality was not physical -- he was not a freak, a hermaphrodite but psychologically he combined within himself all the elements of male and female characteristics. It has been often noted, in reading the Gospel accounts of Jesus, that he combined in himself the sternness and strength of the male, with the tenderness and gentleness of a woman. He manifested both in perfect balance and in equal degree.

This is why men, viewing the Lord Jesus Christ, see in him the man, the manliest of men; while a woman, viewing the same remarkable person, sees in him one who thoroughly understands and empathizes with a woman's nature, able to enter into all her feelings and reactions.

We know from the Scriptures that all the races were in Adam. The different colors and all the distinctions which we say mark race are merely superficial distinctions which were all derived from one source, created by various forces playing upon a single race of man. As you trace mankind back to its source in Adam they all disappear. All races were in Adam, and thus, all races are in Christ. He shares the characteristics of every race on earth. This is why he is such a universal figure, why, wherever Jesus Christ is preached among various people, they culturally identify with him instantly. He combines their cultural distinctives in himself.

Likewise both of the sexes are in Christ, so that Christian character is exactly the same, whether it is found in a man or in a woman. The tenderness, the gentleness, the softness of Christian love is exactly the same in a man as in a woman. The strength and sternness and sturdiness of Christian courage is exactly the same in a man or in a woman, it makes no difference. This is why Paul could write to the Galatians and say to them, at the close of Chapter 3, "There is neither Jew nor Greek, there is neither slave nor free, there is neither male nor female; for you are all one in Christ Jesus," (Galatians 3:28 RSV). All this is wrapped up in these amazing words in the opening chapter of Genesis where we are told that Adam was created a male/female being. Thus we have a key to the makeup and character of the second Adam." Sex and Food (1967).
"I, Jesus, have sent My angel to testify to you these things in the churches. I am the Root and the Offspring of David, the Bright and Morning Star." And the Spirit and the bride say, "Come!" And let him who hears say, "Come!" And let him who thirsts come. Whoever desires, let him take the water of life freely." (Revelation 22:16-17)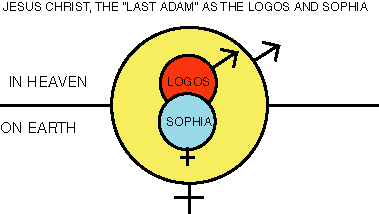 The church is also called "the Body of Christ." This is a masculine figure of the soldier, the warrior, the kingly. Jesus is the Head of the Body, He sends resurrection life and spiritual nourishment through the entire body. Wherever the Body of Christ is in the world, there also is the Lord Jesus. Jesus indwells His church. Thus in relationship to the world, the church is masculine. The church as seen by the world is a mighty army! Masculinity and femininity are thus inner and outer aspects of the same reality---which ultimately reflects something of the perfect union of the Persons in the godhead. Jesus has joined Himself to the church which is His Body---where the church is, there He is also.

"Who is this who looks forth like the dawn, fair as the moon, bright as the sun, terrible as an army with banners?" (Song 6:10)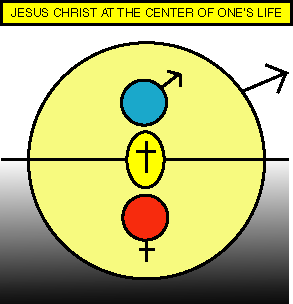 The sketch on the right shows that the presence of Christ within the human heart brings and integrating, healing, peacemaking life-force within. In terms of the masculinity and femininity within each person, an inner marriage ought to be the result. This of course ties in with the ideas of wholeness presented above. Carl Jung wrote extensively about this union of masculinity and femininity within the individual as a conjunction of opposites from which he derived great mystical significance by linking this concept to medieval alchemy and to gnosticism. It is not necessary for us to excurse that far afield in this brief study. We are writing neither new theology or new psychology but merely attempting to hold the mirror of God's word before our eyes. Once the inherent differences between the sexes is perceived, once a person has made peace with God, it is time to get moving on one's own personal adventure of faith with the understanding that God intends to make each one of us whole persons--in fact to conform us to the very likeness of His Son.
How far down did Adam and Eve fall? All the way! No amount of training, good parenting, good role models, lower education, higher education, peer pressure, government provisions, incarceration, or religion in any form addresses either the root causes or the solution provided for us by a compassionate loving Creator.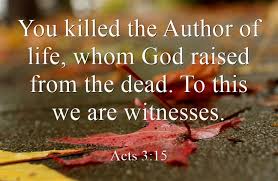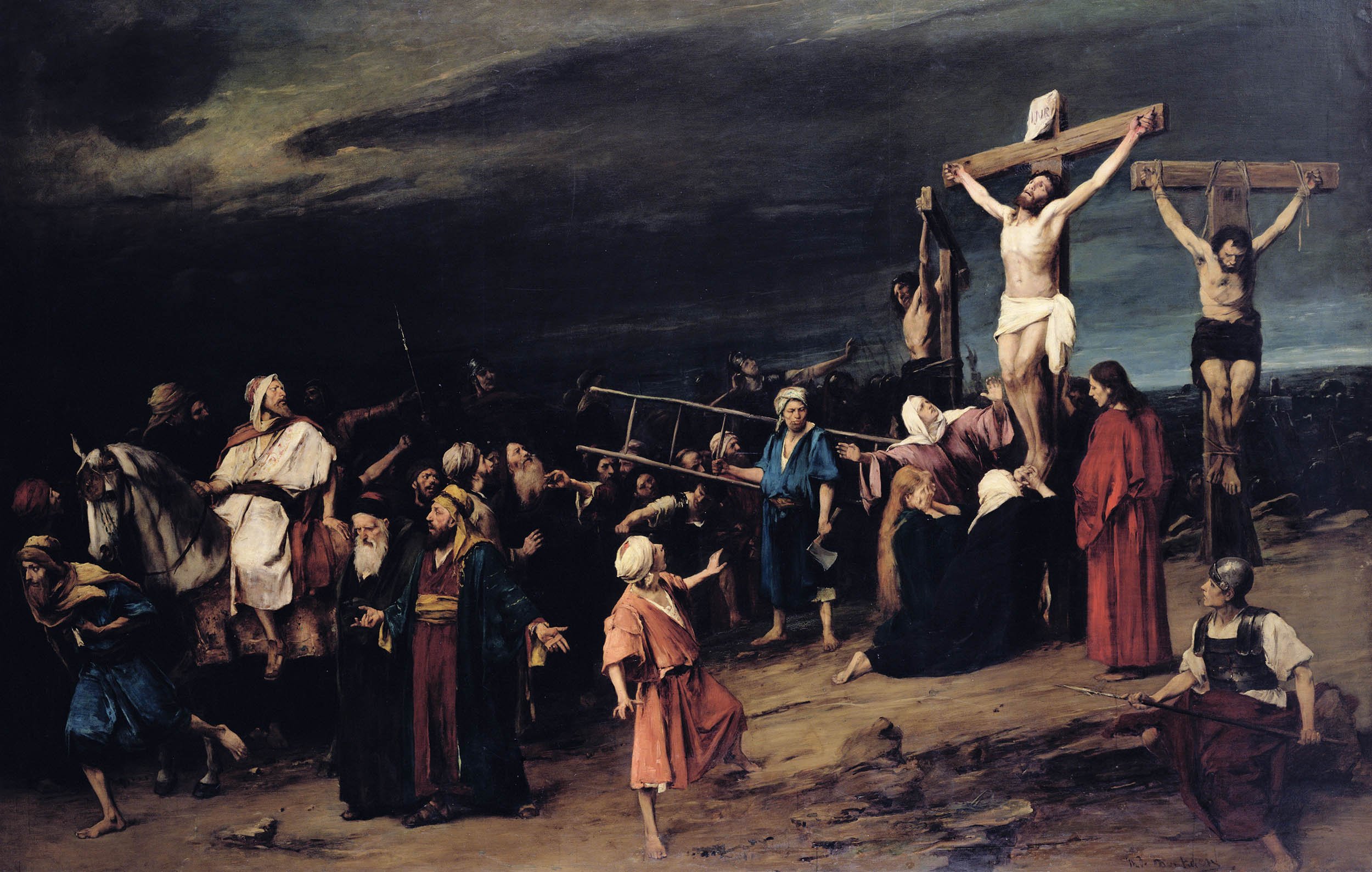 Homework

Notes by Lambert Dolphin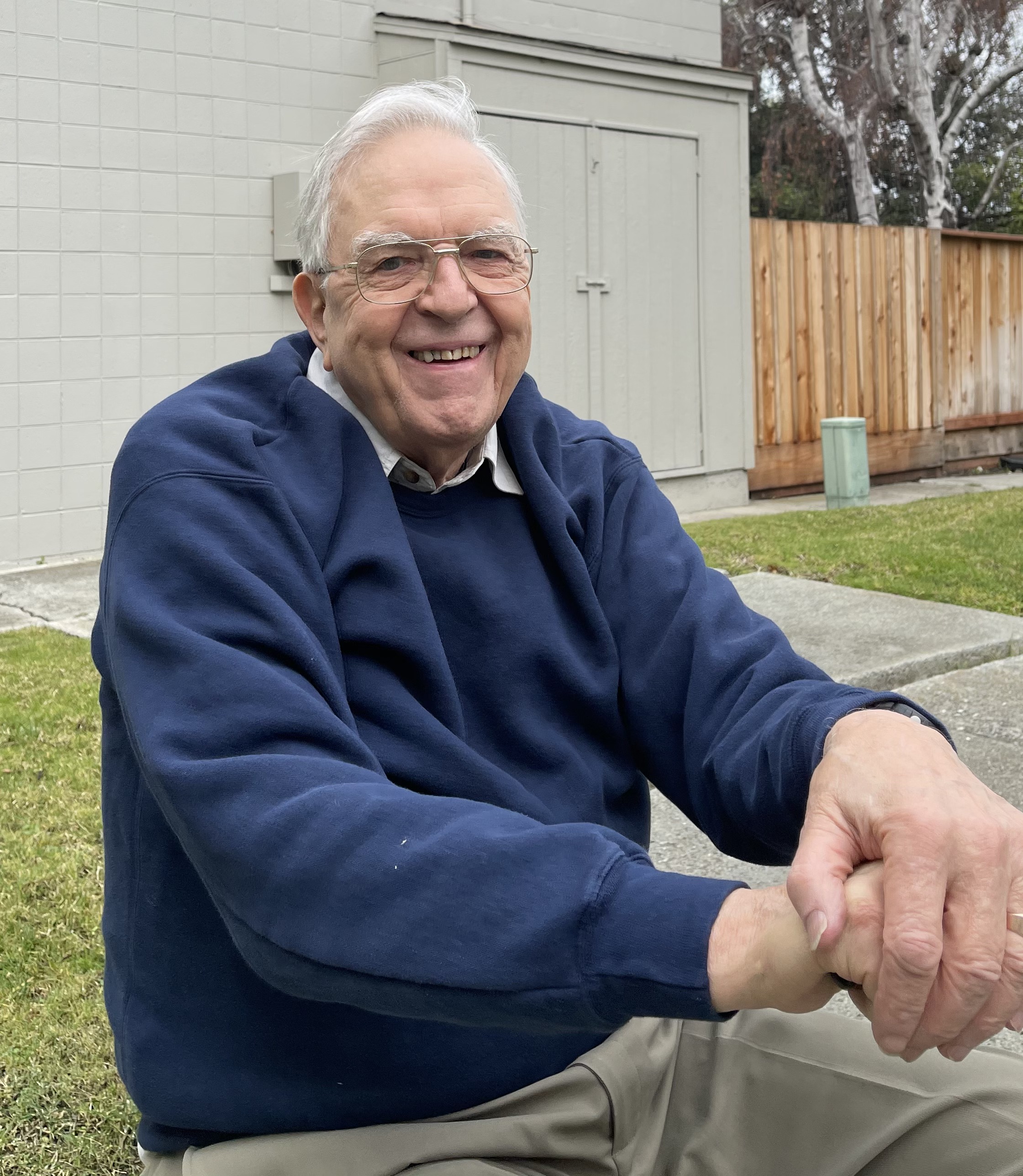 Email is welcome
Lambert Dolphin's Place
Recent and Recovered Articles
Newsletters Old and New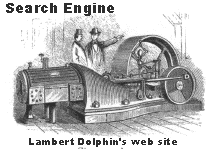 April 9, 2018. January 25, 2023.