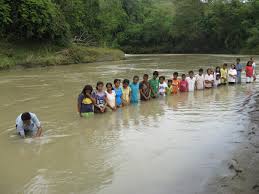 Baptism
Baptism is not something you do for yourself, it's done for you by friends and mentors,
to symbolize your identification with Jesus Christ in
His Death, Burial, and Resurrection.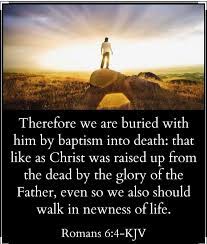 The English word baptism is derived indirectly through Latin from the neuter Greek concept noun báptisma (Greek βάπτισμα, "washing, dipping"), which is a neologism in the New Testament derived from the masculine Greek noun baptismós (βαπτισμός), a term for ritual washing in Greek language texts of Hellenistic Judaism during the Second Temple period, such as the Septuagint. Both of these nouns are derived from the verb baptízō (βαπτίζω, "I wash" transitive verb), which is used in Jewish texts for ritual washing, and in the New Testament both for ritual washing and also for the apparently new rite of báptisma.
The Greek verb báptō (βάπτω), "dip", from which the verb baptízō is derived, is in turn hypothetically traced to a reconstructed Indo-European root *gʷabh-, "dip".
The Greek words are used in a great variety of meanings. βάπτω and βαπτίζω in Hellenism had the general usage of "immersion," "going under" (as a material in a liquid dye) or "perishing" (as in a ship sinking or a person drowning), with the same double meanings as in English "to sink into" or "to be overwhelmed by," with bathing or washing only occasionally used and usually in sacral contexts. --Baptism Background (Wikipedia)

Early in 1963 I was fully immersed in a tank of water, up in front of a church, behind the pulpit —by my pastor Ralph W. Kraft of Los Altos First Baptist Church on Main Street, Los Altos, California. It was a Sunday evening service, and I invited all sorts of friends. Dr. Kraft asked me to give a ten minute testimony about my new relationship with Jesus Christ.
A free months earlier I had met Jesus in Dr. Kraft's office— powerfully and wonderfully. I had been "born again" and I already knew quite a bit about what that meant, from reading the Third Chapter of the gospel of John 3.
"Therefore, if anyone is in Christ, he is a new creation; old things have passed away; behold, all things have become new. Now all things are of God, who has reconciled us to Himself through Jesus Christ, and has given us the ministry of reconciliation, that is, that God was in Christ reconciling the world to Himself, not imputing their trespasses to them, and has committed to us the word of reconciliation."
(2 Corinthians 5:17-19)
I agreed, in preparing for my water baptism, to be identified with Jesus Christ in His death, burial and resurrection.
For Fifty-nine years now I have lived a new life "in Christ." Looking back, some small fraction of my life has surely been lived "in Christ." But sadly I can look back on many wasted years, many years walking "in the flesh," and many years compromising with "the flesh, the world, and the devil," (the three great enemies of the Christian).
"Saving me" this far turns out to have been a afar greater undertaking than I ever supposed. God has been utterly faithful to keep His promises while I have not.
Basically, when I was baptized, I agree to die to my old lifestyle, drop fair-weather friends, give up certain harmful behavior patterns, and I agreed to embark on a bold new adventure with Jesus daily.
"I am the door. If anyone enters by Me, he will be saved, and will go in and out and find pasture. The thief does not come except to steal, and to kill, and to destroy. I have come that they may have life, and that they may have it more abundantly.

"I am the good shepherd. The good shepherd gives His life for the sheep." (John 10:9-11)
The resurrection, abundant life part of this transaction I readily embraced. Who wouldn't?
Now many years later I see that God Immersed me into Christ when I first believed and it's all still true. He has taken all my sin (past, present and future) and transferred it all onto Jesus.
Can I now, at last agree with God's original assessment of my departed and worthless life as He sees the human condition?
Thus says the Lord:
"Cursed is the man who trusts in man
And makes flesh his strength,
Whose heart departs from the Lord.
For he shall be like a shrub in the desert,
And shall not see when good comes,
But shall inhabit the parched places in the wilderness,
In a salt land which is not inhabited.
"Blessed is the man who trusts in the Lord,
And whose hope is the Lord.
For he shall be like a tree planted by the waters,
Which spreads out its roots by the river,
And will not fear when heat comes;
But its leaf will be green,
And will not be anxious in the year of drought,
Nor will cease from yielding fruit.
"The heart is deceitful above all things,
And desperately wicked;
Who can know it?" (Jeremiah 17:5-9)
Well yes, now I see how many of my fellow travelers, fellow pilgrims, fellow professing Christians live, in utter indifference to the Man who died in their stead. I am no better off in the grand scheme of things.
I am enjoined not to judge others. Consider the entire incident in the life of Jesus reordered in John 8:
Now early in the morning He came again into the temple, and all the people came to Him; and He sat down and taught them. Then the scribes and Pharisees brought to Him a woman caught in adultery. And when they had set her in the midst, they said to Him, "Teacher, this woman was caught in adultery, in the very act. Now Moses, in the law, commanded us that such should be stoned. But what do You say?" This they said, testing Him, that they might have something of which to accuse Him. But Jesus stooped down and wrote on the ground with His finger, as though He did not hear.

So when they continued asking Him, He raised Himself up and said to them, "He who is without sin among you, let him throw a stone at her first." And again He stooped down and wrote on the ground. Then those who heard it, being convicted by their conscience, went out one by one, beginning with the oldest even to the last.

And Jesus was left alone, and the woman standing in the midst. When Jesus had raised Himself up and saw no one but the woman, He said to her, "Woman, where are those accusers of yours? Has no one condemned you?"

She said, "No one, Lord."

And Jesus said to her, "Neither do I condemn you; go and sin no more."

Then Jesus spoke to them again, saying, "I am the light of the world. He who follows Me shall not walk in darkness, but have the light of life." (John 8:1-12)

Projection


One thing about myself more clearly now in my old age is how often I project onto others the thriving evil that still exists in my heart. It's not about race or social standing or my wealth verses another's poverty with me it's much deeper —below gut level or instinct. Other people see me and know me better than I know myself. Glimpsing this, I want to hide and fake my real person.
The Scottish poet laureate Robert Burns, said he was seeking the ability of seeing himself as others saw him. In this poem the narrator notices a lady in church, with a louse that is roving, unnoticed by her, around in her bonnet. The poet chastises the louse for not realizing how important his host is, and then reflects that, to a louse, humans are all equal prey, and that they would be disabused of their pretensions if they were to see themselves through each other's eyes. An alternative interpretation is that the poet is musing to himself how horrified and humbled the pious woman would be if she were aware she was harboring a common parasite in her hair.
O wad some Pow'r the giftie gie us
To see oursels as ithers see us!
It wad frae mony a blunder free us,
An' foolish notion:
What airs in dress an' gait wad lea'e us,
An' ev'n devotion!
Translation: Oh, would some Power give us the gift
To see ourselves as others see us!
It would from many a blunder free us,
And foolish notion:
What airs in dress and gait would leave us,
And even devotion!
"To A Louse, On Seeing One on a Lady's Bonnet at Church" is a 1786 Scots language poem by Robert Burns in his favorite meter, standard Habbie.

I suppose if I believed "in limited atonement" (the claim by some that Jesus died only for the chosen few)— I could soothe my troubled conscience.
Trouble is, the Bible is crystal clear about this!
"My little children, these things I write to you, so that you may not sin. And if anyone sins, we have an Advocate with the Father, Jesus Christ the righteous. And He Himself is the propitiation for our sins, and not for ours only but also for the whole world." (1 John 2:1-2)

"But now the righteousness of God apart from the law is revealed, being witnessed by the Law and the Prophets, even the righteousness of God, through faith in Jesus Christ, to all and on all who believe. For there is no difference; for all have sinned and fall short of the glory of God, being justified freely by His grace through the redemption that is in Christ Jesus, whom God set forth as a propitiation by His blood, through faith, to demonstrate His righteousness, because in His forbearance God had passed over the sins that were previously committed, to demonstrate at the present time His righteousness, that He might be just and the justifier of the one who has faith in Jesus."
(Romans 3:21-26)
Another problem arises in my rationalization of my own sinfulness, is the stubborn fact that people are not mere bodies. We are all mostly software, not hardware, and the real treasure of "persons" is invisible. It's difficult to love someone you don't know! All sorts of beautiful people are running around today in ugly, malformed, crippled bodies! Jesus is not here with us "in the flesh" but He is very findable when we look for Him in people. God sees the inner person: thoughts, motives, intentions and all.
Our facades and pretense won't last much longer. Jesus said He'd be back in Person and He'll arrive on schedule.
"Behold, He is coming with clouds, and every eye will see Him, even they who pierced Him. And all the tribes of the earth will mourn because of Him. Even so, Amen."

"I am the Alpha and the Omega, the Beginning and the End," says the Lord, "who is and who was and who is to come, the Almighty." (Revelation 1:7-8)
Every person who has ever lived, everyone you know—has been died for by the same Jesus who died for you and me. He has full knowledge of the thoughts and intentions of every heart.
Jesus yearns that everyone should know Him, be forgiven and be made whole. Jesus never forces Himself on anyone — that would compromise our person hood and violate our free will.
God is keeping perfect books. Truth will out.
I find it helpful to fall back on the words of our Apostle Paul:
"Let a man so consider us, as servants of Christ and stewards of the mysteries of God. Moreover it is required in stewards that one be found faithful. But with me it is a very small thing that I should be judged by you or by a human court. In fact, I do not even judge myself. For I know of nothing against myself, yet I am not justified by this; but He who judges me is the Lord. Therefore judge nothing before the time, until the Lord comes, who will both bring to light the hidden things of darkness and reveal the counsels of the hearts. Then each one's praise will come from God." (1 Corinthians 4:1-5)
While thinking again about the deep meaning of Baptism I just re-rediscovered a classic article by my mentor, Ray Stedman. I have copied it here in the hope you'll read and assimilate it.

by Ray C. Stedman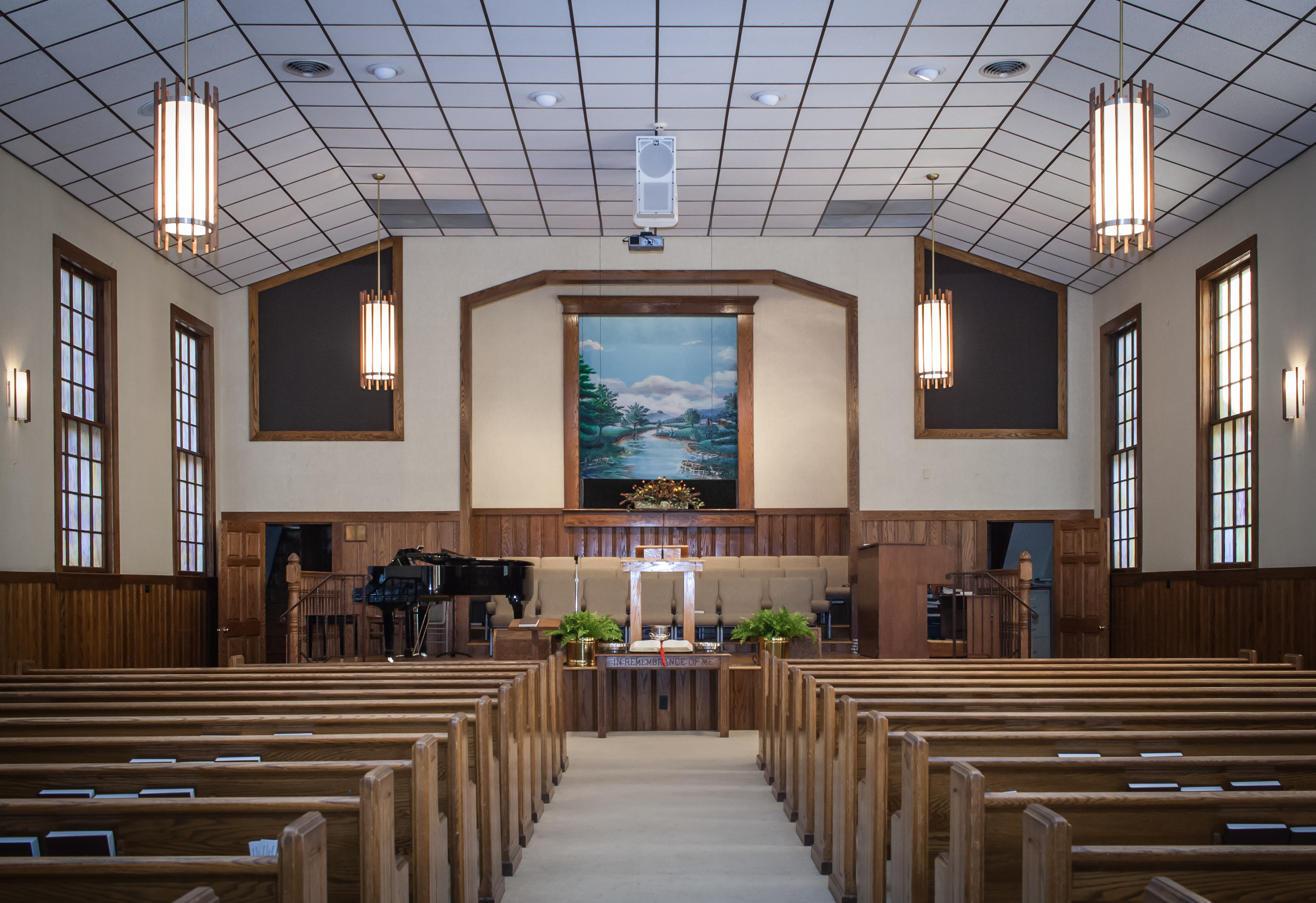 We want to study a subject which we have too seldom spoken on here at Peninsula Bible Church. The subject is baptism -- its meaning, its purpose, and whether it really has a place in the life of a believer today. We will examine some pertinent Scripture, and then open the discussion for questions and answers.
I'll begin by reading a newspaper account datelined Ipswich, England: "Mrs. Katie Barrett, 90 years old, will be baptized by total immersion at Bethesda Baptist Church here next Sunday. 'I've been pondering this step since I was 18,' she says, 'and now I've made up my mind.'"
This lady took 72 years to decide to be baptized, and I have the feeling that some here are on that road too. That is one of the reasons we have set aside this evening to discuss baptism and what it means. I find that many people have questions about it. There are many groups these days who teach that water baptism is not for the church today. They say that it was merely a symbol which has been done away with, in the full revelation of the New Testament. This idea is among the questions I would like to touch upon.
The first references to baptism in the New Testament are in connection with the ministry of John the Baptist. Many Baptists consider John to be the founder of the Baptist church. I am not going to argue that point now, but it is noteworthy that he practiced baptism to such an extent that he gained the title, "the Baptist." John baptized down by the Jordan River. People came to him from all over Israel -- from Jerusalem, from Galilee, from everywhere. And, as recorded in Matthew's Gospel, Chapter 3, John said to them,
"I baptize you with water for repentance, but he who is coming after me is mightier than I, whose sandals I am not worthy to carry; he will baptize you with the Holy Spirit and with fire." (Matthew 3:11 RSV)
That passage is important because it marks the difference between symbolic baptism and the real baptism. When we speak of baptism we must remember that we are talking about more than a simple rite which people undergo. This rite of water baptism is but a symbol of something else, and it is this "something else" which constitutes the real meaning of baptism, the reality behind baptism. John has tied together symbol and reality. He says, "I am baptizing you with water as a mark of your repentance from sin, as a sign of your confession of your sins, but this does not complete the meaning of baptism. There is one coming after me who is mightier than I, in fact, one whose sandals I am not even worthy to carry; he will baptize you with the Holy Spirit and with fire."
That last phrase, "and with fire," has troubled many. They wonder what John meant, "with the Holy Spirit and with fire." They understand what "Holy Spirit" means, but are puzzled by his reference to fire. John makes it clear in the words that he immediately adds, "His winnowing fork is in his hand," (Matthew 3:12a RSV). Do you know what a winnowing fork is? We urban dwellers are probably not very well acquainted with it. But this last April when my family and I were traveling up the Nile River, we saw Egyptians winnowing their grain. They had pitchforks in their hands with which they would toss the grain into the air so that the wind would catch the chaff and blow it away. These pitchforks were winnowing forks. John is simply speaking figuratively, portraying Christ as a thresher coming into the world with a winnowing fork by which he is separating chaff from the grain. John says,
"His winnowing fork is in his hand, and he will clear the threshing floor and gather his wheat into the granary, but the chaff he will burn with unquenchable fire." (Matthew 3:12 RSV)
There is the "fire," and by this John is saying that when Jesus Christ comes into the world he will baptize everybody in it either with the Holy Spirit or with fire -- one or the other. Sometimes the phrase, "baptize you with the Holy Spirit and with fire," has been linked with the tongues of fire that sat upon the heads of the disciples on the Day of Pentecost. But it seems that John makes very clear here that he is talking about two forms of baptism: That of the Holy Spirit which, of course, first took place on the Day of Pentecost; or the baptism of fire which is the judgment of God.
Fire is always a symbol of judgment. John is saying, "Look, you have one of two choices. This one who is coming is going to deal with everyone in the world, without exception. I am dealing with only a few here. But he who is coming after me -- who knows the hearts of all men and is able to judge what is going on in their thoughts and in their inner lives -- he will baptize you either with the Holy Spirit or with fire." By implication John was saying to these people, "Look, now is your chance. If you don't want to be baptized with fire, then confess your sins, and be baptized with water as a symbol of it, so that, when he comes, your baptism may be that gracious outpouring of the Holy Spirit which perfects and fulfills God's plan for men."
That explains how the rite of water baptism is linked to the reality of the baptism of the Holy Spirit. If you turn to Acts 1:4 you will find that, after the resurrection, at the close of his own ministry, Jesus confirms this link:
And while staying with them he charged them not to depart from Jerusalem, but to wait for the promise of the Father, which, he said, "you heard from me, for John baptized with water, but before many days you shall be baptized with the Holy Spirit." (Acts 1:4-5 RSV)
In just a few days that promise was fulfilled. The Holy Spirit was poured out upon these disciples, and, for the first time, the body of Christ was formed. That is the purpose of the baptism of the Holy Spirit. It is to form the body of Christ by introducing every individual believer into that body. Now, admittedly, this is a metaphorical body -- not a physical body but a spiritual one. Yet it is a very real body. And all through the rest of the Scriptures you find the apostles speaking of the reality that the church is the body of Christ, the instrument through which the Lord Jesus performs his work. He intends to do so not only now but throughout all eternity.
Another passage of great significance in this connection is in the 12th chapter of First Corinthians. There, in Verses 12 and 13, the apostle tells us:
For just as the body is one and has many members, and all the members of the body, though many, are one body, so it is with Christ. For by one Spirit we were all baptized into one body -- Jews or Greeks, slaves or free -- and all were made to drink of one Spirit. (1 Corinthians 12:12-13 RSV)
That is the reality of which water baptism speaks.
"Well," someone says, "if that is the reality, and if we enter into it by faith in Jesus Christ, and if anyone who exercises faith in Jesus Christ is, by that very act, baptized of the Spirit into the body of Christ, then why do we need a symbol anymore? Is it not possible to experience this reality without going through the symbol of water baptism?" The answer is: Yes.
There are many who have experienced the reality of being made a member of Christ's body through faith in him, without ever having been baptized. The thief on the cross is a notable example. There was a man hanging beside the Lord Jesus, dying. He saw something in Christ that marked him as different. He saw that the kingship, about which people were mocking, was no joke at all, that here indeed was a king. Here was a man of authority, a man who had power beyond this life. So he spoke these very revealing words: "Lord, when you come into your kingdom, remember me," (Luke 23:42). That is an amazing thing to say to a man who is dying: "when you come into your kingdom..." But he recognized that Jesus was going somewhere, and he said, "When you get there, remember me." And the Lord Jesus said to him, instantly, "... today you shall be with me in Paradise," (Luke 23:43b). The thief soon died. He had no opportunity to be baptized, yet he was a member of the body of Christ. Therefore, the symbol does not necessarily do anything for you.
Well then, why have the symbol? Primarily, because the Lord commanded it! If you want to read that command you can turn to the last verses of Matthew's gospel. On the same occasion when Jesus referred to the coming baptism of the Holy Spirit, he also said to the disciples:
"All authority in heaven and on earth has been given to me. Go therefore and make disciples of all nations, baptizing them..." (Matthew 28:18b-19a RSV)
That is his command to the disciples. They could not baptize with the Holy Spirit; the only baptism they could perform is with water. The command continues:
"...in the name of the Father and of the Son and of the Holy Spirit, teaching them to observe all that I have commanded you..." (Matthew 28:19b-20a RSV)
One of the things he had just commanded them was to go and disciple the nations and to baptize them. So the disciples were thereby commissioned to teach people to be baptized.
"...and lo, I am with you always, to the close of the age." (Matthew 28:20b RSV)
That should be enough, shouldn't it? If our Lord asks us to be baptized, and if we desire to obey his command and fulfill his will, then we should do it, whether we understand any more about it or not, because he knows better than we. If he asks us to use this symbol of the reality into which we have entered, then he has a good reason for it, and our part is but to be obedient to the command of Christ. But, the Lord very seldom gives a command like this without an explanation of it somewhere, as we will see.
We do find that the early church practiced baptism. They did not cease simply because the reality had come and they were now baptized with the Holy Spirit. They continued to practice water baptism. In fact, even the Apostle Paul, who was called separately from the other twelve in that dramatic appearance of Christ on the Damascus Road, tells us that when he went to various places and won people to Christ, he baptized them. He baptized certain Corinthians, and he names them for us. He did not baptize all of them; sometimes he did not baptize at all because he found that people were glorying in who had baptized them. Some of them were proudly saying, "Look, I've been baptized by the Apostle Paul!" So he said, in writing to them, "I'm glad I didn't baptize any more among you people." Nevertheless he did baptize, and he was himself baptized with water. So the practice of the early church confirms the command and commission of the Lord to practice water baptism.
But that is not all. We learn from other passages something of the reason why the symbol is still required. The church has been given two symbolic rites: baptism, and the Lord's supper. The Lord's supper is but a symbol of an inner reality, just as is water baptism. Yet very few have ever taken the position that the church should not observe the table of the Lord together. All of us who have done so have found that it is very instructive and profitable to take the bread and drink the cup, and to meditate upon their meaning.
Similarly, water baptism has the function of focusing our attention upon the introduction to the Christian faith. It helps us to understand and grasp what is involved in being made a member of the body of Christ, how it cuts us off from the old life we once lived and introduces us to a new atmosphere, a whole new realm of living, so that we enter into a new life. This is what Paul describes in Romans 6 when he says,
We were buried with Christ by baptism into death [of course, he is really speaking of the baptism of the Holy Spirit, but he includes the symbol of water as well] in order that we might rise to walk in newness of life. (Romans 6:4 RSV)
Therefore, this is what baptism means. It is your testimony to everyone that you have actually taken, by your inner commitment, the step of renouncing your old life of self-centeredness and, in response to the invitation of the Lord Jesus, having joined yourself to him, you have begun to follow him in the fullness of strength which he provides. Therefore you rise to walk in newness of life.
There is another passage we should look at which has been very helpful to me. Yet it is very seldom commented upon in this connection. It is found in First Corinthians 10, where the apostle says to these Corinthians,
I want you to know, brethren, that our fathers were all under the cloud, and all passed through the sea, and all were baptized into [or unto] Moses in the cloud and in the sea, and all ate the same supernatural food and all drank from the supernatural Rock which followed them, and the Rock was Christ. (1 Corinthians 10:1-4 RSV)
There is ample justification for taking these Old Testament stories of historical incidents and using them to illustrate New Testament truths and spiritual realities. The apostle himself said that all these things happened to Israel as examples, or types, unto us. Here he speaks of the fact that as Israel came out of the land of Egypt they passed under the cloud. Remember that as they went out into the desert a pillar of cloud went before them by day and a pillar of fire at night. Then they came to the Red Sea, the waters parted, and they went through. Paul says that they all did this together and that it identified them with Moses. They were baptized unto Moses, just as today we Christians are baptized unto Christ.
What did he mean by this, "baptized unto Moses"? Here was a mob of unruly people which Moses led out of Egypt, and until they came to the edge of the Red Sea they were nothing but that, a mob. They had no organization, no government; they were simply a mass of people who were following a leader out of bondage, out of slavery, into what they hoped would be freedom. All they had to unite them was the fact they were fleeing from something they did not like. But then they went through the sea and as they came out onto the other side they were no longer a motley mob; they were a unified nation under the leadership of one man. They belonged together; they were made a unit headed by Moses. Moses was their leader; all that Moses stood for, they stood for. From then on Moses was the recognized authority and the spokesman for God unto that people.
The interesting thing is that this is what baptism accomplishes. It unites us to One, it identifies us with the One who is our Leader. It brings us into union with him. Thus this Old Testament picture is a very apt description of the baptism of the Holy Spirit which unites us to the body of Christ.
Now I want to point out something very interesting about this story. These people passed through the Red Sea; but did they get wet? No, they passed through on dry land. And yet, in symbol, they are spoken of as having gone through the sea, which is a picture of the judgment of God. Perhaps that helps us to come to grips with the knotty problem of the proper mode of baptism. How should you be baptized? Should you be immersed? Should you be dunked, as the common saying goes? Is that the proper mode? (All the Baptists will say "Amen.") Or should you be sprinkled, have water poured on the top of your head?
I will barely touch on the problem of infant baptism because I do not think you can find a single verse in the New Testament which even suggests that it is proper. Baptism is an expression of faith by the individual. It cannot, therefore, be practiced by an infant who is incapable of expressing any faith of his own. Only the baptism of believers is authorized in the Bible.
But the question of mode has been a battlefield through the ages. Men have anathematized and stigmatized one another and cut off fellowship over this issue.
There is an old and rather tired story of a Presbyterian and a Baptist who were arguing this question. The Presbyterian said, "Tell me this. You're a Baptist. If a man goes into the water up to his knees, is he baptized?" The Baptist said "No, he is not." "Well if he goes in up to his waist, is he baptized?" "No, he's not." "If he goes in up to his shoulders?" "No." "Well, suppose he goes in clear up to the top of his head, is he baptized then?" "Yes!" the Baptist said. "Ah," said the Presbyterian, "you see, it's the water on top of the head that counts!"
That simply indicates the foolishness of this kind of an argument. Water is a symbol, and it is a symbol whether there are five drops of it or fifty gallons -- it is still a symbol. The quantity of water is not the issue. I was raised in the immersionist tradition, and believed firmly and strongly that the only proper way to be baptized was to be put completely under the water. Yet when I learned to read Greek I found that the Greek New Testament does not tell us whether baptism is by immersion or by sprinkling. The King James Version is very strongly slanted toward immersion, and perhaps the RSV follows it. But in the Greek it is very difficult to tell whether they were immersed or sprinkled or what. I believe that this is designedly so, because God never wants us to focus upon a symbol. All through the Old Testament the children of Israel were constantly being taught not to make too much of the symbol; it is the reality that counts. And those today who try to make issue and to divide people over the mode of practicing this symbol are simply causing schism and division where none is warranted.
To be practical, each individual should decide this issue on the basis of what satisfies him. There is a beautiful picture in either mode. To be immersed is to re-enact beautifully what the Scriptures teach about the death, burial, and resurrection of the Lord Jesus Christ. It is a wonderfully expressive way of saying that you have died with Christ, have been buried with him, and are risen again to walk in newness of life. On the other hand, the sprinkling or pouring of water upon an individual is a beautiful picture of the pouring of the Holy Spirit and of the cleansing of the life that occurs when one is baptized by the Spirit into the body of Christ, just as the Spirit of God was poured out on the Day of Pentecost.
So this is a matter which we must leave where the Apostle Paul leaves issues of this nature. About them, in Romans 14, he says, "Let every man be fully persuaded in his own mind" Romans 14:5b), and, remember, "Every man stands or falls before his own master," Romans 14:4). The Plymouth Brethren have stated it excellently,
"In essentials unity;
in doubtful things, liberty;
in all things, charity."
Questions and Answers
Question: What does the word "baptism" actually mean?
Answer: it comes from a Greek word, baptidzo, which means "to dip, to place into a liquid," to dunk, as we would say. Baptists usually make a great deal of that, because they say that it is the only possible meaning of the term. But, interestingly, the meaning does not include taking out of the liquid again. It just means to put in. Of course, if you practiced total immersion that way, you'd have to believe in baptism for the dead!
Question: Paul asks two knotty questions in First Corinthians 15:29 about baptism on behalf of the dead. Will you comment on them?
Answer: Yes. This is a verse which the Mormons utilize to substantiate their teaching that a person living today can be baptized on behalf of someone who has already died and thus, literally, save them. I have heard Mormons brag about how many people they have saved. One woman said that she had saved more people than Jesus Christ had because she had been baptized for so many. This is obviously a distortion, a twisting of that verse.
Remember that it occurs in the great passage on the resurrection and is part of the proof that Paul is adducing for the fact of the resurrection. There are several good explanations possible for this particular verse:
One is that he is talking here about the fact that when we undergo baptism we are recognizing that we are as good as dead in the eyes of God, and that it is the new life that we receive in Christ which makes us alive again in God's sight. We live only in Christ, and that is what is figured by the rite of baptism, as explained in the passage I quoted from Romans 6: We are buried with him by baptism unto death and rise again to walk in newness of life. So what Paul is saying here is that those who are thus baptized are testifying that there is a life after death. This fits in, then, with the theme of the resurrection chapter. He is simply adducing the fact that people are baptized on behalf of those who in reality, in God's sight, are dead. In other words, they are baptized on behalf of their dead former selves. Thus they symbolically portray the reality that they are risen from the dead, with Christ. They are thereby testifying that there is a life after death.
Another explanation is that Paul means that they were filling up the ranks of those believers who had died in Christ. Just as an army needs to have recruits coming along to fill the ranks where men have died, so those who are being baptized on behalf of, or in place of, the dead are thus filling up the ranks of those who have gone on to be with the Lord. So Paul is simply asking why they would do that if there were not going to be a resurrection from the dead.
Whatever reasonable explanation satisfies you is acceptable because this is a rather obscure passage. But the main point is very clear. Paul is proving that there is a resurrection from the dead.
Question: If you were baptized as an infant and then have become a believer, is it necessary to be baptized again?
Answer: This is a question that any individual must settle for himself. My personal conviction is that baptism should represent the personal, individual faith of the person himself. Infant baptism could not possibly have done that. Therefore, I would say it is necessary to be baptized again.
Question: The entire Lutheran church practices infant baptism. How do they justify it? What text do they base it on?
Answer: This is always a difficult question to answer because there isn't any one text that they use. It is a practice that slowly grew up within the Roman Catholic church. The Lutheran church, of course, broke away from the Catholic church, but, in certain areas, Martin Luther and the other reformers carried over intact some of their old teachings. The Catholic church developed this idea from a concept that arose in the early church that it was necessary to reproduce in some way the Jewish mark of circumcision. Among the Jews, circumcision identified a male child as belonging to the nation. One of the problems of Catholicism is that they have never quite been able to get away from the legalism and the shadows of the Old Testament. Thus they have carried much of the rites and ritual of the Old Testament over into the New. This is where they get the priesthood and the altar -- things which are never part of the New Testament picture.
One of the ideas they carried over was circumcision. Yet Paul's epistles state so plainly that circumcision is not necessary for believers today, that they came to the conclusion that baptism was to be substituted. Since babies were circumcised in Jewish ritual it followed that babies were to be baptized. And the idea was thus propounded that this identified them with the chosen people, the church, and that if a baby were not baptized he could not be a part of the church. That is why the Catholic church has always insisted that babies be baptized immediately upon birth, and that if they die without baptism they go into some obscure region called limbo. Much of this was carried right over into Lutheranism and also into some of the Reformed Churches. This is how the practice of infant baptism arose, but it has no grounding in the actual teaching of the New Testament.
Conclusion: I hope this has answered your questions and put the issue right where it belongs. Baptism does have meaning. It is a witness, a testimony to the world, that you have moved into a new life with Jesus Christ. Just as a wedding ring is a continual symbol to people of a choice you once made, so baptism remains a symbol for all the world to see, that you have cut yourself off from the old life in Egypt and moved into the life of fellowship with the New Moses, our living Lord.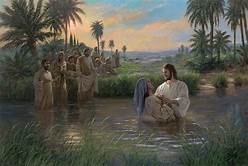 Salvation is offered to Everyone
Christ is the end of the law so that there may be righteousness for everyone who believes. 5 Moses writes concerning the righteousness that comes from the law, that 'the person who does these things will live by them.' 6But the righteousness that comes from faith says, 'Do not say in your heart, "Who will ascend into heaven?" ' (that is, to bring Christ down) 7 'or "Who will descend into the abyss?" ' (that is, to bring Christ up from the dead). 8 But what does it say?|

'The word is near you,
   on your lips and in your heart'

(that is, the word of faith that we proclaim); 9 because if you confess with your lips that Jesus is Lord and believe in your heart that God raised him from the dead, you will be saved. 10 For one believes with the heart and so is justified, and one confesses with the mouth and so is saved. 11 The scripture says, 'No one who believes in him will be put to shame.' 12 For there is no distinction between Jew and Greek; the same Lord is Lord of all and is generous to all who call on him. 13 For, 'Everyone who calls on the name of the Lord shall be saved.'
14 But how are they to call on one in whom they have not believed? And how are they to believe in one of whom they have never heard? And how are they to hear without someone to proclaim him? 15 And how are they to proclaim him unless they are sent? As it is written, 'How beautiful are the feet of those who bring good news!' (Romans 10:4-15)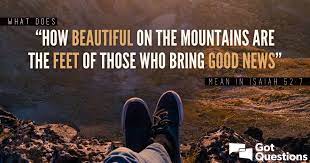 Notes by Lambert Dolphin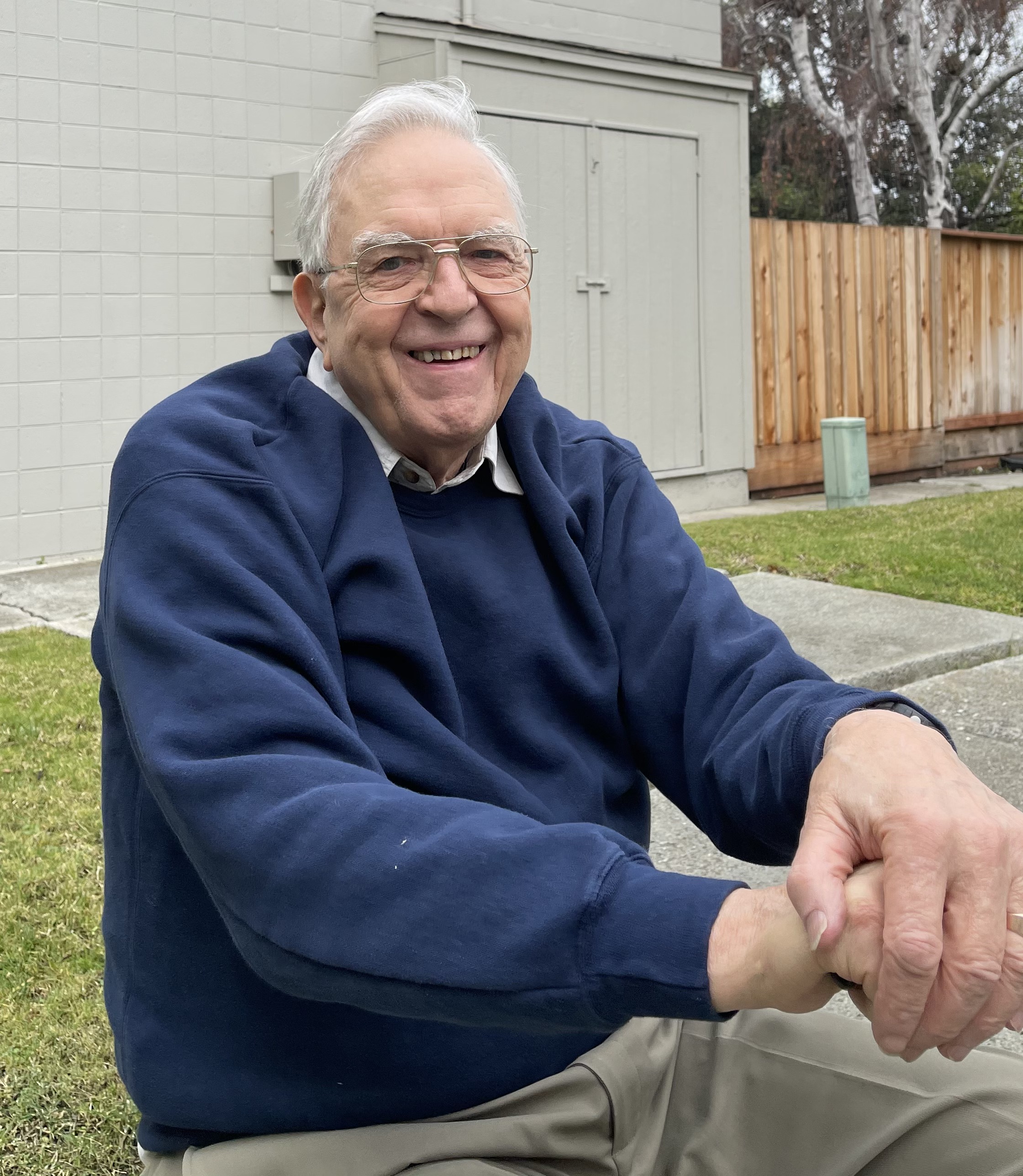 Email is Welcome: Lambert

Lambert Dolphin's Place (Home Page)

Original Web Site (1995)
Recent Articles

Personal Testimony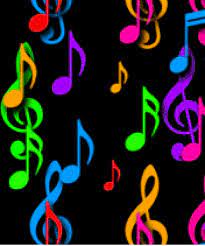 Music for today 
Come Ye Thankful People, Come (Charles Wesley)
Come Ye Thankful People, Come (Charles Wesley)
 Are You Washed in the Blood? v1
 Are You Washed in the Blood? v2 |
Five Jewish Worship Songs

I Sing the Mighty Power of God

Jesus, The Light of the World

I Sing the Mighty Power of God

Jesus, The Light of the World
July 19, 2019. May 7, 2022.