Little Children
=====================================================
Three Greek words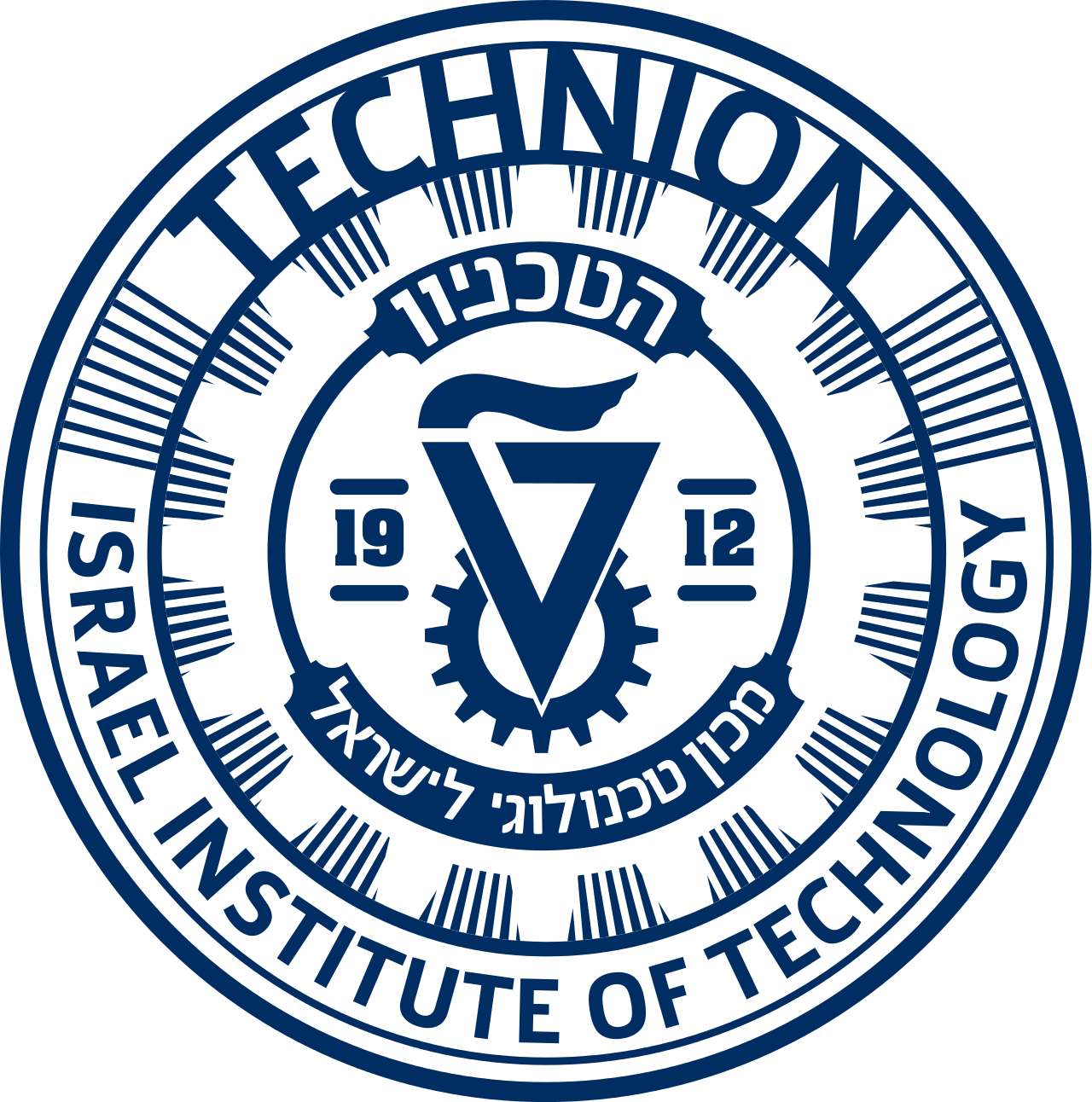 1. Technion is the name of a prodigious firm in Israel. 
 
2. Teknon is a Koine Greek word meaning "little children," common in First John. 
Yet another Greek similar word of interest is 

3. tekton, found in Matthew 13:55 and Mark 6:3
describing the profession of Jesus prior to his entry into his life's calling at the age of ~30.

My friend Bryce Self sent me the following note on tekton:

"GK 'tekton' was much more than just a carpenter.
It was something like we might term a 'general contractor' today,
a broader kind of 'master craftsman' than only being a woodworker
(even one specializing in, say, cabinetry or furniture).

The  word designates a skilled professional workman of proven accomplishment.
These days He would carry a union membership card, in the Middle Ages He would have been a master guildsman.
This is a significant designation for the God of all creation by Whom the Father spoke the worlds into existence!
I've often dwelt on what manner of man Joseph must have been,
to be entrusted with fostering the Only Begotten Son!" (Bryce Self)

Jesus Plain and Simple

Stages of Growth "in Christ"
John the Apostle writes of "children, young men, fathers" to illustrate spiritual growth stages for followers of Jesus Christ.  

"I write to you, little children,
Because your sins are forgiven you for His name's sake.
I write to you, fathers,
Because you have known Him who is from the beginning.
I write to you, young men,
Because you have overcome the wicked one.
I write to you, little children,
Because you have known the Father.
I have written to you, fathers,
Because you have known Him who is from the beginning.
I have written to you, young men,
Because you are strong, and the word of God abides in you,
And you have overcome the wicked one."
(1 John 2:12-14)


Small Children and Jesus
Jesus used small children to shape up His disciples when they got carried away with enthusiasm about their prospective careers in following Him. They had each followed Jesus when He called them, though they did not necessarily know one another. Skeptical, but willing to follow Him, they were amazed at His teaching and lifestyle. What's in this for me? 

At that time the disciples came to Jesus, saying, "Who then is greatest in the kingdom of heaven?"

Then Jesus called a little child to Him, set him in the midst of them, and said, "Assuredly, I say to you, unless you are converted and become as little children, you will by no means enter the kingdom of heaven. Therefore whoever humbles himself as this little child is the greatest in the kingdom of heaven. Whoever receives one little child like this in My name receives Me.


"But whoever causes one of these little ones who believe in Me to sin, it would be better for him if a millstone were hung around his neck, and he were drowned in the depth of the sea. Woe to the world because of offenses! For offenses must come, but woe to that man by whom the offense comes!
                          
"If your hand or foot causes you to sin, cut it off and cast it from you. It is better for you to enter into life lame or maimed, rather than having two hands or two feet, to be cast into the everlasting fire. And if your eye causes you to sin, pluck it out and cast it from you. It is better for you to enter into life with one eye, rather than having two eyes, to be cast into hell fire.
 

"Take heed that you do not despise one of these little ones, for I say to you that in heaven their angels always see the face of My Father who is in heaven. For the Son of Man has come to save that which was lost."
 
Compare Mark's gospel: "Then they brought little children to Him, that He might touch them; but the disciples rebuked those who brought them. But when Jesus saw it, He was greatly displeased and said to them, "Let the little children come to Me, and do not forbid them; for of such is the kingdom of God. Assuredly, I say to you, whoever does not receive the kingdom of God as a little child will by no means enter it." And He took them up in His arms, laid His hands on them, and blessed them." (Mark 10:13-16) 
Special Treatment
The mother of James and John called Jesus aside on the Jericho road to Jerusalem to seek special favor from Him when we finally arrived in office:  

Now Jesus, going up to Jerusalem, took the twelve disciples aside on the road and said to them, "Behold, we are going up to Jerusalem, and the Son of Man will be betrayed to the chief priests and to the scribes; and they will condemn Him to death, and deliver Him to the Gentiles to mock and to scourge and to crucify. And the third day He will rise again."
 
Then the mother of Zebedee's sons came to Him with her sons, kneeling down and asking something from Him.
 
And He said to her, "What do you wish?"
She said to Him, "Grant that these two sons of mine may sit, one on Your right hand and the other on the left, in Your kingdom."
 
But Jesus answered and said, "You do not know what you ask. Are you able to drink the cup that I am about to drink, and be baptized with the baptism that I am baptized with?"They said to Him, "We are able."
 
So He said to them, "You will indeed drink My cup, and be baptized with the baptism that I am baptized with; but to sit on My right hand and on My left is not Mine to give, but it is for those for whom it is prepared by My Father."
 
And when the ten heard it, they were greatly displeased with the two brothers. 

  But Jesus called them to Himself and said, "You know that the rulers of the Gentiles lord it over them, and those who are great exercise authority over them. Yet it shall not be so among you; but whoever desires to become great among you, let him be your servant. And whoever desires to be first among you, let him be your slave— just as the Son of Man did not come to be served, but to serve, and to give His life a ransom for many." (Matthew 18:1-11)


Children delighted in Jesus when he stopped the temple circus the second time after His final arrival in Jerusalem a bit later:  
Then Jesus went into the temple of God and drove out all those who bought and sold in the temple, and overturned the tables of the money changers and the seats of those who sold doves. And He said to them, "It is written, My house shall be called a house of prayer,' but you have made it a den of thieves.' "
 
Then the blind and the lame came to Him in the temple, and He healed them. But when the chief priests and scribes saw the wonderful things that He did, and the children crying out in the temple and saying, "Hosanna to the Son of David!" they were indignant and said to Him, "Do You hear what these are saying?"
 
And Jesus said to them, "Yes. Have you never read, Out of the mouth of babes and nursing infants You have perfected praise'?"


God Can't Please Everyone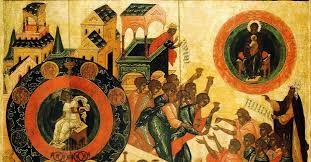 Jesus was not intimidated by anyone old or young. He noted that God offended everyone by speaking through his austere cousin John the Baptist while His own life style was more relaxed. 
"But to what shall I liken this generation?

It is like children sitting in the marketplaces and calling to their companions, and saying:

'We played the flute for you,
And you did not dance;
We mourned to you,
And you did not lament.'
 
For John came neither eating nor drinking, and they say,

'He has a demon.'

The Son of Man came eating and drinking, and they say,

'Look, a glutton and a winebibber, a friend of tax collectors and sinners!'

But wisdom is justified by her children." (Matthew 11:16-19) 

A friend comments: 
For many years now, what Jesus said about the children representing the Kingdom of God, has greatly impacted my entire life. It revolutionized how I look at being "in Christ". Every challenge I have faced and do now face, I look to the wisdom that Jesus showed us through the eyes of children. 

 Children just trust. They do not know all the evil that is at work. They just believe that the one holding their hand will keep them safe and meet all their needs.

This painting is a prized possession of ours. Not because of physical value, but for what it represents, the eternal work of Salvation Jesus has done for me, mine, ours and anyone who will humble themselves before their Heavenly Father.

Only believe. Trust, implicitly, without wavering. 

Child-like Faith.

With the perfect knowledge of having created all things, the incarnated Lord Jesus must have not only uniquely cherished the view through his childhood eyes but retained that knowledge as he mysteriously called the adulterous people of Jerusalem to a kingdom reliant upon rebirth. As this season of Christmas, 2018 years later approaches, we are reminded more than ever to receive the newborn Christ child into our hearts and homes and make it alive to ourselves in new, real and lasting ways. —Jim Hutchison

Young or Old: Lean Your Entire Weight on Jesus

Psalm 71
1 In You, O LORD, I put my trust;
Let me never be put to shame.
2 Deliver me in Your righteousness, and cause me to escape;
Incline Your ear to me, and save me.
3 Be my strong refuge,
To which I may resort continually;
You have given the commandment to save me,
For You are my rock and my fortress.
4 Deliver me, O my God, out of the hand of the wicked,
Out of the hand of the unrighteous and cruel man.
5 For You are my hope, O Lord GOD;
You are my trust from my youth.
6 By You I have been upheld from birth;
You are He who took me out of my mother's womb.
My praise shall be continually of You.
7 I have become as a wonder to many,
But You are my strong refuge.
8 Let my mouth be filled with Your praise
And with Your glory all the day.
9 Do not cast me off in the time of old age;
Do not forsake me when my strength fails.
10 For my enemies speak against me;
And those who lie in wait for my life take counsel together,
11 Saying, "God has forsaken him;
Pursue and take him, for there is none to deliver him."
12 O God, do not be far from me;
O my God, make haste to help me!
13 Let them be confounded and consumed
Who are adversaries of my life;
Let them be covered with reproach and dishonor Who seek my hurt.
14 But I will hope continually,
And will praise You yet more and more.
15 My mouth shall tell of Your righteousness
And Your salvation all the day,
For I do not know their limits.
16 I will go in the strength of the Lord GOD;
I will make mention of Your righteousness, of Yours only.
17 O God, You have taught me from my youth;
And to this day I declare Your wondrous works.
18 Now also when I am old and gray headed,
O God, do not forsake me,
Until I declare Your strength to this generation,
Your power to everyone who is to come.
19 Also Your righteousness, O God, is very high,
You who have done great things;
O God, who is like You?
20 You, who have shown me great and severe troubles,
Shall revive me again,
And bring me up again from the depths of the earth.
21 You shall increase my greatness,
And comfort me on every side.
22 Also with the lute I will praise you--
And Your faithfulness, O my God!
To You I will sing with the harp,
O Holy One of Israel.
23 My lips shall greatly rejoice when I sing to You,
And my soul, which You have redeemed.
24 My tongue also shall talk of Your righteousness all the day long;
For they are confounded, For they are brought to shame
Who seek my hurt.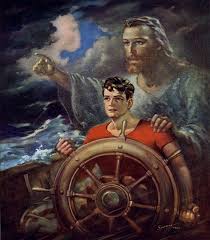 God Specializes in being a Father of the Fatherless

Psalm 68
The Glory of God in His Goodness to Israel
To the Chief Musician. A Psalm of David. A Song.

1 Let God arise,
Let His enemies be scattered;
Let those also who hate Him flee before Him.
2 As smoke is driven away,
So drive them away;
As wax melts before the fire,
So let the wicked perish at the presence of God.

3 But let the righteous be glad;
Let them rejoice before God;
Yes, let them rejoice exceedingly.
4 Sing to God, sing praises to His name;
Extol Him who rides on the clouds,
By His name Yah,
And rejoice before Him.

5A father of the fatherless, a defender of widows,
Is God in His holy habitation.
6 God sets the solitary in families;
He brings out those who are bound into prosperity;
But the rebellious dwell in a dry land.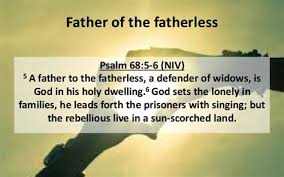 7 O God, when You went out before Your people,
When You marched through the wilderness,

Selah

8 The earth shook;
The heavens also dropped rain at the presence of God;
Sinai itself was  moved at the presence of God, the God of Israel.
9 You, O God, sent a plentiful rain,
Whereby You confirmed Your inheritance,
When it was weary.
10 Your congregation dwelt in it;
You, O God, provided from Your goodness for the poor.

11 The Lord gave the word;
Great was the company of those who proclaimed it:
12 "Kings of armies flee, they flee,
And she who remains at home divides the spoil.
13 Though you lie down among the sheepfolds,
You will be like the wings of a dove covered with silver,
And her feathers with yellow gold."

14 When the Almighty scattered kings in it,
It was white as snow in Zalmon.
15 A mountain of God is the mountain of Bashan;
A mountain of  many peaks is the mountain of Bashan.
16 Why do you fume with envy, you mountains of many peaks?
This  is the mountain which God desires to dwell in;
Yes, the Lord will dwell in  it forever.

17 The chariots of God are twenty thousand,
Even thousands of thousands;
The Lord is among them as  in Sinai, in the Holy Place.
18 You have ascended on high,
You have led captivity captive;
You have received gifts among men,
Even from  the rebellious,
That the Lord God might dwell there.
19 Blessed be the Lord,
Who daily loads us with  benefits,
The God of our salvation!

Selah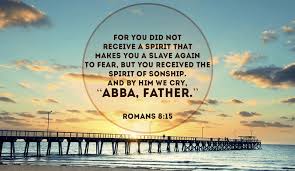 20 Our God is the God of salvation;
And to God the Lord belong escapes from death.
21 But God will wound the head of His enemies,
The hairy scalp of the one who still goes on in his trespasses.

22 The Lord said, "I will bring back from Bashan,
I will bring them back from the depths of the sea,
23 that your foot may crush them in blood,
And the tongues of your dogs may  have their portion from your enemies."

24 They have seen Your procession, O God,
The procession of my God, my King, into the sanctuary.
25 The singers went before, the players on instruments followed after;
Among them  were the maidens playing timbrels.
26 Bless God in the congregations,
The Lord, from the fountain of Israel.

27 There is little Benjamin, their leader,
The princes of Judah and their company,
The princes of Zebulun and the princes of Naphtali.
28 Your God has commanded your strength;
Strengthen, O God, what You have done for us.

29 Because of Your temple at Jerusalem,
Kings will bring presents to You.
30 Rebuke the beasts of the reeds,
The herd of bulls with the calves of the peoples,
Till  everyone  submits himself with pieces of silver.
Scatter the peoples who delight in war.
31 Envoys will come out of Egypt;
Ethiopia will quickly stretch out her hands to God.

32 Sing to God, you kingdoms of the earth;
Oh, sing praises to the Lord,

Selah

33 To Him who rides on the heaven of heavens, which  were of old!
Indeed, He sends out His voice, a mighty voice.
34 Ascribe strength to God;
His excellence is over Israel,
And His strength is in the clouds.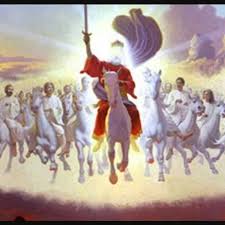 35 O God, You  are more awesome than Your holy places.
The God of Israel is He who gives strength and power to His people.
Blessed be God!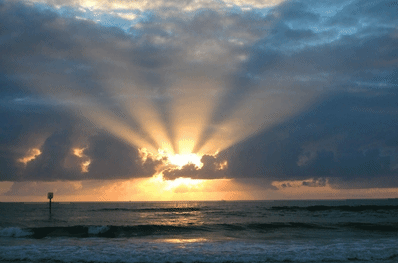 "Now thanks be to God who always leads us in triumph in Christ,
and through us diffuses the fragrance of His knowledge in every place.
For we are to God the fragrance of Christ among those who are being saved
and among those who are perishing.
To the one we are the aroma of death leading to death,
and to the other the aroma of life leading to life.
And who is sufficient for these things?"
(2 Corinthians 2:14-16)

Leisure Reading and Homework
Christianity Without Jesus

Jesus is a Single Man
The Deepest Bond in Life

The Wife of Jehovah, The Bride of Christ

Jesus Plain and Simple

City Life

Christ in You

Intimacy

Rapture Shock

The Royal Road to Wholeness

Keys to the Song of Solomon

Yin, Yang, the Tao, and Wholeness

Made in the Image of God

Arrested Emotional Development

Lambert Dolphin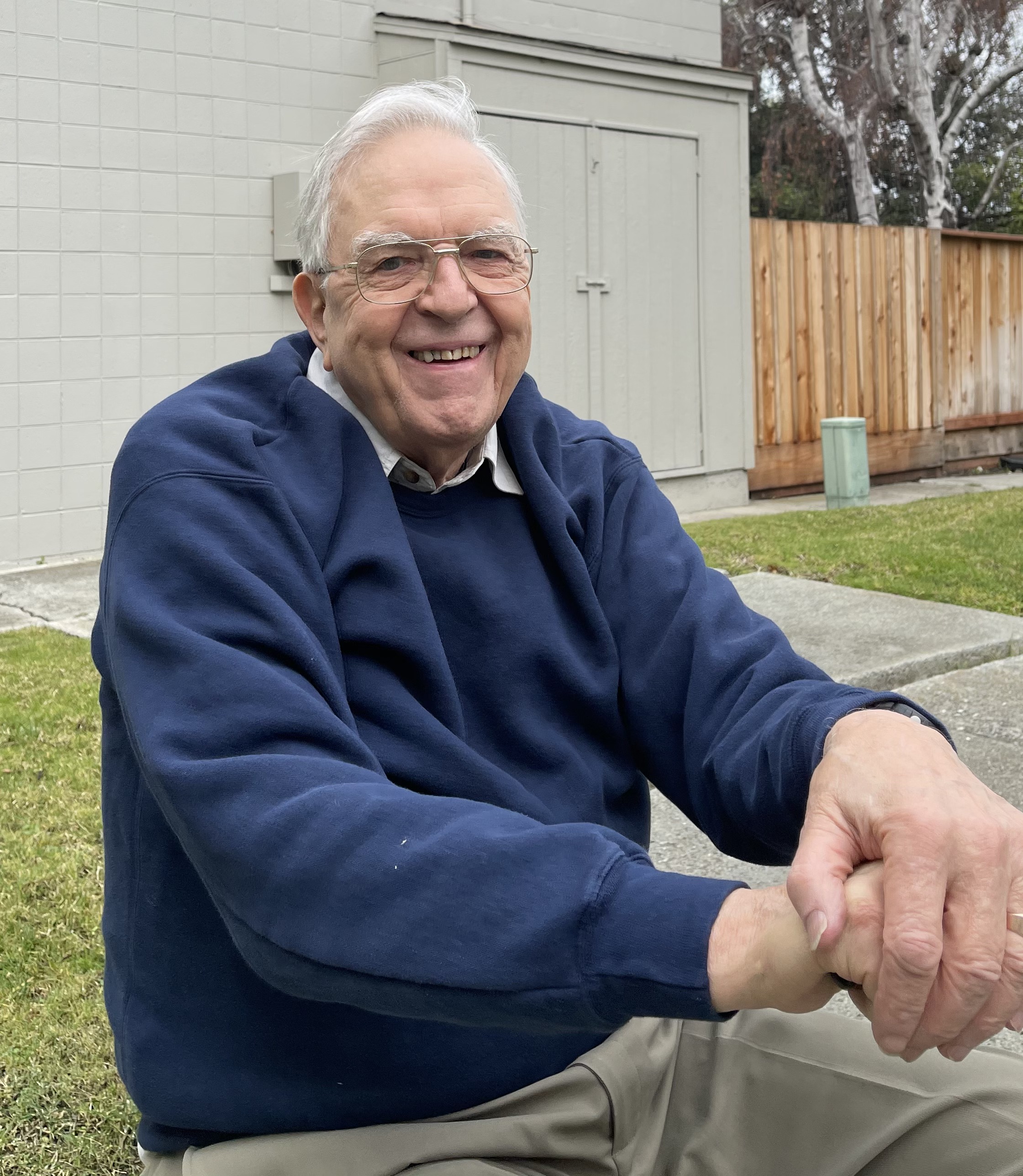 Email is welcome 
Lambert Dolphin's Place
900+ Recent and Recovered Articles, free of charge
Newsletters Old and New


 A Personal Update 

My ancient newsletters and my dozen recent new newsletters are all to be found stored in my dusty old library.
Help thyself. Free of course. I answer email myself and value making new friends and affirming invaluable older friendships.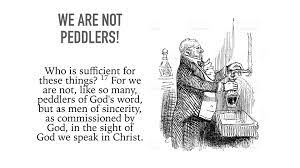 The Sowing Circle
Attn: Lambert Dolphin Ministries 
29 Rancho Circle
Lake Forest, CA 92630-8324

 
         My Visit to Blue Letter Bible October 23, 2019. 
Source Newsletter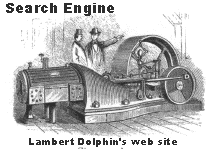 January 23, 2020. July 8, 2020. January 23, 2023. August 30, 2023.