Ojo de Dios


The Era of the Web Cam
Cyberspace is a strange and wonderful new frontier. It is never static. Individuals can easily design and build their own web pages. All pet theories are therefore available in nice, neat web pages which suggest authenticity and credibility--even when the content is nonsense. One also finds a wild assortment of art, pseudo-art, design, bells, whistles, flashing banners and clever scripts that are so far ahead of their time they are certain to crash every known browser. One new fad I've just discovered is the personal home video camera. The first one of these gadgets I ran onto (about two years ago) was a fixed camera in the hills on Highway 17, a dangerous frequently jammed up artery connecting San Jose and Santa Cruz in Silicon Valley. Before heading for the beach, one could tune in on the camera and see if the traffic was hopeless or passable. I don't know if the camera is still operating, I haven't looked lately. When I want to go to Santa Cruz I just head out and take my chances.
Now, quite by accident, I discovered that there is a flourishing new Internet phenomenon springing up: personal web cameras. The deal is that the owners of certain web sites put one or more video cameras in their offices, living rooms, bedrooms--and leave them running day and night. The image refreshes itself every minute or so, whether anyone is home or not. Visitors who "drop in" on these web sites are welcome to watch whatever is going on! Web cam folks even ask for votes and apparently they keep in touch with one another.
What a strange phenomenon! Lonely people who allow any and all strangers to peer in through the window into their not-so private lives! It is not that these web cams sites are necessarily pornographic or indiscreet. As far as I can tell, some are, some aren't. The owners who are gay usually so-state, and those who are not also make their position clear as well. Some are clear that there is no nudity ever, others post a warning. The half-dozen sites I surfed through the other days seemed to be owned by young, unmarried Generation X men and women. I did not see any "family" pages. I have not (and will not) make an exhaustive study of web cam sites--I have neither the time available nor the desire to spy on others, even when spies are welcome and even solicited!
But I got to thinking not only about how lonely people must be to abandon the normal privacy we usually value when we are alone. Is a man's home not his castle? Is not modesty a virtue? Should we not all have freedom to be alone with ourselves--and with our God? I have always assumed people had a public life and a private life (symbolized in the Bible by the right hand and the left hand respectively). I want to choose my friends one at a time. I have business friends, casual friends, intimate friends, remote acquaintances and relatives. Well, you get the point, I'm sure. I grew up in a different generation, with different values! But a difference in generations is not all that is involved here.
I believe we are in living in the final generations before the return of Christ when evil is being allowed to run its full course and come out of hiding into full public view. This is age of the Church of Laodicea in the Book of the Revelation.
...to the angel of the church in Laodicea write: `The words of the Amen, the faithful and true witness, the beginning of God's creation. "`I know your works: you are neither cold nor hot. Would that you were cold or hot! So, because you are lukewarm, and neither cold nor hot, I will spew you out of my mouth. For you say, I am rich, I have prospered, and I need nothing; not knowing that you are wretched, pitiable, poor, blind, and naked. Therefore I counsel you to buy from me gold refined by fire, that you may be rich, and white garments to clothe you and to keep the shame of your nakedness from being seen, and salve to anoint your eyes, that you may see. Those whom I love, I reprove and chasten; so be zealous and repent. Behold, I stand at the door and knock; if any one hears my voice and opens the door, I will come in to him and eat with him, and he with me. He who conquers, I will grant him to sit with me on my throne, as I myself conquered and sat down with my Father on his throne. He who has an ear, let him hear what the Spirit says to the churches. (Revelation 3:14-22)
Though Christians these days are by and large ignorant of how God sees them, one interesting part of the above passage has to do with being naked and not knowing it! Before God and His holy angels we stand not only naked but full of shame, not only for what we do but for who we are apart from Christ. We are all on-stage before God and to be presentable in the presence of God one needs the clothing of Christ's imparted righteousness. The gaze of God looks on the heart and not merely the outward appearance. The Eye of God looks down into the depths of a soul like a great searchlight exposing every motive, every thought, every intention of the heart. It is a holy God with whom we have to do.
Nothing Hidden that will not be Made Known...
Web cam sites got me thinking about the shocking statement of Jesus,
...nothing is covered that will not be revealed, or hidden that will not be known. What I tell you in the dark, utter in the light; and what you hear whispered, proclaim upon the housetops. (Matthew 10:26-27)
The scary thing about this verse is that our evil deeds, our sins will find us out. There is no place to hide. In fact in the coming day of judgment when God intervenes in history with outraged holiness,
Then the kings of the earth and the great men and the generals and the rich and the strong, and every one, slave and free, hid in the caves and among the rocks of the mountains, calling to the mountains and rocks, "Fall on us and hide us from the face of him who is seated on the throne, and from the wrath of the Lamb; for the great day of their wrath has come, and who can stand before it?" (Revelation 6:15-17)
We are safe when we are transparent before the Face of God, when our hearts are pure and our sins confessed. There are a number of verses in the Bible that illustrate this. To the people of Israel about to enter the Promised Land, Moses said,
For the land which you are entering to take possession of it is not like the land of Egypt, from which you have come, where you sowed your seed and watered it with your feet, like a garden of vegetables; but the land which you are going over to possess is a land of hills and valleys, which drinks water by the rain from heaven, a land which the LORD your God cares for; the eyes of the LORD your God are always upon it, from the beginning of the year to the end of the year. "And if you will obey my commandments which I command you this day, to love the LORD your God, and to serve him with all your heart and with all your soul, he will give the rain for your land in its season, the early rain and the later rain, that you may gather in your grain and your wine and your oil. And he will give grass in your fields for your cattle, and you shall eat and be full. Take heed lest your heart be deceived, and you turn aside and serve other gods and worship them, and the anger of the LORD be kindled against you, and he shut up the heavens, so that there be no rain, and the land yield no fruit, and you perish quickly off the good land which the LORD gives you. (Deuteronomy 11:10-17)
On the other King Asa reached a point of repeated grievous sin against the Lord when he relied on foreign alliances instead of the God of Israel. The rest of his life was to be marked by wars and conflict:
In the thirty-sixth year of the reign of Asa, Baasha king of Israel went up against Judah, and built Ramah, that he might permit no one to go out or come in to Asa king of Judah. Then Asa took silver and gold from the treasures of the house of the LORD and the king's house, and sent them to Ben-hadad king of Syria, who dwelt in Damascus, saying, "Let there be a league between me and you, as between my father and your father; behold, I am sending to you silver and gold; go, break your league with Baasha king of Israel, that he may withdraw from me." And Ben-hadad hearkened to King Asa, and sent the commanders of his armies against the cities of Israel, and they conquered Dijon, Dan, Abel-mam, and all the store-cities of Naphtali. And when Baasha heard of it, he stopped building Ramah, and let his work cease. Then King Asa took all Judah, and they carried away the stones of Ramah and its timber, with which Baasha had been building, and with them he built Geba and Mizpah. At that time Hanani the seer came to Asa king of Judah, and said to him, "Because you relied on the king of Syria, and did not rely on the LORD your God, the army of the king of Syria has escaped you. Were not the Ethiopians and the Libyans a huge army with exceedingly many chariots and horsemen? Yet because you relied on the LORD, he gave them into your hand. For the eyes of the LORD run to and fro throughout the whole earth, to show his might in behalf of those whose heart is blameless toward him. You have done foolishly in this; for from now on you will have wars." (2 Chronicles 16:1-10)
King David in the 34th Psalm reaffirms God's watchful care over His own:
I sought the LORD, and he answered me, and delivered me from all my fears. Look to him, and be radiant; so your faces shall never be ashamed. This poor man cried, and the LORD heard him, and saved him out of all his troubles. The angel of the LORD encamps around those who fear him, and delivers them. O taste and see that the LORD is good! Happy is the man who takes refuge in him! O fear the LORD, you his saints, for those who fear him have no want! The young lions suffer want and hunger; but those who seek the LORD lack no good thing. Come, O sons, listen to me, I will teach you the fear of the LORD. What man is there who desires life, and covets many days, that he may enjoy good? Keep your tongue from evil, and your lips from speaking deceit. Depart from evil, and do good; seek peace, and pursue it. The eyes of the LORD are toward the righteous, and his ears toward their cry. The face of the LORD is against evildoers, to cut off the remembrance of them from the earth. When the righteous cry for help, the LORD hears, and delivers them out of all their troubles. The LORD is near to the brokenhearted, and saves the crushed in spirit. Many are the afflictions of the righteous; but the LORD delivers him out of them all. He keeps all his bones; not one of them is broken. Evil shall slay the wicked; and those who hate the righteous will be condemned. The LORD redeems the life of his servants; none of those who take refuge in him will be condemned. (Psalm 34:4-22)
The same theme is found in the proverbs of Solomon:
The eyes of the LORD are in every place, keeping watch on the evil and the good. (15:3)

All the ways of a man are pure in his own eyes, but the LORD weighs the spirit. (16:2)

Every way of a man is right in his own eyes, but the LORD weighs the heart. (21:2)

The eyes of the LORD keep watch over knowledge, but he overthrows the words of the faithless. (22:12)
Solomon offers us great wisdom about the brevity of life and the great importance of paying attention to God's view of man and of one's life:
LORD, thou hast been our dwelling place in all generations. Before the mountains were brought forth, or ever thou hadst formed the earth and the world, from everlasting to everlasting thou art God. Thou turnest man back to the dust, and sayest, "Turn back, O children of men!" For a thousand years in thy sight are but as yesterday when it is past, or as a watch in the night. Thou dost sweep men away; they are like a dream, like grass which is renewed in the morning: in the morning it flourishes and is renewed; in the evening it fades and withers. For we are consumed by thy anger; by thy wrath we are overwhelmed. Thou hast set our iniquities before thee, our secret sins in the light of thy countenance. For all our days pass away under thy wrath, our years come to an end like a sigh. The years of our life are threescore and ten, or even by reason of strength fourscore; yet their span is but toil and trouble; they are soon gone, and we fly away. Who considers the power of thy anger, and thy wrath according to the fear of thee? So teach us to number our days that we may get a heart of wisdom. Return, O LORD! How long? Have pity on thy servants! Satisfy us in the morning with thy steadfast love, that we may rejoice and be glad all our days. Make us glad as many days as thou hast afflicted us, and as many years as we have seen evil. Let thy work be manifest to thy servants, and thy glorious power to their children. Let the favor of the Lord our God be upon us, and establish thou the work of our hands upon us, yea, the work of our hands establish thou it. (Psalm 90)
And lastly, the New Testament the same affirmation about God's watchful eye upon the world can be seen:
Finally, all of you, have unity of spirit, sympathy, love of the brethren, a tender heart and a humble mind. Do not return evil for evil or reviling for reviling; but on the contrary bless, for to this you have been called, that you may obtain a blessing. For "He that would love life and see good days, let him keep his tongue from evil and his lips from speaking guile; let him turn away from evil and do right; let him seek peace and pursue it. For the eyes of the Lord are upon the righteous, and his ears are open to their prayer. But the face of the Lord is against those that do evil." Now who is there to harm you if you are zealous for what is right? (1 Peter 3:8-13)
We live in amoral times. Truth is relative, it is often said. There are no absolutes. God does not exist, or if he does, he is irrelevant. Death is the end and meantime we have innate "rights" to do whatever we please--apparently especially in the "privacy" of our own homes!
C.G. Jung studied the imagery of dreams and found some universal themes in every culture. Jung believed in the importance of one's personal journey towards wholeness (which he called "individuation"). At the start of this journey, most of us have the collective values of our peers and our generation. We have not yet discovered the uniqueness of our own person hood. We tend to follow the crowd. At the same time our true talents remain hidden and undeveloped. We do not easily see ourselves as others see us. And we do (most assuredly) not at first have God's view of us. We do not really know ourselves and we do not know our hearts. This is why a glimpse of "the Eye of God" in a dream or a flash of intuition can be a shattering experience. God is truly there, and He is holy. He "dwells in unapproachable light," and " ...before him no creature is hidden, but all are open and laid bare to the eyes of him with whom we have to do." God is there and He loves us in spite of ourselves. But we are in great need of His mercy and we must call out to Him for help even to start the process by which he will show us what we are like and what we can become in Him.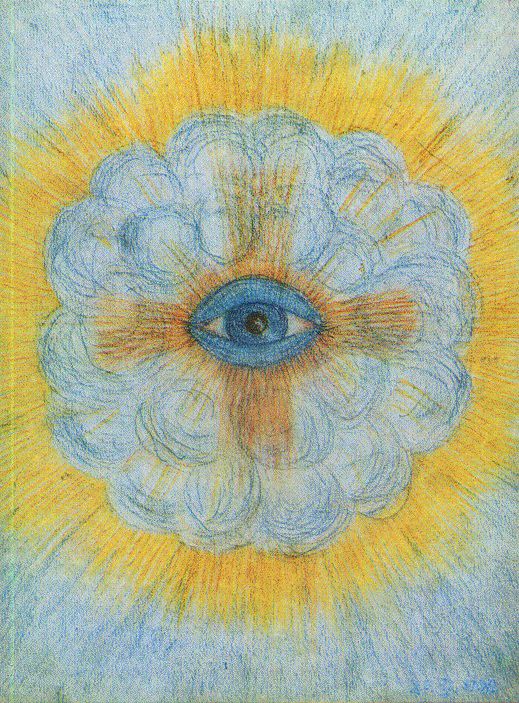 Illustration from The Psychology of C.G. Jung
by Jolande Jacobi (Yale U. Press 1973)
...but when a man turns to the Lord the veil is removed. Now the Lord is the Spirit, and where the Spirit of the Lord is, there is freedom. And we all, with unveiled face, beholding the glory of the Lord, are being changed into his likeness from one degree of glory to another; for this comes from the Lord who is the Spirit. Therefore, having this ministry by the mercy of God, we do not lose heart. We have renounced disgraceful, underhanded ways; we refuse to practice cunning or to tamper with God's word, but by the open statement of the truth we would commend ourselves to every man's conscience in the sight of God. And even if our gospel is veiled, it is veiled only to those who are perishing. In their case the god of this world has blinded the minds of the unbelievers, to keep them from seeing the light of the gospel of the glory of Christ, who is the likeness of God. For what we preach is not ourselves, but Jesus Christ as Lord, with ourselves as your servants for Jesus' sake. For it is the God who said, "Let light shine out of darkness," who has shone in our hearts to give the light of the knowledge of the glory of God in the face of Christ. (2 Corinthians 3:17-4:6)
The Final Division
In our present world good and evil are all mixed together. The wheat and tares are growing alongside one another. In many cases good looks evil and evil looks good. We can not always judge by appearances. However the "hidden things of darkness" are coming to light on all sides. The final state of affairs that will soon prevail when Christ returns is summed up in the final chapters of the last book of the Bible, the Book of the Revelation,
And in the Spirit he carried me away to a great, high mountain, and showed me the holy city Jerusalem coming down out of heaven from God, having the glory of God, its radiance like a most rare jewel, like a jasper, clear as crystal. It had a great, high wall, with twelve gates, and at the gates twelve angels, and on the gates the names of the twelve tribes of the sons of Israel were inscribed; on the east three gates, on the north three gates, on the south three gates, and on the west three gates. And the wall of the city had twelve foundations, and on them the twelve names of the twelve apostles of the Lamb. And the city has no need of sun or moon to shine upon it, for the glory of God is its light, and its lamp is the Lamb. By its light shall the nations walk; and the kings of the earth shall bring their glory into it, and its gates shall never be shut by day --and there shall be no night there; they shall bring into it the glory and the honor of the nations. But nothing unclean shall enter it, nor any one who practices abomination or falsehood, but only those who are written in the Lamb's book of life. There shall no more be anything accursed, but the throne of God and of the Lamb shall be in it, and his servants shall worship him; they shall see his face, and his name shall be on their foreheads. And night shall be no more; they need no light of lamp or sun, for the Lord God will be their light, and they shall reign for ever and ever. Let the evildoer still do evil, and the filthy still be filthy, and the righteous still do right, and the holy still be holy." "Behold, I am coming soon, bringing my recompense, to repay every one for what he has done. I am the Alpha and the Omega, the first and the last, the beginning and the end." Blessed are those who wash their robes, that they may have the right to the tree of life and that they may enter the city by the gates. Outside are the dogs and sorcerers and fornicators and murderers and idolaters, and every one who loves and practices falsehood. "I Jesus have sent my angel to you with this testimony for the churches. I am the root and the offspring of David, the bright morning star." The Spirit and the Bride say, "Come." And let him who hears say, "Come." And let him who is thirsty come, let him who desires take the water of life without price. (Revelation 21-22)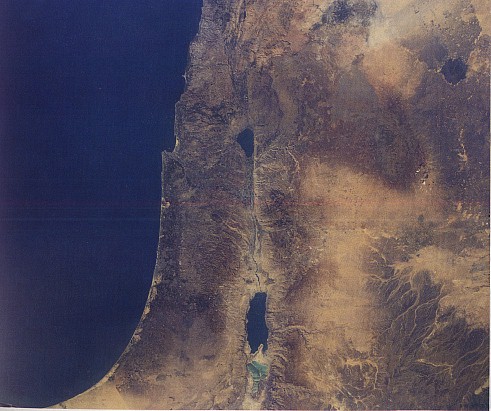 God's View of Israel from Space
The Long Journey
"You cannot take all luggage with you on all journeys; on one journey even your right hand and your right eye may be among the things you have to leave behind.

We are not living in a world where all roads are radii of a circle and where all, if followed long enough, will therefore draw gradually nearer and finally meet at the centre: rather in a world where every road, after a few miles, forks into two, and each of those into two again, and at each fork you must make a decision.

Even on a biological level life is not like a pool but like a tree. It does not move towards unity but away from it and the creatures grow further apart as they increase in perfection.

Good, as it ripens, becomes more different not only from evil but from other good. I do not think that all who choose wrong roads perish; but their rescue consists in being put back on the right road.

A wrong sum can be put right: but only by going back till you find your error and working it afresh from that point, never by simply going on. Evil can be undone, but it cannot 'develop' into good. Time does not heal it. The spell must be unwound, bit by bit, 'with backwards mutters of dissevering power'--or else not.

It is still 'either-or.' If we insist on keeping Hell (or even earth) we shall not see Heaven: if we accept Heaven we shall not be able to retain even the smallest and most intimate souvenirs of Hell.

I believe, to be sure, that any man who reaches Heaven will find that what he has abandoned (even in plucking out his right eye) was precisely nothing: that the kernel of what he was really seeking even in his most depraved wishes will be there, beyond expectation, waiting for him in 'the High Countries.'" (C. S. Lewis, preface to The Great Divorce)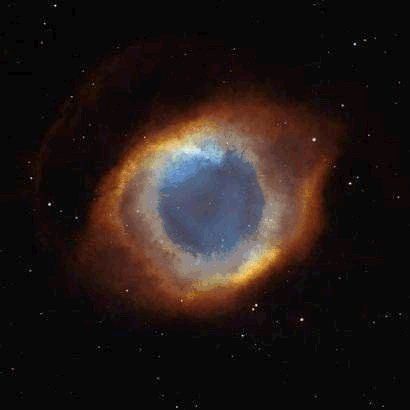 "Eye of God" NASA Hubble Telescope Image

Reference: Web Cam Sites
Faith to Faith - Face to Face (Christian Video conferences)
WebWorldCams Cams Cruise
Alaska Airport Webcams
Search Webcams by Category
National Geographic's Bearcam
Webcams on the World
Webcam Central
Stardust - Live from Kennedy Space Center
The Western Wall, Jerusalem, live
(Caution: Many web cams show people at work in their homes or offices. Some are pornographic and should be avoided like the plague. "Be not wise in your own eyes; fear the LORD, and turn away from evil."--Proverbs 3:7)
Ojo de Dios. The Ojo de Dios, or god's eye, is a simple weaving made across two sticks and is thought to have originated with the Huichol Indians of Jalisco. The Huichol call their god's eyes sikuli, which means "the power to see and understand things unknown." Hung in a child's hair or on the walls of homes, or tied to the ends of arrows, the sikuli's main purpose is to ensure children a long and healthy life. When a child is born, the central eye is woven by the father. Then one eye is added for every year of the child's life until the youngster reaches the age of five. The resulting design in the shape of a cross symbolizes the four elements of earth, air, fire and water. The Ojo de Dios is the most well known symbol. The Indians believe the design of the eye has the power to heal and to protect. The Ojo de Dios is hung on the wall and used in ceremonies and prayer. The colours used have different meanings: RED - life itself; YELLOW - sun moon & stars; BLUE - sky & water; BROWN - soil; GREEN - vegetation; BLACK - death. They can be used as good luck symbols.
Addendum: Since this was written in late 1998, thousands of new personal web sites have come on line. Some show a living room, a bedroom or a den. Most focus the camera on a person sitting at his or her computer. Some of these sites act as personal chat sites, others seem to be intended for voyeurs who enjoy peeping into what used to be the privacy of a person's home. In one sense this trend could be taken as God at work, bringing into full day light "all the hidden things of darkness." Modesty, discretion and a private life lived in personal communion with God alone were once virtues, but apparently not anymore. How lonely for real relationships many people must be these days.

---
Lambert Dolphin
lambert@ldolphin.org
Originated December 26, 1998. Updated, January 12, 2001, April 16, 2001, September 3, 2002.
Library