Welcome to the
Ray C. Stedman Memorial Home Page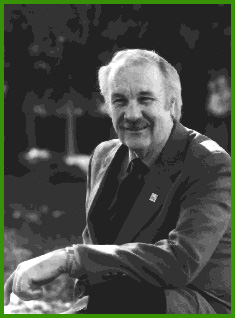 Biography
Raymond Charles Stedman
October 5, 1917 - October 7, 1992
Ray was born in Temvik, North Dakota where his father, Charles, worked for the railroads. The family lived for a while in Miles City, Montana, then in Tacoma, Washington and finally settled in Denver, Colorado where his father worked in a Burlington Railroad roundhouse. Ray's mother, Mabel, was asthmatic and developed a heart condition, and after the age of six Ray lived with his aunt. His father abandoned the family, and all efforts to locate him were to no avail.

Ray came to know the Lord at a Methodist revival meeting at age of ten and, living on a farm, began to preach to the cows. His dream was to one day become a surgeon, and after high school in Montana he entered a premed course at Whitworth College, Spokane, Washington. Financial difficulties forced him to drop out. After working in Montana, Chicago, Illinois, and Denver, he moved to Hawaii to work for Libby Pineapple when World War II broke out. He enlisted in the Navy there in 1943. During the Hawaii years Ray began to lead Bible studies for both civilian workers and navy personnel as well as preaching on a local radio program. It was during this season that Ray realized the Lord wanted him in full time vocational ministry.

Ray met his wife Elaine in Great Falls, Montana, and at the close of the war they were married in Honolulu on October 22, 1945. Upon their return to the mainland in 1946, Ray began a four-year course of study at Dallas Theological Seminary, graduating in l950. Ray and Elaine spent two summers during seminary with Dr. J. Vernon McGee at Lincoln Avenue Presbyterian Church in Pasadena, California doing youth ministry. This was just before Dr. McGee began his long ministry at the Church of the Open Door in Los Angeles. The Stedmans went on to spend one additional summer in Pasadena at Emmanuel Baptist Church. In the fall of 1950, after traveling for several months with Dr. H.A. Ironside, Pastor of Moody Church in Chicago, Ray accepted the call (conveyed to him by Robert W. Smith) to serve on the staff of Peninsula Bible Fellowship in Palo Alto, California. The Stedmans then moved from Great Falls, Montana to the Bay Area with their two young daughters, Sheila and Susan.

PBF had begun two years earlier as a small Bible study, prayer, and fellowship group led by a group of lay leaders from several local churches. By l950 it had grown to the point of needing pastoral staff care. Three letters arrived in the PBF mail box on the same day, written by Christian leaders in different parts of the country, with none of them having any knowledge of the other letters. All three encouraged the PBF Elders to consider a young man named Ray Stedman to fill their pastoral need. Based on the strength of those recommendations, a brief meeting with Bob Smith at DTS, and a meeting after graduation in Palo Alto with the directors of PBF resulted in Ray being offered the position without hearing him preach.

PBF was to become PBC, and Ray's leadership here was to last 40 years, culminating in his retirement as a Pastor and Elder on April 30, 1990. During those 40 years God blessed Ray and Elaine with two more daughters, Linda and Laurie, and eventually eleven grandchildren. Ray and Elaine have lived in Grants Pass, Oregon since his retirement, surrounded by their daughters, Sheila, Susan, Linda, Laurie, and their families, all of whom live in the Northwest.


A Tribute by Christianity Today
Ready for Something Tremendous

On October 14 (1992) we lost to cancer an outstanding leader among us, Ray Stedman. Long-time pastor of Peninsula Bible Church in Palo Alto, California, and author of Body Life and other books, Ray contributed largely, yet humbly.

Why? "He had his ego under control," says his close friend, Fred Smith. Fred always marveled that a man so gifted could seek applause so little.

Another close friend, Jack Modesett, Jr., quotes Ray himself as saying, "If we will admit our inadequacy, we can have God's adequacy....The greatest problem in the church is trying to do God's work with man's strength....The key to Christian sufficiency is realizing that everything comes from God and nothing comes from me."

Then Jack adds this: "In Ray's book Authentic Christianity, he tells the story of Paul's escape from Damascus by being let down over the wall in a basket. Ray commented that Paul was useless to God until he became a basket case! He adds that we also are useless until we are 'utterly bankrupt before some demand of life, and then discover it to be a blessing,' because it forces us to 'depend wholly on the Lord at work in you.' When I read that I thought, It may be that no one has ever lived a life that was fully yielded to Christ, but Ray Stedman came very close."

Life slipping away

Jack is not alone in that assessment. Perhaps it was because Ray's perspective on earth foreshadowed---his current perspective from heaven. In a sermon he preached just a year before his death, he quoted Paul's statements about our "light affliction" working in us "an exceeding great and eternal weight of glory" and followed that with a call to break out of the limitations of this-world thinking:

"The world tells us, if you don't take it now, you're never going to get another chance. I have seen that misunderstanding drive people into forsaking their marriages after 30 or40 years and running off with another, usually younger, person, hoping they can still fulfill their dreams because they feel life is slipping away from them. Christians are not to think that way. This life is a school, a training period where we are being prepared for something that is incredibly great but is yet to come. I don't understand all that is involved in that, but I believe it, and sometimes I can hardly wait until it happens."

The best is yet to be

In the same message, Ray spoke of being readied for "something tremendous" and warned his congregation, "Don't succumb to the philosophy that you have to have it all now or you will never have another chance. You can pass by a lot of things now and be content because you know that what God is sending you now is just what you need to get you ready for what he has waiting for you when this life is over. One of my favorite quotations is the words of Robert Browning, which you sometimes see carved on sundials:

Grow old along with me!
The best is yet to be,

The last of life, for which the first was made."

Ray is now experiencing "the best," and the best conclusion here is to quote Ray's own challenge to his congregation: "So don't lose hope. You are headed for hope, headed for life, headed for glory. All of this life is working toward that end; that's the first thing to hang on to. You don't need to be depressed or feel that everything is useless, that you can't do anything because you are getting older ...that is not true. Paul prays that these Christians may feel in their hearts the great hope to which God has called them. It is all waiting for them, the shining hope beyond death."


Two Quotations from the Sermons of Ray C. Stedman
On Death and Dying
"What is your view of your approaching death? Do you have some sense of anticipation about it, with the awareness that beyond death is the final explanation of all the unanswered, unexplained questions of life? I became a Christian when I was 11 years old. Like all young boys, I faced life then with mixed feelings of both anticipation and dread. But one thing I have always wanted to do was to grow old. God has answered that prayer. Now, as I near the end, I can say that looking ahead is a time filled with happy anticipation that God is going to answer all the questions which I have had to leave unanswered, because the full meaning of this present experience will never be brought out until death intervenes. Then will come all the answers, abundantly, satisfyingly, fully.

"That is the Christian perspective of life. If we succumb to the empty view of the worldlings around us we too will find ourselves all ajitter, frustrated, feeling bitter, angry and upset with our circumstances. But these words call us to the realization that the meaning of life can never be found by trying to solve all the problems. Rather, it is by trust in the Living God, who knows what he is doing and is working out his strange purposes through our existence, teaching us all we need to know as we go on through, so that our eyes should reflect the peace of God and our hearts respond with joy at the promises that await fulfillment yet to come."
_______________
"Our own personal death is the hard, harsh, square peg that refuses to fit into all the round holes we plan for our future; it is the sand in our oyster that irritates us and makes our spirits protest against it. Why should we learn all these great lessons of life and, just when we have learned them we must give them all up and there is no opportunity to exercise them? Something about that makes us protest.

"If we have been brought up to believe the universal lie of our day which is being flung at us all the time through the media that we deserve to live, then this constantly approaching termination of our life reminds us that that is not so. In the eyes of the God of the universe we do not deserve to live. If we are allowed life beyond death it is a gift of God's grace, not something we have earned ourselves. Something in us deserves to die; that is what universal death declares.

"That fact is what makes everybody essentially religious. This is why man cannot live like an animal. Even those who claim atheism, and attempt to act and live as though there were no God, give evidence from time to time that they do not really believe that. Beyond death is something someone they do not know who or what waiting for them, so they cannot be comfortable with the idea of atheism. They have to find some answer to the problems of life, and death is what forces them to do that."


Anecdotes and Testimonies
Ray Stedman had an encyclopedic mind and could quote hundred of poems, hymns, literary quotes and of course Bible verses. He had a wonderful and warm sense of humor. If you knew Ray Stedman or were influenced by him, or if you have comments on his sermons, please send us your comments.

Books, Tapes, and Papers
During his life time Ray preached over 800 sermons at PBC (and probably as many more out of town during his extensive world travels). He authored more than 28 books, many of which are still in print. You may read many of his messages on these web pages, and you may order sermons, books and tapes from Discovery Publications, a ministry of Peninsula Bible Church of Palo Alto.
---
Created: May 7, 1995 Updated: January 21, 1997
Discovery Publishing | CD home Page