Intercessors

An Intercessor is much more than a Mediator!
A Mediator is a middle man brought in to resolve or settle a dispute, to find common ground in a marital dispute or in a disagreement between management and labor.
An Intercessor is needed when differences are irreconcilable. There may be no middle ground. No negotiable solution. A dilemma! A quandary, a predicament, a no-win situation.
There are striking examples of the latter in the Bible. Moses is a striking example of a man standing between a Holy God and a disobedient people.

Moses as Intercessor: Exodus 32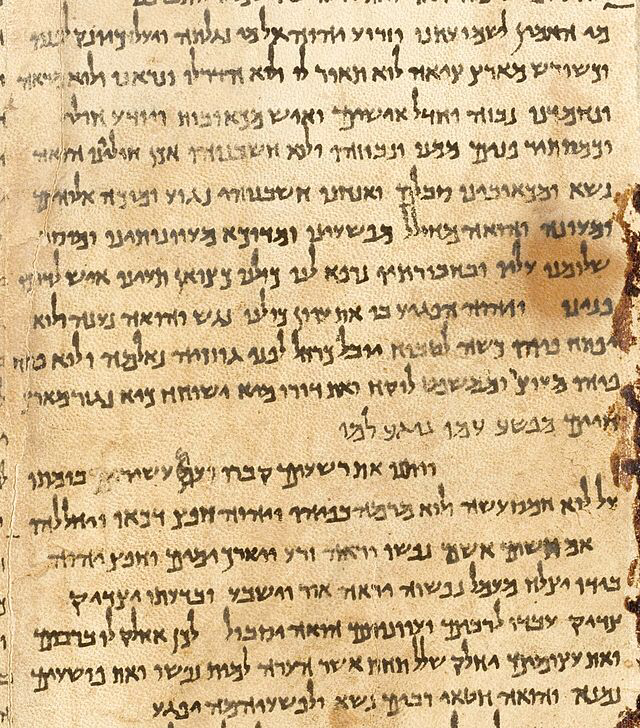 Now when the people saw that Moses delayed coming down from the mountain, the people gathered together to Aaron, and said to him, "Come, make us gods that shall go before us; for as for this Moses, the man who brought us up out of the land of Egypt, we do not know what has become of him."
And Aaron said to them, "Break off the golden earrings which are in the ears of your wives, your sons, and your daughters, and bring them to me." So all the people broke off the golden earrings which were in their ears, and brought them to Aaron. And he received the gold from their hand, and he fashioned it with an engraving tool, and made a molded calf.
Then they said, "This is your god, O Israel, that brought you out of the land of Egypt!"
So when Aaron saw it, he built an altar before it. And Aaron made a proclamation and said, "Tomorrow is a feast to the Lord." Then they rose early on the next day, offered burnt offerings, and brought peace offerings; and the people sat down to eat and drink, and rose up to play.
And the Lord said to Moses, "Go, get down! For your people whom you brought out of the land of Egypt have corrupted themselves. They have turned aside quickly out of the way which I commanded them. They have made themselves a molded calf, and worshiped it and sacrificed to it, and said, 'This is your god, O Israel, that brought you out of the land of Egypt!' "
And the Lord said to Moses, "I have seen this people, and indeed it is a stiff-necked people! Now therefore, let Me alone, that My wrath may burn hot against them and I may consume them. And I will make of you a great nation."
Then Moses pleaded with the Lord his God, and said: "Lord, why does Your wrath burn hot against Your people whom You have brought out of the land of Egypt with great power and with a mighty hand? Why should the Egyptians speak, and say, 'He brought them out to harm them, to kill them in the mountains, and to consume them from the face of the earth'? Turn from Your fierce wrath, and relent from this harm to Your people.
Remember Abraham, Isaac, and Israel, Your servants, to whom You swore by Your own self, and said to them, 'I will multiply your descendants as the stars of heaven; and all this land that I have spoken of I give to your descendants, and they shall inherit it forever.' " So the Lord relented from the harm which He said He would do to His people.
What followed...
And Moses turned and went down from the mountain, and the two tablets of the Testimony were in his hand. The tablets were written on both sides; on the one side and on the other they were written. Now the tablets were the work of God, and the writing was the writing of God engraved on the tablets.
And when Joshua heard the noise of the people as they shouted, he said to Moses, "There is a noise of war in the camp."
But he said: "It is not the noise of the shout of victory, Nor the noise of the cry of defeat, But the sound of singing I hear."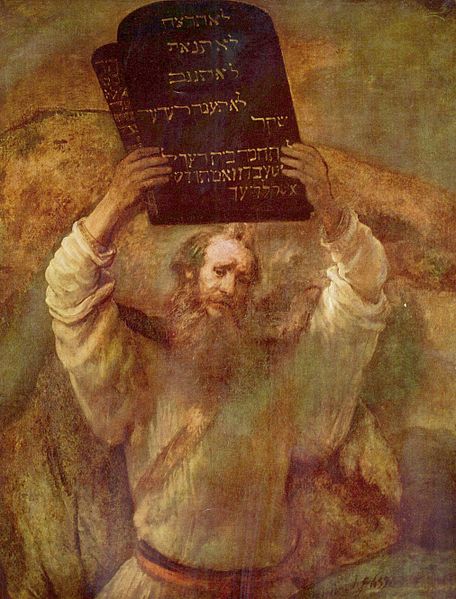 So it was, as soon as he came near the camp, that he saw the calf and the dancing. So Moses' anger became hot, and he cast the tablets out of his hands and broke them at the foot of the mountain. Then he took the calf which they had made, burned it in the fire, and ground it to powder; and he scattered it on the water and made the children of Israel drink it. And Moses said to Aaron, "What did this people do to you that you have brought so great a sin upon them?"
So Aaron said, "Do not let the anger of my lord become hot. You know the people, that they are set on evil. For they said to me, 'Make us gods that shall go before us; as for this Moses, the man who brought us out of the land of Egypt, we do not know what has become of him.' And I said to them, 'Whoever has any gold, let them break it off.' So they gave it to me, and I cast it into the fire, and this calf came out."
Now when Moses saw that the people were unrestrained (for Aaron had not restrained them, to their shame among their enemies),
…then Moses stood in the entrance of the camp, and said, "Whoever is on the Lord's side—come to me!" And all the sons of Levi gathered themselves together to him. And he said to them, "Thus says the Lord God of Israel: 'Let every man put his sword on his side, and go in and out from entrance to entrance throughout the camp, and let every man kill his brother, every man his companion, and every man his neighbor.' " So the sons of Levi did according to the word of Moses. And about three thousand men of the people fell that day. Then Moses said, "Consecrate yourselves today to the Lord, that He may bestow on you a blessing this day, for every man has opposed his son and his brother."
Now it came to pass on the next day that Moses said to the people, "You have committed a great sin. So now I will go up to the Lord; perhaps I can make atonement for your sin." Then Moses returned to the Lord and said, "Oh, these people have committed a great sin, and have made for themselves a god of gold! Yet now, if You will forgive their sin—but if not, I pray, blot me out of Your book which You have written."
And the Lord said to Moses, "Whoever has sinned against Me, I will blot him out of My book. Now therefore, go, lead the people to the place of which I have spoken to you. Behold, My Angel shall go before you. Nevertheless, in the day when I visit for punishment, I will visit punishment upon them for their sin."
So the Lord plagued the people because of what they did with the calf which Aaron made.

Isaiah 53 is all about the Messiah and was written seven hundred years before Yeshua was born.
Yeshua is here in the the role of an Intercessor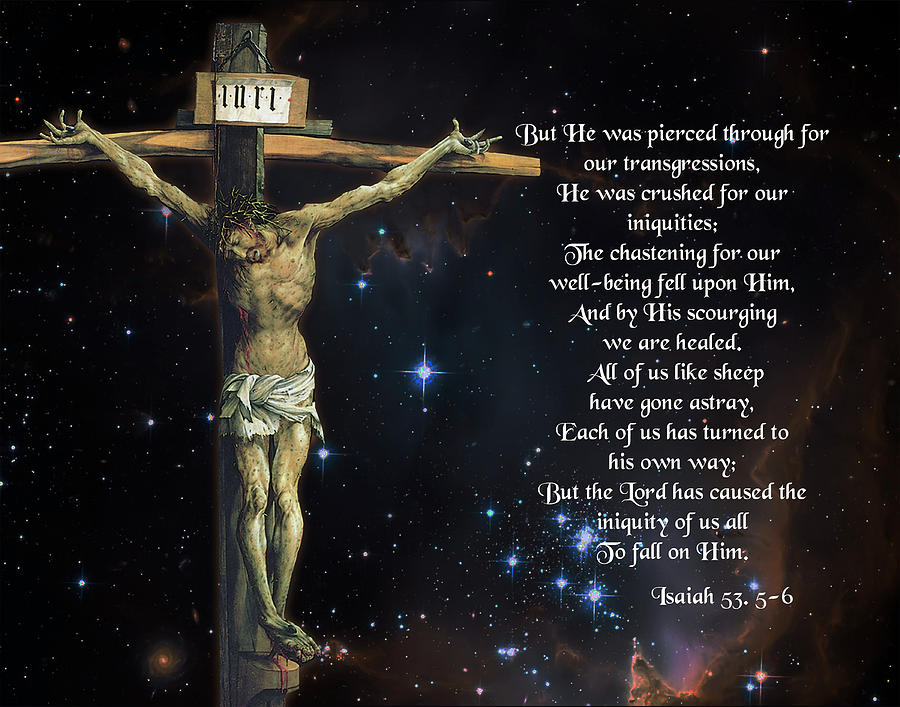 Isaiah 53
"Who has believed our report?
And to whom has the arm of the Lord been revealed?
For He shall grow up before Him as a tender plant,
And as a root out of dry ground.
He has no form or comeliness;
And when we see Him,
There is no beauty that we should desire Him.
He is despised and rejected by men,
A Man of sorrows and acquainted with grief.
And we hid, as it were, our faces from Him;
He was despised, and we did not esteem Him.
Surely He has borne our griefs
And carried our sorrows;
Yet we esteemed Him stricken,
Smitten by God, and afflicted.
But He was wounded for our transgressions,
He was bruised for our iniquities;
The chastisement for our peace was upon Him,
And by His stripes we are healed.
All we like sheep have gone astray;
We have turned, every one, to his own way;
And the Lord has laid on Him the iniquity of us all.
He was oppressed and He was afflicted,
Yet He opened not His mouth;
He was led as a lamb to the slaughter,
And as a sheep before its shearers is silent,
So He opened not His mouth.
He was taken from prison and from judgment,
And who will declare His generation?
For He was cut off from the land of the living;
For the transgressions of My people He was stricken.
And they made His grave with the wicked—
But with the rich at His death,
Because He had done no violence,
Nor was any deceit in His mouth.
Yet it pleased the Lord to bruise Him;
He has put Him to grief.
When You make His soul an offering for sin,
He shall see His seed, He shall prolong His days,
And the pleasure of the Lord shall prosper in His hand.
He shall see the labor of His soul, and be satisfied.
By His knowledge My righteous Servant shall justify many,
For He shall bear their iniquities.
Therefore I will divide Him a portion with the great,
And He shall divide the spoil with the strong,
Because He poured out His soul unto death,
And He was numbered with the transgressors,
And He bore the sin of many,
And made intercession for the transgressors."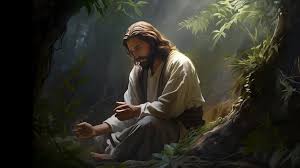 No available man to stand in the gap
Ezekiel 22 gives a vivid description of a situation where God seeks for an Intercessor but finds none!
Moreover the word of the Lord came to me, saying, "Now, son of man, will you judge, will you judge the bloody city? Yes, show her all her abominations!" Then say, "Thus says the Lord God: 'The city sheds blood in her own midst, that her time may come; and she makes idols within herself to defile herself. You have become guilty by the blood which you have shed, and have defiled yourself with the idols which you have made. You have caused your days to draw near, and have come to the end of your years; therefore I have made you a reproach to the nations, and a mockery to all countries. Those near and those far from you will mock you as infamous and full of tumult.
"Look, the princes of Israel: each one has used his power to shed blood in you. In you they have made light of father and mother; in your midst they have oppressed the stranger; in you they have mistreated the fatherless and the widow. You have despised My holy things and profaned My Sabbaths. In you are men who slander to cause bloodshed; in you are those who eat on the mountains; in your midst they commit lewdness. In you men uncover their fathers' nakedness; in you they violate women who are set apart during their impurity. One commits abomination with his neighbor's wife; another lewdly defiles his daughter-in-law; and another in you violates his sister, his father's daughter. In you they take bribes to shed blood; you take usury and increase; you have made profit from your neighbors by extortion, and have forgotten Me," says the Lord God.
'Behold, therefore, I beat My fists at the dishonest profit which you have made, and at the bloodshed which has been in your midst. Can your heart endure, or can your hands remain strong, in the days when I shall deal with you? I, the Lord, have spoken, and will do it. I will scatter you among the nations, disperse you throughout the countries, and remove your filthiness completely from you. You shall defile yourself in the sight of the nations; then you shall know that I am the Lord.' "
The word of the Lord came to me, saying, "Son of man, the house of Israel has become dross to Me; they are all bronze, tin, iron, and lead, in the midst of a furnace; they have become dross from silver. Therefore thus says the Lord God: 'Because you have all become dross, therefore behold, I will gather you into the midst of Jerusalem. As men gather silver, bronze, iron, lead, and tin into the midst of a furnace, to blow fire on it, to melt it; so I will gather you in My anger and in My fury, and I will leave you there and melt you. Yes, I will gather you and blow on you with the fire of My wrath, and you shall be melted in its midst. As silver is melted in the midst of a furnace, so shall you be melted in its midst; then you shall know that I, the Lord, have poured out My fury on you.' "
And the word of the Lord came to me, saying, "Son of man, say to her: 'You are a land that is not cleansed or rained on in the day of indignation.' The conspiracy of her prophets in her midst is like a roaring lion tearing the prey; they have devoured people; they have taken treasure and precious things; they have made many widows in her midst. Her priests have violated My law and profaned My holy things; they have not distinguished between the holy and unholy, nor have they made known the difference between the unclean and the clean; and they have hidden their eyes from My Sabbaths, so that I am profaned among them. Her princes in her midst are like wolves tearing the prey, to shed blood, to destroy people, and to get dishonest gain. Her prophets plastered them with untempered mortar, seeing false visions, and divining lies for them, saying, 'Thus says the Lord God,' when the Lord had not spoken. The people of the land have used oppressions, committed robbery, and mistreated the poor and needy; and they wrongfully oppress the stranger.
So I sought for a man among them who would make a wall, and stand in the gap before Me on behalf of the land, that I should not destroy it; but I found no one.
Therefore I have poured out My indignation on them; I have consumed them with the fire of My wrath; and I have recompensed their deeds on their own heads," says the Lord God.

Intercessors Today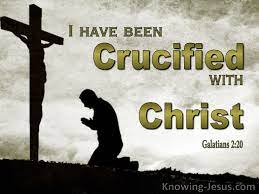 Rees Howells, Intercessor, a book by Norman Grubb, had an enormous influence on my life back fifty years ago— because it was from Norman Grubb and Major Ian Thomas that I dimly first saw the importance of The Exchanged Life (Galatians 2:20, 21).
"I have been crucified with Christ; it is no longer I who live, but Christ lives in me; and the life which I now live in the flesh I live by faith in the Son of God, who loved me and gave Himself for me. I do not set aside the grace of God; for if righteousness comes through the law, then Christ died in vain."
Grubb pointed out that any follower of Jesus Christ could be an Intercessor by standing in the gap between a holy, outraged, righteous God and an impossibly evil society—such as Israel had become in Ezekiel's day. Of course you and I have zero qualifications for putting ourselves in such a presumptuous place.
Look at Moses at Mt. Sinai! He argues with God and wins -- but only because he, Moses, steps into the place of Intercessor with Jesus.

Jesus the Intercessor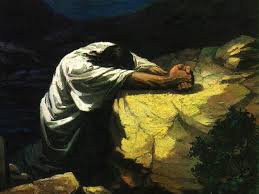 Jesus spoke these words, lifted up His eyes to heaven, and said: "Father, the hour has come. Glorify Your Son, that Your Son also may glorify You, as You have given Him authority over all flesh, that He should give eternal life to as many as You have given Him. And this is eternal life, that they may know You, the only true God, and Jesus Christ whom You have sent. I have glorified You on the earth. I have finished the work which You have given Me to do. And now, O Father, glorify Me together with Yourself, with the glory which I had with You before the world was.
"I have manifested Your name to the men whom You have given Me out of the world. They were Yours, You gave them to Me, and they have kept Your word. Now they have known that all things which You have given Me are from You. For I have given to them the words which You have given Me; and they have received them, and have known surely that I came forth from You; and they have believed that You sent Me.
"I pray for them. I do not pray for the world but for those whom You have given Me, for they are Yours. And all Mine are Yours, and Yours are Mine, and I am glorified in them. Now I am no longer in the world, but these are in the world, and I come to You. Holy Father, keep through Your name those whom You have given Me, that they may be one as We are. While I was with them in the world, I kept them in Your name. Those whom You gave Me I have kept; and none of them is lost except the son of perdition, that the Scripture might be fulfilled. But now I come to You, and these things I speak in the world, that they may have My joy fulfilled in themselves. I have given them Your word; and the world has hated them because they are not of the world, just as I am not of the world. I do not pray that You should take them out of the world, but that You should keep them from the evil one. They are not of the world, just as I am not of the world. Sanctify them by Your truth. Your word is truth. As You sent Me into the world, I also have sent them into the world. And for their sakes I sanctify Myself, that they also may be sanctified by the truth.
"I do not pray for these alone, but also for those who will believe in Me through their word; that they all may be one, as You, Father, are in Me, and I in You; that they also may be one in Us, that the world may believe that You sent Me. And the glory which You gave Me I have given them, that they may be one just as We are one: I in them, and You in Me; that they may be made perfect in one, and that the world may know that You have sent Me, and have loved them as You have loved Me.
"Father, I desire that they also whom You gave Me may be with Me where I am, that they may behold My glory which You have given Me; for You loved Me before the foundation of the world. O righteous Father! The world has not known You, but I have known You; and these have known that You sent Me. And I have declared to them Your name, and will declare it, that the love with which You loved Me may be in them, and I in them." (John 17)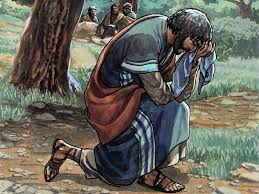 "…Likewise the Spirit also helps in our weaknesses. For we do not know what we should pray for as we ought, but the Spirit Himself makes intercession for us with groanings which cannot be uttered. Now He who searches the hearts knows what the mind of the Spirit is, because He makes intercession for the saints according to the will of God." (Romans 8:26)

"…by so much more Jesus has become a surety of a better covenant.

Also there were many priests, because they were prevented by death from continuing. But He, because He continues forever, has an unchangeable priesthood. Therefore He is also able to save to the uttermost those who come to God through Him, since He always lives to make intercession for them.

For such a High Priest was fitting for us, who is holy, harmless, undefiled, separate from sinners, and has become higher than the heavens; who does not need daily, as those high priests, to offer up sacrifices, first for His own sins and then for the people's, for this He did once for all when He offered up Himself. For the law appoints as high priests men who have weakness, but the word of the oath, which came after the law, appoints the Son who has been perfected forever." (Hebrews 7:22-25)


You and Me
To intercede for someone is to step into the midst of an irreconcilable situation and to insist (at the risk of one's life) that an infinite gap be closed. The supreme intercessor is Jesus. Can He use us as His channels of intercession? Yes!
I know too much about San Francisco. I am not under any delusion that neighboring Silicon Valley is more moral. As seen by God, I believe SV is probably worse off.
Jesus made an outrageous statement about the cities where He taught:
…Jesus began to rebuke the cities in which most of His mighty works had been done, because they did not repent: "Woe to you, Chorazin! Woe to you, Bethsaida! For if the mighty works which were done in you had been done in Tyre and Sidon, they would have repented long ago in sackcloth and ashes. But I say to you, it will be more tolerable for Tyre and Sidon in the day of judgment than for you. And you, Capernaum, who are exalted to heaven, will be brought down to Hades; for if the mighty works which were done in you had been done in Sodom, it would have remained until this day. But I say to you that it shall be more tolerable for the land of Sodom in the day of judgment than for you." (Matthew 11:20-24)
Recently a Bay Area PBS station presented the story of a young man from the Midwest who came to San Francisco to seek his fortune. Tyler Cook, 24, did not do so well. Homeless, gay, AIDS positive he still hoped for a career in science. It did not appear that anyone in his extended family knew Jesus yet, else they would probably have advised Tyler differently. (Tyler Cook Story). I am haunted by Tyler's story since it seems typical of an entire generation. Why should God save me, an outrageous sinner, and allow an entire generation to perish? Does no one care? Is Tyler some father's Prodigal Son?
As if I could trade places with Tyler. No need. Jesus has already done that.
"For the love of Christ compels us, because we judge thus: that if One died for all, then all died; and He died for all, that those who live should live no longer for themselves, but for Him who died for them and rose again.

Therefore, from now on, we regard no one according to the flesh. Even though we have known Christ according to the flesh, yet now we know Him thus no longer. Therefore, if anyone is in Christ, he is a new creation; old things have passed away; behold, all things have become new. Now all things are of God, who has reconciled us to Himself through Jesus Christ, and has given us the ministry of reconciliation, that is, that God was in Christ reconciling the world to Himself, not imputing their trespasses to them, and has committed to us the word of reconciliation.

Now then, we are ambassadors for Christ, as though God were pleading through us: we implore you on Christ's behalf, be reconciled to God. For He made Him who knew no sin to be sin for us, that we might become the righteousness of God in Him." (2 Corinthians 5)
Am I any better than Nero who fiddled while Rome burned?
Can we who have experienced Jesus as He is, grant Jesus permission to live His eternal life through us? All else is loss.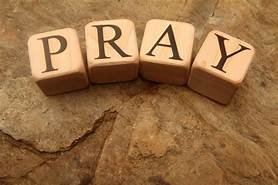 Mediator
mesitēs
VINES: lit., "a go-between" (from mesos, "middle," and eimi, "to go"), is used in two ways in the NT, (a) "one who mediates" between two parties with a view to producing peace, as in 1Ti 2:5, though more than mere "mediatorship" is in view, for the salvation of men necessitated that the Mediator should Himself possess the nature and attributes of Him towards whom He acts, and should likewise participate in the nature of those for whom He acts (sin apart); only by being possessed both of deity and humanity could He comprehend the claims of the one and the needs of the other; further, the claims and the needs could be met only by One who, Himself being proved sinless, would offer Himself an expiatory sacrifice on behalf of men; (b) "one who acts as a guarantee" so as to secure something which otherwise would not be obtained. Thus in Hebrews 8:6; 9:15; 12:24 Christ is the Surety of "the better covenant," "the new covenant," guaranteeing its terms for His people.

In Galatians 3:19 Moses is spoken of as a "mediator," and the statement is made that "a mediator is not a mediator of one," Galatians 3:20, that is, of one party. Here the contrast is between the promise given to Abraham and the giving of the Law. The Law was a covenant enacted between God and the Jewish people, requiring fulfillment by both parties. But with the promise to Abraham, all the obligations were assumed by God, which is implied in the statement, "but God is one." In the Septuagint, Job 9:33, "daysman."


These things I write to you, though I hope to come to you shortly; but if I am delayed, I write so that you may know how you ought to conduct yourself in the house of God, which is the church of the living God, the pillar and ground of the truth. And without controversy great is the mystery of godliness:

God was manifested in the flesh,
Justified in the Spirit,
Seen by angels,
Preached among the Gentiles,
Believed on in the world,
Received up in glory. (1 Timothy 3:14-16)
Pray for All Men
Therefore I exhort first of all that supplications, prayers, intercessions, and giving of thanks be made for all men, for kings and all who are in authority, that we may lead a quiet and peaceable life in all godliness and reverence. For this is good and acceptable in the sight of God our Savior, who desires all men to be saved and to come to the knowledge of the truth.

For there is one God and one Mediator between God and men, the Man Christ Jesus,

who gave Himself a ransom for all, to be testified in due time, for which I was appointed a preacher and an apostle—I am speaking the truth in Christ and not lying—a teacher of the Gentiles in faith and truth. (1 Timothy 2:1-7)
Pray with Knowledge
For even if there are so-called gods, whether in heaven or on earth (as there are many gods and many lords), yet for us there is one God, the Father, of whom are all things, and we for Him; and one Lord Jesus Christ, through whom are all things, and through whom we live.

However, there is not in everyone that knowledge; for some, with consciousness of the idol, until now eat it as a thing offered to an idol; and their conscience, being weak, is defiled. (1 Corinthians 8:5-7)
Purpose of the Law
What purpose then does the law serve? It was added because of transgressions, till the Seed should come to whom the promise was made; and it was appointed through angels by the hand of a mediator. Now a mediator does not mediate for one only, but God is one. Is the law then against the promises of God? Certainly not! For if there had been a law given which could have given life, truly righteousness would have been by the law. But the Scripture has confined all under sin, that the promise by faith in Jesus Christ might be given to those who believe. But before faith came, we were kept under guard by the law, kept for the faith which would afterward be revealed. Therefore the law was our tutor to bring us to Christ, that we might be justified by faith. But after faith has come, we are no longer under a tutor.

For you are all sons of God through faith in Christ Jesus. For as many of you as were baptized into Christ have put on Christ. There is neither Jew nor Greek, there is neither slave nor free, there is neither male nor female; for you are all one in Christ Jesus. And if you are Christ's, then you are Abraham's seed, and heirs according to the promise. (Galatians 3:19-29)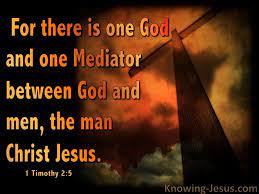 Supplemental Reading
The Secret Government of Earth

Let Us Pray

Upper Room Prayer
The Last Will and Testament of Jesus

Email Lambert
Lambert Dolphin's Place (Home Page)
Lambert Dolphin's Original Web Site (1995)
Lambert's Personal Testimony
Newsletters by Lambert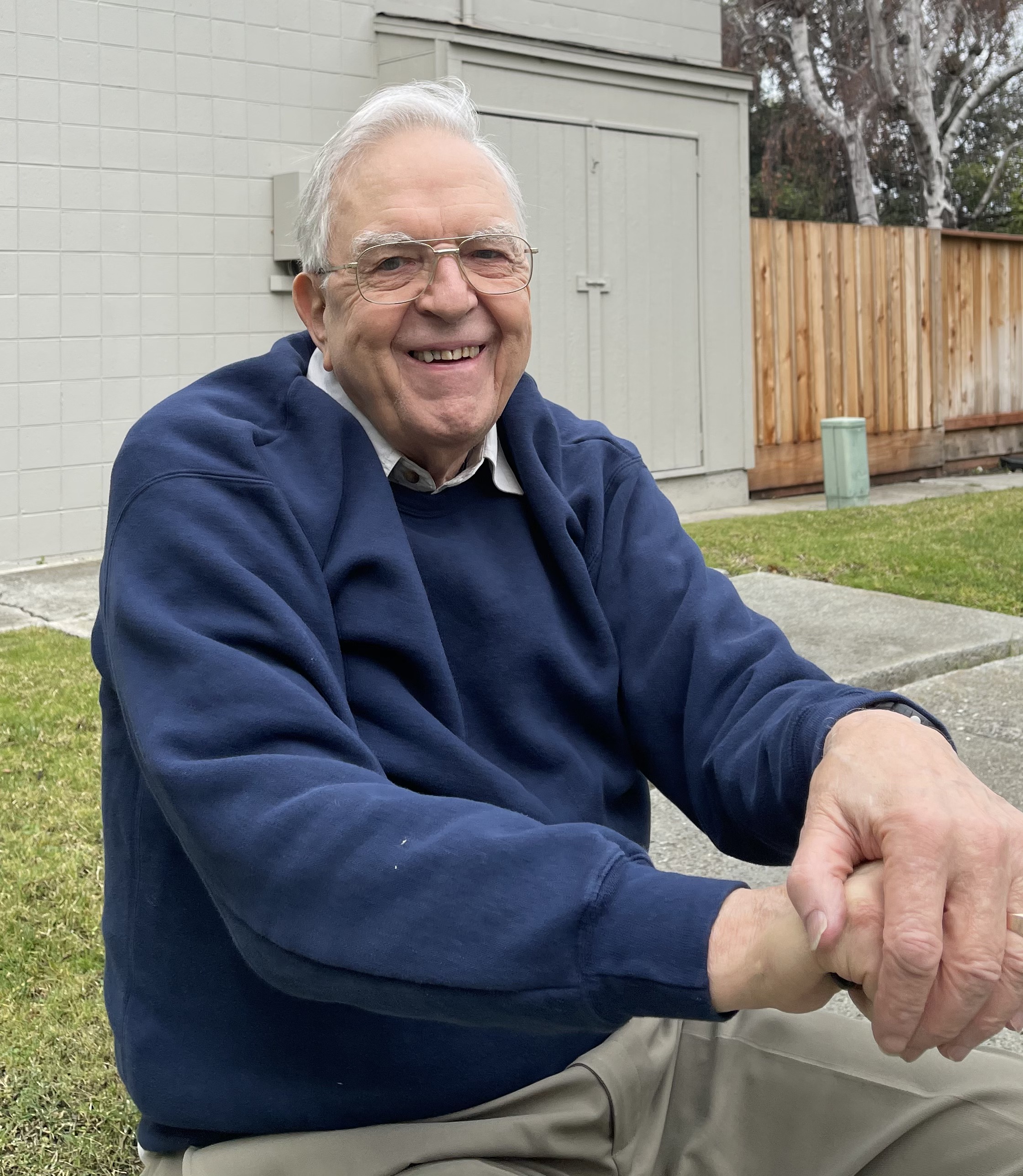 Library Annex (500+ new articles since 2018)  
Help Thyself. No Charge.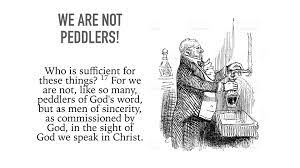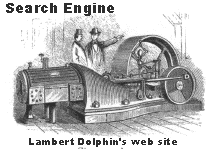 August 30, 2018, December 28, 2018, Edited July 30, 2019 by AL, September 28, 2018, June 11, 2020, April 22, 2022, August 3, 2022 . July 23, 2023.