Developing Priorities in Life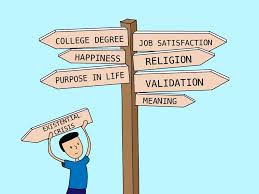 "So why do you worry about clothing?
Consider the lilies of the field, how they grow:
they neither toil nor spin; and yet I say to you
that even Solomon in all his glory was not arrayed like one of these. 
Now if God so clothes the grass of the field,
which today is, and tomorrow is thrown into the oven, 
will He not much more clothe you, O you of little faith?
"Therefore do not worry, saying, 'What shall we eat?'
or 'What shall we drink?' or 'What shall we wear?'
 For after all these things the Gentiles seek.
For your heavenly Father knows that you need all these things. 
But seek first the kingdom of God and His righteousness,
and all these things shall be added to you.
Therefore do not worry about tomorrow, f
or tomorrow will worry about its own things.
Sufficient for the day is its own trouble. "
(Matthew 6:28-34)

Some years in a men's core group i was participating in, I asked the university students and young professionals what they thought were valid goals in life? A lively discussion ensued.
The Secular Person's Priorities are usually somewhat as follows:
Leaving home, getting through school and choosing the right career. Being independent of parents is considered a virtue, and the chosen career should pay well, offer opportunity for advancement, and be always fun and exciting.


Earning a good income and accumulating wealth and property is what we are here for--it's the good ol' Protestant work ethic. Building up assets (not just savings for emergencies or vacations) is considered a fundamental American right, as stated in such expressions as "life, liberty, and the pursuit of happiness."


Meeting and choosing the right marriage partner. These days this is done by dating and often sleeping with a variety of partners until the right one comes along or is selected by a trial and error process. Wide range sexual expression before marriage is taken as normal and even desirable by many.


Raising the children properly, becomes an increasingly important priority while moving along a career path among the newly married.


Going to church and/or community and civic involvement is a lower priority goal, but may be postponed until the children leave home or if there is spare time for hobbies and such. Religion, if any, is supposed to be an aid in achieving one's life goals through self-improvement. Some join churches to meet people or for enhanced social status of because it's seen as noble and exemplary


Retirement, old age, dying---and presumably ceasing to exist forever follow. It is assumed that nothing is really known about an afterlife, and certainly in today's society very little sense that we are accountable to God and must face judgment. It is best not to think much about such inevitabilities in an existential, hedonistic society where short term goals are preferred in an uncertain and confusing world.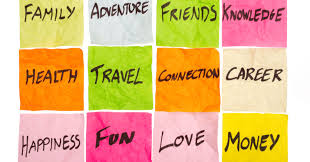 In their idealism most non-Christians (early in their lives) do not anticipate divorce, ill-health, bad news, loss of jobs, problems in the economy, or disasters that are in reality part and parcel of real life for most of us. In practice few people reach their goals in life, or feel empty when they do. Often the highly motivated achievers pay a big price in terms of family happiness or personal joy and peace. ("It's lonely at the top," sort of thing). or do so by paying a big price in other areas of life.
Underlying the non-Christian's world-view is usually a search for success, happiness and pleasure based on what the world-system values highly---money, success, power, prestige. Each generation has its own ideologies and dreams, these constitute the "spirit of the age," or zeitgeist,. This spirit is opposed to God and ignores God's goals and ultimate purposes for mankind and the earth.
Do not love the world or the things in the world. If any one loves the world, love for the Father is not in him. For all that is in the world, the lust of the flesh and the lust of the eyes and the pride of life, is not of the Father but is of the world. And the world passes away, and the lust of it; but he who does the will of God abides for ever." (I John 2:15-17)
In Contrast, a Christian's Goals should be somewhat as follows:
To know God better every day through personal time with Him in the Word. This includes knowing one's spiritual gifts and determining the ministry God has called each one of us to. (All Christians are in the work of the ministry!) As responsible Christians we usually will need to get a job to support ourselves. If married, we have a responsibility to our families that is always high on the list of priorities. We can not serve God very well if we don't know what He is like and what He is doing in the world. "To whom much is given, much is expected." Christians should take their gifts seriously and find ministries where they can serve God by exercising their gifts with full heart, soul, energy and faithfulness. If possible the Christian's job should provide needed financial support to allow maximum time for ministry.


Developing a good prayer life is essential for growth and for tuning in to what God is doing in the world. Walking with God is our daily responsibility, otherwise He can't use us and we do not become whole persons as He intends for us. Prayer is God's way of drawing us into what He is doing in the world. If we are not available, or head in the wrong direction, God will use someone else to get his work done---and we will lose all the credit. Rewards are given only to those who have risked themselves, seized God-given opportunities and denied themselves in order to advance the kingdom:

For it will be as when a man going on a journey called his servants and entrusted to them his property; to one he gave five talents, to another two, to another one, to each according to his ability. Then he went away. He who had received the five talents went at once and traded with them; and he made five talents more. So also, he who had the two talents made two talents more. But he who had received the one talent went and dug in the ground and hid his master's money. Now after a long time the master of those servants came and settled accounts with them. And he who had received the five talents came forward, bringing five talents more, saying, 'Master, you delivered to me five talents; here I have made five talents more.' His master said to him, `Well done, good and faithful servant; you have been faithful over a little, I will set you over much; enter into the joy of your master.' And he also who had the two talents came forward, saying, 'Master, you delivered to me two talents; here I have made two talents more.' His master said to him, `Well done, good and faithful servant; you have been faithful over a little, I will set you over much; enter into the joy of your master.' He also who had received the one talent came forward, saying, 'Master, I knew you to be a hard man, reaping where you did not sow, and gathering where you did not winnow; so I was afraid, and I went and hid your talent in the ground. Here you have what is yours.' But his master answered him, 'You wicked and slothful servant! You knew that I reap where I have not sowed, and gather where I have not winnowed? Then you ought to have invested my money with the bankers, and at my coming I should have received what was my own with interest. So take the talent from him, and give it to him who has the ten talents. For to every one who has will more be given, and he will have abundance; but from him who has not, even what he has will be taken away. And cast the worthless servant into the outer darkness; there men will weep and gnash their teeth.' (Mt. 25:15-30)


As followers of Jesus, we are to be unconditionally available to God for the work of His kingdom. God is self-giving love. Therefore the primary work of the Christian is to pour himself or herself out for others, using his or her spiritual gifts. This requires daily dying to self and setting aside worldly goals and pursuits. If we line up with what God is doing we have little time for worldly pursuits.

Truly, truly, I say to you, unless a grain of wheat falls into the earth and dies, it remains alone; but if it dies, it bears much fruit. He who loves his life loses it, and he who hates his life in this world will keep it for eternal life. If any one serves me, he must follow me; and where I am, there shall my servant be also; if any one serves me, the Father will honor him. (John 12:24-26)


The Christians needs to maintain good fellowship with other believers. "Do not neglect the assembling of yourselves together, as is the habit of some, and all the more as you see the age drawing to a close." We all need one another because we are "members one of another." Being in the Body of Christ implies family membership in the household of faith, and also intimate spiritual connectedness with our fellow believers. "If one member suffers, all suffer. If one rejoices, all rejoice."
We are to act as salt and light in the present evil age. This is automatic as we are filled with the Spirit and stay involved out in the marketplace.

"You are the salt of the earth; but if salt has lost its taste, how shall its saltness be restored? It is no longer good for anything except to be thrown out and trodden under foot by men. "You are the light of the world. A city set on a hill cannot be hid. Nor do men light a lamp and put it under a bushel, but on a stand, and it gives light to all in the house. Let your light so shine before men, that they may see your good works and give glory to your Father who is in heaven." (Matthew 5:13-16)

"But thanks be to God, who in Christ always leads us in triumph, and through us spreads the fragrance of the knowledge of him everywhere. For we are the aroma of Christ to God among those who are being saved and among those who are perishing, to one a fragrance from death to death, to the other a fragrance from life to life. Who is sufficient for these things? For we are not, like so many, peddlers of God's word; but as men of sincerity, as commissioned by God, in the sight of God we speak in Christ." (2 Corinthians 2:14-16)

We are to love God with all our hearts and minds and souls and strength, and our neighbors as himself. "Love covers a multitude of sins." "Love is the fulfilling of the love." "The whole law is fulfilled in this one word: 'You shall love your neighbor as yourself.'"


The Christian's battle is a spiritual one. The follower of Jesus needs to discern between flesh and spirit and forsake worldly ways of dealing with evil in ourselves and in society. Everything that has been done in the flesh, that is, by self effort, will be burned up. Only those things that we have allowed Jesus to do through us will endure.

"... be strong in the Lord and in the strength of his might. Put on the whole armor of God, that you may be able to stand against the wiles of the devil. For we are not contending against flesh and blood, but against the principalities, against the powers, against the world rulers of this present darkness, against the spiritual hosts of wickedness in the heavenly places." (Ephesians 6:10-12)
Work
Christians should ordinarily find some sort of job to support themselves:
Now we command you, brethren, in the name of our Lord Jesus Christ, that you keep away from any brother who is living in idleness and not in accord with the tradition that you received from us. For you yourselves know how you ought to imitate us; we were not idle when we were with you, we did not eat any one's bread without paying, but with toil and labor we worked night and day, that we might not burden any of you. It was not because we have not that right, but to give you in our conduct an example to imitate. For even when we were with you, we gave you this command: If any one will not work, let him not eat. For we hear that some of you are living in idleness, mere busybodies, not doing any work. Now such persons we command and exhort in the Lord Jesus Christ to do their work in quietness and to earn their own living. Brethren, do not be weary in well-doing. If any one refuses to obey what we say in this letter, note that man, and have nothing to do with him, that he may be ashamed. Do not look on him as an enemy, but warn him as a brother. (2 Thessalonians 3)
Jesus worked in his father's carpenter shop in Nazareth until it was time for him to commence his three-year ministry. He recruited ordinary fishermen who fished from time to time to pay their own way. The Apostle Paul made tents in his spare time so as to support his ministry, and so on. Surprisingly, nowhere in the New Testament is there any special emphasis placed on one's particular vocation or "career path!" Apparently what counts is the quality of one's walk with God and one's ministry to others. The Bible does allow missionaries, evangelists, teachers and leaders in the church to be supported by others so that they may devote full time to their ministry. (See 1 Cor. 9:1-19, 1 Tim. 5:17,18). God's will for our lives is not career, marriage, and happiness, but wholeness. (1 Thessalonians 4:3) This life is a training-ground---a preparation for eternity. We are developing our capacity for God now and proving our eternal usefulness to Him, to one degree or another, by our daily choices and our faithfulness in this present life. (2 Tim. 2:20ff)
Social Reform
Government was instituted by God in society to preserve law and order and to demonstrate justice. This is clear from Romans, Chapter 13:
Let every person be subject to the governing authorities. For there is no authority except from God, and those that exist have been instituted by God. Therefore he who resists the authorities resists what God has appointed, and those who resist will incur judgment. For rulers are not a terror to good conduct, but to bad. Would you have no fear of him who is in authority? Then do what is good, and you will receive his approval, for he is God's servant for your good. But if you do wrong, be afraid, for he does not bear the sword in vain; he is the servant of God to execute his wrath on the wrongdoer. Therefore one must be subject, not only to avoid God's wrath but also for the sake of conscience. For the same reason you also pay taxes, for the authorities are ministers of God, attending to this very thing. (v1-6)
Leaders are put in public office, and removed from office, by God, in fact He is the judge of all men:
"There is none holy like the LORD, there is none besides thee; there is no rock like our God. Talk no more so very proudly, let not arrogance come from your mouth; for the LORD is a God of knowledge, and by him actions are weighed. The bows of the mighty are broken, but the feeble gird on strength. Those who were full have hired themselves out for bread, but those who were hungry have ceased to hunger. The barren has borne seven, but she who has many children is forlorn. The LORD kills and brings to life; he brings down to Sheol and raises up. The LORD makes poor and makes rich; he brings low, he also exalts. He raises up the poor from the dust; he lifts the needy from the ash heap, to make them sit with princes and inherit a seat of honor. For the pillars of the earth are the LORD'S, and on them he has set the world. "He will guard the feet of his faithful ones; but the wicked shall be cut off in darkness; for not by might shall a man prevail. The adversaries of the LORD shall be broken to pieces; against them he will thunder in heaven. The LORD will judge the ends of the earth; he will give strength to his king, and exalt the power of his anointed." (1 Samuel 2:2-9)
Even the form of government we live under, whether monarchy, dictatorship, socialistic, communistic, or democratic in a particular nation is determined by God. According to Daniel (2:36ff), our Democratic form of government is the weakest and least effective form of government. God's ultimate form of government will be a monarchy, with Jesus Christ ruling visibly and openly as King of kings. In a Democracy, the electorate does have freedom to work for government reform, to run for office and to seek justice in the courts. All Christians are admonished to prayer for leaders in government, at all levels. Even so prayer for leaders in government (whether or not they are good or evil, corrupt or honest), has the purpose of increasing God's restraint of human evil and maintaining a climate where the gospel can be shared and men may be saved:
First of all, then, I urge that supplications, prayers, intercessions, and thanksgivings be made for all men, for kings and all who are in high positions, that we may lead a quiet and peaceable life, godly and respectful in every way. This is good, and it is acceptable in the sight of God our Savior, who desires all men to be saved and to come to the knowledge of the truth. (1 Timothy 2:1-4)
Schools and Education
The responsibility or raising children properly "in the fear and admonition of the Lord" is given to parents and should not be abdicated to either the church or the state. Christians of course should be concerned about the quality of education the next generation receives from all sources. It is legitimate for individual Christians to be vitally concerned with these matters.

God's Priorities in the world today (which involve Christians)
The calling out of a people for His own name (evangelism). Leading non-Christians to the Lord should be our constant burden. (Acts 15:14) This is the main thing God has been doing all over the world for the past 2000 years!

And Jesus said to them [the disciples], "Go into all the world and preach the gospel to the whole creation. He who believes and is baptized will be saved; but he who does not believe will be condemned." (Mark 16:15-16)

"Brothers, listen to me, [James said]. "Peter has related how God first visited the Gentiles, to take out of them a people for his name. And with this the words of the prophets agree, as it is written, 'After this I will return, and I will rebuild the dwelling of David, which has fallen; I will rebuild its ruins, and I will set it up, that the rest of men may seek the Lord, and all the Gentiles who are called by my name, says the Lord, who has made these things known from of old.'" (Acts 15:13-18)


Building up the Body of Christ. (Ephesians 4). This should be the most important concern of every Christian. It is even more important than bringing non-Christians into the family of God by leading them to the Lord Jesus. The Body of Christ (an organism) builds itself up in love only when each member works together properly. There is no hope for the fallen race descended from Adam. Only by becoming a member of the family of Jesus, the Last Adam, does one find wholeness, fulfillment and citizenship in heaven. Gifted teachers are given to the church to accomplish these goals:

And his [spiritual] gifts were that some should be apostles, some prophets, some evangelists, some pastors and teachers, [in order] to equip the saints for the work of ministry, for [the purpose of] building up the body of Christ, until we all [together as a community] attain to the unity of the faith and of the knowledge of the Son of God, to mature manhood, to the measure of the stature of the fulness of Christ; so that we may no longer be children, tossed to and fro and carried about with every wind of doctrine, by the cunning of men, by their craftiness in deceitful wiles. Rather, speaking the truth in love, we are to grow up in every way into him who is the head, into Christ, from whom the whole body, joined and knit together by every joint with which it is supplied, when each part is working properly, makes bodily growth and upbuilds itself in love. (Ephesians 4:11-16)


God is restraining evil in the world. This is done by the Holy Spirit whenever Christians act as salt and light in society, and through the prayers of God's people.

You are the salt of the earth; but if salt has lost its taste, how shall its saltness be restored? It is no longer good for anything except to be thrown out and trodden under foot by men. You are the light of the world. A city set on a hill cannot be hid. Nor do men light a lamp and put it under a bushel, but on a stand, and it gives light to all in the house. Let your light so shine before men, that they may see your good works and give glory to your Father who is in heaven. (Matthew 5:13-16)

God is regathering the Jews to Israel and getting the stage set for WW 3 in the Middle East and the judgment of all mankind. After that He will bring in the kingdom of Jesus Christ on earth.

Thus says the Lord GOD: Behold, I will take the people of Israel from the nations among which they have gone, and will gather them from all sides, and bring them to their own land; and I will make them one nation in the land, upon the mountains of Israel; and one king shall be king over them all; and they shall be no longer two nations, and no longer divided into two kingdoms. They shall not defile themselves any more with their idols and their detestable things, or with any of their transgressions; but I will save them from all the backslidings in which they have sinned, and will cleanse them; and they shall be my people, and I will be their God. My servant David shall be king over them; and they shall all have one shepherd. They shall follow my ordinances and be careful to observe my statutes. They shall dwell in the land where your fathers dwelt that I gave to my servant Jacob; they and their children and their children's children shall dwell there for ever; and David my servant shall be their prince for ever. I will make a covenant of peace with them; it shall be an everlasting covenant with them; and I will bless them and multiply them, and will set my sanctuary in the midst of them for evermore. My dwelling place shall be with them; and I will be their God, and they shall be my people. Then the nations will know that I the LORD sanctify Israel, when my sanctuary is in the midst of them for evermore." (Ezekiel 37:21-28)
Notice that God is not reforming society, ushering in world peace, taking over the government and making things better in society! (Neither is mankind evolving and improving in any way on the social plane!) God is the sovereign ruler over all the nations, so He is very much in charge of all the details of history. The notion of human progress is an illusion. Human beings are not basically good and deserving of anything from God. The fact that God is full of mercy, longsuffering and great compassion is the only reason anyone is saved at all, and live is bearable from day to day in an evil world system.
Therefore, my beloved, as you have always obeyed, so now, not only as in my presence but much more in my absence, work out your own salvation with fear and trembling; for God is at work in you, both to will and to work for his good pleasure. Do all things without grumbling or questioning, that you may be blameless and innocent, children of God without blemish in the midst of a crooked and perverse generation, among whom you shine as lights in the world, holding fast the word of life, so that in the day of Christ I may be proud that I did not run in vain or labor in vain. (Philippians 2:12-16)

Developing Christian Priorities in Life
Lambert Dolphin
lambert@ldolphin.org
October 24, 1993
Addendum: March 15, 2021
On March 15, 2021, at 05:59, ACBurnham@aol.com wrote:

"About midnight Paul and Silas were praying and singing hymns to God." (Acts 16:25)   Anyone can praise God on a sunny day. Anyone can praise God when the sun is shining and life is going smoothly. In fact, when the sun is shining and life is going smoothly, it can seem almost impossible not to praise God.

However, the question is, can we continue to praise God when the day is not sunny and life is not going smoothly? Can we continue to praise God when hardships and difficulties arise? Can we continue to praise God even in the dead of night when the suffering seems unbearable?  

The verse above is among the most amazing in the book of Acts. Paul and Silas had just been severely flogged, thrown into the innermost prison in Philippi, and had their feet placed in the stocks. They were no doubt in incredible pain as well as complete darkness.  

And yet, in the midst of some of the worst circumstances imaginable, they prayed and sang hymns to God. They turned toward God not away from him. They praised God, even though God had not kept them from being flogged and imprisoned.  

In the verses following the one above, we learn that the other prisoners were listening and that there was a great earthquake—a great earthquake that shook the foundation of the prison, causing the prison doors to open. In the aftermath, the jailer came to faith in Jesus, along with his entire household.  

The point is this: sometimes, when we are praising God in the midst of suffering, it impacts the lives of others. It impacts the lives of others as they sense that something miraculous is going on. They sense that something miraculous is going on as they hear us praying and singing hymns in the midst of pain.  

May God help us the next time we are going through painful and dark times. May God help us to pray and sing hymns—to lift up praises to our Creator. Moreover, as we lift up praises, may it impact the lives of others. May it impact the lives of others as they sense that something miraculous is going on—something miraculous that will ultimately be instrumental in drawing them to faith in Jesus.

Thanks Andy, 

The opposition at Thessaloniki claim that this trio of Paul, Silas, and Timothy visiting Macedonia had "turned the world upside down" — is quite amazing considering no email, no telephones, poor postal service, no newspapers, no cars, no airplanes back then. (Acts 17:6) Some years ago, (1964) a younger person at PBC asked Ray "what is the will of God for my life?" Ray said he knew only three main references about this in the NT. The will of God was not, he said, a road map which, if we followed it, would lead us to success in this life and the next. 

1. "This is the will of God, your sanctification" (your wholeness)...that you should abstain from sexual immorality; that each of you should know how to possess his own vessel (exercise self control) in sanctification and honor, not in passion of lust, like the Gentiles who do not know God;that no one should take advantage of and defraud his brother in this matter, because the Lord is the avenger of all such, as we also forewarned you and testified. For God did not call us to uncleanness, but in holiness..." (1 Thessalonians 4:3-7)  2. "Rejoice always, pray without ceasing, in everything give thanks; for this is the will of God in Christ Jesus for you." (1 Thessalonians 5:16-18)

3. "I beg you therefore, brethren, by the mercies of God, that you present your bodies a living sacrifice, holy, acceptable unto God, which is your intelligent service [your intelligent purpose] proving [or demonstrating] what is that good and acceptable and perfect will of God." (Romans 12:1-2)

Reference: "Finding the Will of God" by Ray Stedman. 

I remember well teaching a group of PBC Career men. I asked them what they each saw as God's wonderful plan for their lives? This was back in 1993. Their initial response, the above article, was amazing.  

Lambert