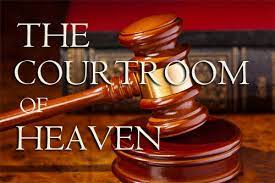 Guilty!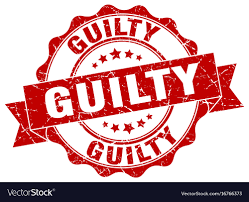 We are accountable for what we know, not for what we do not know!
Deliberate sin is worse than accidental or inadvertent sin. 
Denial is not a River in Egypt.
We are all Accountable to God!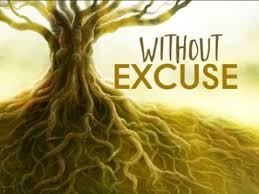 But Romans Chapter One says that everyone, in every age, has been given enough evidence of God to be without excuse:

For the wrath of God is revealed from heaven against all ungodliness and unrighteousness of men, who suppress the truth in unrighteousness, because what may be known of God is manifest in them, for God has shown it to them. For since the creation of the world His invisible attributes are clearly seen, being understood by the things that are made, even His eternal power and Godhead, so that they are without excuse, because, although they knew God, they did not glorify Him as God, nor were thankful, but became futile in their thoughts, and their foolish hearts were darkened. Professing to be wise, they became fools, and changed the glory of the incorruptible God into an image made like corruptible man—and birds and four-footed animals and creeping things." (Romans 1:18-24)
More accountable than the rest of us are the Jews.
We Gentiles have not grown up in the template nation, Israel.
Our gods are fallen angels and demons.  (See Idolatry).
Luke's gospel establishes that the disciples and those who saw Him and heard Him bear the greatest responsibility for His betrayal and death. At the end of His life all sided with the religious leaders:
But the chief priests and elders persuaded the multitudes that they should ask for Barabbas and destroy Jesus.  The governor answered and said to them, "Which of the two do you want me to release to you?" They said, "Barabbas!" Pilate said to them, "What then shall I do with Jesus who is called Christ?" They all said to him, "Let Him be crucified!" Then the governor said, "Why, what evil has He done?" But they cried out all the more, saying, "Let Him be crucified!"  When Pilate saw that he could not prevail at all, but rather that a tumult was rising, he took water and washed his hands before the multitude, saying, "I am innocent of the blood of this just Person. You see to it." And all the people answered and said, "His blood be on us and on our children."  Then he released Barabbas to them; and when he had scourged Jesus, he delivered Him to be crucified." (Matthew 27:20-26)
Culpability for the murder of Jesus does rest upon the Jews, especially that generation. God holds them accountable no matter how loudly they object! Sadly, much bad fall-out occurred after the Diaspora! Jews were accused of blood libel, hunted down and killed for centuries. Jews were cursed and spit upon for being "Christ killers." See, The Holocaust Memorial: Blood Libel of the Jews.

Never mind that, Jesus had said,
Then Jesus said to them again, "Most assuredly, I say to you, I am the door of the sheep.  "I am the door. If anyone enters by Me, he will be saved, and will go in and out and find pasture.  "The thief does not come except to steal, and to kill, and to destroy. I have come that they may have life, and that they may have it more abundantly.  "I am the good shepherd. The good shepherd gives His life for the sheep.  "But a hireling, he who is not the shepherd, one who does not own the sheep, sees the wolf coming and leaves the sheep and flees; and the wolf  "The hireling flees because he is a hireling and does not care about the sheep.  "I am the good shepherd; and I know My sheep, and am known by My own.  "As the Father knows Me, even so I know the Father; and I lay down My life for the sheep.  "And other sheep I have which are not of this fold; them also I must bring, and they will hear My voice; and there will be one flock and one shepherd.

 "Therefore My Father loves Me, because I lay down My life that I may take it again.  "No one takes it from Me, but I lay it down of Myself. I have power to lay it down, and I have power to take it again. This command I have received from My Father." (John 10:7-18)
No wonder the Apostle Paul wrote,
"For the love of Christ compels us, because we judge thus: that if One died for all, then all died;  Therefore, from now on, we regard no one according to the flesh. Even though we have known Christ according to the flesh, yet now we know Him thus no longer.  Therefore, if anyone is in Christ, he is a new creation; old things have passed away; behold, all things have become new.   that is, that God was in Christ reconciling the world to Himself, not imputing their trespasses to them, and has committed to us the word of reconciliation (2 Corinthians 5:14-19)
The actual teaching of Jesus to huge crowds in the Galilee is important in unraveling the deeper truth about the identity and the calling of Jesus and the destiny of the Jews.
Then one from the crowd said to Jesus, "Teacher, tell my brother to divide the inheritance with me."  But He said to him, "Man, who made Me a judge or an arbitrator over you?"  And He said to them, "Take heed and beware of covetousness, for one's life does not consist in the abundance of the things he possesses."

Then He spoke a parable to them, saying: 

"The ground of a certain rich man yielded plentifully.  "And he thought within himself, saying, 'What shall I do, since I have no room to store my crops?' "So he said, 'I will do this: I will pull down my barns and build greater, and there I will store all my crops and my goods.  'And I will say to my soul, "Soul, you have many goods laid up for many years; take your ease; eat, drink, and be merry." '  

"But God said to him, 'Fool! This night your soul will be required of you; then whose will those things be which you have provided?'  "So is he who lays up treasure for himself, and is not rich toward God."

Then He said to His disciples, "Therefore I say to you, do not worry about your life, what you will eat; nor about the body, what you will put on. "Life is more than food, and the body is more than clothing.  "Consider the ravens, for they neither sow nor reap, which have neither storehouse nor barn; and God feeds them. Of how much more value are you than the birds?  "And which of you by worrying can add one cubit to his stature?  "If you then are not able to do the least, why are you anxious for the rest?  "If then God so clothes the grass, which today is in the field and tomorrow is thrown into the oven, how much more will He clothe you, O you of little faith?  "And do not seek what you should eat or what you should drink, nor have an anxious mind.  "For all these things the nations of the world seek after, and your Father knows that you need these things.  "But seek the kingdom of God, and all these things shall be added to you.  "Do not fear, little flock, for it is your Father's good pleasure to give you the kingdom.  "Sell what you have and give alms; provide yourselves money bags which do not grow old, a treasure in the heavens that does not fail, where no thief approaches nor moth destroys.  "For where your treasure is, there your heart will be also. (Luke 11:36-54)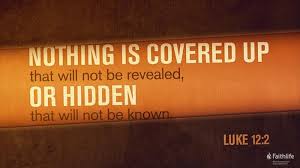 Meanwhile, when the crowd gathered in thousands, so that they trampled on one another, he began to speak first to his disciples, 'Beware of the yeast of the Pharisees, that is, their hypocrisy. Nothing is covered up that will not be uncovered, and nothing secret that will not become known. Therefore whatever you have said in the dark will be heard in the light, and what you have whispered behind closed doors will be proclaimed from the housetops.
'I tell you, my friends, do not fear those who kill the body, and after that can do nothing more. But I will warn you whom to fear: fear him who, after he has killed, has authority to cast into hell. Yes, I tell you, fear him!Are not five sparrows sold for two pennies? Yet not one of them is forgotten in God's sight. But even the hairs of your head are all counted. Do not be afraid; you are of more value than many sparrows.
'And I tell you, everyone who acknowledges me before others, the Son of Man also will acknowledge before the angels of God; but whoever denies me before others will be denied before the angels of God. And everyone who speaks a word against the Son of Man will be forgiven; but whoever blasphemes against the Holy Spirit will not be forgiven. When they bring you before the synagogues, the rulers, and the authorities, do not worry about how you are to defend yourselves or what you are to say; for the Holy Spirit will teach you at that very hour what you ought to say.'
Someone in the crowd said to him, 'Teacher, tell my brother to divide the family inheritance with me.' But he said to him, 'Friend, who set me to be a judge or arbitrator over you?' And he said to them, 'Take care! Be on your guard against all kinds of greed; for one's life does not consist in the abundance of possessions.'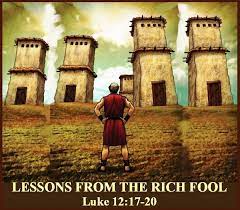 Then he told them a parable: 'The land of a rich man produced abundantly. And he thought to himself, "What should I do, for I have no place to store my crops?" Then he said, "I will do this: I will pull down my barns and build larger ones, and there I will store all my grain and my goods. And I will say to my soul, Soul, you have ample goods laid up for many years; relax, eat, drink, be merry." But God said to him, "You fool! This very night your life is being demanded of you. And the things you have prepared, whose will they be?" So it is with those who store up treasures for themselves but are not rich towards God.'
He said to his disciples, 'Therefore I tell you, do not worry about your life, what you will eat, or about your body, what you will wear. For life is more than food, and the body more than clothing. Consider the ravens: they neither sow nor reap, they have neither storehouse nor barn, and yet God feeds them. Of how much more value are you than the birds! And can any of you by worrying add a single hour to your span of life? If then you are not able to do so small a thing as that, why do you worry about the rest? 
Consider the lilies, how they grow: they neither toil nor spin; yet I tell you, even Solomon in all his glory was not clothed like one of these. But if God so clothes the grass of the field, which is alive today and tomorrow is thrown into the oven, how much more will he clothe you—you of little faith! And do not keep striving for what you are to eat and what you are to drink, and do not keep worrying. For it is the nations of the world that strive after all these things, and your Father knows that you need them. Instead, strive for his kingdom, and these things will be given to you as well.
'Do not be afraid, little flock, for it is your Father's good pleasure to give you the kingdom. Sell your possessions, and give alms. Make purses for yourselves that do not wear out, an unfailing treasure in heaven, where no thief comes near and no moth destroys. For where your treasure is, there your heart will be also.
'Be dressed for action and have your lamps lit; be like those who are waiting for their master to return from the wedding banquet, so that they may open the door for him as soon as he comes and knocks. Blessed are those slaves whom the master finds alert when he comes; truly I tell you, he will fasten his belt and have them sit down to eat, and he will come and serve them. If he comes during the middle of the night, or near dawn, and finds them so, blessed are those slaves.
'But know this: if the owner of the house had known at what hour the thief was coming, he would not have let his house be broken into. You also must be ready, for the Son of Man is coming at an unexpected hour.'
Peter said, 'Lord, are you telling this parable for us or for everyone?' And the Lord said, 'Who then is the faithful and prudent manager whom his master will put in charge of his slaves, to give them their allowance of food at the proper time? Blessed is that slave whom his master will find at work when he arrives. Truly I tell you, he will put that one in charge of all his possessions. But if that slave says to himself, "My master is delayed in coming", and if he begins to beat the other slaves, men and women, and to eat and drink and get drunk, the master of that slave will come on a day when he does not expect him and at an hour that he does not know, and will cut him in pieces, and put him with the unfaithful. That slave who knew what his master wanted, but did not prepare himself or do what was wanted, will receive a severe beating. But one who did not know and did what deserved a beating will receive a light beating. From everyone to whom much has been given, much will be required; and from one to whom much has been entrusted, even more will be demanded.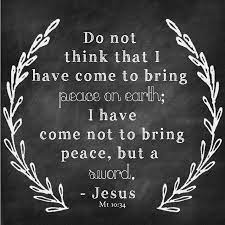 'I came to bring fire to the earth, and how I wish it were already kindled! I have a baptism with which to be baptized, and what stress I am under until it is completed! Do you think that I have come to bring peace to the earth? No, I tell you, but rather division! From now on, five in one household will be divided, three against two and two against three; they will be divided:
father against son, and son against father, mother against daughter, and daughter against mother, mother-in-law against her daughter-in-law, and daughter-in-law against mother-in-law.'

He also said to the crowds, 'When you see a cloud rising in the west, you immediately say, "It is going to rain"; and so it happens. And when you see the south wind blowing, you say, "There will be scorching heat"; and it happens. You hypocrites! You know how to interpret the appearance of earth and sky, but why do you not know how to interpret the present time?
'And why do you not judge for yourselves what is right? Thus, when you go with your accuser before a magistrate, on the way make an effort to settle the case, or you may be dragged before the judge, and the judge hand you over to the officer, and the officer throw you in prison. I tell you, efendantyou will never get out until you have paid the very last penny.'
Note: Many preachers pontificate for an hour on Sunday morning quoting two or three verses in the Bible taken out of context. Their listeners are Biblically illiterate so "what the hell."
God will shortly haul every nation into His court room, Jesus Christ Presiding Judge. Israel is to be the most important Defendant, then the rest of nations will have their Day in Court. No one can accuse this Presiding Judge of being biased, paid off, or manipulated! Israel's ancient Prophet Zechariah wrote of the end of the age we live in , twenty five hundred years ago:
Israel's National Accountability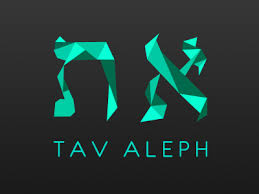 The burden of the word of the LORD against Israel.

Thus says the LORD, who stretches out the heavens, lays the foundation of the earth, and forms the spirit of man within him:  

"Behold, I will make Jerusalem a cup of drunkenness to all the surrounding peoples, when they lay siege against Judah and Jerusalem.  

"And it shall happen in that day that I will make Jerusalem a very heavy stone for all peoples;
all who would heave it away will surely be cut in pieces, though all nations of the earth are gathered against it.

"In that day," says the LORD, "I will strike every horse with confusion, and its rider with madness;
I will open My eyes on the house of Judah, and will strike every horse of the peoples with blindness.  

"And the governors of Judah shall say in their heart, 'The inhabitants of Jerusalem are my strength in the LORD of hosts, their God.'

"In that day I will make the governors of Judah like a firepan in the woodpile, and like a fiery torch in the sheaves;
they shall devour all the surrounding peoples on the right hand and on the left,
but Jerusalem shall be inhabited again in her own place—Jerusalem.

"The LORD will save the tents of Judah first, so that the glory of the house of David
and the glory of the inhabitants of Jerusalem shall not become greater than that of Judah.  

"In that day the LORD will defend the inhabitants of Jerusalem;
the one who is feeble among them in that day shall be like David,
and the house of David shall be like God, like the Angel of the LORD before them.

"It shall be in that day that I will seek to destroy all the nations that come against Jerusalem.

"And I will pour on the house of David and on the inhabitants of Jerusalem the Spirit of grace and supplication;
then they will look on Me (the Alef Tav) whom they pierced.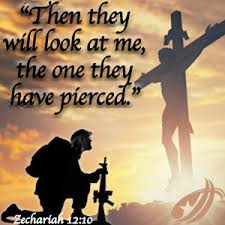 Yes, they will mourn for Him as one mourns for his only son, and grieve for Him as one grieves for a firstborn.  

"In that day there shall be a great mourning in Jerusalem, like the mourning at Hadad Rimmon in the plain of Megiddo.  

"And the land shall mourn, every family by itself: the family of the house of David by itself, and their wives by themselves;
the family of the house of Nathan by itself, and their wives by themselves;  
"the family of the house of Levi by itself, and their wives by themselves;
the family of Shimei by itself, and their wives by themselves;  
"all the families that remain, every family by itself, and their wives by themselves."
(Zechariah 12)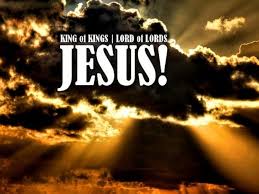 The Return of the King
We are given much information about the return of Jesus to His planet--about 30 percent of the Bible is about prophecy. The Second Coming will be in two phases. See Calamity Howler.
It is the Second Phase of His return that can be seen in the final Chapters of Isaiah. The imagery is very vivid as Ray Stedman explains:
This last section of the book of Isaiah covers the final events of world history, and closely parallels the book of Revelation. As I pointed out when we began this study thirteen weeks ago, the book of Isaiah is in many ways a miniature Bible. It divides like the Bible. The Bible has 66 books, and Isaiah has 66 chapters. The Old Testament has 39 books, and the first division of Isaiah has 39 chapters. The New Testament has 27 books, and the second half of Isaiah has 27 chapters. The theme of the last of Isaiah is the theme of the last of the Bible: the end!
Matthew quotes the words of Jesus, "This gospel of the kingdom shall be preached to all the earth as a witness to every nation, and then the end shall come," (Matthew 24:14). It is that end that Isaiah brings before us now in these closing chapters of his prophecy, beginning at Chapter 59. This chapter answers the question many are asking today, "Why is the world in such a mess? If God is really running this world, why is he doing such a poor job of it?" Some feel even they could do a better job.
God's answer to these questions is given in the opening words of chapter 59:
Behold, the Lord's hand is not shortened, that it cannot save,
  or his ear dull, that it cannot hear ["It is not my failure," God says];
but your iniquities have made a separation
  between you and your God,
and your sins have hid his face from you
  so that he does not hear.
For your hands are defiled with blood
  and your fingers with iniquity;
your lips have spoken lies,
  your tongue mutters wickedness. (Isaiah 59:1-3 RSV)
The problem is not with God, but with man. The passage goes on to describe the wickedness of Israel particularly (since this chapter is addressed to the nation), and beyond that, to the whole world. The Apostle Paul quotes Verses 7-8 in Romans 3 to show that this applies to the whole race of men.
Their feet run to evil,
  and they make haste to shed innocent blood;
their thoughts are thoughts of iniquity,
  desolation and destruction are in their ways. [He has been reading the statistics of carnage on our highways.]
The way of peace they know not,
  and there is no justice in their paths. (Isaiah 59:7-8a RSV)
That is an excellent description of what theologians call "the depravity of man." God says there is something wrong with us. It is utter foolishness to deny it.
At the close of World War II, Sir Winston Churchill, a great historian in his own right, penned these words,
Certain it is that while men are gathering knowledge and power with ever-increasing speed, their virtues and their wisdom have not shown any notable improvement as the centuries have rolled. Under sufficient stress: starvation, terror, warlike passion, or even cold intellectual frenzy, the modern man we know so well will do the most terrible deeds, and his modern woman will back him up.
That eloquently confirms what Isaiah declares. The problem is not so much the presence of human sin, for God has an answer for that, set forth in Chapter 53 of Isaiah, in the marvelous story of One who was "wounded for our transgressions, bruised for our iniquities; upon him was the chastisement that made us whole, and with his stripes we are healed," (Isaiah 53:5). Yes, God has a full answer to the dilemma of human evil, but the problem that separates man from God is an unwillingness to admit to that evil. That is what keeps God from acting on our behalf. If you come with a humble, repentant heart, you can get anything from God; but if you come with a self-justifying excuse, God will give you nothing.
Man is strangely reluctant to admit that he is contributing to the problems he faces. People seem to be blind to the fact that selfish ways and self-centered actions and attitudes are directly connected with the terrible evils that flood our land and fill our newspapers today. It is very difficult to get them to accept the fact that God's wrath comes upon mankind because of our wrong attitudes and actions. This is why so much evil abounds -- drug abuse, child abuse, wife beating, incest, homosexuality, pornography, and other terrible things. Strangely, we seem to be incapable of doing anything about these. They only worsen from generation to generation. As Churchill has pointed out, there is no improvement as the centuries have rolled by. The reason is that we are unwilling to admit our evil and this is oftentimes true of Christians as well as the world.
At Verse 9 of this chapter, however, there is a dramatic change. A group comes forth who do admit their part in the problem. They are the remnant of Israel, the tiny believing band of Jews who do acknowledge that they have gone wrong.
Therefore justice is far from us,
  and righteousness does not overtake us;
we look for light, and behold, darkness,
  and for brightness, but we walk in gloom.
We grope for the wall like the blind,
  we grope like those who have no eyes;
we stumble at noon as in the twilight
  among those in full vigor, we are like dead men. (Isaiah 59:9-10 RSV)
What a strange blindness permeates all of human society today! The confession continues.
We all growl like bears;
  we moan and moan like doves;
we look for justice, but there is none;
  for salvation but it is far from us.
For our transgressions are multiplied before thee,
  and our sins testify against us;
for our transgressions are with us,
  and we know our iniquities:
transgressing, and denying the Lord,
  and turning away from following our God,
speaking oppression and revolt,
  conceiving and uttering from the heart lying words. (Isaiah 59:11-13 RSV)
That is the real problem. But what an honest confession is here, a full acknowledgment that the problem is with you and me -- not God! There is an immediate divine response to that confession:
The Lord saw it, and it displeased him
  that there was no justice.
He saw that there was no man,
  and wondered that there was no one intervene;
then his own arm brought him victory,
  and his righteousness upheld him.
He put on righteousness as a breastplate,
  and a helmet of salvation upon his head;
he put on garments of vengeance for clothing,
  and wrapped himself in fury as a mantle. (Isaiah 59:15b-17
This is looking on to the day, described in the book of Revelation and other places, when God will begin to judge evil in human hearts. God acts immediately to this end. And he will come to Zion as Redeemer, to those in Jacob who turn from transgression, says the Lord.
This is the second return of Jesus, when he comes to Israel to deliver them from their evil. As Israel's Redeemer, he comes to Zion (Jerusalem) to begin his restorative work. Chapter 60 is another glowing description of the blessing of Israel after its restoration. This is a beautiful account of what prophecy students call the "millennium," the thousand years of blessing that follows the restoration of Israel to its God. It begins with a summons to the nation to stand up and rejoice in its deliverance.
Arise, shine; for your light has come,
  and the glory of the Lord has risen upon you.
For behold, darkness shall cover the earth,
  and thick darkness the peoples;
but the Lord will arise upon you,
  and his glory will be seen upon you.
And nations shall come to your light,
  and kings to the brightness of your rising. (Isaiah 60:1-3 RSV)
I hope you will read for yourself this beautiful poetic description of millennial blessings, when Israel will be the head of the nations. The chapter closes with language very reminiscent of the book of Revelation.
Your sun shall no more go down,
  nor your moon withdraw itself;
for the Lord will be your everlasting light,
  and your days of mourning shall be ended.
Your people shall all be righteous;
  they shall possess the land for ever,
the shoot of my planting, the work of my hands,
  that I might be glorified.
The least one shall become a clan,
  and the smallest one a mighty nation;
I am the Lord;
  and in its time I will hasten it. (Isaiah 60:20-22 RSV)
All of God's promises to Israel will be fulfilled to the letter. These great passages in Isaiah look forward to that time of earthly glory, when Israel shall be the foremost of the nations. It shall all come to pass, exactly as recorded here. Chapter 61 is a flashback to the days of the Messiah's first appearance. It opens with his own words.
The Spirit of the Lord God is upon me,
  because the Lord has anointed me
to bring good tidings to the afflicted;
  he has sent me to bind up the brokenhearted,
to proclaim liberty to the captives,
  and the opening of the prison to those who are bound;
to proclaim the year of the Lord's favor,
  and the day of vengeance of our God;
  to comfort all who mourn;
to grant to those who mourn in Zion --
  to give them a garland instead of ashes,
the oil of gladness instead of mourning,
  the mantle of praise instead of a faint spirit;
that they may be called oaks of righteousness,
  the planting of the Lord, that he may be glorified. (Isaiah 61:1-3 RSV)
Luke's gospel records that Jesus went into the synagogue at Nazareth on one occasion, as was his custom, and asked for the scroll of the prophet Isaiah. He unrolled it until he found the place where these words are written. Turning to this very spot, he read this passage about the Spirit coming upon him, anointing him, and that he was called to preach the gospel, to bind up the brokenhearted, to proclaim liberty to captives, etc. He stopped reading in the middle of a sentence, after the comma following the words, "to proclaim the year of the Lord's favor." Then he closed the scroll, handed it back to the attendant, sat down, and said, "This day is this Scripture fulfilled in your hearing."
Note carefully where he stopped reading. He did not go on to read, "and the day of vengeance of our God," because when he first came he introduced "the day of God's favor," the day when God withholds his judgment.
This is the answer to the question people are asking, "Why doesn't God do something?" The answer is, because he is giving people everywhere a chance! When he starts judging, he will judge the whole world -- everybody in it, without exception. Only those who have already bowed to his will — will escape the penalty of that judgment. Then he will begin "the day of vengeance of our God," the phrase Jesus did not read that day in the synagogue. This comma has been called "the longest comma in history." "The year of the Lord's favor" now covers almost two thousand years of time, but it will be followed by "the day of vengeance of our God."
Notice the contrast between "the year of his grace," and "the day of vengeance." God does not like vengeance. He does not delight in judgment. Isaiah calls it "his strange work." But it must be done eventually, though it will be kept as brief as possible. This is what prophecy records as "the time of the end."
The rest of the chapter and all of Chapter 62 go on again to describe the restoration of Israel. All of this applies to us spiritually, as a description of our permanent relationship with God and describing the security of the believer. Hear Verses 3-4 of Chapter 62:
You shall be a crown of beauty in the hand of the Lord,
  and a royal diadem in the hand of your God.
You shall no more be termed Forsaken,
  and your land shall no more be termed Desolate;
but you shall be called My delight is in her
  and your land Married;
for the Lord delights in you,
  and your land shall be married. (Isaiah 62:3-4 RSV)
Those are specific promises to Israel that have spiritual application to us. The last verse of Chapter 62 speaks to this as well:
They shall be called The holy people,
  The redeemed of the Lord;
and you shall be called Sought out,
  a city not forsaken. (Isaiah 62:12 RSV)
This is to be the ultimate fate of Jerusalem, but describes our status in the eyes of our Lord. We are "accepted in the Beloved," (Ephesians 1:6 KJV).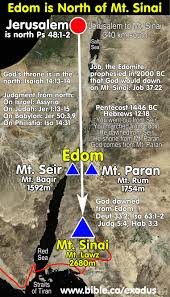 Chapter 63 is another picture of the judgment of God. It portrays the Messiah coming to Jerusalem from the south and entering into a dialogue with the believers there. He comes from Edom, in the Negeb, with blood-soaked garments. Those who see him coming ask,
Who is this that comes from Edom,
  in crimsoned garments from Bozrah,
he that is glorious in his apparel,
  marching in the greatness of his strength? (Isaiah 63:1a RSV)
Jesus answers,
"It is I, announcing vindication,
  mighty to save" (Isaiah 63:1b RSV)
They respond,
Why is thy apparel red,
  and thy garments like his that treads in the wine press? (Isaiah 63:2 RSV)
His answer comes,
"I have trodden the wine press alone,
  and from the peoples no one was with me;
I trod them in my anger
  and trampled them in my wrath;
their lifeblood is sprinkled upon my garments,
  and I have stained all my raiment.
For the day of vengeance was in my heart,
  and my year of redemption has come." (Isaiah 63:3-4 RSV)





The parallel to this is found in Chapter 14 of the book of Revelation, where the apostle sees an angel coming out from heaven, having a great sickle in his hand,
Then another angel came out from the altar, the angel who has power over fire, and he called with a loud voice to him who has the sharp sickle, "Put in your sickle and gather the clusters of the vine of the earth, for its grapes are ripe." So the angel swung his sickle on the earth and gathered the vintage of the earth and threw it into the great wine press of the wrath of God, and the wine press was trodden outside the city and blood flowed from the wine press as high as a horse's bridle for one thousand six hundred stadia. (Revelation 14:18-20 RSV)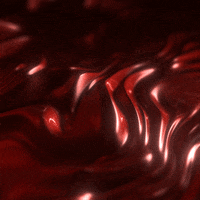 That measurement is about two hundred miles -- which is the distance from Lebanon in the north down to Edom in the south of Israel. The whole land will be covered with blood from the great battle of Armageddon, the warfare that ends the struggles of earth, as depicted in other Scriptures. This is a terrible picture of the treading of the wine press. The "harvest" always deals with Gentiles, while the "wine press" is always a picture of God's judgment of Israel. This will be "the time of Jacob's trouble" which Jeremiah mentions.
Chapter 64 is the response of the remnant of Israel, the believing Jews, to this. Their cry is a prayer,
O that thou wouldst rend the heavens and come down,
  that the mountains might quake at thy presence --
as when fire kindles brushwood
  and the fire causes water to boil --
to make thy name known to thy adversaries,
  and that the nations might tremble at thy presence! (Isaiah 64:1-2 RSV)
They are asking God for judgment, crying, "We know this will be terrible, but it is the only way. So come, Lord, do your work." Hasn't this been our cry at times, when we have seen the terrible things that are going on around us: "Lord, come and end this terrible scene, at whatever cost"? This, then, is the prayer of the remnant, the earnest pleading for relief. The prayer rises out of an awareness of the majesty and the uniqueness of God, exemplified in their words in verse 4,
From of old no one has heard
  or perceived by the ear,
no eye has seen a God besides thee,
  who works for those who wait for him. (Isaiah 64:4 RSV)
Paul quotes those verses in First Corinthians (2:9-10), saying these unrevealed things have been revealed to us by the Spirit. If you want to see God, and know God, then search his Word. Study it, think it through. Let the majesty of God be taught to you by the Spirit of God, for that is what he has come to do.
God replies to all this in Chapters 65 and 66, which close the book of Isaiah. He first reminds Israel that he has always been available to them, if they were only ready to turn to him. He proves this by pointing out that he has been available even to the Gentiles; not only to the chosen people but also even to the Gentiles.
I was ready to be sought by those who did not ask for me;
  I was ready to be found by those who did not seek me.
I said, "Here am I, here am I,"
  to a nation that did not call on my name. (Isaiah 65:1 RSV)
He is speaking of the Gentiles. But what about Israel? Of them, he says,
I spread out my hands all the day
  to a rebellious people,
who walk in a way that is not good,
  following their own devices;
a people who provoke me
  to my face continually, (Isaiah 65:2-3a RSV)
They are idolaters, following other gods. That is what is wrong with them. More than that,
...who say, "Keep to yourself,
  do not come near me, for I am set apart from you." (Isaiah 65:5a RSV)
Literally, the words are, "I am holier than thou." This is where that phrase comes from. If there is any sin in the Bible that is categorized as being worse than any other sin, it is the sin of self-righteousness! That is the sin of Israel. It is also the sin of the church. Like the Pharisees, we often draw our garments around ourselves, crying, "We would never do that!" Remember that the hardest words of Jesus were uttered against the self-righteousness of the Pharisees. Not one of us knows what we would do, given certain circumstances, if we thought we could get away with it or everybody else was doing it. That is the terrible evil of the human heart.
But after the time of God's judgment of Israel, God will fulfill all his promises. Then Comes the End by Ray Stedman.

More Homework
Jesus, Judge of All | Arrested Emotional Development | Stillborn | No Dads These Days | God our Father | The First Begotten
The Judgment Seat of Christ | The Central Glory | Is God Ruthless? | The Wasted Years | The Great White Throne Judgment
Jesus, Plain and Simple | Gender Confusion | Jesus Plain and Simple | Jesus is a Single Man | The Ego Papers
Music: Hallelujah What a Savior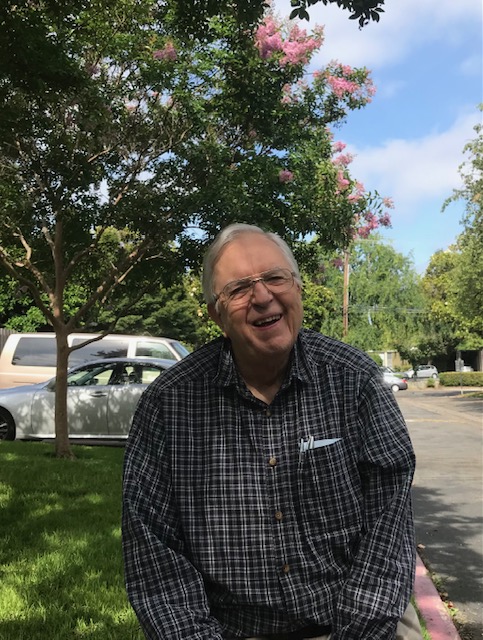 Lambert Dolphin's Place 
Lambert's Personal Testimony
Email Lambert Dolphin
Recent and Recovered Articles

July 28, 2021