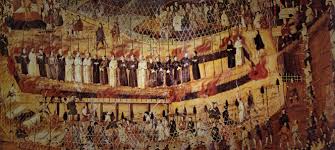 Martyr

John, to the seven churches which are in Asia:
Grace to you and peace from Him who is and  who was and who is to come, 
and from the seven Spirits who are before His throne, and from Jesus Christ, 
the faithful witness (Greek: martus, martyr),
the  firstborn from the dead,
and  the ruler over the kings of the earth.
To Him  who loves us  and washed us from our sins in His own blood, 
and has made us kings and priests to His God and Father, 
to Him be glory and dominion forever and ever. Amen.
(Revelation 1:4-6)
Jesus has the Keys of Death and Hades
"...I am the First and the Last. I am He who lives, and was dead, and behold, I am alive forevermore. Amen.
And I have the keys of Hades and of Death."
(Revelation 1:17,18)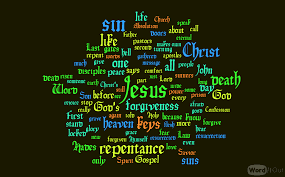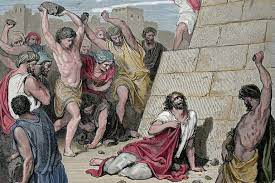 Stephen The First Martyr
The first martyr of the Christian church, Stephen, was stoned to death after giving an impassioned message on the history of Israel before the leaders of the nation. He saw "Jesus standing at the right hand of God" which would seem to contradict earlier evidence in the Book of Acts that Jesus was then "seated at the right hand of God." Stephen's last words suggested he would "time travel" to the Rapture upon taking his last breath. When He receives His Bride, we would expect Jesus to rise from His throne to welcome her. 
Stephen said in part...
"However, the Most High does not dwell in temples made with hands, as the prophet says:
'Heaven is My throne,
And earth is My footstool.
What house will you build for Me? says the Lord,
Or what is the place of My rest?
Has My hand not made all these things?'

"You stiff-necked and uncircumcised in heart and ears! You always resist the Holy Spirit; as your fathers did, so do you. Which of the prophets did your fathers not persecute? And they killed those who foretold the coming of the Just One, of whom you now have become the betrayers and murderers, who have received the law by the direction of angels and have not kept it."

When they heard these things they were cut to the heart, and they gnashed at him with their teeth. But he, being full of the Holy Spirit, gazed into heaven and saw the glory of God, and Jesus standing at the right hand of God, and said, "Look! I see the heavens opened and the Son of Man standing at the right hand of God!"

Then they cried out with a loud voice, stopped their ears, and ran at him with one accord; and they cast him out of the city and stoned him. And the witnesses laid down their clothes at the feet of a young man named Saul. And they stoned Stephen as he was calling on God and saying, "Lord Jesus, receive my spirit." Then he knelt down and cried out with a loud voice, "Lord, do not charge them with this sin." And when he had said this, he fell asleep. (Acts 7:48-60)
We accommodate our present entrapment in linear, historical time by saying a person "falls asleep" at death. "Asleep in Jesus" is engraved on many tombstones. The actual dying Christian undergoes an immediate transformation of his or her body and arrives at the Rapture "in a twinkling of an eye." The Rapture is overdue now but could happen today.
Ray Stedman notes: "A vivid picture, is it not? It is noteworthy to see how God stands by his faithful martyr here. Stephen's eyes are opened, even in the presence of the council, and he sees the Lord Jesus standing at the right hand of the Father. It is my conviction that every believer who dies sees this event, that when a believer steps out of time into eternity the next event waiting for him is the coming of the Lord Jesus for his own. Here Stephen sees him waiting to step out and receive him in a few moments, when he will be taken out of the city and stoned to death. This is the sight that greets the eyes of those who fall asleep in Jesus, and Stephen sees it. He prays to him in words that echo those of Jesus himself on the cross. Jesus had prayed, "Father, forgive them, for they know not what they do," (Luke 23:34). Stephen says, "Lord Jesus, receive my spirit, and do not hold this sin against them." And when he had said this, he fell asleep."
"But I do not want you to be ignorant, brethren, concerning those who have fallen asleep, lest you sorrow as others who have no hope. For if we believe that Jesus died and rose again, even so God will bring with Him those who sleep in Jesus.

For this we say to you by the word of the Lord, that we who are alive and remain until the coming of the Lord will by no means precede those who are asleep. For the Lord Himself will descend from heaven with a shout, with the voice of an archangel, and with the trumpet of God. And the dead in Christ will rise first. Then we who are alive and remain shall be caught up together with them in the clouds to meet the Lord in the air. And thus we shall always be with the Lord. Therefore comfort one another with these words." (1 Thessalonians 4:13-18)

Many Martyrs Are Yet to Come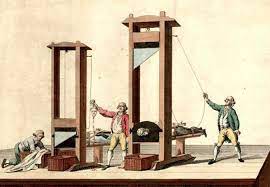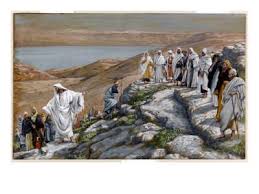 The One Hundred Forty Four Thousand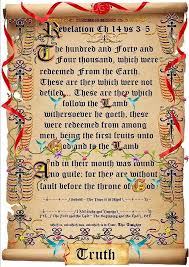 Antipas
"And to the angel of the church in Pergamos write,
'These things says  He who has the sharp two-edged sword:
"I know your works, and where you dwell, where Satan's throne is. 
And you hold fast to My name,
and did not deny My faith even in the days in which Antipas was My faithful martyr,
who was killed among you, where Satan dwells. (Revelation 2:11-13)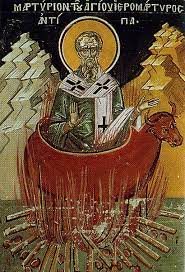 Get out of Jail Free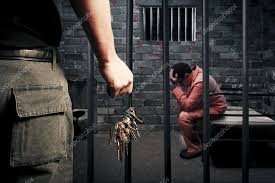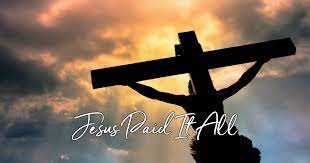 My great friend Glenn Miller of the Christian Think Tank notes that God's mercy: 
"...goes into a prison and unchains guilt prisoners under sentence of death because of their sins. The prisoners are taken out of jail and set free in front of the detention facility. Then, God's grace sends a limousine to the curb, picks up the released sinner. He is now a royal son adopted into the household of the king as an immediate heir of the king's estate!"