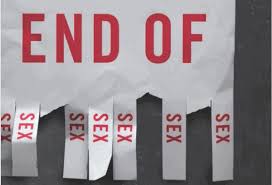 The End of Sex as we Know it
Part 2
Part I: The End of Sex

A number of books, articles, movies and videos have been made in the past half century about the approaching end of sex. Some of the factors about sexuality and culture and the church were discussed in Part I The End of Sex. Our present kind of biological sexuality will probably not be carried over into the new creation.
A very important New Testament set of teachings is discussed below, because what Scripture clearly teaches is widely ignored these days,-- both in the church, and as a consequence -- in society as a whole. In other words, "As the church goes, so goes the world."
Chapters 4 and 5 in the New Testament letter to the Ephesians presents a powerful discourse on sex, love, family values, and marriage. (There are no chapter divisions in Greek so both chapters are quoted below for discussion purposes.) Most people who come to know Jesus were influenced by a church! Growing up we all inherit the values of parents, teachers, elders, more than peer influence influences them. The weight of a peer influence increases of course when elders set bad examples. There is one God-given reference in society to point a clear path to wholistic truth. That "body" is the church. The true church's influence waxes and wanes over time. She is at an all time low in America now. Many churches admit that perhaps only 10% of their members actually know Jesus Christ personally. But a newborn Christian tends to believe that fellow churchgoers accurately reflect the character of the Lord Jesus. He's poorly represented down here--by many of us!

In others words, the surrounding pagan culture today influences how Christians behave sexually--not the clear guidelines of the Bible! The Apostle makes crystal clear that only the married are to be sexually active, and then only with one another. Living make-believe, pretend-like marriages is plain hypocrisy! Single men and women aren't the only hypocrites in society. Grups are also. Being legally "married" is no excuse! Single guys in today's world are expected by their peers to be sexually active, if only by masturbating regularly starting at puberty. Psychologists today universally consider M healthy and desirable. See Masturbation and the Bible. This flies in the face of the teachings of both Old and New Testaments. For instance see Circumcision.
Part I of this current essay, The End of Sex, goes into more detail into sexuality, idolatry, and wholeness in Christ. These topics are usually taught in church or seminary under the heading Sanctification, Stage Three of growth in the Christian life.
The end result of trusting Jesus as Savior and Lord is guaranteed by God, no matter how difficult our journey may seem!
"I thank my God upon every remembrance of you, always in every prayer of mine making request for you all with joy, being confident of this very thing, that He who has begun a good work in you will complete it until the day of Jesus Christ..." (Paul the Apostle in Philippians 1:1-4)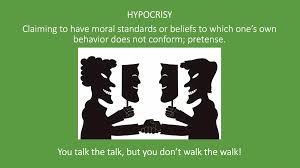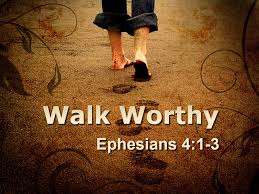 Ephesians 4: "I therefore, the prisoner of the Lord, beseech you to walk worthy of the calling with which you were called, with all lowliness and gentleness, with longsuffering, bearing with one another in love, endeavoring to keep the unity of the Spirit in the bond of peace. There is one body and one Spirit, just as you were called in one hope of your calling; one Lord, one faith, one baptism; one God and Father of all, who is above all, and through all, and in you all."

But to each one of us grace was given according to the measure of Christ's gift. Therefore He says:

"When He ascended on high,
He led captivity captive,
And gave gifts to men."

(Now this, "He ascended"—what does it mean but that He also first descended into the lower parts of the earth? He who descended is also the One who ascended far above all the heavens, that He might fill all things.)

And He Himself gave some to be apostles, some prophets, some evangelists, and some pastors and teachers, for the equipping of the saints for the work of ministry, for the edifying of the body of Christ, till we all come to the unity of the faith and of the knowledge of the Son of God, to a perfect man, to the measure of the stature of the fullness of Christ; that we should no longer be children, tossed to and fro and carried about with every wind of doctrine, by the trickery of men, in the cunning craftiness of deceitful plotting, but, speaking the truth in love, may grow up in all things into Him who is the head—Christ— from whom the whole body, joined and knit together by what every joint supplies, according to the effective working by which every part does its share, causes growth of the body for the edifying of itself in love.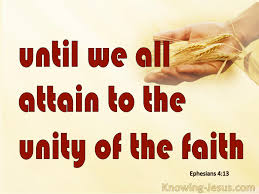 4:17. This I say, therefore, and testify in the Lord, that you should no longer walk as the rest of the Gentiles walk, in the futility of their mind, having their understanding darkened, being alienated from the life of God, because of the ignorance that is in them, because of the blindness of their heart; who, being past feeling, have given themselves over to lewdness, to work all uncleanness with greediness.

But you have not so learned Christ, if indeed you have heard Him and have been taught by Him, as the truth is in Jesus: that you put off, concerning your former conduct, the old man which grows corrupt according to the deceitful lusts, and be renewed in the spirit of your mind, and that you put on the new man which was created according to God, in true righteousness and holiness.

4:25. Therefore, putting away lying, "Let each one of you speak truth with his neighbor," for we are members of one another. "Be angry, and do not sin": do not let the sun go down on your wrath, nor give place to the devil. Let him who stole steal no longer, but rather let him labor, working with his hands what is good, that he may have something to give him who has need. Let no corrupt word proceed out of your mouth, but what is good for necessary edification, that it may impart grace to the hearers. And do not grieve the Holy Spirit of God, by whom you were sealed for the day of redemption. Let all bitterness, wrath, anger, clamor, and evil speaking be put away from you, with all malice. And be kind to one another, tenderhearted, forgiving one another, even as God in Christ forgave you.

5:1. Therefore be imitators of God as dear children. And walk in love, as Christ also has loved us and given Himself for us, an offering and a sacrifice to God for a sweet-smelling aroma.

But fornication (porneia) and all uncleanness (akatharsia) or covetousness (pleonexia), let it not even be named among you, as is fitting for saints; neither filthiness, nor foolish talking, nor coarse jesting, which are not fitting, but rather giving of thanks. For this you know, that no fornicator, unclean person, nor covetous man, who is an idolater, has any inheritance in the kingdom of Christ and God. Let no one deceive you with empty words, for because of these things the wrath of God comes upon the sons of disobedience. Therefore do not be partakers with them.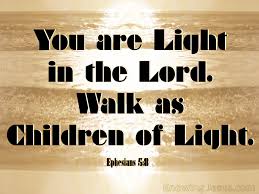 5:8. For you were once darkness (skotos)but now you are light in the Lord. Walk as children of light (for the fruit of the Spirit is in all goodness, righteousness, and truth), finding out what is acceptable to the Lord. And have no fellowship (sunkoinōneō) with the unfruitful works of darkness, but rather expose them. For it is shameful even to speak of those things which are done by them in secret. But all things that are exposed are made manifest by the light, for whatever makes manifest is light. Therefore He says:

"Awake, you who sleep,
Arise from the dead,
And Christ will give you light."

5:15. See then that you walk circumspectly (akribōs), not as fools but as wise, redeeming (exagorazō) the time, because the days are evil.
Therefore do not be unwise, but understand what the will of the Lord is. And do not be drunk with wine, in which is dissipation; but be filled with the Spirit, speaking to one another in psalms and hymns and spiritual songs, singing and making melody in your heart to the Lord, giving thanks always for all things to God the Father in the name of our Lord Jesus Christ, submitting to one another in the fear of God.
Verses 22-25 are about conventional marriage between a man and a woman.

5:22.Wives, submit to your own husbands, as to the Lord. For the husband is head of the wife, as also Christ is head of the church; and He is the Savior of the body. Therefore, just as the church is subject to Christ, so let the wives be to their own husbands in everything.

5:25. Husbands, love your wives, just as Christ also loved the church and gave Himself for her, that He might sanctify and cleanse her with the washing of water by the word, that He might present her to Himself a glorious church, not having spot or wrinkle or any such thing, but that she should be holy and without blemish. So husbands ought to love their own wives as their own bodies; he who loves his wife loves himself. For no one ever hated his own flesh, but nourishes and cherishes it,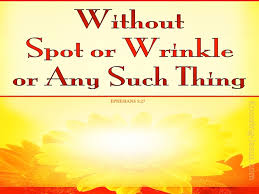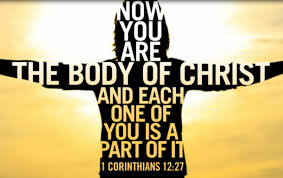 ...just as the Lord does the church. For we are members of His body, of His flesh and of His bones. "For this reason a man shall leave his father and mother and be joined to his wife, and the two shall become one flesh." 
The subject shifts here to the figure of Christ and His church. Rather than marrying one woman and having biological children, Jesus will take a gentile bride consisting of men, women, children of all ages and from every background. Obviously there will be no need for physical sex, but there will be no lack of intimacy and true love in New Jerusalem.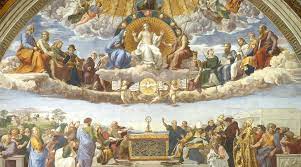 5:32. This is a great mystery, but I speak concerning Christ and the church.
Nevertheless let each one of you in particular so love his own wife as himself, and let the wife see that she respects her husband.

What If?
by Ray Stedman
Have you ever had the "What if's" about your Christian faith? What do you do when doubt attacks, and you feel that perhaps it is Christianity that is wrong, that maybe this is all a delusion, a psychological trick you have been playing on yourself? What do you do when you feel that the record of Scripture is merely a collection of myths and legends, as we are frequently told, and that there is no life after death, there is no God, no judgment, etc.?
We all feel that way at times because those are attacks upon our faith, and we live in a day when faith is being attacked. I have just returned from Poland, and in that Communist world Christians have to learn to live under the unrelenting pressure of assaults upon their faith. They are constantly asked to believe, to accept, the secular, world view. They are ridiculed when they say they believe in life after death. Karl Marx, of course, is well known for his statement that "religion is the opiate of the masses," that it holds them in a kind of a "pipe dream," removing them from the realities of existence and making them willing to endure great indignities and injustices now, with the transient hope that some day they will find a compensation.
Even here, in the West, this is very common also; we are under attack as well. I am sure there are days when you feel, as I sometimes do, that Christianity might just be a delusion; we feel that we are just kidding ourselves, perhaps, that this Christian faith is nothing but a dream, or at best a kind of unfounded hope based on wishful thinking.
Now, when we feel that way, the temptation is always to think, "Well then, I'd better get what I can now." The fundamental assumption of almost all advertising today is, "You only have one life, so live it now. You are only going to get one opportunity to enjoy yourself, so go to it." Somebody once said in my presence that we are living in a day which is like unto the day of the sinking of the Titanic. Even secular observers can see that we are headed for destruction, but the philosophy seems to be, "Well, if you are going to be a passenger aboard the Titanic you might as well go first class."
Some of these feelings were widespread in Corinth when the Apostle Paul wrote this letter. The Corinthians were concerned about getting the most out of life now. They were not denying the resurrection of Jesus; there was too much evidence for that. As we saw in our last study, there were over 500 eye witnesses, "most of whom are still alive," as Paul had said, whom they could ask if they wanted evidence about the resurrection. But what they were denying was that that meant that we, the body of Christians, were going to be resurrected too. This represented a surrender to the thinking of the Greek philosophers, who held that the spirit is saved but the body is buried, gone and forgotten. These philosophers taught that the body is essentially evil, that it is a kind of prison we have to live in now, and when the day comes that we can get out of it we will be free; the body will have served its purpose, and that will be the end of it.
You hear a lot of that yet today. Most of the new cults that are springing up -- especially those that reflect an Eastern, Oriental thinking -- are based upon that philosophy. The natural result of that kind of thinking is that if you are ever going to enjoy the delights of the body, now is the time to do it. So there had risen here in Corinth, as there had throughout the whole Greek world, the philosophy expressed in the well-know phrase, "Eat, drink and be merry, for tomorrow you must die." Paul examines all this very briefly in this section before us. In Verses 12-13 he introduces it:
Now if Christ is preached as raised from the dead, how can some of you say that there is no resurrection from the dead? But if there is no resurrection of the dead, then Christ has not been raised; (1 Corinthians 15:12-13 RSV)
Paul's logic is clear. He is saying that these two facts are inextricably bound together: If human bodies cannot survive death, then Christ's body did not survive death, because, as he had demonstrated all along, his was a human body, he was just as human as we are, so you cannot argue, "Well, he rose, but we can't." If Christ is not raised there is no hope for our resurrection, but if Christ was raised, then, certainly, there is the possibility that we can be raised as well. That is the heart of Paul's argument.
The practical conclusion, of course, is that enjoyment of bodily pleasures is not, therefore, limited to this life. The corollary is that if, for some reason, you cannot indulge yourself in every bodily pleasure that life offers, do not feel that you have been cheated; there is still the greatest opportunity yet to come, for the enjoyment of the body lies ahead. Therefore, no one needs to feel that there has been some tragic loss if perhaps you have been deprived of bodily enjoyment right now.
I do not have to argue or convince anybody that our human bodies give us great enjoyment. We all know the delights of eating. (I can see that many of you have been indulging it to an extreme!) There is nothing like sitting down to a good, well-cooked meal, with a marvelous supply of food, and a great dessert following. (You are starting to drool already!) Then there is the delight of drinking. It is hard to pass by the taste of a good cup of coffee in the morning, or a Coke, or whatever on a hot day. These are bodily delights that God delights to give us. There is the delight of seeing the glorious beauty of springtime flowers by the bodily function of being able to see. And there is the delight of hearing great music, of conversation, the delights of feeling, including not only the tactile sense of touching things, but the joys of sex -- all these are part of the delights of the body, and God has intended them for us.
Now when you contemplate death, the question arises, "Do we lose all these forever when we die? Is there to be no more of these sensual delights?" And if the body is not raised, the argument is clear: It would be better to "eat, drink, and be merry" now, because this is the only chance we will ever have to lay hold of the delights of the flesh. But the Christian answer is, "No, we do not lose these forever. We shall enjoy them in a fuller way than ever before in the body raised from the dead. God has a purpose for the body, as well as for the spirit and the soul. These bodies shall be transformed and enhanced and enriched, and all that they are able to do will be experienced to a greater degree than ever in the life to come."
"Oh," you say, "that may be true for some of these pleasures, but how about sex? The Lord said that there is no marriage in heaven and no giving in marriage." I really think a lot of people are tremendously frightened by that thought. There is a lot of pressure on them to try to experience the delights of sex now, while they still have a body capable of this kind of relationship. But, when we talk and think that way, we have failed to see the reason why God gives us physical pleasures now. It is not because there is something we must enjoy now and never again, it is because these things experienced now are but a taste of the possibilities that lie beyond in the whole realm of life. Take even the joy of sex in marriage. It is given to us now to teach us the exquisite ecstasy of intimate relationship with another person. Though it physically will not be expressed in heaven -- that seems to be the implication of the Scripture -- it is nevertheless a picture of a far greater delight and joy we will get from just relating to people and to God himself. To sit down and talk with someone in heaven will be a bliss beyond any imagining. We will experience a delightful sense of union with that person in a way that the nearest thing on earth that can express it is a sexual orgasm. To worship God in a resurrection body is to find your whole being suffused with a glow of glory that orgasm can only faintly picture right now, and certainly can never surpass. That is what life is telling us.
C. S. Lewis once preached a message called, The Weight of Glory, which was one of the greatest words he ever spoke. In it he examined some of these possibilities. He said:
It may be possible for each to think too much of his own potential glory hereafter; it is hardly possible for him to think too often or too deeply about that of his neighbor. The load, or weight, or burden, of my neighbor's glory should be laid daily on my back, a load so heavy that only humility can carry it, and the backs of the proud will be broken.
Then he says:
It is a serious thing to live in a society of possible gods and goddesses, to remember that the dullest and most uninteresting person you talk to may one day be a creature which, if you saw it now, you would strongly be tempted to worship, or else a horror and a corruption such as you now meet, if at all, only in a nightmare. All day long we are, in some degree, helping each other to one or the other of these destinations. It is in the light of these overwhelming possibilities, it is with the awe and circumspection proper to them, that we should conduct all our dealings with one another, all friendships, all loves, all play, all politics. There are no ordinary people. You have never talked to a mere mortal.
Those are biblical concepts. Beyond and behind the familiar doctrines that we are so well aware of -- until they have become almost commonplace -- these are the great truths these teachings are seeking to convey. Therefore, we do not need to fear if circumstances in some way do not permit the satisfaction of all present bodily desires. Nothing is permanently lost; a greater glory awaits us. That is the great truth of the resurrection of the body of a believer, which Scripture seeks to convey to us. Sometimes I can hardly wait for some of these things to come to pass. People often ask me, "Do you find it disturbing to be growing old?" and I have to answer with all honesty, "No, I don't. I find it very exciting. I don't want to go back." All the hope that I have for fulfillment lies far more in the future than it does in the present, and certainly than it does in the past. What lies ahead is so entrancing, so remarkable, I can hardly wait for it to come.
Now, in Verses 14-19, the apostle considers the question, "What if ...?" What would the world be like if Jesus had not been raised? What if the women who went out to the tomb on that resurrection morning had found that nothing had happened, that the stone was still in front of the tomb, the guards still pacing up and down? What if nothing had changed, if there was no relief from their memory of the dead eyes and the cold body of Jesus when they had taken him down from the cross and laid him in the tomb? What would the world be like today if, as Matthew Arnold once put it,
Now he is dead,
Henceforth he lies
in some lone Syrian town,
And on his grave
with shining eyes,
The Syrian stars look down.
What would life be like? Well, this is Paul's answer:
...if Christ has not been raised, then our preaching is in vain and your faith is in vain. We are even found to be misrepresenting God, because we testified of God that he raised Christ, whom he did not raise if it is true that the dead are not raised. For if the dead are not raised, then Christ has not been raised. If Christ has not been raised, your faith is futile and you are still in your sins. Then those also who have fallen asleep in Christ have perished. If for this life only we have hoped in Christ, we are of all men most to be pitied. (1 Corinthians 15:14-19 RSV)
There are six things in that account, six history-changing facts Paul says would have followed if Jesus had not risen from the dead. Let us look at them. First, without the resurrection, he says, all preaching would have been a waste of time. All meetings like this, all the messages you have ever heard or read, all the Christian books you have read, all the tapes and the radio and television broadcasts of the gospel you have listened to would have been a total waste of time had Jesus not risen from the dead.
"Well," someone says, "there is still a lot left to Christianity when you take away the resurrection. There are all those wonderful teachings of Jesus, crystallized in the Sermon on the Mount. We would still have those. And there is the death of Jesus, the crucifixion. He would still have died for our sins. We would still have that even though we didn't have the resurrection." And, of course, this is true. We would have these things. But the point the apostle is making is that, without the resurrection, not one of those things would do us the least bit of good, because there would be no power we could lay hold of, and obey. The teachings of Jesus would only condemn us more. They would only reveal how far, much farther away, we are from the mind and heart of God than we ever thought. The death of Jesus would but hold out to us an empty promise that could never be fulfilled, and which we could never lay hold of, so we would be even more despairing. Without the resurrection all preaching would be in vain.
And, without the resurrection, all Christian faith, Paul says, would be useless. What would be the point of coming to church every Sunday morning, or going to a Bible study, or reading the Scriptures even, or trying to believe that God is there to help you? All that would be worthless, useless. It would be only a kind of religious game. Life would be reduced to grim, stark realities, with no hope now or later.
Let me share with you a quotation from a man who had no faith in the resurrection. His name is Bertrand Russell, one of the eloquent spokesmen for unbelief in our day. This is what he says has to be the natural outcome of a life from which faith in the resurrection of Christ is removed. He says:
The life of Man is a long march through the night, surrounded by invisible foes, tortured by weariness and pain, towards a goal that few can hope to reach and where none can tarry long. One by one, as they march, our comrades vanish from our sight, seized by the silent orders of omnipotent Death.

Brief and powerless is Man's life; on him and all his race the slow, sure doom falls, pitiless and dark. Blind to good and evil, reckless of destruction, omnipotent matter rolls on its relentless way. For Man, condemned today to lose his dearest, tomorrow himself to pass through the gates of darkness, it remains only to cherish, ere yet the blow falls, the lofty thoughts that ennoble his little day.
What pessimism! What despair! What darkness! That is what we have left when the resurrection of Jesus is taken away. Then if the resurrection is untrue, the apostles, Paul says, are the world's greatest liars: "We are even found to be misrepresenting God, because we testified of God that he raised Christ whom he did not raise if it is true that the dead are not raised." If there is no resurrection the apostles of Christ deserve to be treated as a Hitler or a Stalin, as arch deceivers rather than as honored men of integrity and truth. They are hypocrites, and worse than that they are deceivers who have led us into gross darkness and gross error. Now, after twenty centuries of the preaching of these things, they have undoubtedly won the title of the world's greatest liars. That is what Paul says. You cannot avoid that, if there is no resurrection, because the apostles staked their reputation on the fact that Jesus had risen from the dead.
Then a fourth point, and even worse: If Christ is not raised, then all our sins of the past are still with us; we are still in our sins. This means that even granting that there is a God, then we must stand at last before him and give an account of all we have done. And there is no way of escaping the justice with which God would deal with sin. There is no hiding place, no hope for mercy, no loving Christ to say, "I've paid the penalty on your behalf; I've taken your place; I've loved you and given myself for you." When we stand before God we will get everything that we deserve for every evil action or thought that we have had.
The fifth thing, Paul says, is, "those also who have fallen asleep in Christ have perished." All those loved ones who have gone on to be with the Lord, we thought, whom we hoped to meet again, we will never see again. Our children, our parents, our friends, those who have been taken suddenly, those to whom we bid a weeping farewell with the hope that one day we would meet them again in glory, we will never see again. A terrible silence has fallen; they are gone forever, Paul says.
Finally, the sixth fact: "If for this life only we have hoped in Christ, we are of all men most to be pitied." Even the present is changed. We have to give up our beautiful dream and go back to coldness, selfishness, drabness, grimness, and darkness. And it is all made worse by the fact that we once thought we had escaped; we once thought we had a hold of something so beautiful, so marvelous, that it gave us great joy and peace and glory and blessing. But if there is no resurrection all this crumbles and is taken away from us; our darkness is all the darker for that. "We are of all men most to be pitied."
That is quite a list, isn't it? Let me go through it again: our preaching is vain; our faith is empty; the apostles are made to be liars; our sin still remains unatoned for; death has triumphed over our loved ones; life itself is made utterly miserable.
Would you like to live like that? Well, millions do today. Every one who does not know the reality of a risen Lord has to live every day of his life on that basis. That is why the world seeks so desperately to try to find some anesthetic that will dull the pain of an empty, aching heart. That is why people keep trying to get caught up in a continual round of noise and action that will not let them think about life because they cannot stand life without these things. Well, thank God for Verse 20:
But in fact Christ has been raised from the dead, (1 Corinthians 15:20a RSV)
What a transformation that verse makes! That means that the most fundamental fact of our life, of our history, of the world, is the resurrection of Jesus. That being true, it is the darkness and the grimness and the death which are unnecessary. Those who live that way are living in a delusion, for the great, striking reality of all history and life is, "Jesus has risen from the dead." I hope that, from this, we will see and understand more clearly than ever before that this is the fundamental factor of faith. When you confront the glorious fact that Jesus rose from the dead it answers all the doubts. It means that we too can rise with him. All the unfulfilled desires of our life and our body can be satisfied in a glorious new body, fitted to make life more real than we ever dreamed it could be. What a hope this is!

What if...? (March 1979)



In Conclusion
Whoever you are: single, married, divorced, widowed, straight, gay, bi---sex is not the place to find your identity as a person. You are loved by God and Jesus longs to make you whole, complete, fulfilled.
Forget about old fashioned sex, the obsolete variety, there won't be any in New Jerusalem which is where you are headed if you know Jesus. Something way better is waiting there for the qualified.
"As you therefore have received Christ Jesus the Lord, so walk in Him, rooted and built up in Him and established in the faith, as you have been taught, abounding in it with thanksgiving. Beware lest anyone cheat you through philosophy and empty deceit, according to the tradition of men, according to the basic principles of the world, and not according to Christ. For in Him dwells all the fullness of the Godhead bodily; and you are complete in Him, who is the head of all principality and power. In Him you were also circumcised with the circumcision made without hands, by putting off the body of the sins of the flesh, by the circumcision of Christ, buried with Him in baptism, in which you also were raised with Him through faith in the working of God, who raised Him from the dead. And you, being dead in your trespasses and the uncircumcision of your flesh, He has made alive together with Him, having forgiven you all trespasses, having wiped out the handwriting of requirements that was against us, which was contrary to us. And He has taken it out of the way, having nailed it to the cross. Having disarmed principalities and powers, He made a public spectacle of them, triumphing over them in it." (Colossians 2:6-15)
Wholeness in Christ follows intimacy with Jesus
For this is the will of God, your sanctification (hagiasmos wholeness): that you abstain from immorality (porneia),   that each one of you know how to control his own body in holiness and honor. (1 Thessalonians 4:1-4)




Jude

"But you, beloved,
building yourselves up on your most holy faith,
praying in the Holy Spirit,
keep yourselves in the love of God,
looking for the mercy of our Lord Jesus Christ unto eternal life.
And on some have compassion,
with discernment
but others save with fear,
pulling them out of the fire,
hating even the garment defiled by the flesh.

Now to Him who is able to keep you from stumbling,
And to present you faultless
Before the presence of His glory with exceeding joy,

To God our Savior,
Who alone is wise,
Be glory and majesty,
Dominion and power,
Both now and forever.
Amen. 
(Jude 20-25) |
|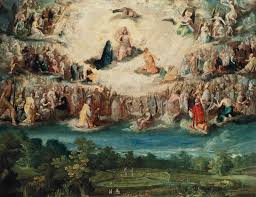 For the time has come for judgment to begin with the household of God; 
and if it begins with us, 
what will be the end of those who do not obey the gospel of God? 
And "If the righteous man is scarcely saved, 
where will the impious and sinner appear?" 
(1 Peter 4:17-18)


There are six things which the LORD hates, 
seven which are an abomination to him: 
haughty eyes, a lying tongue, 
and hands that shed innocent blood, 
a heart that devises wicked plans, 
feet that make haste to run to evil, 
a false witness who breathes out lies, 
and a man who sows discord among brothers. 
(Proverbs 6:16-19)

December 10, 2020
November 13, 2021
November 10, 2022
May 24, 2023.



Lambert Dolphin