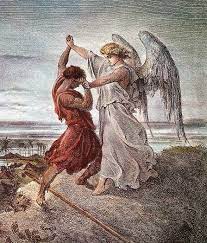 Jacob's Crisis
 פָּנִים
Peniel literally means the "face of God" in Hebrew.
The place was named by Jacob after his wrestling match there which is recounted in Genesis.
His opponent seemed divine and so Jacob claimed to have looked upon the face of God.

"Jacob was left alone; and a man wrestled with him until daybreak. When the man saw that he did not prevail against Jacob, he struck him on the hip socket; and Jacob's hip was put out of joint as he wrestled with him. Then he said, 'Let me go, for the day is breaking.' But Jacob said, 'I will not let you go, unless you bless me.' So he said to him, 'What is your name?' And he said, 'Jacob.' Then the man said, 'You shall no longer be called Jacob, but Israel, for you have striven with God and with humans,and have prevailed.' Then Jacob asked him, 'Please tell me your name.' But he said, 'Why is it that you ask my name?' And there he blessed him. So Jacob called the place Peniel, saying, 'For I have seen God face to face, and yet my life is preserved.' The sun rose upon him as he passed Penuel, limping because of his hip. Therefore to this day the Israelites do not eat the thigh muscle that is on the hip socket, because he struck Jacob on the hip socket at the thigh muscle." (Genesis 32:24-32)

The full story of Jacob occupies Chapters 27 through 37 of Genesis so the above snippet describes only one incident in his life story. This incident is his "crisis of sanctification." His name was changed from "Jacob: the supplanter" to "Israel, a prince before God." His core pride had been broken. Therefore whenever the Bible refers to the nation as "Jacob" it's a people who strive against God and are rebellious. When compliant, God addresses the nation as "Israel." Jacob stands for the ordinary believer and his brother Esau, represents the flesh, Edom. The name change from Jacob to Israel is noteworthy through the entire Old Testament.
Very often in the life of a follower of Jesus a similar crisis--a contest of two wills--occurs. God always wins but so does the one who wrestles. The opponent is a man, but no ordinary man. He is THE Angel of the Lord. Down through the centuries Genesis 32:24-32 has provoked the creation of entire denominations, revivals and books. Wikipedia is a reasonable place to start. Be warned, "holiness" is a vast subject, sixteen articles about all this are on this web site. Wrestling one-on-one with Jesus ha been called "a crisis of sanctification" by God's people in previous generations. See The Holiness Index. Holiness is not an option!
"Therefore gird up the loins of your mind, be sober, and rest your hope fully upon the grace that is to be brought to you at the revelation of Jesus Christ; as obedient children, not conforming yourselves to the former lusts, as in your ignorance;  but as He who called you is holy, you also be holy in all your conduct,  because it is written, "Be holy, for I am holy." (1 Peter 1:12-16)
Ray Stedman notes: The original root from which the word holy is derived is the same root from which a very attractive English word also comes. That word is "wholeness." Holiness, therefore, means wholeness, being complete. If you read "wholeness" in place of "holiness" everywhere you find it in the Bible, you will be much closer to what the writers originally meant. We all know what wholeness is. It is to have together all the parts which were intended to be there and to have them function as they were intended to function. Our modern expression "getting it all together" is very close to the root meaning of holiness.
The word "wholeness" has power to awaken desire within us. We long to be whole people. Who does not want to be what God made him to be, with all the ingredients of his personality expressed in perfect balance? That is what the book of Leviticus is all about. We are much aware of our own brokenness, of our lack of wholeness. We know how much we hurt ourselves and each other. We are aware of our inability to cope with life. We sometimes put up a facade and try to bluff our way through as though we are able to handle everything, but inside, most of the time, we are running scared. That is a mark of our lack of wholeness. We also know our diabolical power to irritate, to enrage and to inflame others--and even ourselves. But this great statement in Leviticus 20:26 declares that God knows all about human brokenness and hunt He knows that we are that way. He sees it in sharp contrast to His own wholeness, and His love reaches out and says, "You shall be whole, for I am whole."
...The reason we are so broken is because we are involved in a broken race. Our basic attitudes are wrong. Our vision of life is twisted and distorted. We believe in illusions and follow them as facts. We pursue phantoms and fantasies and delusions. Therefore, God must separate us from such thinking. He must break us loose from conformity to the thought patterns and attitudes and reactions of those around us. When He has straightened out our thinking and set our minds and hearts aright and corrected our tangled, fouled relationships, then we shall be whole as He intended.
This is a process which takes infinite patience and love, because we are so slow to recant. That is why God gave us this book of pictures. He starts in kindergarten with us. He begins with shadows and pictures as a kind of visual aid in order to show us what is the meaning of what He eventually does in history. Therefore, all the ceremonies and offerings of the Old Testament are fore-views and pictures of Jesus Christ. Leviticus is full of Christ. As He Himself said, "I am the way, and the truth, and the life; no one comes to the Father, but through Me" (John 14:6). Thus, these Old Testament sacrifices and rituals are the means by which believers before the cross laid hold of the full value of the work of Jesus Christ on their behalf. These men and women before the cross were as hurt and broken and fragmented as we are. They, too, needed Christ, and through these shadowy anticipations He was available to them. They may not always have seen the fulfillment of these things in Christ, but God did! Any Israelite who obediently and sincerely offered these sacrifices found that the reaction of the Spirit was to bring him to the same joy and peace that we have today. Read the Psalms and see how much David understood of the presence and the grace of God in his life. Some of these men and women of old were so taught of the Spirit that they actually foresaw the person and work of Christ as the great anti-type of the shadows with which they were involved. Thus, Jesus could say in John 8:56, "Your father Abraham rejoiced to see My day; and he saw it, and was glad."


Facing God
Some years ago I felt I should ask God to please show me how He saw me. I braced myself, expecting thunder, lightning, an earthquake and a cosmic laugh. Nothing happened right away but in the days that followed my Father's gentle corrections were obvious, one step at a time. I gained a much deeper of what it means to fear God.
The fear of the LORD is the beginning of knowledge, But fools despise wisdom and instruction." (Proverbs 1:7).
I've since learned the our God is very reluctant to judge and only does so when all else fails.
Panim, which means front, or face, is itself a multi-faceted word. You might have once had your cheeks squeezed, while a Yiddish-speaking relative admires your zeiser ponim, sweet face.

Panim chadashot means new faces. The Sheva Berachot said during the week after a wedding are only recited at a gathering where panim chadashot are present, that is people who were not there the day before. (Talmud Ketubot 7b).The participation of new faces renews the joy of the wedding celebration. According to many, we say the Sheva Berachot on Shabbat even if no new human guests are involved. Shabbat itself counts as panim chadashot. Panim comes from the verb poneh meaning to turn (one's face) from, towards or away from something. There are a cluster of interesting cognates. Bifnei means in the presence of. Lifnei means before, chronologically, or in front of what is in front of your face. Pnim means inside or innermost, that which is in front of you when you enter. So panim meaning face is almost identical to pnim meaning inside, as if a face is the best way to access what is inside a person. The Torah is famously described as having 70 panim, different aspects or modes of interpretation.


Jacob and Esau
Jacob and Esau were the sons of Isaac and Rebekah and the first twins mentioned in the Bible. Even before they were born, they were struggling together in the womb of their mother. Their prenatal striving foreshadowed later conflict (Genesis 25:21-26).

The twins grew up very different. Jacob was "a quiet man, staying among the tents" and his mother's favorite. Esau was "a skillful hunter, a man of the open country" and his father's favorite. One day, Esau returned from hunting and desired some of the lentil stew that Jacob was cooking. Jacob offered to give his brother some stew in exchange for his birthright—the special honor that Esau possessed as the older son, which gave him the right to a double portion of his father's inheritance. Esau put his temporary, physical needs over his God-given blessing and sold his birthright to Jacob (Genesis 25:27-34).

When the time came for Isaac to bestow his blessing on his sons, Jacob and his mother contrived to deceive Isaac into blessing Jacob in Esau's place. When Esau found that his blessing had been given to Jacob, he threatened to kill his brother, and Jacob fled (Genesis 27:1 - 28:7). Years later, Jacob and Esau met and were reconciled (Genesis 33).

Both Jacob and Esau were fathers of nations. God changed Jacob's name to Israel Genesis 32:28, and he became the father of the 12 tribes of Israel. Esau's descendants were the Edomites (Genesis 36). Edom was a nation that plagued Israel in later years and was finally judged by God (Obadiah 1:1-21).

In the New Testament, Esau's choice to sell his birthright is used as an example of ungodliness—a "godless" person who will put physical desires over spiritual blessings (Hebrews 12:15-17. By his negative example, Esau teaches us to hold fast to what is truly important, even if it means denying the appetites of the flesh. Both Old and New Testaments use the story of Jacob and Esau to illustrate God's calling and election. God chose the younger Jacob to carry on the Abrahamic Covenant, while Esau was providentially excluded from the Messianic line (Malachi 1:2-3; Romans 9:11-14). from GotQuestions.org,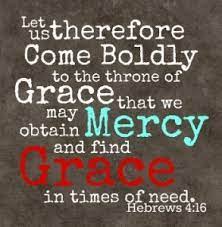 We prefer hiding from one another and hiding from God! But dare to come anyway --"boldly to the throne of grace"--to find help in time of need. Be transparent and as honest as you can--we can't hide from God. It's not a good idea to make excuses when talking to Him.
"God has no favories, but He does have many intimates"--RCS
We do have a wonderful Advocate, a Great High Priest who knows all about weakness, betrayal and suffering, from personal experience.
Who has believed what we have heard?
   And to whom has the arm of the Lord been revealed? 
For he grew up before him like a young plant,
   and like a root out of dry ground;
he had no form or majesty that we should look at him,
   nothing in his appearance that we should desire him. 
He was despised and rejected by others;
   a man of suffering and acquainted with infirmity;
and as one from whom others hide their faces
   he was despised, and we held him of no account. 

Surely he has borne our infirmities
   and carried our diseases;
yet we accounted him stricken,
   struck down by God, and afflicted. 
But he was wounded for our transgressions,
   crushed for our iniquities;
upon him was the punishment that made us whole,
   and by his bruises we are healed. 
All we like sheep have gone astray;
   we have all turned to our own way,
and the Lord has laid on him
   the iniquity of us all. 

He was oppressed, and he was afflicted,
   yet he did not open his mouth;
like a lamb that is led to the slaughter,
   and like a sheep that before its shearers is silent,
   so he did not open his mouth. 
By a perversion of justice he was taken away.
   Who could have imagined his future?
For he was cut off from the land of the living,
   stricken for the transgression of my people. 
They made his grave with the wicked
   and his tomb with the rich,
although he had done no violence,
   and there was no deceit in his mouth. 

Yet it was the will of the Lord to crush him with pain.
When you make his life an offering for sin,
   he shall see his offspring, and shall prolong his days;
through him the will of the Lord shall prosper. 
   Out of his anguish he shall see light;
he shall find satisfaction through his knowledge.
   The righteous one, my servant, shall make many righteous,
   and he shall bear their iniquities. 
Therefore I will allot him a portion with the great,
   and he shall divide the spoil with the strong;
because he poured out himself to death,
   and was numbered with the transgressors;
yet he bore the sin of many,
and made intercession for the transgressors. 
(Isaiah 53)
"Therefore, since we have this ministry, as we have received mercy, we do not lose heart. But we have renounced the hidden things of shame, not walking in craftiness nor handling the word of God deceitfully, but by manifestation of the truth commending ourselves to every man's conscience in the sight of God, whose minds the god of this age has blinded, who do not believe, lest the light of the gospel of the glory of Christ, who is the image of God, should shine on them.  For we do not preach ourselves, but Christ Jesus the Lord, and ourselves your bondservants for Jesus' sake.  For it is the God who commanded light to shine out of darkness, who has shone in our hearts to give the light of the knowledge of the glory of God in the face of Jesus Christ.  But we have this treasure in earthen vessels, that the excellence of the power may be of God and not of us. We are hard-pressed on every side, yet not crushed; we are perplexed, but not in despair; persecuted, but not forsaken; struck down, but not destroyed--For we who live are always delivered to death for Jesus' sake, that the life of Jesus also may be manifested in our mortal flesh.  So then death is working in us, but life in you." (2 Corinthians 4:3-12)

The Crisis of Sanctification
The crisis of sanctification occurs when a Christian
becomes aware of his need for Christ's provision
and appropriates it by faith in His work.

Sanctification is God's will for us (1 Thessalonians 4:3). The word sanctification is related to the word saint; both words have to do with holiness. To "sanctify" something is to set it apart for special use; to "sanctify" a person is to make him holy.

Jesus had a lot to say about sanctification in John 17. In verse 16 the Lord says, "They are not of the world, even as I am not of it," and this is before His request: "Sanctify them by the truth; your word is truth" (verse 17). In Christian theology, sanctification is a state of separation unto God; all believers enter into this state when they are born of God: "You are in Christ Jesus, who became to us wisdom from God, righteousness and sanctification and redemption" (1 Corinthians 1:30, ESV). The sanctification mentioned in this verse is a once-for-ever separation of believers unto God. It is a work God performs, an integral part of our salvation and our connection with Christ (Hebrews 10:10). Theologians sometimes refer to this state of holiness before God as "positional" sanctification; it is related to justification.

While we are positionally holy ("set free from every sin" by the blood of Christ, (Acts 13:39), we know that we still sin (1 John 1:10). That's why the Bible also refers to sanctification as a practical experience of our separation unto God. "Progressive" or "experiential" sanctification, as it is sometimes called, is the effect of obedience to the Word of God in one's life. It is the same as growing in the Lord (2 Peter 3:18) or spiritual maturity. God started the work of making us like Christ, and He is continuing it (Philippians 1:6). This type of sanctification is to be pursued by the believer earnestly (1 Peter 1:15; Hebrews 12:14) and is effected by the application of the Word (John 17:17). Progressive sanctification has in view the setting apart of believers for the purpose for which they are sent into the world: "As you sent me into the world, I have sent them into the world. For them I sanctify myself, that they too may be truly sanctified" (John 17:18–19). That Jesus set Himself apart for God's purpose is both the basis and the condition of our being set apart (see John 10:36). We are sanctified and sent because Jesus was. Our Lord's sanctification is the pattern of and power for our own. The sending and the sanctifying are inseparable. On this account we are called "saints" (hagioi in the Greek), or "sanctified ones." Prior to salvation, our behavior bore witness to our standing in the world in separation from God, but now our behavior should bear witness to our standing before God in separation from the world. Little by little, every day, "those who are being sanctified" (Hebrews 10:14, ESV) are becoming more like Christ.

There is a third sense in which the word sanctification is used in Scripture—a "complete" or "ultimate" sanctification. This is the same as glorification. Paul prays in 1 Thessalonians 5:23, "May the God of peace himself sanctify you completely, and may your whole spirit and soul and body be kept blameless at the coming of our Lord Jesus Christ" (ESV). Paul speaks of Christ as "the hope of glory" (Colossians 1:27) and links the glorious appearing of Christ to our personal glorification: "When Christ, who is your life, appears, then you also will appear with him in glory" (Colossians 3:4). This glorified state will be our ultimate separation from sin, a total sanctification in every regard. "We know that when Christ appears, we shall be like him, for we shall see him as he is" (1 John 3:2).

To summarize, "sanctification" is a translation of the Greek word hagiasmos, meaning "holiness" or "a separation." In the past, God granted us justification, a once-for-all, positional holiness in Christ. In the present, God guides us to maturity, a practical, progressive holiness. In the future, God will give us glorification, a permanent, ultimate holiness. These three phases of sanctification separate the believer from the penalty of sin (justification), the power of sin (maturity), and the presence of sin (glorification).
---From GotAnswers.org


Vision of the Ancient of Days
Ancient of Days (Aramaic: עַתִּיק יֹומִין, ʿatīq yōmīn;)
Ancient Greek: παλαιὸς ἡμερῶν, palaiòs hēmerôn; 
(Latin: antiquus dierum) is a name for God in the Book of Daniel.

 "I watched till thrones were put in place,
And the Ancient of Days was seated;
His garment was white as snow,
And the hair of His head was like pure wool.
His throne was a fiery flame,
Its wheels a burning fire; A fiery stream issued
And came forth from before Him.

A thousand thousands ministered to Him;
Ten thousand times ten thousand stood before Him.
The court was seated,
And the books were opened.

 "I watched then because of the sound of the pompous words which the horn was speaking;
I watched till the beast was slain, and its body destroyed and given to the burning flame.
"As for the rest of the beasts, they had their dominion taken away,
yet their lives were prolonged for a season and a time.

"I was watching in the night visions,
And behold, One like the Son of Man,
Coming with the clouds of heaven!

He came to the Ancient of Days,
And they brought Him near before Him.

 Then to Him was given dominion and glory and a kingdom,
That all peoples, nations, and languages should serve Him.

His dominion is an everlasting dominion,
Which shall not pass away,
And His kingdom the one
Which shall not be destroyed. 
(Daniel 7:9-14)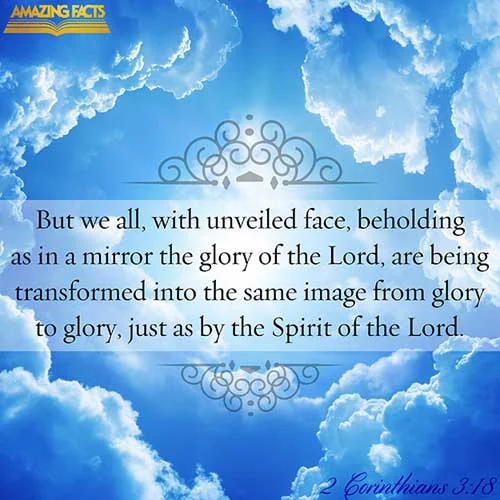 From Ray Stedman: What a remarkable vision! It is very similar. you will notice, to the vision recorded in Revelation 4 and 5, where John looked into heaven and saw a judgment scene with God seated upon a throne, and twenty-four elders on thrones around him. They, too, were passing judgment upon the affairs of earth, just as Daniel sees it here, with great uncounted hosts of angels waiting upon God's word. God is in the midst of his council, and as the council debates the matters of earth, sentence is passed upon this blasphemous horn, the last ruler of the fourth kingdom, this horn which had "eyes like a man, and a mouth speaking great things..."

Then Daniel is shown the One who is chosen to execute the judgment. Who is this "Son of Man"? Who else could it be than the Lord Jesus, the One who is seen also in the opening chapters of Revelation as possessing all power in heaven and on earth and who takes the seven-sealed book from the hands of the One seated upon the throne? He is acknowledged there as the only one in the history of mankind who is worthy to open the book and to unfold the seals. Now here he comes with the clouds of heaven to the Ancient of Days. Perhaps this is the passage the Lord Jesus had in mind when he addressed the chief priests at the time he was brought before them and was charged with blasphemy. He told them that the days would come when they would see "The Son of Man seated at the right hand of Power and coming on the clouds of heaven," (Matthew 26:64, Mark 14:62).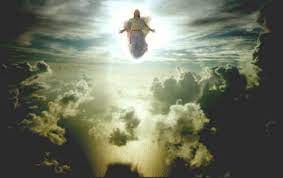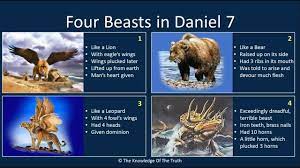 He was referring to this passage in which Daniel had predicted that great event. What can we make of all this? Surely there is hardly any comment needed. It is obvious that God's intent is to allow sinful humanity to run its course until all that is hidden underneath, the evil pretensions of the human heart, are brought out and revealed in the conduct of men toward one another. When history reaches its lowest ebb, when the sin of man breaks forth in its most vulgar and most evil forms, then God intends to intervene once again.

Now this is absolutely sure. We must settle on this. This is not a mere vagary of Scripture; it is the central teaching of the Word of God. We have as authority to teach this, not only the prophets who spoke of old, but also the apostles of the New Testaments and, even more importantly, the direct testimony of Jesus Christ himself. He quotes the book of Daniel and enlarges upon these things. He gives the same picture as Daniel concerning his return. He says, "The Son of Man shall come in his glory with all his angels with him," (Matthew 25:31). Then his throne will be established and all nations shall gather before him. He gives us that same picture in Matthew 24 and 25. In other words, if this is not the outline which history will follow, the mold into which it is poured, then Christianity is a fraud. If events are finally going to take another shape, then we have been following a delusion and we would be much better off if it were done away with. But the basis of our faith is the veracity of these passages.

We believe God intends to fulfill them exactly as described. What does that mean to you as an individual? What does it mean, that God is not going to permit man to work out his problems, ultimately, and find the solutions he desires? Instead he will demonstrate that man has no capacity to do so. Man cannot work these problems out on his own. There is no way that it can be done. It is only as he relates to the God who made him, and who understands him, and welcomes again the intervention of God into his life, that any kind of human problem can be worked out. Is that not the teaching of prophecy? What other conclusion can we draw from this, than that God himself intends to demonstrate it in the course of history?

…All of this should give us confidence in the Word of God. It should make us aware that God is in control of history. It should make us realize that we have to rethink the value of our lives in terms of these events, that we must ask ourselves continually the question, "Where is my influence being put, where is the impact of my life?" Is it all wrapped up with things that shall be blown away with the wind? Or is it involved in that which God intends to establish with men? Am I an instrument of his working, or am I in direct opposition to what God is doing in the world today? All these things are given to us in order that we might evaluate life, ourselves, and the world around us. May God help us, as we face these great revelations, to understand ourselves more thoroughly. Ray Stedman, The World Menagerie.


]\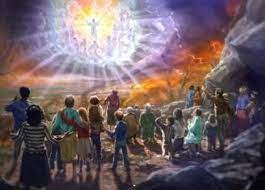 References
Wikipedia on Jacob Wrestling with the Lord

Papers on Holiness and Wholeness
Brief History and Final Destiny of Edom
The Coming Exile of Israel in Edom
Obadiah: The Pride and Fall of Esau

Music
Man of Sorrows
Man of sorrows, Lamb of God
By His own betrayed
The sin of man and wrath of God
Has been on Jesus laid

Silent as He stood accused
Beaten, mocked, and scorned
Bowing to the Father's will
He took a crown of thorns

Oh, that rugged cross, my salvation
Where Your love poured out over me
Now my soul cries out, "Hallelujah"
"Praise and honour unto Thee"

Sent of heaven God's own Son
To purchase and redeem
And reconcile the very ones
Who nailed Him to that tree

Oh, that rugged cross, my salvation
Where Your love poured out over me
Now my soul cries out, "Hallelujah"
"Praise and honour unto Thee"

Now my debt is paid
It is paid in full
By the precious blood
That my Jesus spilled
Now the curse of sin
Has no hold on me
Whom the Son sets free
Oh, is free indeed

Now my debt is paid
It is paid in full
By the precious blood
That my Jesus spilled
Now the curse of sin
Has no hold on me
Whom the Son sets free
Oh, is free indeed

Oh, that rugged cross my salvation
Where Your love poured out over me
Now my soul cries out, "Hallelujah"
"Praise and honour unto Thee"

See the stone is rolled away
Behold the empty tomb
Hallelujah, God be praised
He's risen from the grave

Oh, that rugged cross my salvation
Where Your love poured out over me
Now my soul cries out, "Hallelujah"
"Praise and honour unto Thee"

"Praise and honour unto Thee"
Video by Hillsong



Notes by Lambert Dolphin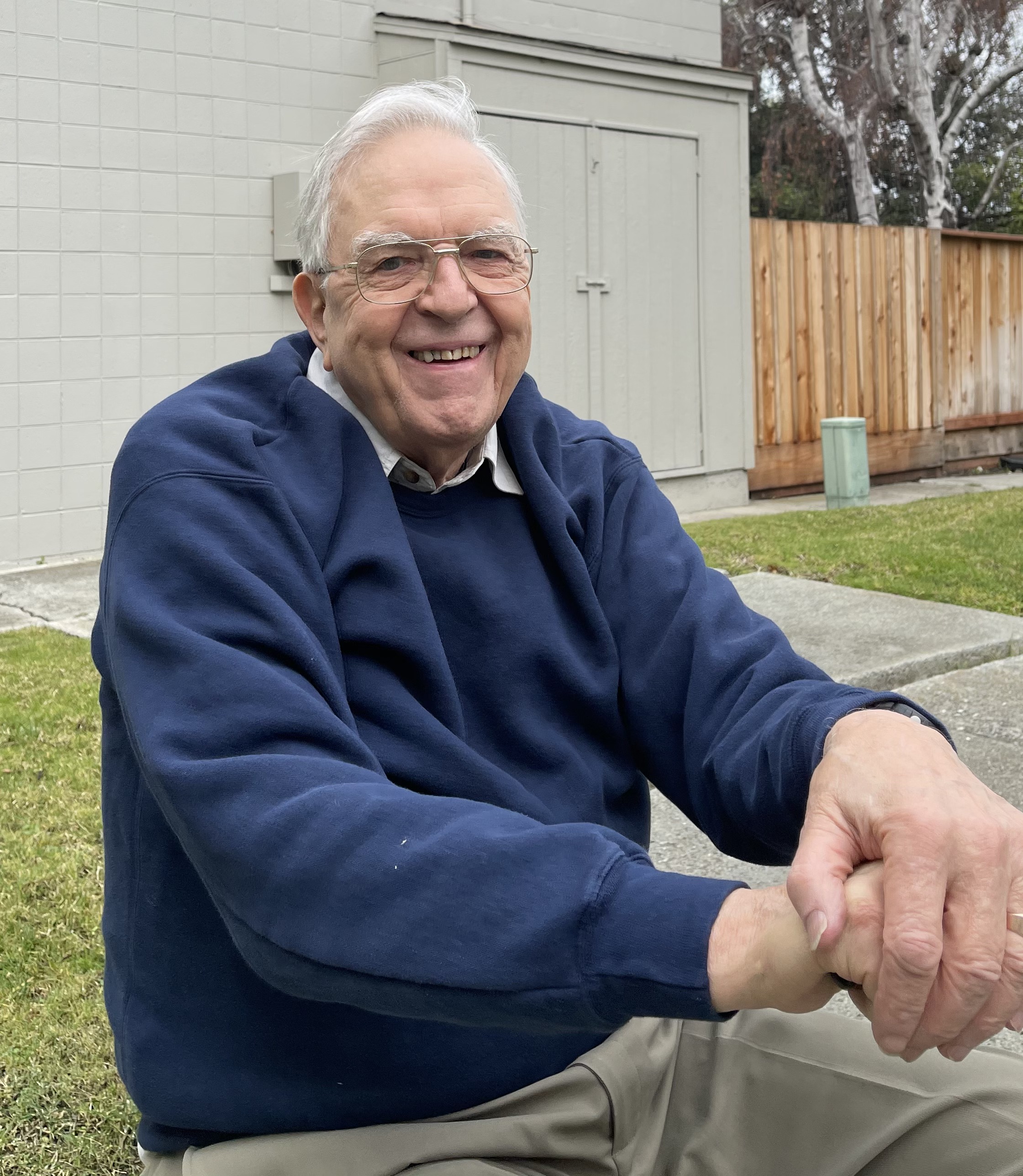 Email 

Lambert Dolphin's Place

Newsletters Old and New

Original Library 

Library Annex (900+ new articles since 2018)  Free.
Recent Articles are at the end of the Annex page.
The site-specific search engine below will often be helpful.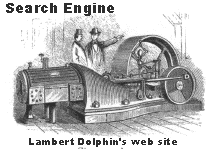 August 19, 2021, January 23, 2023, September 2, 2023.