Forum Class #5 Romans October 5, 2003
But Now...the Very Good News
Faith and our Father Abraham
But now the righteousness of God apart from the law (of Moses) is revealed, (made known) being witnessed by the Law and the Prophets, even (that is,) the righteousness of God, through faith in Jesus Christ, to all and on all who believe. For there is no difference; for all have sinned and fall short (how short?) of the glory of God, being justified freely by His grace through the redemption that is in Christ Jesus, whom God set forth as a propitiation by His blood, through faith, to demonstrate His righteousness, because in His forbearance God had passed over (hence, "Passover") the sins that were previously committed (before Christ came to live among us), to demonstrate at the present time (for the past 2000 years) His righteousness, that He might be just and the justifier of the one who has faith in Jesus. Where is boasting then? It is excluded. By what law? Of works? No, but by the law of faith. Therefore we conclude that a man is justified by faith apart from the deeds of the law. Or is He the God of the Jews only? Is He not also the God of the Gentiles? Yes, of the Gentiles also, since there is one God who will justify the circumcised [the Jews] by faith and the uncircumcised through faith. Do we then make void the law through faith? Certainly not! On the contrary, we establish the law. (Romans 3:21-31)

What then shall we say that Abraham our father (Paul's first witness) has found according to the flesh [i.e., by human standards]? For if Abraham was justified by works, he has something to boast about, but not before God. For what does the Scripture say? 'Abraham believed God, and it was accounted [credited] to him for righteousness. (Genesis 15:6. Abraham was 85 years old) 'Now to him who works, the wages are not counted as grace but as debt. But to him who does not work but believes on Him who justifies the ungodly, his faith is accounted for righteousness, just as David (Paul's second witness) also describes the blessedness of the man to whom God imputes righteousness apart from works: 'Blessed are those whose lawless deeds are forgiven, And whose sins are covered; Blessed is the man to whom the LORD shall not impute sin.' Does this blessedness then come upon the circumcised only, or upon the uncircumcised also? For we say that faith was accounted to Abraham for righteousness. How then was it accounted? While he was circumcised, or uncircumcised? Not while circumcised, but while uncircumcised. (His faith was "counted to him" 14 years earlier. He was circumcised at age 99, a year before Isaac was born). And he received the sign of circumcision, a seal of the righteousness of the faith which he had while still uncircumcised, that he might be the father of all those who believe, though they are uncircumcised, that righteousness might be imputed to them also, and the father of circumcision to those who not only are of the circumcision, but who also walk in the steps of the faith which our father Abraham had while still uncircumcised. (i.e., two groups of people are the children of Abraham) For the promise that he would be the heir of the world was not to Abraham or to his seed through the law, but through the righteousness of faith. For if those who are of the law are heirs, faith is made void and the promise made of no effect, because the law brings about wrath; for where there is no law there is no transgression. Therefore it is of faith that it might be according to grace, so that the promise might be sure to all the seed, not only to those who are of the law, but also to those who are of the faith of Abraham, who is the father of us all (as it is written, 'I have made you a father of many nations') in the presence of Him whom he believed--God, who gives life to the dead and calls those things which do not exist as though they did; who, contrary to hope, in hope believed, so that he became the father of many nations, according to what was spoken, 'So shall your descendants be.' And not being weak in faith, he did not consider his own body, already dead (since he was about a hundred years old), and the deadness of Sarah's womb. He did not waver at the promise of God through unbelief, but was strengthened in faith, giving glory to God, and being fully convinced that what He had promised He was also able to perform. And therefore 'it was accounted to him for righteousness.' Now it was not written for his sake alone that it was imputed to him, but also for us. It shall be imputed to us who believe in Him who raised up Jesus our Lord from the dead, who was delivered up because of our offenses, and was raised because of our justification. (Romans 4:1-25)
Note: The promises to Abraham are fulfilled through one unique descendant of Abraham: "Now to Abraham and his Seed were the promises made. He does not say, 'And to seeds,' as of many, but as of one, 'And to your Seed,' who is Christ." The promises were Apart from the Law: "And this I say, that the law, which was four hundred and thirty years later, cannot annul the covenant that was confirmed before by God in Christ, that it should make the promise of no effect. For if the inheritance is of the law, it is no longer of promise; but God gave it to Abraham by promise. What purpose then does the law serve? It was added because of transgressions, till the Seed should come to whom the promise was made; and it was appointed through angels by the hand of a mediator." (Galatians 3:17-19)
Saving Faith must be like the Faith of Abraham. In whom did Abraham place his trust? The Jews then said to Jesus, "You are not yet fifty years old, and have you seen Abraham?" Jesus said to them, "Truly, truly, I say to you, before Abraham was, I am." So they took up stones to throw at him; but Jesus hid himself, and went out of the temple. (from John 8) (See http://ldolphin.org/israelkey.html). A "true Jew", therefore, is one who has the same faith as Abraham did, namely faith in Jesus.
Translate all the big words into ordinary English! You are invited to sign up and contribute to our Christianese Word Lexicon, http://lexicon.rail.com/phpLexicon/.
Propitiation is mentioned 4 times in the NT, redeem or redemption, 12 times, reconciliation 5 times (all in Paul), but justification is mentioned 204 times: 81 times as an adjective, 92 times as a noun, 31 times and a verb. Faith is mentioned about 80 times in the NT.
Redeem: To buy back by paying a price. To buy out of the market place.
Faith (as the word is used in the Bible) means(1) receiving specific knowledge about God, (2) believing that information in one's heart, and (3) trusting in and acting upon that knowledge. Obviously faith in Allah, Confucius, Buddha or William Shakespeare is misplaced. God knows our motives and will respond to sincere calls for help based on what we do know about Him. Faith grows each time we exercise it.
Impute: To credit to one's account. Our sin is "imputed" to Christ. His righteousness is "imputed" to us when we place our trust in Him.
Righteousness: From Ray Stedman: "Righteousness is an old word that we don't understand very much. I would like to substitute for it the word worth, a worth before God. A sense of acceptance before God is given to you. You can't earn it, you certainly don't deserve it, but it is given. God really accepts you because of the gospel, because of the good news of the work of Jesus Christ on our behalf. Therefore, it is something that you, or I, or anybody else can have, and it is complete, perfect. That is what Paul is going to be talking about throughout the book of Romans -- the gospel of God.
"Paul says is that this righteousness is received by faith. It is not something we can ever earn; it is something we can take anytime we need it, and that is good news. Our worth before God is not something we receive once, by faith, at the beginning of our Christian lives. It is something we remind ourselves of every time we feel depressed, despairing, discouraged, defeated, etc. God has loved us, restored us, and we have perfect standing in his sight. He already accepts us and loves us as much as he possibly can; nothing more can be added to it. That is the righteousness that is revealed in the gospel, by faith, to all who believe, no matter what their background or training may be. We have already seen that this word righteousness is highly misunderstood in our day. Often it is associated with behavior. If people are behaving in a right way, we say that they are behaving righteously. But in the book of Romans righteousness does not directly touch on behavior. It is not what you do; it is what you are! That is even more important, because your behavior stems from what you are. The gift Paul is talking about, the gift from God, is that of a righteous standing.
"But the real meaning underlying this word, as understood by us today, is found in the word worth. People everywhere are looking for a sense of worth. In fact, psychologists tell us that this sense of worth is the most essential element in human activity, and that without it you cannot function as a human being. Therefore, whether we know it or not, or describe it in these terms, we are all looking for a sense of worth. But the gospel announces that it is given to us. What other people work all their lives to achieve is handed to us right at the beginning, when we believe in Jesus Christ. According to the gospel, we cannot earn it, but it is given to us. Now that is the good news, and what a wonderful statement that is. (http://pbc.org/dp/stedman/romans2)
Justify: a legal term. To absolve of all guilt. To pronounce free of guilt and all charges. Contains the word "just."
Amnesty (related to "amnesia" which is forgetfulness). This term NOT used in the Bible. It has to do with a full pardon for someone who is indeed guilty. Justice is not satisfied when amnesty is granted, and God must act justly in every case. He can not overlook sin. Either each one of us pays in pull for all his sins (the penalty of sin is death--separation from God)--or a suitable substitute must be found to pay the penalty on our behalf. When Christ is our substitute the entire list of all charges against us is imputed to Christ's account: "And you, being dead in your trespasses and the uncircumcision of your flesh, God has made alive together with Christ, having forgiven you all trespasses, having wiped out the handwriting of requirements that was against us, which was contrary to us. And He has taken it out of the way, having nailed it to the cross." (Colossians 2:13-14)
Reconcile: To restore a broken relationship. To settle accounts and end hostility and estrangement.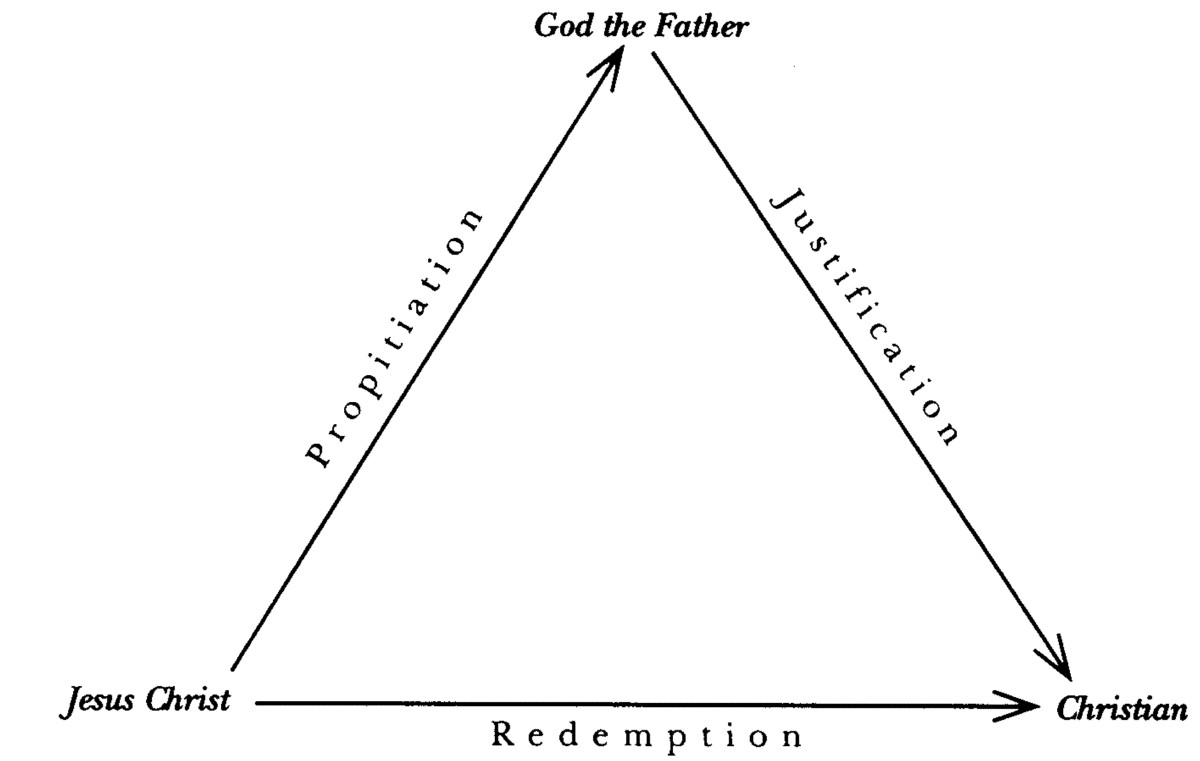 (from Boice)
Propitiation: Connected with the mercy-seat in the Old Testament tabernacle. From Ray C Stedman:
This righteousness from God comes through faith in Jesus Christ to all who believe. There is no difference, for all have sinned and fall short of the glory of God, and are justified freely by his grace through the redemption that came by Christ Jesus. (Rom 3:22-24 NIV)
"There is one way -- expressed here in four different aspects, but only one way -- through faith in Jesus Christ: Notice first how Paul's answer centers immediately on the person of the Savior, not only on his work or his teaching, but on his person. It is by faith in Christ himself that you come into this standing. He is the Savior; it is not what he taught, not even what he gives; but it is he who saves us. Therefore the gift involves a relationship to a living person.
That is why in John's gospel he does not say, "Believe in what Jesus did" but rather, "As many as received him, to them he gave power to become the sons of God," (cf, John 1:12). That means there must come a time when you open your life to Christ, when you ask him to be what he offers to be -- your Lord. Later in this epistle Paul will say, "If you confess with your mouth, 'Jesus is Lord,' and believe in your heart that God raised him from the dead, you will be saved [another term of this gift of righteousness]. For it is with your heart that you believe and are justified, and it is with your mouth that you confess and are saved," (Rom 10:9-10 NIV). Jesus himself said, in the book of Revelation, "Behold, I stand at the door and knock; if anyone hears my voice and opens the door [the door of your will, of your heart] I will come in to him and eat with him, and he with me," (cf, Rev 3:20). There is no other way. No way can be found in all the religions of earth that can bring men into a sense of value and standing in God's sight, and of worth and love before him, except this way by faith in Jesus Christ. Second, Paul stresses the fact here that it is all who believe who are saved; it is not automatically and universally applied. People are teaching today that the death of Christ was so effective that whether people hear about it or not, they are already saved; they do not even need to know about it, for they are saved by the death of Jesus. But Paul is careful to make clear that this is not true. You are saved when you personally believe. Faith, therefore, is the hand that takes this gift that God offers. What good is a gift if you do not take it? Gifts can be offered, but they cannot be used until they are taken. When that occurs, then the gift becomes effective in the life of the one who takes it.
Paul now gives a brief explanation of how and why this redemption works. "How" is found in the opening words of Verse 25, and "why" in the verses that follow:
God presented him as a sacrifice of atonement, through faith in his blood. He did this to demonstrate his justice, because in his forbearance he had left the sins committed beforehand unpunished -- he did it to demonstrate his justice at the present time, so as to be just and the one who justifies the man who has faith in Jesus. (Rom 3:25-26 NIV)
I want you to give very careful attention to these words. This is the heart of the gospel, and the ground of assurance. Many people, even though they become Christians, struggle with assurance. They do not rest upon the fact that these words are true, so they are filled, often, with a struggle of doubts and uncertainty. They have a sneaking suspicion, deep inside, that perhaps, despite all these wonderful words, God is still not quite satisfied; if something should happen to them, they might be lost. I want you to pay very careful attention to Paul's argument here, because this is the answer to that struggle.
First, he says that God has accomplished a propitiatory sacrifice: God presented Jesus as a "sacrifice of atonement" (that is the phrase here) through faith in his blood. His words, "sacrifice of atonement" are really translating a single word in Greek (hilasterion, for you Greek students), which is translated "expiation" in some versions, and "propitiation" in others. I know that those words are theological terms, and may not make much sense to you. But I want you to understand their meaning, because this is the heart of the gospel:
Expiation is that which satisfies justice; Propitiation is that which awakens love.
Both of these terms are involved in the death of Jesus, but expiation does not go quite as far as propitiation. Propitiation carries us clear through to the awakening of God's love toward us. That is why I think "propitiatory sacrifice" is a better translation than the word "expiation."
Let me illustrate the difference: In these days, we often read of industrial accidents. Let us say that someone has been injured in the course of his work, and has been partially paralyzed. The company is at fault, having neglected to provide safety equipment, thus creating the conditions that put this man in danger. So the company is held accountable for the man's injury and subsequent paralysis. Therefore the court awards this man a tremendous sum of money, to be paid by the company. When the money is paid, the company has expiated its wrongdoings; it has satisfied the demands of justice. It no longer has any responsibility toward this man; it has paid its costly debt. That is what expiation means. But that does, not say anything about how the man feels toward the company. He may yet be filled with resentment, bitterness, even hatred. He may spend the rest of his life abhorring the name of that company, even though it has given him all the money he could possibly use. The debt has been expiated, but it has not been propitiated.
What Paul is saying here is that human sin has injured God, just as that man was injured by the negligence of the company. Our sin has hurt and injured God, and justice demands that we be punished for that sin in some way. In the death of Jesus that punishment was accomplished, so that God's justice was satisfied. If you read this as expiation, that is all the cross means. In a way, it means that it paid God off, so that he no longer holds us to blame. But that is not all that Paul is saying here. The word means also that God's love has been awakened toward us, and he reaches out to love us, and grants us the feeling of worth and acceptance and value in his sight. That is what propitiation means, that is what the death of Jesus does. It did satisfy God's justice, but it went further; it awakened his love, and now he is ready to pour out love upon us. Paul shows us why this had to happen, beginning in the middle of Verse 25,
He did this to demonstrate his justice, because in his forbearance he had left the sins committed beforehand unpunished...(Rom 3:25b NIV)
What is he talking about? He is referring to all the centuries when God apparently had done nothing about the wrongdoings of men. We find people questioning this yet today. They say, "Where is the God of justice? How is it that a just God lets these tyrants rise up and murder millions of people? How can he let people live in poverty and squalor and filth? He never seems to do anything about oppressors! Where is the justice of God?" Those questions have been raised for centuries; in fact, we even find them in the Psalms.
We have to face the fact that the last time in history that mankind got a clear idea of God's holy justice was the time of the Flood. In response to the wickedness of men toward other men, God wiped out the whole human race, except for eight people. The Flood was a testimony to God's sense of justice, but there has never been a manifestation of it to that degree since that time. So the question arises in human hearts, "Doesn't God really care? It doesn't matter whether you do wrong or not, God will let you get away with it. God won't do anything to you." David writes, "Why do the wicked flourish, and the righteous suffer? Where is the God of justice?" Now, God has been patiently restraining his hand, in order that the human race may continue to exist, but people do not see that. Therefore the justice of God seems to be compromised by his self-restraint.
But the cross settles that. The cross says that God remains just. All the stored-up punishment amply deserved by the human race, is now poured out without restraint upon the head of Jesus on the cross. God did not spare his Son one iota of the wrath that man deserves. Just because Jesus was his beloved Son, he did not lessen the punishment a single degree. All of it was poured out on him. That explains the cry of abandonment that comes from the cross, "My God, my God, why hast thou forsaken me?" (Matt 27:46, Mark 15:34 KJV). In the Garden of Gethsemane, Jesus faced the possibility of being shut away from all love, all beauty, all truth, all warmth, all acceptance, the possibility of being forever denied all that makes life beautiful. There he faced the eternity of emptiness in the judgment of God, and this is what he experienced on the cross; all of it was poured out on him.
Paul's argument is that he did it to demonstrate his justice at the present time -- so as to be just, and yet be free to extend love to us who deserve only his justice. That is the glory of the good news of the gospel. God' s love has been freed to act toward us, and his justice satisfied, so that it is no longer compromised by the fact that he forgives sinners." (http://pbc.org/dp/stedman/romans2/3507.html)
A free gift is of no value if one does not reach out and take it from the hand of the one who offers it. Are you willing to be forgiven? Someone else has already paid for your sins, the issue is being reconciled to the One was has loved you enough to die in your place:
"For if we are beside ourselves, it is for God; or if we are of sound mind, it is for you. For the love of Christ compels us, because we judge thus: that if One died for all, then all died; and He died for all, that those who live should live no longer for themselves, but for Him who died for them and rose again. Therefore, from now on, we regard no one according to the flesh [by ordinary human standards]. Even though we [apostles] have known Christ according to the flesh, yet now we know Him thus no longer. Therefore, if anyone is in Christ, he is a new creation; old things have passed away; behold, all things have become new. Now all things are of God, who has reconciled us to Himself through Jesus Christ, and has given us the ministry of reconciliation, that is, that God was in Christ reconciling the world to Himself, not imputing their trespasses to them, and has committed to us the word of reconciliation. Now then, we are ambassadors for Christ, as though God were pleading through us: we implore you on Christ's behalf, be reconciled to God. For He made Him who knew no sin to be sin for us, that we might become the righteousness of God in Him." (2 Corinthians 5:14-21) For a good commentary on this passage see http://pbc.org/dp/stedman/2corinthians/3686.html
On Righteousness
Look into your own heart and see whether you are trusting, even in a small fraction, in something that you are doing for yourself or that you are doing for God, instead of finding in your heart that you have ceased from your works as God did from his and that you are resting on the work that was accomplished on the cross of Calvary. This is the secret of reality: Righteousness apart from law. Righteousness apart from human doing. Christianity is the faith that believes God's Word about the work that is fully done, completely done.
Righteousness without law. Righteousness apart from human character. Righteousness without even a consideration of the nature of the being that is made righteous. Righteousness that comes from God upon an ungodly man. Righteousness that will save a thief on the cross. Righteousness that is prepared for you. Righteousness that you must choose by abandoning any hope of salvation from anything that is in yourself. And underline this--it is the only righteousness that can produce practical righteousness in you. (Donald Gray Barnhouse)
Highly Recommended: James Montgomery Boice, Romans: An Expositional Commentary, 4 volumes, Baker Books, Grand Rapids, 2000. Available from PBC Bookroom ($18.50 per volume plus shipping)

October 1, 2003
---
Romans Thus Far
The purpose of this letter by Paul to the early church in Rome is to explain clearly the good news (gospel) which Jesus first announced. This message is for all mankind, Jew and Gentile alike.


Although the Apostle has good news to bring to us, he must first show us how desperately we need to see the human condition.


God is holy and just. By nature He actively opposes all evil in the world. His wrath (divine displeasure) is constantly directed against all sin and evil in the world. God's wrath is also stored up for a great coming day of judgment.


An analysis of all classes of peop le on earth shows that all are guilty sinners before God. Though sin takes many forms, no one escapes God's indictment. Every person will be judged according to his deeds, and according to the light he has received from God. Only those who are truly righteous in lifestyle will pass the test. As we have seen, true righteousness comes only by faith in Jesus.


Man--when he is in a right relationship with God--is full of thanksgiving, appreciation, wonder, reverence and awe (true worship). We were created for fellowship and partnership with God. Living for any other reason is purposeless. We are guests in God's house, His universe. See, What is Worship, by Ray Stedman, http://ldolphin.org/worship.html.


Every human being is without excuse before God since everyone has been given sufficient knowledge about God: in nature, by means of "natural law," in the inner man, conscience. No one can say, "I was never told."


Men tend to constantly repress the truth they do know about God. God's response is to allow the hidden evil in heart to come out into the open.


Many who are not openly immoral and ungodly are self-righteous, or hypocritical, or their sin is in their hearts. Sitting in judgment on others is playing God. Hypocrisy and misrepresenting God by how we live are very serious sins. All of us fail to live the kind of self-giving life style modeled by Christ. Jesus is God's standard, the righteousness of God.


Everyone is religious, but religions are not about the real God, but about a god, a substitute deity of our own making. If we are unsuccessful in denying the existence of God altogether (atheism), we invent a replacement who best suits us.


When God is rejected on a large scale, a society collapses and falls apart morally and socially. Human progress is an illusion. History does not show human beings getting better, wars ending, and man's inhumanity to man decreasing.


The human condition is far more desperate than we suppose: no one is looking for the real God, no one's behavior is up to God's standards, we are full of violence and evil, we all move easily into countless forms of idolatry. We are ungrateful and insulting towards a God who wishes us good. We ignore His kindness (which is meant to lead us to turn to God and repent). All men everywhere enjoy "common grace" (Providence) every day of their lives.


Because God is holy and just He must punish sin. He will in fact deal with every sinner individually and according to our actual deeds. The penalty for sin is death (separation from God). God can not overlook sin, and He can not grant amnesty to sinners.


God the Father and God the Son, working together, have provided a means by which guilty sinners can be forgiven and set free. Jesus, a fully qualified and sinless man, agreed to die in the place of every one of us lost sinners and thereby fully satisfy the demands of justice. This full provision for all sin is in place, but is of no use to us unless we accept the free gift of forgiveness God offers us through Christ.


God is free to forgive sinners of all their sins (since their sins have been paid for by Another). God is also free to credit every sinner who comes to Him by faith--with the moral goodness (righteousness) of Christ Himself. This happens when a person places His trust in Jesus Christ as Lord and begins to act upon what God has promised. God's gift is not effective unless we actually receive it and act upon it.


God has always saved people by faith, apart from works. God has always saved people apart form the Law. Abraham and David are brought forward as examples of men who were saved by faith alone apart from works. There is no other way to come to God since our sin must be dealt with before we can enjoy a relationship with our Creator. Critics call this narrow-minded and bigoted but God's offer to mankind in the gospel is the widest possible and totally fair to everyone. The ground is level at the foot of the cross.


Our Western culture is performance oriented, therefore many people expect to be accepted by God on the basis of good deeds numbering more than bad deeds. God is also expected to overlook sin. Moral relativism prevails also in our Post Modern era.


Romans uses some technical and obscure words which we very much need to understand since the heart of God's message to man is found in Romans.
---
Romans Class Notes: Index | 1 | 2 | 3 | 4 | 5 | 6 | 7 | 8 | 9 | 10 | 11 | 12 | 13 | 14 | 15 | 16 | 17 | 18

MP3 files will be on Lambert's web site, http://ldolphin.org/audio.html

Lambert Dolphin | http://ldolphin.org | lambert@ldolphin.org | 10/1/03