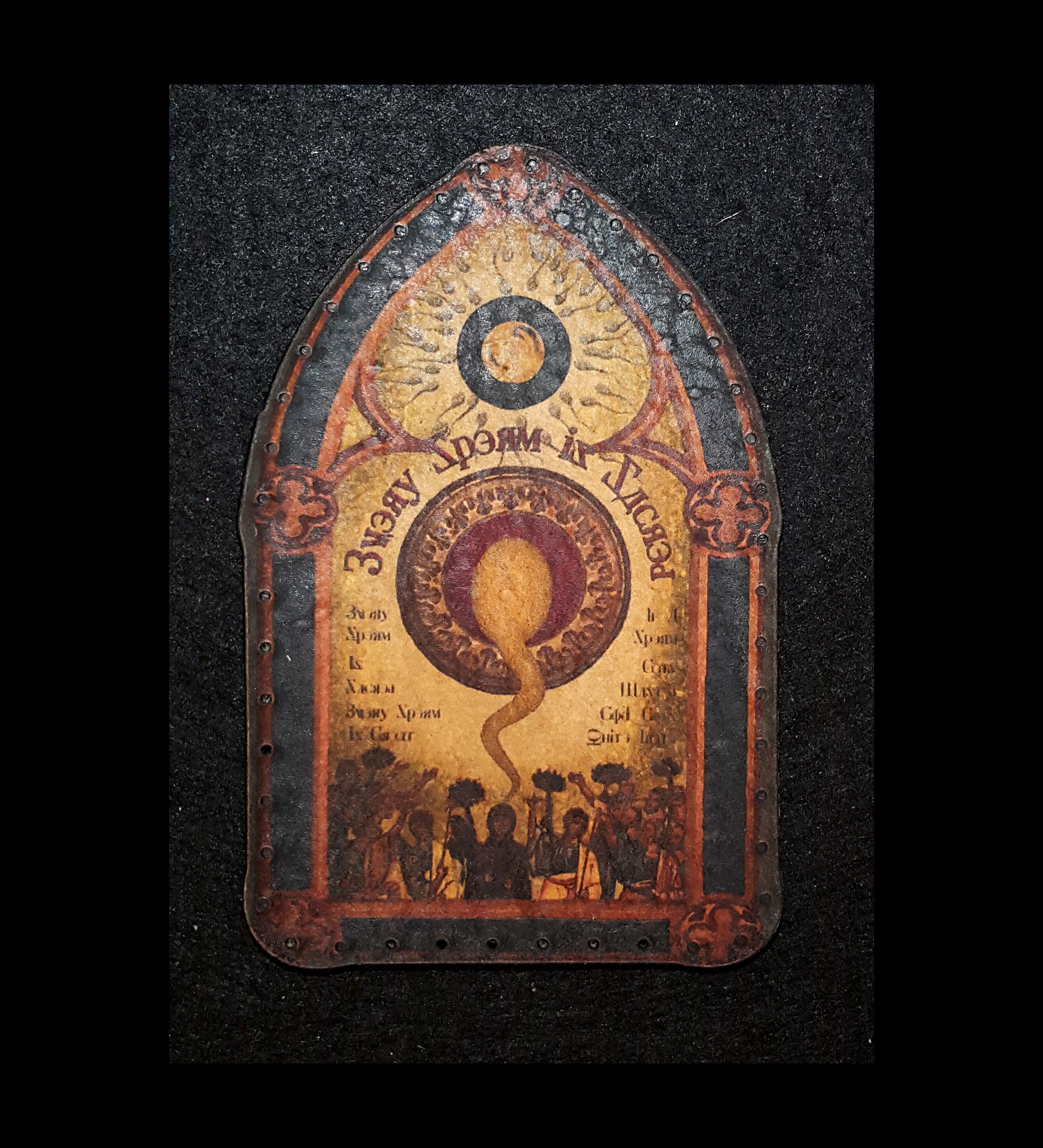 The Sperm of God
Jesus was probably born in the Fall of the year 3 or 5 BC, at the time of the Jewish feast of Tabernacles. An Advent in December is a matter of tradition in Europe and the Northern hemisphere. What is important is that God became a man and lived among his fellow Jews, in Israel for ~ 33-35 years before He was killed. See: Legends Surrounding Christmas.

There is great mystery surrounding the conception and birth of Jesus. Isaiah had predicted this birth 700 years earlier. The Hebrew of Isaiah 7:14 uses the word almah, "young woman" allowing Isaiah's wife to bear a son by natural conception and birth. The Greek LXX changed the word to parthenos, which is clearly a virgin.
Isaiah 7:14:
Therefore the Lord himself shall give you a sign; Behold, a young woman (Hebrew: almah) shall conceive, and bear a son, and shall call his name Immanuel. (Isaiah 7:14)

Now the birth of Jesus the Messiah took place in this way. When his mother Mary had been engaged to Joseph, but before they lived together, she was found to be with child from the Holy Spirit. Her husband Joseph, being a righteous man and unwilling to expose her to public disgrace, planned to dismiss her quietly. But just when he had resolved to do this, an angel of the Lord appeared to him in a dream and said, 'Joseph, son of David, do not be afraid to take Mary as your wife, for the child conceived in her is from the Holy Spirit. She will bear a son, and you are to name him Jesus, for he will save his people from their sins.' All this took place to fulfil what had been spoken by the Lord through the prophet: 



'Look, the virgin (parthenos) shall conceive and bear a son,
   and they shall name him Emmanuel',
The necessity of a virgin-born Savior is key. The Fall of Man in the Garden was all the way down. See The Ruin of Creation. We age, grow old and die--all of us--because we inherited the genome of Adam/Eve!The mortality rate of our race is still 100% and its in our genes. Biologists will assure you that cells in your body die every day in great numbers and must be constantly replaced. Your immune system bravely wards of a zillion infections daily. This entire body of knowledge about aging, dying, physical death is vast! Until we first meet Jesus, we are all dead spiritually!

For we ourselves were once foolish, disobedient, led astray, slaves to various passions and pleasures, passing our days in malice and envy, despicable, hating one another. But when the goodness and loving-kindness of God our Saviour appeared, he saved us, not because of any works of righteousness that we had done, but according to his mercy, through the washing of regeneration (palingenesia) and renewal (anakainosis) by the Holy Spirit. This Spirit he poured out on us richly through Jesus Christ our Saviour, so that, having been justified by his grace, we might become heirs according to the hope of eternal life." (Titus 3:3-7)





Born of a Woman
In the fullness of time … take three
During this Advent season, I've been inviting you to reflect with me on Galatians 4:4-5: But when the fullness of time had come, God sent forth his Son, born of woman, born under the law, to redeem those who were under the law, so that we might receive adoption as sons. Last week we considered some implications of the passage's second phrase, God sent forth His son. We now continue by considering the phrases, born of a woman, born under the law.
Born of a woman: What does this tell us about Jesus' status?
Paul's observation that Jesus was born of a woman does not likely signify anything regarding the "miracle" of the immaculate conception. The terminology here is identical to Jesus' description of John the Baptist as "among them that are born of women" (Mt. 11:11, italics mine). What this phrase does connote, however, is that Jesus' status is one of astonishing humility and genuine humanity.
The humiliation of Christ is not exclusive to His submission to a shameful death on the cross. No, Christ's humility is revealed every bit as much by the circumstances of His birth as by those of His death. What a marvel. The one who created women confines Himself to the womb of a woman! The Omnipotent One empties Himself of personal agency. The infinitely Self-sufficient One becomes utterly dependent.
It is unlikely I need to remind you that Son of Man was Jesus' preferred self-appellation. Just as the phrase Son of God signifies that Jesus is not only the epitome of divinity but also partakes of its very essence, so the designation Son of Man signifies that Jesus is not only the epitome of humanity but also partakes of its very essence. Dare we forget that humanity is the condition in which the risen Savior remains forever? He is now and evermore our brother, our high priest, pioneer and perfecter of the life of faith in which we run with endurance the race set before us (Hebrews 12:1-2).
Born under the law: What does this tell us about Jesus' subjection?
Not only, however, does Paul tell us that Christ is born of a woman, but also that He is born under the law. Jesus our brother was not exempted from the rules to which all humans are subject in pleasing their Creator. Nor was He exempt from the curse (c.f., Galatians 3:13) to which every lawbreaker is subject: the death penalty. On the basis of His substitutionary submission to suffer in the most gruesome way on the cross the law's death penalty, He exempts His redeemed ones from carrying out that sentence. On the basis of His infinitely perfect obedience to the law, He may now impart a record of perfect obedience to His redeemed ones. Justification means not only that we who believe in Him are "just as if we had never sinned," but also "just as righteous as Christ."

The Seed of the Woman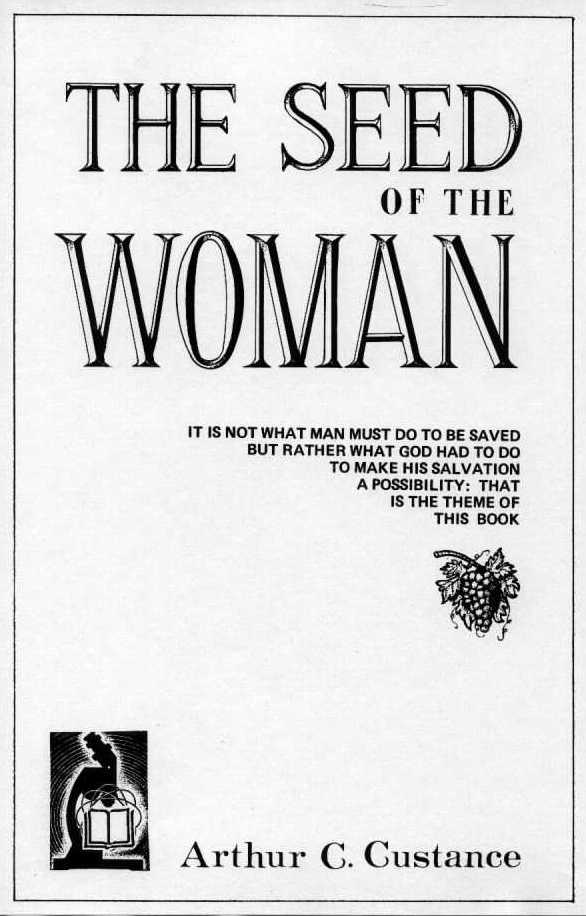 In human beings, half of one's genome comes from one's mother and half from one's father. (Gender is determined by a specific gene carried by the male sperm). The genome Jesus had was surely representative of both his mother Mary but in some sense, the humanity of Jesus as recorded in Matthew (The Genealogy of Jesus)--back to Adam. Jesus is the Second Adam!
Joseph was not the biological father of Jesus, though he married Mary after Jesus was born and they raised half a dozen brothers and sisters. Half a century ago a Canadian scholar, Arthur Custance wrote a whole book on the virgin birth. Genesis Chapter 3 is key here. It's been said that if this chapter were missing from the Bible we could never understand the human condition. This Chapter is about consequences:
They heard the sound of the Lord God walking in the garden at the time of the evening breeze, and the man and his wife hid themselves from the presence of the Lord God among the trees of the garden. But the Lord God called to the man, and said to him, 'Where are you?' He said, 'I heard the sound of you in the garden, and I was afraid, because I was naked; and I hid myself.' He said, 'Who told you that you were naked? Have you eaten from the tree of which I commanded you not to eat?' The man said, 'The woman whom you gave to be with me, she gave me fruit from the tree, and I ate.' Then the Lord God said to the woman, 'What is this that you have done?' The woman said, 'The serpent tricked me, and I ate.' The Lord God said to the serpent,

'Because you have done this,
   cursed are you among all animals
   and among all wild creatures;
upon your belly you shall go,
   and dust you shall eat
   all the days of your life. 


15: I will put enmity between you and the woman,
   and between your seed and hers;
he will strike your head,
   and you will strike his heel.' 

To the woman he said,
'I will greatly increase your pangs in childbearing;
   in pain you shall bring forth children,
yet your desire shall be for your husband,
   and he shall rule over you.' 
And to the man he said,
'Because you have listened to the voice of your wife,
   and have eaten of the tree
about which I commanded you,
   "You shall not eat of it",
cursed is the ground because of you;
   in toil you shall eat of it all the days of your life; 
thorns and thistles it shall bring forth for you;
   and you shall eat the plants of the field. 
 By the sweat of your face
   you shall eat bread
until you return to the ground,
   for out of it you were taken;
you are dust,
   and to dust you shall return.'
The man named his wife Eve, because she was the mother of all who live. And the Lord God made garments of skins for the man and for his wife, and clothed them.
Then the Lord God said, 'See, the man has become like one of us, knowing good and evil; and now, he might reach out his hand and take also from the tree of life, and eat, and live for ever'— therefore the Lord God sent him forth from the garden of Eden, to till the ground from which he was taken. He drove out the man; and at the east of the garden of Eden he placed the cherubim, and a sword flaming and turning to guard the way to the tree of life."
The seed of the serpent points to a coming antichrist, the seed of the woman, to Jesus:
Genesis 3:15: I will put enmity between you and the woman,
   and between your seed (zera) and her seed;
he will strike your head,
   and you will strike his heel.' 
The thesis of Arthur Custance is that "original sin" is transmitted through the male sperm, not the female ovum. Eve sinned first, then Adam. But the blame was placed on Adam as the federal head of the human race. To attribute seed (zera=sperma) to Eve seems a bit strange to us today.
"For Adam was formed first, then Eve; and Adam was not deceived, but the woman was deceived and became a transgressor. (1 Timothy 3:13,14) Adam's sin was deliberate, willful disobedience to the revealed will of God. Male headship is in view here. Men and women are equally sinful, equally in need of a Redeemer.
Before the Incarnation: THE Angel of the Lord
The Birth of Jesus Foretold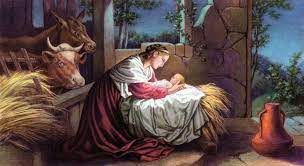 In the sixth month the angel Gabriel was sent by God to a town in Galilee called Nazareth, to a virgin engaged to a man whose name was Joseph, of the house of David. The virgin's name was Mary. And he came to her and said, 'Greetings, favoured one! The Lord is with you.' But she was much perplexed by his words and pondered what sort of greeting this might be. The angel said to her, 'Do not be afraid, Mary, for you have found favour with God. And now, you will conceive in your womb and bear a son, and you will name him Jesus. He will be great, and will be called the Son of the Most High, and the Lord God will give to him the throne of his ancestor David. He will reign over the house of Jacob for ever, and of his kingdom there will be no end.' Mary said to the angel, 'How can this be, since I am a virgin?' The angel said to her, 'The Holy Spirit will come upon you, and the power of the Most High will overshadow you; therefore the child to be born will be holy; he will be called Son of God. And now, your relative Elizabeth in her old age has also conceived a son; and this is the sixth month for her who was said to be barren. For nothing will be impossible with God.' Then Mary said, 'Here am I, the servant of the Lord; let it be with me according to your word.' Then the angel departed from her. (Luke 1:26-38)
The Genealogy of Jesus the Messiah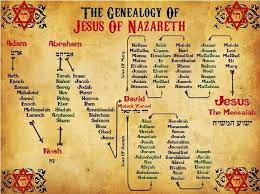 An account of the genealogy of Jesus the Messiah, the son of David, the son of Abraham.
Abraham was the father of Isaac, and Isaac the father of Jacob, and Jacob the father of Judah and his brothers, and Judah the father of Perez and Zerah by Tamar, and Perez the father of Hezron, and Hezron the father of Aram, and Aram the father of Aminadab, and Aminadab the father of Nahshon, and Nahshon the father of Salmon, and Salmon the father of Boaz by Rahab, and Boaz the father of Obed by Ruth, and Obed the father of Jesse, and Jesse the father of King David.
And David was the father of Solomon by the wife of Uriah, and Solomon the father of Rehoboam, and Rehoboam the father of Abijah, and Abijah the father of Asaph, and Asaph the father of Jehoshaphat, and Jehoshaphat the father of Joram, and Joram the father of Uzziah, and Uzziah the father of Jotham, and Jotham the father of Ahaz, and Ahaz the father of Hezekiah, and Hezekiah the father of Manasseh, and Manasseh the father of Amos, and Amos the father of Josiah, and Josiah the father of Jechoniah and his brothers, at the time of the deportation to Babylon.
And after the deportation to Babylon: Jechoniah was the father of Salathiel, and Salathiel the father of Zerubbabel, and Zerubbabel the father of Abiud, and Abiud the father of Eliakim, and Eliakim the father of Azor, and Azor the father of Zadok, and Zadok the father of Achim, and Achim the father of Eliud, and Eliud the father of Eleazar, and Eleazar the father of Matthan, and Matthan the father of Jacob, and Jacob the father of Joseph the husband of Mary, of whom Jesus was born, who is called the Messiah.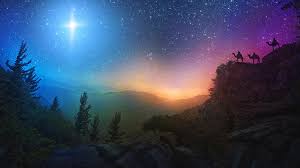 So all the generations from Abraham to David are fourteen generations; and from David to the deportation to Babylon, fourteen generations; and from the deportation to Babylon to the Messiah, fourteen generations. 

Now the birth of Jesus the Messiah took place in this way. When his mother Mary had been engaged to Joseph, but before they lived together, she was found to be with child from the Holy Spirit. Her husband Joseph, being a righteous man and unwilling to expose her to public disgrace, planned to dismiss her quietly. But just when he had resolved to do this, an angel of the Lord appeared to him in a dream and said, 'Joseph, son of David, do not be afraid to take Mary as your wife, for the child conceived in her is from the Holy Spirit. She will bear a son, and you are to name him Jesus, for he will save his people from their sins.' All this took place to fulfil what had been spoken by the Lord through the prophet: 

'Look, the virgin shall conceive and bear a son,
   and they shall name him Emmanuel','"

which means, 'God is with us.' When Joseph awoke from sleep, he did as the angel of the Lord commanded him; he took her as his wife, but had no marital relations with her until she had borne a son; and he named him Jesus. (Matthew 1)


A wonderful blog article by Jennifer Armborgo:

Blood. Vernix. A beautiful newborn child cradled in my arms.

Several days ago, I dreamed that I was giving birth. The baby was coming at a breathtaking rate. No sooner had I boarded the motocar (local taxi) to head to the hospital, she was bursting forth. I received her into my own hands as she emerged, covered in the elements of the womb. I marveled as I embraced her that I had experienced no pain or discomfort, or even had to push.

I knew as soon as I remembered this vivid dream that through it, the Lord was initiating vital communication with me. But what did He have in mind when He breathed such an arresting picture into my spirit as I slept? What exactly had He hidden within His own allegory for me to search out and understand?

Have you ever had a dream about birthing and wondered about it too? Could God really be portraying a message from His heart through a picture of human reproduction? I am convinced that He actually delights in this kind of secret language. So, an invitation. I would love to explore together the rich depths of biblical symbolism pertaining to this topic – would you join me?

In reflecting on the imagery of my dreams, I keep a key principle in mind. Everything in God's physical creation points to a reality in the heavenly realm that existed long before He spoke the Earth into being. Everything that came into existence between verses 1 and 31 of the first chapter of the Bible is a shadow of an eternal spiritual reality.

A striking example of this principle is found in God's Old Testament desert dwelling. Hebrews 9 explains that the Jewish tabernacle was a copy of the real sanctuary that exists in Heaven (see vv. 23-24). God warned Moses to be painstakingly meticulous in following the blueprint He gave him for its design. This is why: His glorious earthly habitation was to be a precise replica of His original, heavenly sanctuary (Heb. 8:5). In this way, His children would begin to have a taste and glimpse of the transcendent, otherworldly reality of His eternal home. To the Father, this was crucially important. His house was to be on Earth as it is in Heaven.

The natural sanctuary represented the spiritual sanctuary. In the same way, everything that we can perceive physically here exists in parallel to something bigger, greater, more powerful, and more exquisite in the celestial realm. (I am referring to everything that God called "good" and "very good" when He brought forth Creation. This does not include the tragic aberrations afterwards caused by the fall and the devil.)

This truth extends into every component of God-breathed life on this planet. In its original creation design, Earth mirrors Heaven. As a result, oftentimes we can learn something about the heavenly places by keen observation of the material world around us. We use our five senses to absorb what it around us, leaning in to listen to the Holy Spirit and to search His Word. We ask Him, "What does this -- that my hands are touching, that my eyes are seeing, that my ears are hearing -- teach me about Your Kingdom?"

Of course, Jesus was aware of this principle of parallel realities during His earthly life. He explained to the multitudes that the Kingdom of Heaven is like a sower who scatters his seed… like a pearl of great price… like yeast working its way through some dough... Each and every one of His parables seized on an aspect of earthly life to open up for His listeners a corresponding facet of heavenly truth.

This Jesus is the same yesterday, today, and forever. Today just like two thousand years ago, Earth mirrors Heaven in many, many ways. If you gaze intently and quiet yourself to hear, the simplest things around you have precious and profound gems of wisdom hidden within them. If you seek them out with Him, you will find them. (I get teased for finding a Bible verse or a sermon illustration in everything that happens around me, but it really is true! He is intimately present in His creation, if we have eyes to see and ears to hear.)

Now I return to unpacking my dream. Pregnancy and childbirth are one of the most spectacular arenas where the principle of parallel realities comes into play. Did you know that the Bible talks about the elements of gestation in a spiritual sense? I recently came across this verse in my personal studies:
"No one born (begotten) of God [deliberately, knowingly, and habitually] practices sin, for God's nature abides in him [His principle of life, the divine sperm, remains permanently within him]; and he cannot practice sinning because he is born (begotten) of God" (1 John 3:9, AMPC, bold emphasis mine).
Other Bible versions use the term "seed" instead of "sperm" in this verse. That probably sounds a little less edgy, more polite. However, the actual Greek word in the Apostle John's original writing is transliterated sperma. This word, sperma, is translated "seed" in other New Testament passages, referring to what a farmer sows in the ground. In still others, sperma is rendered "descendants" or "offspring." However, in this verse, the wording "divine sperm" is clearly an accurate translation of the concept John was bringing to us when he penned the word sperma.

We can see this by the context: being born of God. Sperm and birthing are closely related ideas. Just as I was engendered by my physical father's seed, so I was born a second time, in spirit, by my heavenly Father's seed. Just as my dad's DNA is reflected in every cell of my body, so God's sperma remains in the makeup of my spirit and defines who I am. Here is another Scripture that utilizes the same illustration: "You have been regenerated (born again), not from a mortal origin (seed, sperm), but from one that is immortal by the ever living and lasting Word of God" (1 Pet. 1:23, AMPC, bold emphasis mine).

Spiritual birthing is an intriguing subject. As a result of the dream I told you about, I've been ruminating on it. I had a sense that the Holy Spirit was prompting me to write up some thoughts about it for you. It began to stir inside me when I ran across this "divine sperm" phrase in my reading. I prepared to obey. And then something happened that made me smile big.

As I was sitting with my laptop perched on my legs getting ready to type up this post, my daughter Ester came into my room. She lay down next to me and let me in on a musing that had "randomly" popped into her mind. "Mom, how is it possible that something so tiny as an egg and a sperm, can produce a baby?" Haha! I delight in how the Lord so often reinforces His direction for me through comments from my thirteen-year-old girl. She had no idea what I was about to start composing. I had not shared any of my contemplation of the topic with her. I knew immediately that His Spirit had provoked that pondering in her mind to encourage me in my writing.  Instead of responding to her query, I beamed at her and said, "Thank you for the confirmation, honey!"

Her question is exactly what Holy Spirit is inviting us to consider from a heavenly perspective: How can God produce brand new life inside of us from something so "tiny" as a spiritual egg and sperm? I will elaborate in my next post. Good things to come -- stay tuned! Saturday, March 11, 2017

A prayer for today:

Lord, is there something You want to show me today hidden in the world around me? I don't want to miss it for the hustle and bustle of life. Teach me to be still and know that You are God. Empower me to quiet myself in Your presence and lean into You. Train me in Your holy calm. Lead me beside Your tranquil, living waters. As I am attentive with my five senses, speak to my heart and reveal Your heavenly realities to me. Daddy, I long for more of You!

 I like how Lou Giglio puts it. "I'm really small." I don't mean this in a self-deprecating way. I actually treasure the gift of being me. I just know that all the riches of my existence are Jesus in me! I really, really, really love Him. All I really want is more of Him. However, for those of you that would like to read a bio:
Jennifer Arimborgo has been a missionary to the Amazon Jungle since 1997, where she serves with her husband, Israel. In 2001, she graduated from Fuller Seminary with a Masters in Intercultural Studies and moved to Peru permanently. She is exceedingly blessed with four amazing children. A pastor on staff at La Iglesia Librein the city of Iquitos, she loves preaching, discipling, and training future church planters at our ASIEL Pastors' School. Among her main passions are deep level healing prayer, dream interpretation, prophetic teaching, and the ministry of intercession. She wrote a book, Amazon Missionary Moments: Memoir of a Poured Out Life, about her experiences on the mission field. Her favorite thing of all is to sit at the feet of Jesus. You can follow her here and on her other blog, What Do You See?

Unanswered Questions
Mary was a virgin behaviorally but still a sinner genetically though she was of the seed of David through both parents. The Catholic error is monstrous! One male orgasm has about 300 million sperm, each only 50 micrometers in size. Only one is admitted by the fertile ovum when conception occurs.
The behavior of the patriarchs mattered as we see in the lapses of Judah, Er and Onan.
Did Jesus carry a genome equally from two parents. He was not a biological freak. My genome has two equal halves: one from my father, one from my mother.
Jesus was a sinless man so a blood test (had it been done) would show Jesus had an unbroken, undamaged genome. Had he not been murdered he would have lived forever?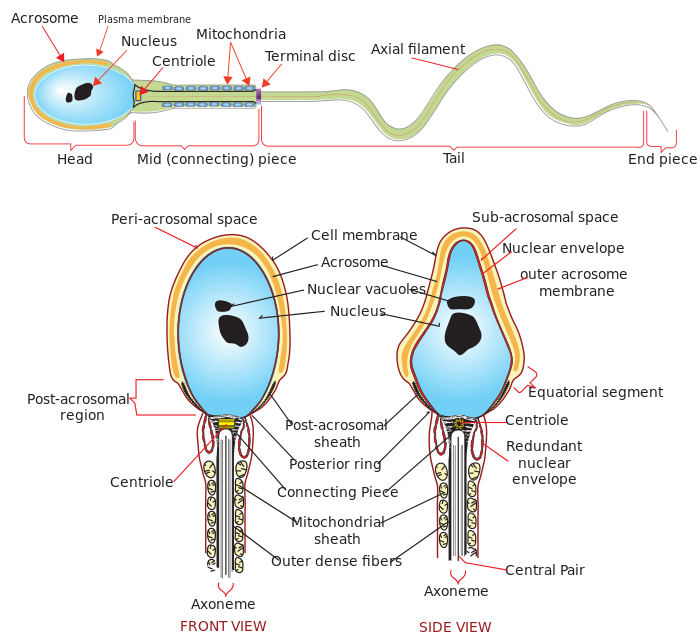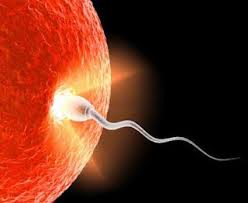 Recently discovered: A flash of light at conception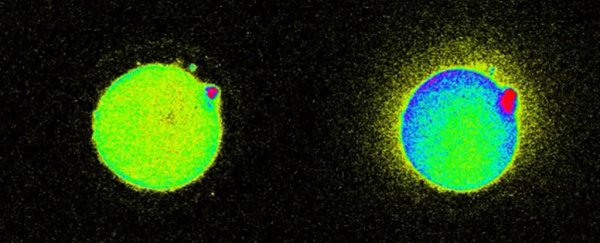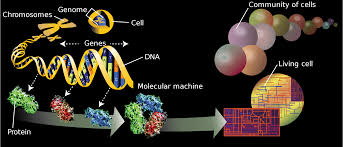 The Complexity of the Genetic Code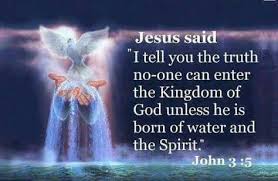 Now there was a Pharisee named Nicodemus, a leader of the Jews. 
He came to Jesus by night and said to him,
'Rabbi, we know that you are a teacher who has come from God; |
for no one can do these signs that you do apart from the presence of God.' 

Jesus answered him, 'Very truly, I tell you, no one can see the kingdom of God without being born from above.'

Nicodemus said to him, 'How can anyone be born after having grown old?
Can one enter a second time into the mother's womb and be born?' 

Jesus answered, 'Very truly, I tell you, no one can enter the kingdom of God without being born of water and Spirit. 

What is born of the flesh is flesh, and what is born of the Spirit is spirit. 

Do not be astonished that I said to you, "You must be born from above." 

The wind blows where it chooses, and you hear the sound of it, but you do not know where it comes from or where it goes.
So it is with everyone who is born of the Spirit.'Nicodemus said to him, 'How can these things be?' 

Jesus answered him, 'Are you a teacher of Israel, and yet you do not understand these things?
'Very truly, I tell you, we speak of what we know and testify to what we have seen;
yet you do not receive our testimony. 
If I have told you about earthly things and you do not believe,
how can you believe if I tell you about heavenly things? 

No one has ascended into heaven except the one who descended from heaven, the Son of Man. 
And just as Moses lifted up the serpent in the wilderness,
so must the Son of Man be lifted up, that whoever believes in him may have eternal life.
'For God so loved the world that he gave his only Son,
so that everyone who believes in him may not perish but may have eternal life.
'Indeed, God did not send the Son into the world to condemn the world,
but in order that the world might be saved through him. 
Those who believe in him are not condemned;
but those who do not believe are condemned already,
because they have not believed in the name of the only Son of God. 

And this is the judgement, that the light has come into the world,
and people loved darkness rather than light because their deeds were evil. 
For all who do evil hate the light and do not come to the light,
so that their deeds may not be exposed. 
But those who do what is true come to the light,
so that it may be clearly seen that their deeds have been done in God...' 
The one who comes from above is above all;
the one who is of the earth belongs to the earth and speaks about earthly things.
The one who comes from heaven is above all. 
He testifies to what he has seen and heard, yet no one accepts his testimony. 

Whoever has accepted his testimony has certified this, that God is true. 
He whom God has sent speaks the words of God,
for he gives the Spirit without measure. 
The Father loves the Son and has placed all things in his hands. 
Whoever believes in the Son has eternal life;
whoever disobeys the Son will not see life,
but must endure God's wrath/. (John 3)

Does God have a Mother?
Sorry Catholics, Mary Has No Role in Salvation, and Believing Otherwise is Spiritual Suicide
JEFF
December 5, 2023.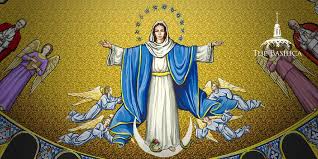 Throughout the entirety of Christian history, few figures have been as venerated and as controversial as Mary, the mother of Jesus. Her ascension to a position of near-divine stature within Roman Catholicism is a story steeped in centuries of tradition, theological evolution, and a departure from the biblical narrative.
This idolatry of Mary has reached a crescendo in modern times, with movements within the Catholic Church pushing for her recognition as "co-redemptrix," a notion that would place her in an unprecedented role in the salvation narrative. However, a rigorous examination of Scripture presents a starkly different view, one th]
The rise of Marian doctrines in Catholicism can be traced back to early church history, where the veneration of Mary began as a mere acknowledgment of her blessedness as the mother of Jesus. Over time, this evolved into a more pronounced adoration, culminating in doctrines such as the Immaculate Conception and the Assumption, neither of which find any support at all in Scripture. The push for Mary as "co-redemptrix" is the latest in this line of theological development, a step that many see as a bridge too far, diverging significantly from the teachings of the Bible.
Turning to Scripture, the core of Christian faith, we find no evidence to support the idea of Mary as a mediator or participant in the process of salvation. In fact, we find an explicit statement of the opposite: "For there is one God, and there is one mediator between God and men, the man Christ Jesus..." (1 Timothy 2:5). The Bible is unequivocal in its assertion that salvation is through Christ alone. In John 14:6, Jesus himself states, "I am the way, and the truth, and the life. No one comes to the Father except through me." This declaration leaves no room for intermediaries or co-redeemers.
Furthermore, the concept of Mary as a distributor of grace or an intercessor with Christ finds no footing anywhere in the Scriptures. The role of Mary, as presented in the Bible, is one of humble obedience and servitude to God's plan. She is a blessed figure, chosen to bear Jesus Christ, the God-Man, in the mystery of the hypostatic union—the union of Christ's divine and human natures. Her role was uniquely important but not salvific. Mary's own words in Luke 1:47, where she refers to God as her Savior, underscore this truth. Recognizing her need for a Savior, Mary, as with any other redeemed sinner, points not to herself as a means of grace, a mediator, or an intercessor, but to Christ alone for salvation.
As we delve deeper into the theological implications, it becomes increasingly clear that placing salvific hope in Mary—or in any entity other than Christ—is not just unbiblical, but it is also spiritually hazardous. This warning extends to reliance on works, the sacraments, church hierarchy, canonized saints, and indeed, Mary. To deviate from this is to tread perilously close to the edge of heresy, risking the very soul one seeks to save.
In Chapter IX of The Roman Catholic Council of Trent, it explicitly forbids Catholics from believing the biblical gospel of salvation through faith alone in Christ alone, referring to those who believe this as "heretics." And Canon 12 anathematizes the biblical gospel, stating "If anyone says that justifying faith is nothing else than confidence in divine mercy, which remits sins for Christ's sake, or that it is this confidence alone that justifies us, let him be anathema."
While Mary, as the mother of Jesus, does hold a special place in Christian history, elevating her to a role in salvation is both unbiblical and spiritually dangerous. The Bible presents a salvation narrative centered solely on Jesus Christ, with no room for co-redeemers. As believers, our faith and hope must be anchored in Christ alone, for it is only through Him that salvation is found. Any doctrine or belief that diverts from this truth not only distorts the Christian faith but also imperils the souls of those who follow such teachings.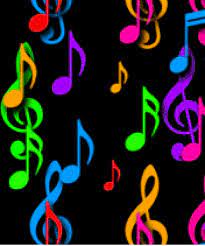 Music for today 
A Glorious Church

I Sing the Mighty Power of God

Jesus, The Light of the World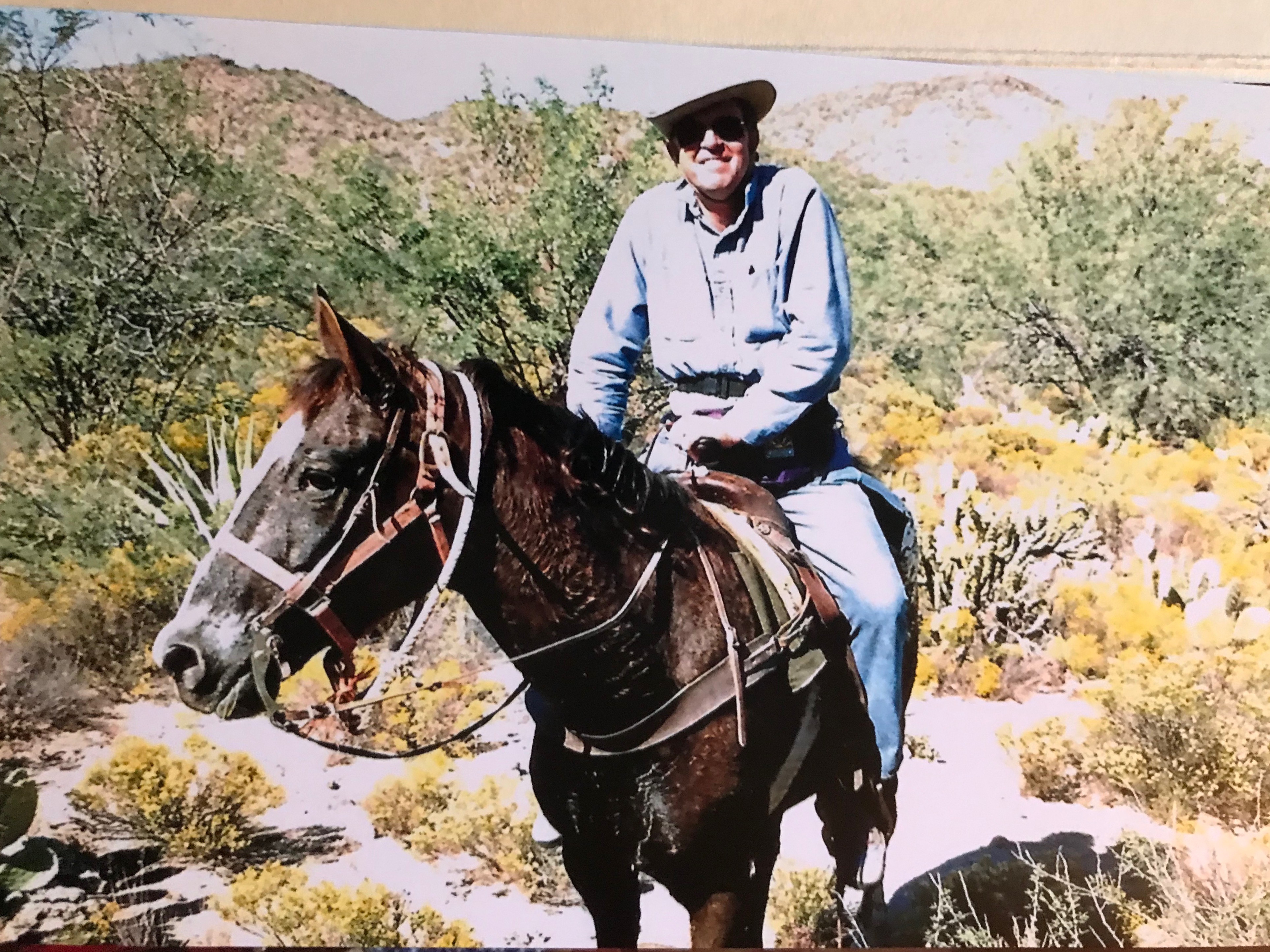 "Live Heresy is Better than Dead Orthodoxy Any Day"
--Horace Bissell
Library Annex (900+ new articles since 2018)  
Help Thyself. No Charge.
Recent articles are at the bottom of the Page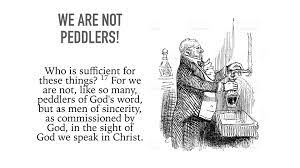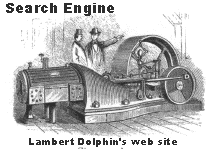 December 20, 2021. February 20, 2022. December 6, 2023.