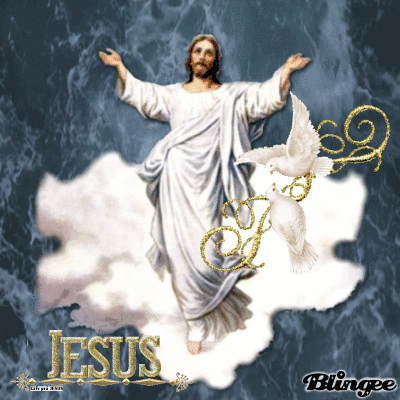 Jesus Now
Jesus was active, as were God the Father and God the Holy Spirit, in the creation of everything. One can think of God the Father as the Architect and Designer, the Son of God as the Master Builder, and God the Spirit as the Energizer and Life Giver. The Son of God carried full information of the early history of earth, and all of it's inhabitants--everyone--to the time of His Incarnation.
"For by Him all things were created that are in heaven and that are on earth, visible and invisible, whether thrones or or principalities or powers. All things were created through Him and for Him. And He is before all things, and in Him all things consist." (Colossians 1:16-17 NKJV)
The importance of the Incarnation of the Son of God.
"For it was fitting for Him, for whom are all things and by whom are all things, in bringing many sons to glory, to make the captain (archegos) of their salvation perfect through sufferings. (Hebrews 2:10 NKJV)
The Eternal Word
In the beginning  was the Word, and the  Word was  with God, and the Word was  God. He was in the beginning with God. All things were made through Him, and without Him nothing was made that was made. In Him was life, and  the life was the light of men. And  the light shines in the darkness, and the darkness did not comprehend it. (John 1:1-5)
"For God so loved the world that He gave His only begotten  Son, that whoever believes in Him should not perish but have everlasting life. For God did not send His Son into the world to condemn the world, but that the world through Him might be saved. "He who believes in Him is not condemned; but he who does not believe is condemned already, because he has not believed in the name of the only begotten Son of God. And this is the condemnation,  that the light has come into the world, and men loved darkness rather than light, because their deeds were evil. For  everyone practicing evil hates the light and does not come to the light, lest his deeds should be exposed. But he who does the truth comes to the light, that his deeds may be clearly seen, that they have been  done in God." (John 3:16-21)
During His time on earth, from His birth through His resurrection never once exercised His Deity. (An exception was possibly His last exclamation from the Cross--
And Jesus cried out again with a loud [agonized] voice, and gave up His spirit voluntarily, sovereignly dismissing and releasing His spirit from His body in submission to His Father's plan. (Matthew 27:50)
Philippians Chapter is about about the Self-Emptying of Jesus while He was on earth among us. Never once did He act of His powers as Son of God. His obedience while He was here included being scourged, mocked, humiliated, scourged, and crucified. The bond of love and trust between Jesus and His Father is stronger than any other sons on earth.
At Pentecost, ~AD 30, Jesus ascended from earth. Ten days later Jesus and God the Father dispatched the Third Member of their tea, God the Holy Spirit to empower the followers of Jesus and expand the scope of the gospel to the entire world, not merely to Israel.
"And being assembled together with them, He commanded them not to depart from Jerusalem, but to wait for the Promise of the Father, "which,"  He  said,  "you have  heard from Me; for John truly baptized with water,  but you shall be baptized with the Holy Spirit not many days from now." Therefore, when they had come together, they asked Him, saying, "Lord, will You at this time restore the kingdom to Israel?" And He said to them,  "It is not for you to  know times or seasons which the Father has put in His own authority. But you shall receive power  when the Holy Spirit has come upon you; and  you shall be witnesses to Me in Jerusalem, and in all Judea and  Samaria, and to the  end of the earth." Now when He had spoken these things, while they watched,  He was taken up, and a cloud received Him out of their sight. And while they looked steadfastly toward heaven as He went up, behold, two men stood by them  in white apparel, who also said, "Men of Galilee, why do you stand gazing up into heaven? This same Jesus, who was taken up from you into heaven,  will so come in like manner as you saw Him go into heaven." (Acts 1:4-9)
"Seated at the Right Hand of the Majesty on High?"
Jesus sitting on the throne in heaven means he is ruling and reigning over everything; if he was on a throne in a particular land, it would be limited to that land, but the fact that the throne is in heaven means there is no sphere or place in this world which his rule does not extend (see Ephesians 1:20-23). According to the Heidelberg Catechism, from his throne in heaven, Jesus sends the Spirit to be with believers and also "defends us and keeps us safe from all enemies". We are under the watchful eye of Jesus as he rules in heaven, giving us hope that we will one day reign with him. When we look to Jesus, we need to remember not only his death on the cross, but also that he is seated God's right hand (see Hebrews 12:1-2), accomplishing our salvation from beginning to end.

Of course, someone might say that the world doesn't seem to be under the rule and control of Jesus, but as Psalm 110 notes, this is because there is a timeline in which all enemies will be defeated in a coming day. This is not because the end result is in doubt, but according to the plan of God. As Hebrews 10:12-13 notes, "But when Christ had offered for all time a single sacrifice for sins, he sat down at the right hand of God, waiting from that time until his enemies should be made a footstool for his feet." Because Jesus reigns along with God the Father Almighty who created and rules over the world, the world is not currently spinning out of control. Even in suffering or challenge, we know he reigns. Jesus's present work of ruling in heaven looks forward to his future work in terms of his return. 

At his return, Jesus promises to judge the living and the dead. This is twofold in that those who are dead and alive physically will be judged, but also those who are dead spiritually and those who are alive spiritually. There is no escape from this judgment, no statute of limitations, no way that status or influence can exempt us from this event.  (Wearefaith.org)
Something else that is new is the Great High Priesthood of Jesus.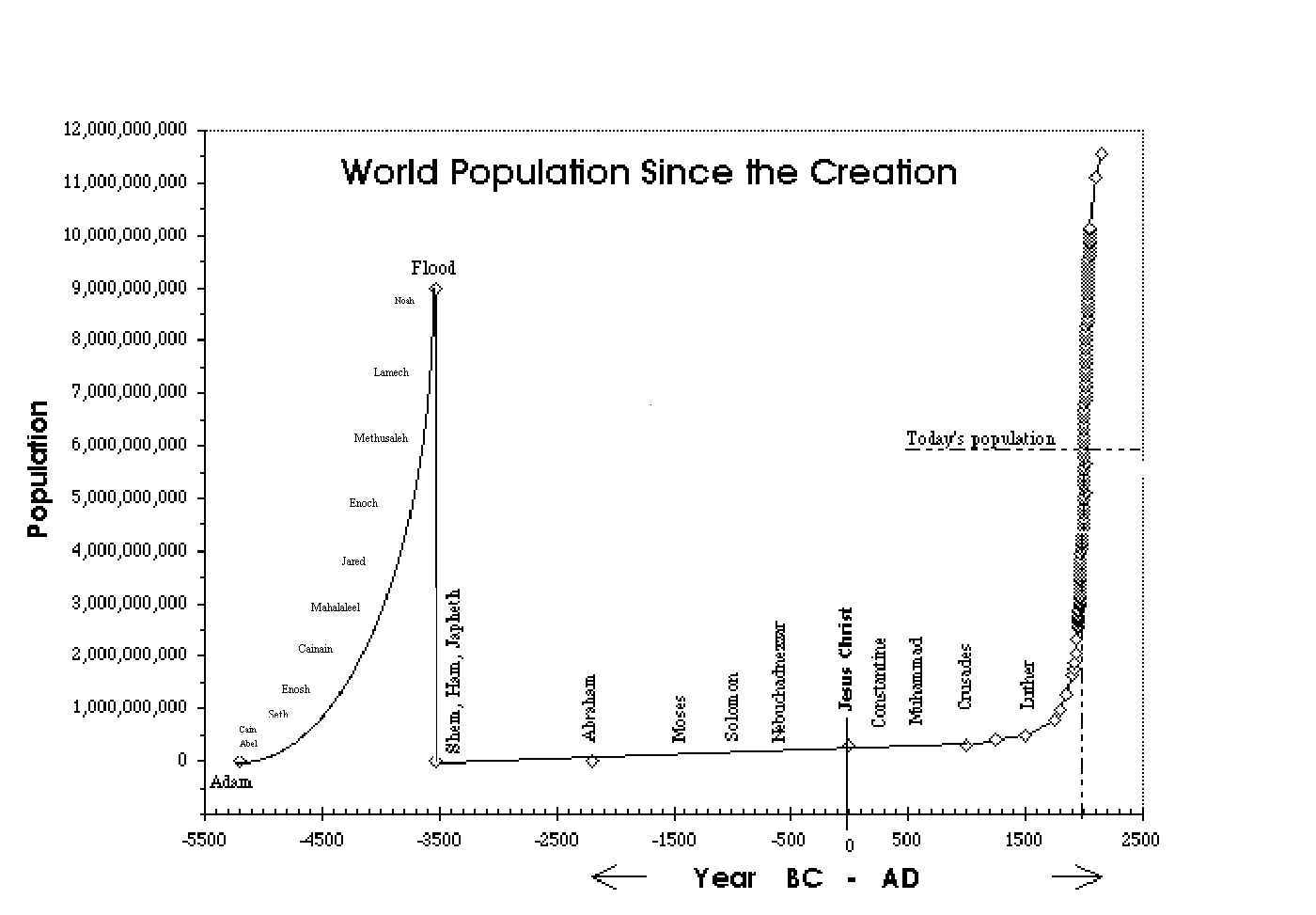 Did Jesus really die for this many people? Yes,
He is the propitiation (hilasmos) for our sins,
and not only for ours but also for the sins of the whole world. (1 John 5:2)
Jesus is personal! He has always been able to relate personally with anyone.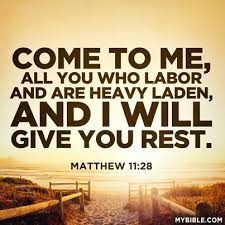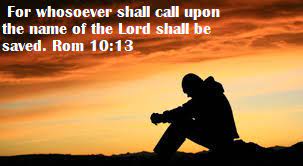 The Book of the Revelation Chapter One
The Author was the Apostle John, one of the sons of Zebedee. He was probably born in 6 AD in Bethsaida, Galilee. 
He was a very young man when Jesus called him to be a disciple. He was known as the "beloved Apostle." 
On the cross, Jesus asked John to care for his mother Mary, (John 19:25-27).
According to church history, John moved to Ephesus in Turkey taking Mary with him
--after the other apostles had been martyred and Jerusalem destroyed in AD 70.
John's Gospel and Three Letters are believed by many scholars to have been written as late as AD 90. 
It was on the Island of Patmos, where John had been exiled about 90 AD,
that he received the great vision which is now our Book of the Revelation. 
John was exiled to the Island during the persecutions of the Emperor Domitian (81-96 AD,
but apparently released after Domitian was assassinated. John probably died about 100 AD.
(See Wikipedia for extensive notes on John)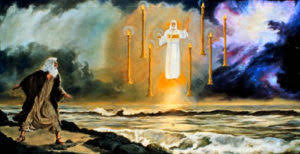 1:1 The Revelation of Jesus Christ, which God gave Him to show His servants--things which must shortly take place. And He sent and signified it by His angel to His servant John, 2 who bore witness to the word of God, and to the testimony of Jesus Christ, to all things that he saw. 
3 Blessed is he who reads and those who hear the words of this prophecy, and keep those things which are written in it; for the time is near.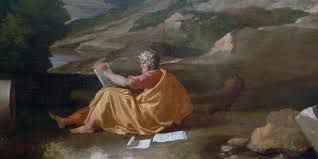 4 John, to the seven churches which are in Asia:

Grace to you and peace from Him who is and who was and who is to come, and from the seven Spirits who are before His throne, 5 and from Jesus Christ, the faithful witness, the firstborn from the dead, and the ruler over the kings of the earth. To Him who loved us and washed us from our sins in His own blood, 6 and has made us kings and priests to His God and Father, to Him be glory and dominion forever and ever. Amen. 
7 Behold, He is coming with clouds, and every eye will see Him, even they who pierced Him. And all the tribes of the earth will mourn because of Him. Even so, Amen.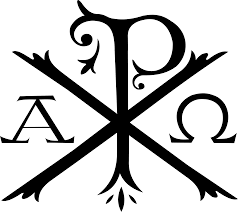 8 "I am the Alpha and the Omega, the Beginning and the End,"says the Lord, "who is and who was and who is to come, the Almighty." 9 I, John, both your brother and companion in the tribulation and kingdom and patience of Jesus Christ, was on the island that is called Patmos for the word of God and for the testimony of Jesus Christ. 10 I was in the Spirit on the Lord's Day, and I heard behind me a loud voice, as of a trumpet, 11 saying, "I am the Alpha and the Omega, the First and the Last," and,"What you see, write in a book and send it to the seven churches which are in Asia: to Ephesus, to Smyrna, to Pergamos, to Thyatira, to Sardis, to Philadelphia, and to Laodicea." 
12 Then I turned to see the voice that spoke with me. And having turned I saw seven golden lampstands, 13 and in the midst of the seven lampstands One like the Son of Man, clothed with a garment down to the feet and girded about the chest with a golden band. 14 His head and hair were white like wool, as white as snow, and His eyes like a flame of fire; 
15 His feet were like fine brass, as if refined in a furnace, and His voice as the sound of many waters; 16 He had in His right hand seven stars, out of His mouth went a sharp two-edged sword, and His countenance was like the sun shining in its strength. 17 And when I saw Him, I fell at His feet as dead. But He laid His right hand on me, saying to me,  
"Do not be afraid; I am the First and the Last. 18 "I am He who lives, and was dead, and behold, I am alive forevermore. Amen. And I have the keys of Hades and of Death. 19 "Write the things which you have seen, and the things which are, and the things which will take place after this. 20 "The mystery of the seven stars which you saw in My right hand, and the seven golden lampstands: The seven stars are the angels of the seven churches, and the seven lampstands which you saw are the seven churches.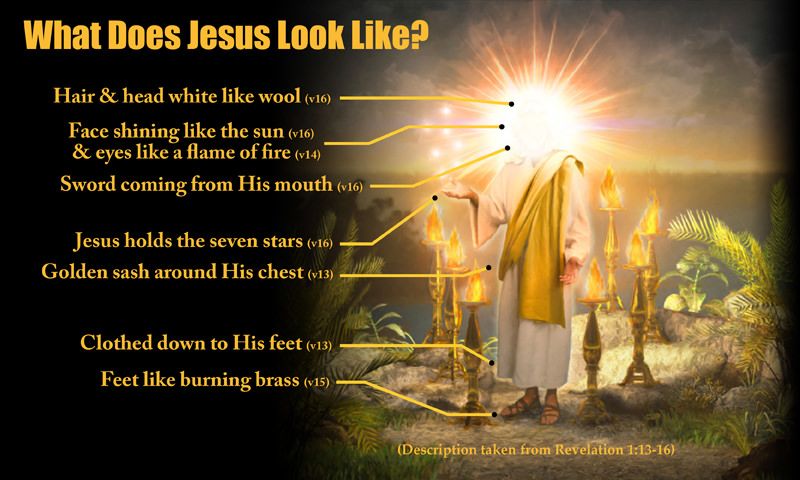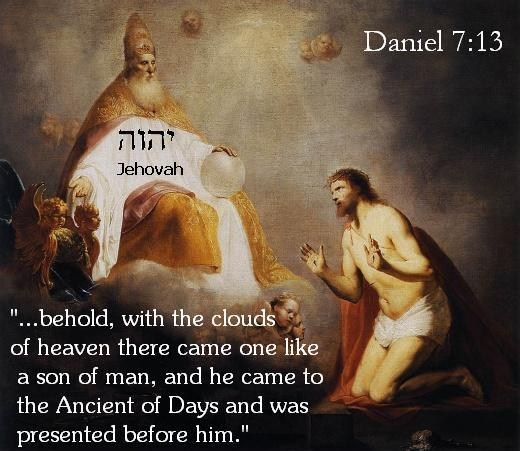 The Self-Emptying of God the Son when He became a Man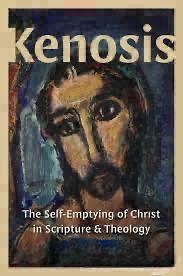 If then there is any encouragement in Christ, any consolation from love,
any sharing in the Spirit, any compassion and sympathy, make my joy complete: 
be of the same mind, having the same love, being in full accord and of one mind. 
Do nothing from selfish ambition or conceit, 
but in humility regard others as better than yourselves. 
Let each of you look not to your 
own interests, but to the interests of others.  
Let the same mind be in you that was in Christ Jesus, 
who, though he was in the form of God,
   did not regard equality with God
   as something to be exploited, 
but emptied himself,
   taking the form of a slave,
   being born in human likeness.
And being found in human form, 
  he humbled himself
   and became obedient to the point of death—
   even death on a cross. 

Therefore God also highly exalted him
   and gave him the name
   that is above every name, 
so that at the name of Jesus
   every knee should bend,
   in heaven and on earth and under the earth, 
and every tongue should confess
   that Jesus Christ is Lord,
   to the glory of God the Father. 
(Philippians 2:3-11)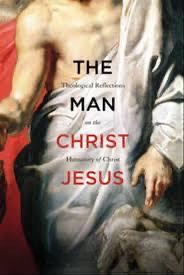 Now, therefore, you are no longer strangers and foreigners, but fellow citizens with the saints and members of the household of God, having been  built  on the foundation of the  apostles and prophets, Jesus Christ Himself being  the chief cornerstone, in whom the whole building, being fitted together, grows into  a holy temple in the Lord, in whom you also are being built together for a  dwelling place of God in the Spirit. (Ephesians 5:19-21)
Important References
Jesus is  the image of the invisible God,  the firstborn over all creation. For by Him all things were created that are in heaven and that are on earth, visible and invisible, whether thrones or  dominions or principalities or powers. All things were created  through Him and for Him.  And He is before all things, and in Him  all things consist. And  He is the head of the body, the church, who is the beginning,  the firstborn from the dead, that in all things He may have the preeminence. For it pleased the  Father  that  in Him all the fullness should dwell, and  by Him to reconcile  all things to Himself, by Him, whether things on earth or things in heaven,  having made peace through the blood of His cross. And you,  who once were alienated and enemies in your mind  by wicked works, yet now He has  reconciled in the body of His flesh through death,  to present you holy, and blameless, and above reproach in His sight—-if indeed you continue  in the faith, grounded and steadfast, and are  not moved away from the hope of the gospel which you heard,  which was preached to every creature under heaven of which I, Paul, became a minister. (Colossians 1:15-23)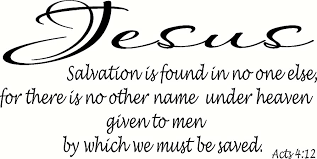 If then you were  raised with Christ, seek those things which are above,  where Christ is, sitting at the right hand of God. Set your mind on things above, not on things on the  earth. For you died,  and your life is hidden with Christ in God. When Christ who  is  our life appears, then you also will appear with Him in  glory. Therefore put to death  your members which are on the earth:  fornication, uncleanness, passion, evil desire, and covetousness,  which is idolatry.  Because of these things the wrath of God is coming upon  the sons of disobedience, in which you yourselves once walked when you lived in them. But now you yourselves are to put off all these: anger, wrath, malice, blasphemy, filthy language out of your mouth. Do not lie to one another, since you have put off the old man with his deeds, and have put on the new man who  is renewed in knowledge  according to the image of Him who  created him, where there is neither  Greek nor Jew, circumcised nor uncircumcised, barbarian, Scythian, slave nor free,  but Christ is all and in all. Therefore,  as the elect of God, holy and beloved,  put on tender mercies, kindness, humility, meekness, longsuffering;  bearing with one another, and forgiving one another, if anyone has a complaint against another; even as Christ forgave you, so you also must  do. But above all these things  put on love, which is the  bond of perfection. And let  the peace of God rule in your hearts,  to which also you were called  in one body; and  be thankful. Let the word of Christ dwell in you richly in all wisdom, teaching and admonishing one another  in psalms and hymns and spiritual songs, singing with grace in your hearts to the Lord. And  whatever you do in word or deed, do all in the name of the Lord Jesus, giving thanks to God the Father through Him. (Colossians 3:1-17)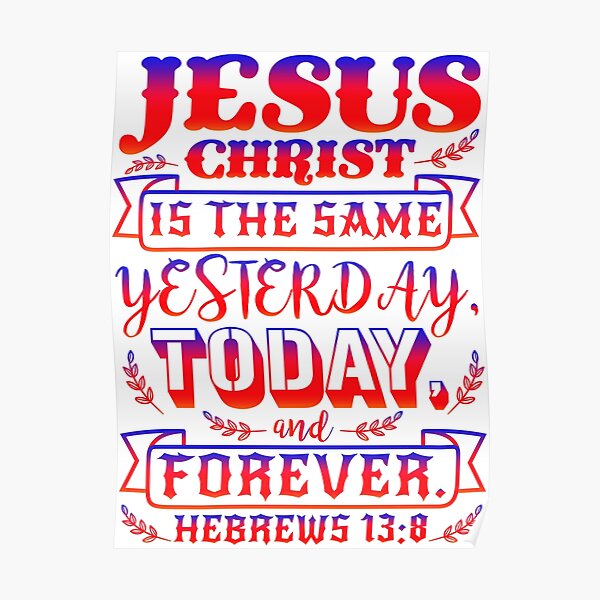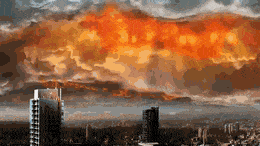 The Parable of the Persistent Widow
Then He spoke a parable to them, that men  always ought to pray and not lose heart, saying: 
"There was in a certain city a judge who did not fear God nor regard man. 
Now there was a widow in that city; and she came to him, saying, 'Get justice for me from my adversary.' 
And he would not for a while; but afterward he said within himself,
'Though I do not fear God nor regard man, yet because this widow troubles me I will avenge her,
lest by her continual coming she weary me.' "Then the Lord said, "Hear what the unjust judge said.
And  shall God not avenge His own elect who cry out day and night to Him,
though He bears long with them? I tell you  that He will avenge them speedily.
Nevertheless, when the Son of Man comes, will He really find faith on the earth?" (Luke 18:1-8)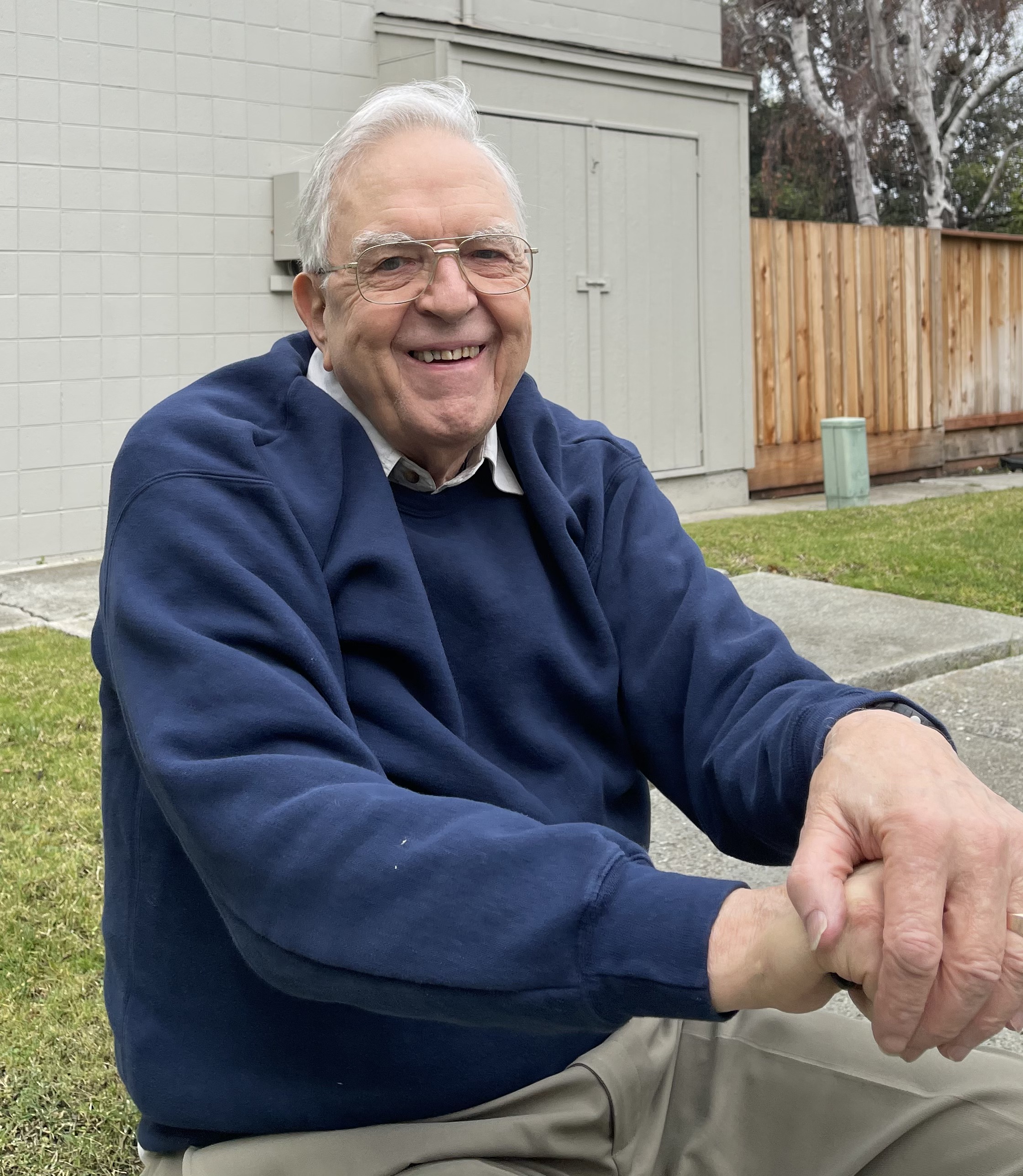 Lambert's Main Library 
Email Lambert Dolphin
Archive for Newsletters
Library Annex (900+ new articles since 2018)  Free.
August 21, 2023