The Judgment Seat of Christ
A Performanvce Review for those who know Jesus Christ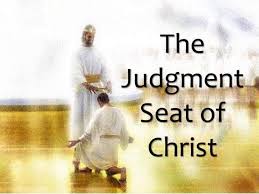 By nature God is both holy and just. He can not act contrary to who He is as a Person. Therefore it is inevitable that He must evaluate men and nations from time to time. According to the Epistle to the Romans, God judges everyone on the basis of his or her knowledge ("according to truth"), and according to his or her deeds. This applies to Christians and non-Christians alike. (This does not mean that people are saved by their deeds or works).
"...we know that the judgment of God is according to truth against those who practice such things. And do you think this, O man, you who judge those practicing such things, and doing the same, that you will escape the judgment of God? Or do you despise the riches of His goodness, forbearance, and longsuffering, not knowing that the goodness of God leads you to repentance? But in accordance with your hardness and your impenitent heart you are treasuring up for yourself wrath in the day of wrath and revelation of the righteous judgment of God, who "will render to each one according to his deeds": eternal life to those who by patient continuance in doing good seek for glory, honor, and immortality; but to those who are self-seeking and do not obey the truth, but obey unrighteousness--indignation and wrath, tribulation and anguish, on every soul of man who does evil, of the Jew first and also of the Greek; but glory, honor, and peace to everyone who works what is good, to the Jew first and also to the Greek. For there is no partiality with God." (Romans 2:2-11)
Because God is longsuffering and reluctant to judge (He prefers showing mercy). Many people think God will never judge them at all, or that he can overlook sin and forget to honor his servants. This view is very far from reality--when God does judge He is thorough, and--if necessary "ruthless" (See my article, The Ruthlessness of God).
What is commonly called "The Judgment Seat of Christ" is one of several distinctive judgments described in the Bible. This judgment is a judgment of individual believers who have been part of the church, from Pentecost to the Rapture. Whether a Christian dies before his time from an accident or tragedy, or whether he or she lives out a normal life span of 70 or 80 years, each and every one of us must, at death, pass a special reviewing stand of God known in Scripture as the "Judgment Seat of Christ."
Because of the use of the word "judgment" in describing this particular evaluation God makes of His people, many jump to the conclusion that this is event is a judgment for sins committed after conversion. But the Judgment Seat of Christ can not be a judgment for the sins of a Christian since Christ paid the full price for all of the believer's sins whether past, present or future. This truth is hard to accept and difficult to get used to because Christians fail and mess up often, sometimes grievously. It is hard to imagine that having been our "justified by faith" could be so all encompassing. But it is!
"And you, being dead in your trespasses and the uncircumcision of your flesh, He has made alive together with Him, having forgiven you all trespasses, having wiped out the handwriting of requirements that was against us, which was contrary to us. And He has taken it out of the way, having nailed it to the cross." (Colossians 2:13-14)
Even those who remain alive on earth until the rapture will experience this judgment as they pass from the earthly realm to the heavenly. The Greek word, (bema), basically means a law tribunal where defendant and accuser stand in front of a magistrate in a court. A second meaning drawn from classical Greek usage of the word is that the bema is the evaluation stand for athletes. The athletes in Greek and Roman games passed the judges' reviewing stand in order to win the rewards appropriate to how well they have run the race. This "athletes' reward ceremony" aspect of the Judgment Seat of Christ is based upon such Scriptures as 1 Corinthians 9:24-27:
"Do you not know that in a race all the runners compete, but only one receives the prize? So run that you may obtain it. Every athlete exercises self-control in all things. They do it to receive a perishable wreath, but we an imperishable. Well, I do not run aimlessly, I do not box as one beating the air; but I pommel my body and subdue it, lest after preaching to others I myself should be disqualified."
John's Gospel, and Romans 8, promise that Christians have passed out from under all condemnation and will not fail to pass the test of the Judgment Seat of the Christ. Without negating the notion that this judgment does involve the rewarding of all those running the race, the notion of a legal tribunal is also implied by key passages in Corinthians:
"According to the commission of God given to me, like a skilled master builder I laid a foundation, and another man is building upon it. Let each man take care how he builds upon it. For no other foundation can any one lay than that which is laid, which is Christ Jesus. Now if anyone builds on the foundation with gold, silver, precious stones, wood, hay or stubble---each man's work will become manifest (openly visible), for the Day (of the Lord) will disclose it, because it will be revealed (unveiled) with fire, and the fire will test what sort of work each one has done. If the work which any man has built on the foundation survives, he will receive a reward. If any man's work is burned up, he will suffer loss, though he himself will be saved, but only as through fire." (1 Corinthians 3:10-15)

"For we must all appear before the judgment seat of Christ, so that each one may receive good or evil, according to what he has done in the body. Therefore, knowing the fear of the Lord, we persuade men..." (2 Corinthians 5:10-11)
Every Christian is given the opportunity of building a Christian life, like a house, upon the foundation of Jesus Christ. Hay, wood, and stubble are insubstantial building materials which are neither structurally sound nor fireproof. These materials represent all our self efforts---whether on behalf of our own interests or in the service of God. Gold, silver and precious stones---which do survive fire---are those permanent enduring things which God is building in us and in others. The Lord has promised to shake our entire universe one day so that only what He has built will remain:
"'Yet once more I will shake not only the earth but also the heaven.' This phrase, "Yet once more," indicates the removal of what is shaken, as of what has been made, in order that what cannot be shaken may remain. Therefore let us be grateful for receiving a kingdom that cannot be shaken, and thus let us offer to God acceptable worship, with reverence and awe; for our God is a consuming fire." (Hebrews 12:25b-28)
While the prospects of endless delights, joy, and freedom of sin forever when we all get to heaven are held before us in the Bible and vividly pictured for us by inspiring Christian writers such as C.S. Lewis in The Great Divorce, none of us shall reach the other side without passing through a process of seeing ourselves as we really always were and have finally become. This will be a time when God makes known "the thoughts and intentions of the heart." All those activities in our lives undertaken in the energy of self-effort will be burned up and lost to us forever. It is perhaps because he knew more than we do about the awesomeness of facing God and leaving our present world of darkness and illusion for the glorious light of holy reality, that the Apostle Peter urged his readers to look forward to, and count upon the "extra" grace that is coming to us at the revelation of Jesus Christ, (1 Peter 1:13). Our Lord himself spoke of the end of life, and the end of the age as carrying with it great agony like that of a woman in travail, but He said,
"...your sorrow will be turned into joy...you have sorrow now, but I will see you again and your hearts will rejoice, and no one will take your joy from you." (John 16:20-22)
The Apostle Paul writes regarding the Apostolic calling to ministry and advises us to practice self-evaluation. Note that the judgment seat of Christ is one of rewards, approval and commendation,
"This is how one should regard us, as servants of Christ and stewards of the mysteries of God. Moreover it is required of stewards that they be found trustworthy. But with me it is a very small thing that I should be judged by you or by any human court. I do not even judge myself. I am not aware of anything against myself, but I am not thereby acquitted. It is the Lord who judges me. Therefore do not pronounce judgment before the time, before the Lord comes, who will bring to light the things now hidden in darkness and will disclose the purposes of the heart." Then every man will receive his commendation from God. (1 Cor.. 4:1-5)

"None of us lives to himself, and none of us dies to himself. If we live, we live to the Lord, and if we die, we die to the Lord; so then, whether we live or whether we die, we are the Lord's. For to this end Christ died and lived again, that he might be Lord both of the dead and of the living. Why do you pass judgment on your brother? Or you, why do you despise your brother? For we shall all stand before the judgment seat of God; for it is written, 'As I live, says the Lord, every knee shall bow to me, and every tongue shall give praise to God.' So each of us shall give account of himself to God. Then let us no more pass judgment on one another, but rather decide never to put a stumbling block or hindrance in the way of a brother." (Romans 14:7-13)
First Corinthians 4:5 is an important verse: God will commend, not condemn his people when they enter heaven. But it is obvious that some Christians have little desire to serve their Lord fervently and whole-heartedly in this present life. Others serve God their entire lives, hardly ever faltering or compromising, giving to Him all they have to give, even losing their lives if that is required of them. Doing the will good can be evaluated to have been "good" or "acceptable" or "perfect," according to Romans 12. The "good works" done by the believer are, however, not what he or she does for God, (in the energy of the flesh) but the works Jesus is permitted to do through us. Only what Jesus does survives, all else is burned up.
It is better for us to grow more and more aware of our sins through diligent pursuit of holy living, through prayer and fellowship, through study of the Word of God and regular self-judgment that averts the judgment of God. Otherwise we may drift away with the crowd into compromises that leave us in the end no different from the pagans around us. If that occurs we are in jeopardy of losing our rewards which God desires to give us.
"Whatever your task, work heartily, as serving the Lord and not men, knowing that from the Lord you will receive the inheritance as your reward; you are serving the Lord Christ. For the wrongdoer will be paid back for the wrong he has done, and there is no partiality." (Colossians 3:23-25)
This present life is not where our goals, hopes and dreams and fulfillment are to be found---God's purpose is for us to regain our lost humanity and become whole persons who will live forever in a new creation. It is not for this life only that God is preparing us, but for something far more glorious and splendid. This is all made possible not by our best efforts but by the grace and mercy He has already lavished upon us and is ready to supply anew if we will but ask.
C. S. Lewis writes in this connection,
"It may be possible for each to think too much of his own potential glory hereafter; it is hardly possible for him to think too often or too deeply about that of his neighbor. The load, or weight, or burden of my neighbor's glory should be laid on my back, a load so heavy that only humility can carry it, and the backs of the proud will be broken. It is a serious thing to live in a society of possible gods and goddesses, to remember that the dullest and most uninteresting person you talk to may one day be a creature which, if you saw it now, you would be strongly tempted to worship, or else a horror and a corruption such as you now meet, if at all, only in a nightmare.

"All day long we are, in some degree, helping each other to one or other of these destinations. It is in the light of these overwhelming possibilities, it is with the awe and circumspection proper to them, that we should conduct all our dealings with one another, all friendships, all loves, all play, all politics. There are no ordinary people. You have never talked to a mere mortal. Nations, cultures, arts, civilizations---these are mortal, and their life is to ours as the life of a gnat. But it is immortals whom we joke with, marry, snub, and exploit- immortal horrors or everlasting splendours." (from The Weight of Glory)
On the "Crowns"
The usual misunderstanding of "rewards" is that hard-working Christians end up with a nicer house or a bigger Cadillac in heaven. The values of the fallen world are like that!
Christ is our inheritance. We have an inheritance in Him and He has an inheritance in us!
If you think about it, what is happening to us as we walk with the Lord daily in this life? We are learning and growing and developing a deeper capacity to hold God (as earthen vessels), are we not? We serve Him not out of duty nor because we want big rewards. We want to be found well-pleasing in His sight. We love Him because He first loved us.
Take the case of Lot. He is a righteous man (2 Peter 2:7) and therefore will be in heaven. What will he have to show for his entire life? Not very much. He will be forgiven sinner like the rest of us. But his life was full of missed opportunities and bad choices. So he did not learn much about God--especially compared to Abraham. (Abraham was also an unbelieving sinner when he started his journey). Lot will not have a great capacity to serve God compared to Abraham. But he will be righteous and without sin in heaven.
We are in boot camp now, basic training. In the army, some do well in boot camp, others less well. If we are learning here and now how to obey God in this life, then He can use us in heaven for more advanced, more honorable assignments. We don't earn rewards, though they are merited by some: God will honor those who have served Him well.
Then Peter began to say to Him, "See, we have left all and followed You." So Jesus answered and said, "Assuredly, I say to you, there is no one who has left house or brothers or sisters or father or mother or wife or children or lands, for My sake and the gospel's, who shall not receive a hundredfold now in this time--houses and brothers and sisters and mothers and children and lands, with persecutions--and in the age to come, eternal life. But many who are first will be last, and the last first."

Now they were on the road, going up to Jerusalem, and Jesus was going before them; and they were amazed. And as they followed they were afraid. Then He took the twelve aside again and began to tell them the things that would happen to Him: Behold, we are going up to Jerusalem, and the Son of Man will be betrayed to the chief priests and to the scribes; and they will condemn Him to death and deliver Him to the Gentiles; and they will mock Him, and scourge Him, and spit on Him, and kill Him. And the third day He will rise again."

Then James and John, the sons of Zebedee, came to Him, saying, "Teacher, we want You to do for us whatever we ask." And He said to them, "What do you want Me to do for you?" They said to Him, "Grant us that we may sit, one on Your right hand and the other on Your left, in Your glory." But Jesus said to them, "You do not know what you ask. Are you able to drink the cup that I drink, and be baptized with the baptism that I am baptized with?" They said to Him, "We are able." So Jesus said to them, "You will indeed drink the cup that I drink, and with the baptism I am baptized with you will be baptized; "but to sit on My right hand and on My left is not Mine to give, but it is for those for whom it is prepared." (Mark 10:28-40)
Those who are interested might research the NT topic of "crowns," that is, the specific rewards in heaven. These are not, however, "merit badges" as I see it.
1 Corinthians 9:25. "...and everyone who competes for the prize is temperate in all things. Now they do it to obtain a perishable crown, but we for an imperishable crown.

Philippians 4:1. "Therefore, my beloved and longed-for brethren, my joy and crown, so stand fast in the Lord, beloved."

1 Thess.alonians 2:19. "For what is our hope, or joy, or crown of rejoicing? Is it not even you in the presence of our Lord Jesus Christ at His coming?"

2 Timothy 4:8. "Finally, there is laid up for me the crown of righteousness, which the Lord, the righteous Judge, will give to me on that Day, and not to me only but also to all who have loved His appearing." (Paul speaking)

James 1:12. "Blessed is the man who endures temptation; for when he has been approved, he will receive the crown of life which the Lord has promised to those who love Him."

1 Peter 5:4. and when the Chief Shepherd appears, you will receive the crown of glory that does not fade away.

Revelation 2:10. "Do not fear any of those things which you are about to suffer. Indeed, the devil is about to throw some of you into prison, that you may be tested, and you will have tribulation ten days. Be faithful until death, and I will give you the crown of life."

Revelation 3:11. "Behold, I am coming quickly! Hold fast what you have, that no one may take your crown."
What we are piling up now is a great, eternal weight of glory. We don't earn this by good works however--it is by grace.
"Therefore we do not lose heart. Even though our outward man is perishing, yet the inward man is being renewed day by day. For this momentary light affliction is working for us a far more exceeding and eternal weight of glory, while we do not look at the things which are seen, but at the things which are not seen. For the things which are seen are temporary, but the things which are not seen are eternal." ( 2 Cor. 4:16-18)

A Comment: Revelation 4:10, 11 pictures what I see as the culmination of the whole matter of rewards and crowns:
"...the twenty-four elders fall down before him who sits on the throne, and worship him who lives for ever and ever. They lay their crowns before the throne and say:

"You are worthy, our Lord and God, to receive glory and honor and power, for you created all things, and by your will they were created and have their being."
This speaks to me of the worship and gratitude that motivates all "good works". It is the acknowledgment of God's work in our hearts to accomplish His good and perfect will. As the Apostle Paul says, it is "Christ in you, the hope of glory". Since everything of value in our lives is the result of His working in us, it is altogether appropriate that in laying our crowns before His throne we acknowledge Him as the source of anything of merit in us. In the end, all praise belongs to Him! It is our astounding privilege to share His glory! (Elaine Stedman, 11/11/03)
"What's There to Live For?", A Commentary on the Judgment Seat of Christ by Ray Stedman.

THE ONE HUNDRED THIRD PSALM
(A Psalm of David)
Bless the LORD, O my soul;
and all that is in me, bless his holy name!
Bless the LORD, O my soul,
and forget not all his benefits,
who forgives all your iniquity,
who heals all your diseases,
who redeems your life from the Pit,
who crowns you with steadfast love and mercy,
who satisfies you with good as long as you live
so that your youth is renewed like the eagle's.

The LORD works vindication
and justice for all who are oppressed.
He made known his ways to Moses,
his acts to the people of Israel.

The LORD is merciful and gracious,
slow to anger and abounding in steadfast love.
He will not always chide,
nor will he keep his anger forever.
He does not deal with us according to our sins,
nor requite us according to our iniquities.

For as the heavens are high above the earth,
so great is his steadfast love towards those who fear him;
as far as the east is from the west,
so far does he remove our transgressions from us.

As a father pities his children,
so the LORD pities those who fear him.
For he knows our frame;
he remembers that we are dust.
As for man, his days are like grass;
he flourishes like a flower of the field;
for the wind passes over it, and it is gone,
and its place knows it no more.

But the steadfast love of the LORD is from everlasting to everlasting
upon those who fear him,
and his righteousness to children's children,
to those who keep his covenant
and remember to do his commandments.

The LORD has established his throne in the heavens,
and his kingdom rules over all.
Bless the LORD, O you his angels,
you mighty ones who do his word,
hearkening to the voice of his word!

Bless the LORD, all his hosts,
his ministers that do his will!
Bless the LORD, all his works,
in all places of his dominion.
Bless the LORD, O my soul!


lambert@ldolphin.org
I send out periodic Bible-study newsletters. They are archived on my web site.
Web Pages: http://ldolphin.org/
August 14, 1993. November 20, 2003.

spelling and punctuation checked 05July02 RPS